What does it mean when your cat sleeps on you? There is a funny phenomenon that cat owners have to deal with. It is the insistence of their cats to use them as a mattress. Why does a cat thinks we are better than their own bed? We are going to figure out why cats sleep on you.
When a cat sleeps with you, it means that they like you. They also like the warmth you provide while they sleep, and they feel safe from danger when they are on top of you napping. Cats may come to sleep on you because they want you to pet them as well while they are relaxing on you.
Especially in kittens, they like to feel the heartbeat and breathing; they think you are their mother. Let's see what other reasons are there.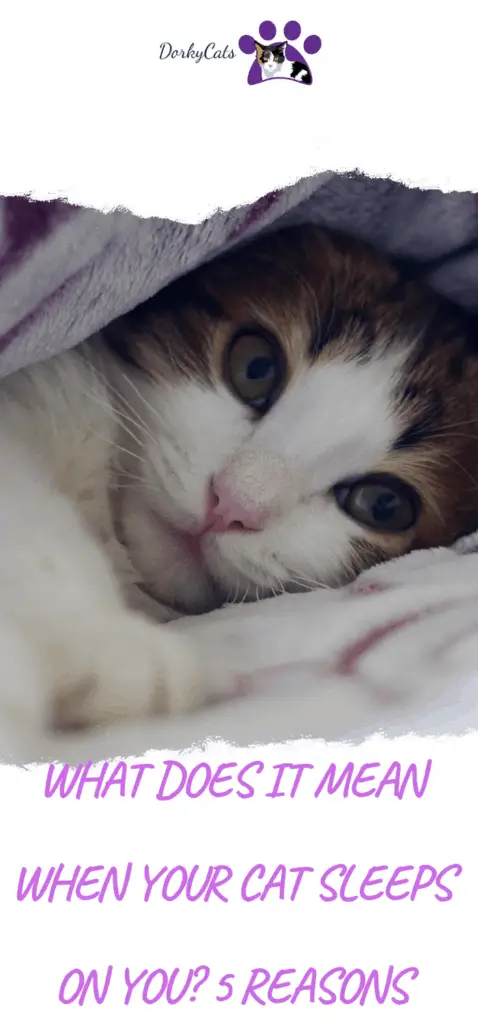 WHAT DOES IT MEAN WHEN YOUR CAT SLEEPS ON YOU?
This is one of the most common questions every cat owner has asked at least once in their cat parenting career. Some cat owners do not know if this is a good sign or not, and some others do not want their cat coming on them and want to find out how to make them stop, hopefully without offending them.
I have to confess I had the opposite problem with my oldest cat. He would come on me only 5 minutes per day if I were lucky, and I remember being upset with him for being so individuated. The litter sister is way more affectionate, and she comes to sleep on me every day, giving me tons of love.
However, if you are amongst those who don't want your cat to come and sleep on you, I will give you some good advice soon. First, what does it mean when your cat sleeps on you?
Here all the reasons:
1. WARMTH
You are a source of heat. It is really nice to sleep in a nice, soft hot cushion. Your cat is brilliant on this and knows where he can find the best cushion. YOU! Especially in winter, where the nights can be cold, cats are looking for a source of heat to enjoy while sleeping.
It is not uncommon to wake up and find your cat sitting on your chest or your shoulder, sleeping. Suppose he is still a kitten you never realize that he has slept most of the night on you. It has happened to me ofter to open my eyes and feel my little one on me. I will never know for how long she was there!
2. YOUR CAT LIKES YOU
It may have happened to you as well. Your cat comes on you purring, wanting you to pet him and scratching to then end off sleeping on you like a rock. If your cat comes to sleep on you, it is definitively a sign of love and affection. Some cats are more affectionate than others, so that some cats may snuggle a lot, and some cats are more reserved and will come to you way less.
3.YOU ARE CONFORTABLE
There is nothing better than a good belly or chest; it is soft, has an internal heater, moves up and down to facilitate sleep, and has features like petting and scratches included in the packages. The best part is that they do not have to do anything to get this extra service. It is all included.
4.SENSE OF SECURITY
Cats are very vulnerable when they are sleeping. If you have observed them, you may have seen that they can find the most hidden and covered places where they can let go and sleep. Since they trust you, there is nothing better than sleeping on you. They know that you are going to protect them from possible dangers.
This is also why they sleep, giving you the back at times. They know that you are not a danger, so they focus on the other side of the room. If a cat gives you his trust and sleeps on you, they must feel safe to lower their defenses.
5. FEEL LONELY
I have observed my little one starting to sleep on her cat bed, then after 1 hour, she wakes up and walk all the way across the room, jumps on the bed, jumps on me, curls up, and start sleeping on me while she is purring most of the times.
I concluded that she feels alone and she wants to have company. We think cats are very independent creatures, but actually, they are not; they need others, and they need to feel that they are not alone. It is not excluded that she will kiss me front time to time before she gets to sleep. She is adorable!
Some people have issues when cats come to sleep on them; they may not like it or have hygiene concerns. Due to this, they want to find a way to tell their cat not to sleep on them without offending the cat.
---
Here are some cats bed ideas for your cat
Preview
Cats Pick
Our Pick
Product
JCT Dog Bed Soft Cat Bed 50cm Plush Cat Calming Bed Fluffy...
SHU UFANRO Small Dog Bed, Cat Bed for Indoor Cats, Puppy...
Amazon Basics Cat Condo Tree Tower With Hammock Bed And...
Hollypet Self-Warming 2 in 1 Foldable Pet Bed Comfortable...
Bedsure Cat Bed for Indoor Cats -Large Cat Cave for Pet Cat...
Cats Pick
Preview
Product
JCT Dog Bed Soft Cat Bed 50cm Plush Cat Calming Bed Fluffy...
Preview
Product
SHU UFANRO Small Dog Bed, Cat Bed for Indoor Cats, Puppy...
Preview
Product
Amazon Basics Cat Condo Tree Tower With Hammock Bed And...
Preview
Product
Hollypet Self-Warming 2 in 1 Foldable Pet Bed Comfortable...
Our Pick
Preview
Product
Bedsure Cat Bed for Indoor Cats -Large Cat Cave for Pet Cat...
---
HOW TO TELL YOUR CAT TO NOT SLEEP ON YOU
If you are between those that do not like their cat sleeping on them, here are some good advice I can give you to refrain your cat to sleep on you and, at the same time, not to let him think you are rejecting them.
When your cat comes on you, gently pick him up and move him from you to another place. Maybe give him some scratches before. If you do it all the time, he will realize that it is not a good idea to come to you.
The other thing you can do is to place some warming pads under his bed or place his bed near a heater. In this way, he will feel warm enough to stay there.
Maybe he wants a covered bed to feel more protected and secure when he is sleeping. You can try different things and see how he reacts.
IT IS BAD FOR CATS TO SLEEP WITH YOU?
There are good and bad points of letting a cat to sleep in bad with you. The good point may overcome the bad points, unless, of course, a specific bad point is more important to you than all the good points.
Let's examine some good points:
CATS ARE CALMING INFLUENCE ON HUMANS
CATS MAKE YOU COMPANY
CATS CAN REDUCE STRESS AND ANXIETY ON HUMANS
CATS KEEP YOU WARM WHEN THE SLEEP ON YOU OR NEXT TO YOU
SOME PEOPLE MAY SLEEP BETTER KNOWING THEIR CAT IS NEXT TO THEM
Let's examine some bad points:
THERE CAN BE HYGIENE CONCERNS
CATS MAY WANT TO PLAY AND MAY WAKE YOU UP
YOU COULD CRASH YOUR CAT WHEN YOU MOVE AROUND
CATS CAN BE HEAVY IF THEY SLEEP ON YOUR CHEST
Overall, cats can be a nice companion and can have excellent effects on humans. If they come near you or want to sleep with you or on you, it is because they really like you. When they start purring, they are very relaxing to have around. When you know how cats like to be on their own, you come to appreciate those moments when they come close to you.
WHAT BODY PARTS CATS LIKE TO SLEEP ON?
Cats are known for sleeping on certain body parts. You may have seen cats sleeping on chests, some sleeping on bellies, some other sleeping on the head of people or near the head, some others sleep on people's feet or between the feet or legs. Basically,
Some cats like to sleep on people's harms or hands. One night I woke up to find my little one on my shoulder napping since I was sleeping with my stomach down.
Basically, cats sleep anywhere possible on human bodies!
Why does my cat sleep on my legs?
Between legs, there is a nice little hole where cats feel secure and feel warm. They are surrounded on the two sides by your legs; this adds certain protection and security for cats. They can get really comfy there.
Why do cats sleep on your head?
Cats do not have any sense of personal space at all. They can sit on anything. One of the things that they like to sleep or sit on is your head. Cats feel particularly connected and safe when they sleep near your head. They know that it is "where you are." There is warmth near your head, and it is safer than the rest of your body since you are moving through the night. Cats may opt into sleep near your head instead.
Why do cats sleep on your neck?
Suppose you are looking for a scarf made of cat fur, you have found it. One of the favorite places for my little one to sleep is between my chest and my face, basically around my neck. It is a nice warm place to sleep in. They can feel you breathing and feel your heartbeat while they snuggle.
Why do cats sleep on your feet?
The most conservative cats may not like to sleep on you; they still want to be near you, and therefore they settle for your feet, or they come next to you, on the other side of the bed. My oldest cat, the shy one, does it.
He doesn't come too close usually, but when he wants to be with me, he comes and sits on the other side of the couch or bed. Cats may want to sleep on your feet if you move too much through the night.
What does it mean when your cat sleeps on your back?
Sometimes cats want to come and sleep on you, but they find you sleeping face down. At this point, they decide to sleep on your back; they usually come near your shoulders, where your face is, and lay down there. I would not be surprised if they sleep on your butt too. One night, I found my little one doing it. Therefore if they do not find your chest or belly, they decide to sleep on your back.
What does it mean when your cat sleeps on your lap?
Cats may come to sleep on your lap because it is comfortable enough, but I believe it is because they can be protected much better when you are sitting. They can get a lot of scratches while they sit on your laps, and they can use your hands and harms as a pillow.
CONCLUSION
What does it mean when your cat sleeps on you? I hope you found what you are looking for. If you want to add something or ask a question, leave it in the comments below.