ARE CATS HAPPIER IN PAIRS? HOW TO HELP A LONELY CAT
Are cats happier in pairs? If you have only one cat, it may have crossed your mind if he feels lonely not to have a cat friend to play with and to spend some time with, especially if he is alone when you go to work. Should you get him a friend?
Cats are better in pairs because they make company with each other, especially if they are home alone a lot. They can play with each other, keep stimulated, groom each other, and overall feel happier. The best is to adopt 2 cats right from the beginning and have them grow together.
While there is always a variable depending on cats' personalities, most cats do better in pairs. In an alternative, one can carefully introduce a second cat when the first one seems too lonely.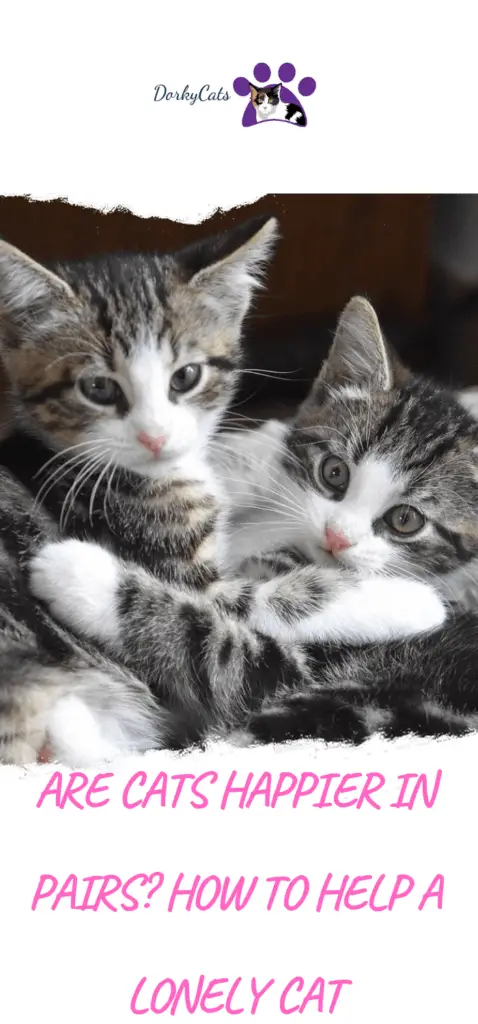 ARE CATS HAPPIER IN PAIRS?
Sometimes we can be fooled by cats, they are independent, and they come to you for cuddles only on their terms. Based on this behavior, we can think that they like to be alone and that they do not care about having others around.
But, looking closely and interacting with a cat can reveal a different scenario. Yes, cats like cuddles on demands; yes, they may not let you hold them, pick them up, pet them when you want, but they do need affection, and they do enjoy your company (even if at a distance), and they enjoy company from other cats.
I have seen the effect on cats left alone all day at home with no company and no interactions with a living being. You can read the full story here: CAN A CAT BE EVIL? CATS HAVE A SECRET AGENDA.
But for sure, I can tell you that cats who are left to themselves become angry, sad, and start having bad behavior. I have seen it several times. Even shy cats and scared cats do like to have others around.
As a matter of fact, my older cat is one of those shy cats, and he is not a fan of cuddles. But I have seen that growing up, he started to be more lethargic and kept sitting and sleeping on his favorite chair. I started to be worried that he was not moving enough; after all, cats are supposed to climb and run. He would look sad for no reason. I felt he needed a companion.
I got him a younger cat. Besides the initial fuss, they became friends, and they are playing, running behind each other. He is more active and is becoming more social, grooming her and letting her groom him. It seems that he is accepting contact and interactions more than he did before. I am happy for him.
In short, cats are happier and behave better in the long run if other cats surround them. Some cats have different personalities and may not adapt to another cat if they are already grown up. But, in general, two cats are way better than one for the single cat's health and happiness. If you are working all day, cats can be a bad experience to be left alone all day.
IT IS CRUEL TO HAVE ONLY ONE CAT?
I do not think it isn't warm-hearted to have only one cat. Cats can live with a family and be perfectly ok the entire life. But they have to get interaction with humans and love. They need people to play with them, and they would need to exercise running and climbing.
Are cats happier in pairs? If they are left alone, it is not a good experience for them. If you know that you work most of the day and that no one is at home with your cat, it is better to adopt a second cat. They will keep each other company, play catch with each other, sleep together, and groom each other. In this way, they will keep each other active, and they will not develop bad behaviors.
It may take a bit of time to become friends, but it is really nice to see them interact and play with each other when they do. Some cats may not like the presence of other cats, so it is not always the case. You have to make a decision based on your cat's behavior.
HOW TO TELL IF YOUR CAT WANTS ANOTHER CAT?
It may be difficult for you to understand if your cat needs another cat around him. If you have a good bond with your cat may be easier to understand the signs. In my experience, cats need another cat to seem sad, inactive, sleeping more than usual, and overall lethargic.
Here 10 signs that tell you that your cat wants another cat:
YOUR CAT LOOKS SAD
YOUR CAT SLEEPS A LOT
YOUR CAT DOESN'T PLAY ANYMORE
YOUR CAT DOESN'T EAT MUCH
YOUR CAT IS UNUSUALLY AFFECTIONATE
YOUR CAT BECOME DESTRUCTIVE
YOUR CAT DOESN'T USE THE LITTER BOX ALWAYS
YOUR CAT BECOME AGGRESSIVE
HE BECOMES SAD OR MEOW WHEN YOU LEAVE
I remember when my cat was a kitten, I could leave the house to go to work, only after I had distracted him with treats, while he was busy eating I would live. Otherwise, he would stand behind the door meowing. Now he is fine, he has a cat lady friend, and he doesn't even bother to stand up and come to the door when I leave or when I arrive. But he is happier!
Preview
Best Pick
Product
JOYO Cat Tree for Indoor Cats, 65.5 Inches Multi-Level Cat...
CatRomance Cat Tree Tower for Indoor Cats, 35.4in Cat Tree...
HIPIPET Kitten Bed Cave Bed for Cats & Dogs, Cat Hut/Covered...
rabbitgoo Cat Tree Cat Tower 61" for Indoor Cats,...
rabbitgoo Cat Tree Cat Tower for Indoor Cats, Multi-Level...
Best Pick
Preview
Product
JOYO Cat Tree for Indoor Cats, 65.5 Inches Multi-Level Cat...
Preview
Product
CatRomance Cat Tree Tower for Indoor Cats, 35.4in Cat Tree...
Preview
Product
HIPIPET Kitten Bed Cave Bed for Cats & Dogs, Cat Hut/Covered...
Preview
Product
rabbitgoo Cat Tree Cat Tower 61" for Indoor Cats,...
Preview
Product
rabbitgoo Cat Tree Cat Tower for Indoor Cats, Multi-Level...
HAVING TWO CATS PROS AND CONS
In the case you want to get a second cat or the case you think your cat needs a companion, you have to evaluate the pros and cons of getting another cat in the house. Let's examine both sides and see the pros and cons of getting a new member of the family.
PROS
YOUR CAT IS GETTING A NEW FRIEND
YOUR HOUSE IS GETTING HAPPIER
FREE ENTERTAINMENT
YOUR TWO CATS ARE KEEPING IN SHAPE
MORE CUDDLES FOR YOU
CONS
EXPENSES ARE GOING TO RAISE
YOU HAVE TO TAKE CARE OF THE NEW CAT
YOU HAVE TO TRAIN AND EDUCATE THE NEW CAT
In my experience, a second cat doesn't add that much expenses in day-to-day life. It is more the vet bills if they are necessary.
Most cats that get adopted are already fixed and vaccinated. This can reduce costs. Therefore it is better to adopt a cat from a shelter that provides for those two services if you have a budget problem.
Even though we may think that we can be a good friend for your cat, you can't possibly be an adequate substitute. In fact, cats like to wrestle, chase each other, play, stalk one another. They have to keep active and entertained.
You can't possibly attend to all of this, even when you play with your cat daily. You certainly can't lick his fur, as another cat would do. Let's have cats do what cats can do best, and humans do what humans can do best!
GETTING ANOTHER CAT WHEN YOU ALREADY HAVE ONE
Getting another cat when you already have one can be a lot of work at the beginning. Some cats do not react very well when you bring home another feline. They may be aggressive, protecting their territory. It may end up in a messy fight.
The best is to introduce them slowly and keep them separated at the beginning to avoid a fight. It is better to set up a different room for the new cat with a litter box and food. Let the resident cat see the new cat from a distance and learn his smell.
If your cat is friendly, this procedure doesn't have to last for days. He may smell the newcomer and be happy with it. Most cats are not that friendly. They can growl, hiss, and attempt to attack the new cat. After a while, you can introduce them and supervise them to make sure no fights are happening.
With time they will learn to get along. The new cat should get a litter box and bowl separate from the other cat to avoid incidents.
RELATED QUESTIONS
Here some related questions to: "Are cats happier in pairs?" and related answers:
Is it better to have two cats or one?
When possible, it is way better to have two cats. They can grow together and be friends and provide a lot of love for their owners. In the long run, it is better to have at least two cats. They will run and chase each other, amongst other forms of play. This will keep them in shape.
Do cats prefer to live in pairs?
Cats may want to have a territory of their own; therefore, if another cat comes in, they may not like it and can become stressed at first. But, when they get used to it, they may like the company more and the fact that they have someone to play with.
If I am going to adopt two kittens at the same time, should I get them from the same litter?
It is way better to adopt two cats from the same litter, they are already used to each other, and they will be more likely to get along when they grow up. Littermates are the best you can get when you are trying to pair cats.
CONCLUSION
Are cats happier in pairs? Let us know your experience with your cats. Do they get along? Did they like to have a friend? Please leave it in the comments below.