HOW MANY CATS CAN YOU OWN? 9 ADVICE TO GET YOUR ANSWER
How many cats can you own? It isn't easy to decide how many cats are too many when one like to have them around. However, there are laws, regulations, and physical limitations to owning too many cats. But what is too many?
If you are not violating your local laws, you can own as many cats as you are comfortable owning, which means you can provide proper space, money for the medical expenses, food, and attention to each cat. Most people are comfortable with 2-6 cats.
Here are some considerations and tips to determine how many cats you can own.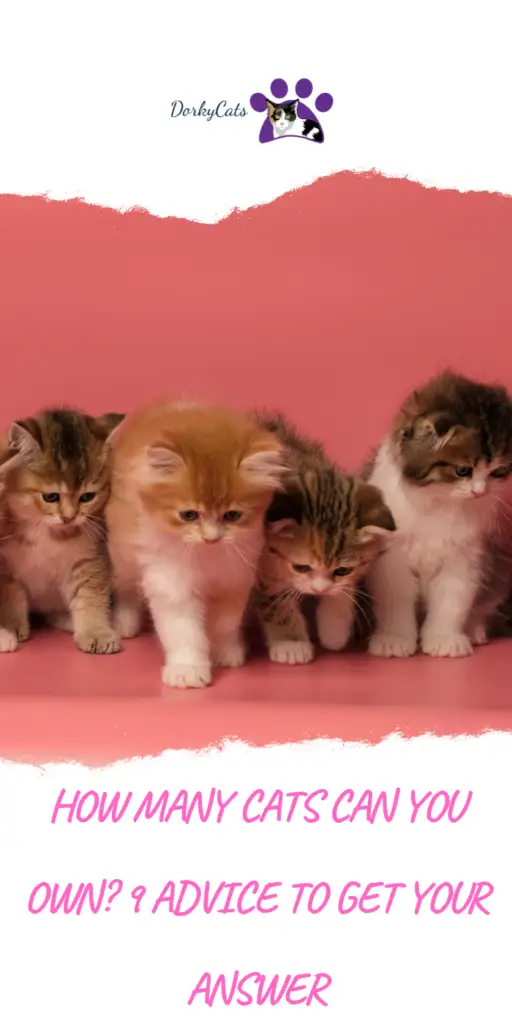 HOW MANY CATS CAN YOU OWN IN YOUR HOUSE?
Cats are wonderful pets! However, how many cats can you own? Some households have one, while others have four or five. It can be difficult to tell how many cats are too many.
It becomes tough to take care of too many cats. You might not realize when a cat is sick, and they won't get the attention they need.
Many households choose to have two cats to keep each other company while the pet parents are at work. However, you shouldn't have more cats than you can take care of, whether one or five cats.
Here's what you should know and consider:
1. HOW MANY ROOMS DO YOU HAVE IN YOUR HOUSE?
One of the first considerations is the space available in your house. Although cats are smaller than dogs and can fit in a smaller space, they still need to have some room to jump, play, sleep, and keep busy throughout the day.
If you have only one room in your house, a cat is a correct number, maybe two. In general, it is safe to consider that you can have as many cats as the rooms in your house, although there are other things to keep in mind.
Keep in mind that you might want to provide scratching posts or cat trees so that your cat can jump and exercise and that if you have a tiny apartment, it is impossible to enhance your cat's life.
2. WHAT IS THE STATE OF YOUR FINANCES?
Although it is possible to find affordable cat food and litter, the vet bills are not cheap. Each cat requires food, toys, and vaccinations. In addition, if they get sick, you must pay the visits, analysis, and medication.
You can expect to spend between $120-$300 per month on a cat. In case of severe illness, the expense can become huge. If you can hardly finance one cat, this alone can give you the answer.
In my experience, nothing is worse than your cat getting sick and having no money to bring him to the vet or buy their medication.
3. HOW MUCH TIME DO YOU HAVE EVERY DAY TO CARE FOR YOUR CATS?
Yes, it is true that cats are independent, and some of them allow us to pet them for only a few minutes a day. However, most cats come to their owners purring, demanding attention. They have to be cleaned, brushed, and in general, they need attention.
The litter box has to be cleaned daily, and their food bowls too. They need to be fed two or three times a day. Can you keep up with it and fit it into your schedule?
Cats cannot be left alone for days or too much; they can develop behavioral problems. Also, if you have more than one cat, each one needs to get some of your attention, and you need more time to care for them.
While the job of caring for two cats instead of one might not be that much, it can increase with three or more cats.
4. DO YOU HAVE FAMILY MEMBERS OR FRIENDS THAT CAN HELP YOU TO TAKE CARE OF YOUR CATS?
If you are not alone, owning two or more cats is easier, providing the financial situation is under control. If you live with your parents, your mom can surely help—similarly, your spouse can help care for cats.
If you are alone, you have to consider the times you need to leave, work, go on vacation, etc. If you have a busy life, more than one or two cats can be challenging to manage all by yourself.
5. DO YOU HAVE ENOUGH SPACE FOR THE LITTER BOX AND FOOD BOWLS?
Cats are territorial, although some cats are way more relaxed about other cats using their litter. Generally, it is suggested that a litter box is necessary for each cat. Do you have space to locate two or more litter boxes in your house?
If you can't accommodate the number of required litter boxes for your cats, they might develop behavioral issues. In addition, each cat should have a food bowl, although some cats do not have a problem eating together from the same bowl.
For example, my male cat would never eat in the same bowl as the other cat. So, if I was to adopt another cat on top of the two I have, I need to add a food bowl for the newcomers since the two spoiled ones I have already do not share!
6. CAN YOU KEEP YOUR HOUSE CLEAN AND HAVE PROPER HYGIENE?
The house gets dirty faster when there are pets. For example, if you have a cat, it is necessary to do daily cleaning, collect the air left from the cat, clean the surfaces, the floor, the litter box, the cat's favorite spots, etc.
Cats use the litter box, and after they poop or pee, they can jump around in the house and shed. In my experience, with two cats, I must clean the floor and main surfaces every day, such as the kitchen table, countertops, and similar.
The litter room has to be cleaned and washed daily or every other day since the cats can make a mess. Consider that owning 4,5,6 cats can make the task of cleaning the house very time-consuming.
7. ARE THE CATS ANNOYED OR STRESSED ABOUT SHARING WITH OTHERS?
While some cats do not like to have other cats around touching their litter box or food bowl, others do not mind. So if you know, your cats do not have a pleasing personality and would get into a fight, getting more cats might not be a good idea.
Stressed cats might get sick or have a reduced quality of life if they get into fights every day. When cats get into fights, they scratch and bite each other, which can get really dangerous.
8. WHAT ARE THE LOCAL LAWS?
Often local laws can establish how many cats you can have. For example, in California, each family can have between 1-10 cats; in Fresno, specifically 4-6; in Florida, it is possible to get up to three cats; and in Texas, four cats.
You should check the local regulations; in that case, the limit is already set. If you can adopt more pets, you can always ask for a license or a permit to own more cats.
9. HOW LONG CAN YOU PLAY OR EXERCISE WITH EACH CAT?
Cats must jump, run and play to stay healthy and interested in life. In the wild, cats would hunt, jump on trees, and generally do a lot of physical exercises. However, indoor cats do not have the same possibilities since the food is already provided for them.
Daily interaction and play with cats are necessary for their health and for the cats to feel that you care and love them. Imagine petting and cuddling every day five different cats. Then, consider the time you can dedicate to each cat before deciding how many you can have.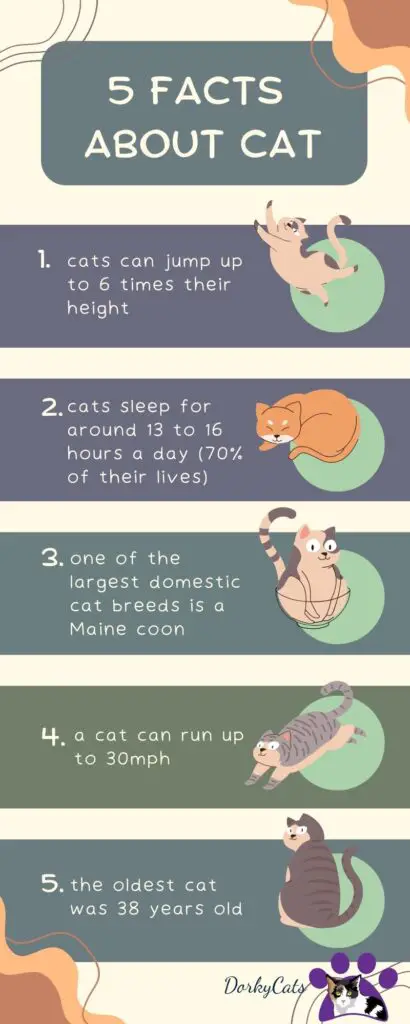 WHAT'S THE LIMIT ON CATS YOU CAN OWN?
The limit on cats you have can change depending on your area. Some places restrict how many you can have, while others have no limit. For example, in Pennsylvania, there are no restrictions on the number of cats you can own. However, Pittsburgh, PA, has a limit of five pets in a single home. So, it can even vary between cities. 
Additionally, if you live in an apartment, you probably can't have as many cats as someone living in a home they own. So you should check your lease before bringing in any more pets.
It's illegal to have pets that you don't take care of. It becomes animal cruelty if you have too many cats and can't provide them with ample food and water. 
ARE FOUR CATS TOO MANY?
So, how many cats can you own? Four cats might be too many for some, while others can handle having five at home. Of course, it all depends on if you can care for them.
The more cats you have, the more food and cat litter you need. Plus, you'll need to put more energy into grooming, cleaning the cat boxes, and playing with the cats. So, four cats can be too many if you don't have enough energy and money.
HOW MANY CATS CAN YOU HAVE BEFORE IT'S HOARDING?
While it can depend on the size of your home, most people agree that it becomes hoarding when you have more than five cats. However, many places have ordinances that state owning more than fifteen pets is animal hoarding.
With so many cats, it becomes impossible to care for them. Many people who are animal hoarders don't realize when a cat is sick or even when one passes away in their home. You don't want to reach that point, so never take in more cats than you can provide for.
IS HAVING TOO MANY CATS UNHEALTHY?
It's very unhealthy to have too many cats in one place. The litter box fills up quickly, which can cause upset cats to go outside the box in your home. Plus, cats might fight with each other more, causing them stress.
Cats can also carry germs or parasites that make you sick. When you have too many cats to take care of, they're more likely to pass infections on to you.
WHAT DO YOU DO IF YOU HAVE TOO MANY CATS?
In short, never adopt more cats than you can easily manage. You need to be able to afford pet food, other cat supplies, and essential vet visits. For some people, two is the max. However, other households can easily care for five cats. In most cases, you shouldn't have more than five kitties at home.
FREQUENTLY ASKED QUESTIONS
Is it ok to own three cats?
Owning three cats is ok and manageable. Two cats can keep each other company, and a third cat can be an excellent addition if you can care for them in terms of time and money.

Can you get sick from having too many cats?
If you live with too many cats and cannot keep up with cleaning and hygiene, you can get sick from owning too many cats. It can happen, especially when too many cats live in a small space.

What is the best number of cats to have?
The best number of cats to have is between 2 and 4. Two cats can play and keep each other company when you are not home. Similarly, if you have space and possibility, they can benefit from each other by adding one or two more cats.
How much space do three cats need?
In general, the minimum is to have at least 20 square feet for each cat or 1 room available for each cat. So if you have a two-bedroom house, you can have between 1 to 2 cats.