WHY DO CATS KISS YOU ON THE LIPS? 5+ FUN-LOVING REASONS
Why do cats kiss you on the lips? Cats have a bad reputation for being selfish and not caring about others, especially their owner. However, is this really the truth?
Cats kiss you on the lips because they want to show you affection and let you know they like you. Cats used to kiss each other as a sign of affection. Some theories want cats licking our lips because they smell food or are imitating humans because they remember being kissed as kittens.
Let's get more into it.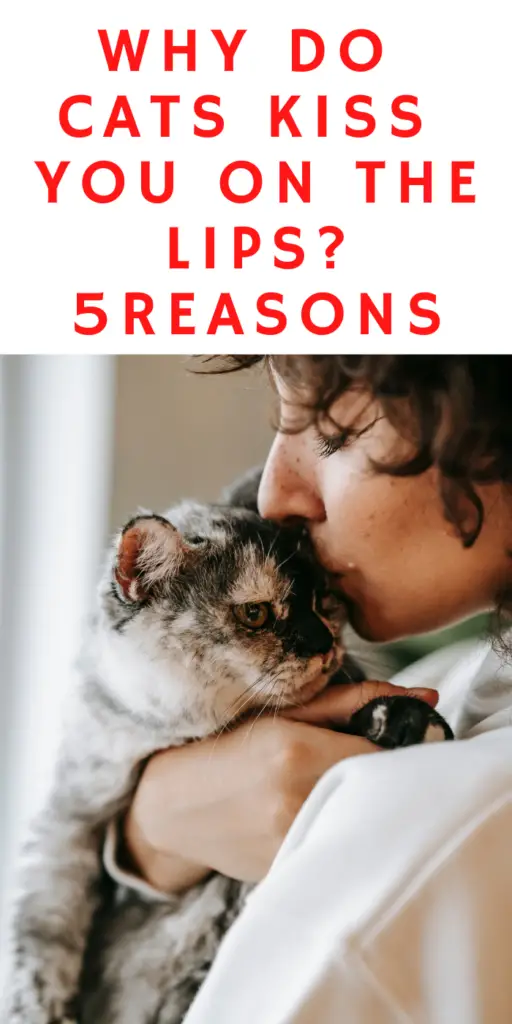 WHY DO CATS KISS YOU ON THE LIPS?
Cats might kiss you on the lips for different reasons; there are scientific explanations and cat owners' observations.
Here are the main reasons:
1. THE SCIENTIFIC APPROACH
Some scientific approaches to cat kissing try to explain that cats do not really kiss you or other people, not even other cats. Instead, it is implied that cats would smell some piece of food or other materials in your face, and therefore they come and lick you.
Furthermore, it is believed that cats may have seen you kissing someone else and are imitating your gesture. It is not their idea.
2. THEY TRY TO GROOM YOU
Based on similar theories, cats would attempt to kiss you because of trying to groom you, or they remember you kissing them when they were kittens, and based on those good memories, they do it with you.
3. THE LOVE THEORY
Are you a cat owner as well? If you have had cats for a while, you know that those theories, even if very scientific and could have some ground, do not reflect how cats behave.
As a matter of fact, my cat used to come every morning on me and wake me up with light kisses on my face and lips, he does this every morning, and he purrs like crazy. I indeed had no food on me. So cats do that because of affection and interest in you.
Based on my observations, cats show affection and often come to you unconditionally, showing you love with those small kisses, licking you, purring, and other ways.
4. THEY LEAVE THEIR SCENT ON YOU
When cats lick other cats or even humans, they leave their scent on them. It is like marking territory and establishing who belongs to their territory. In addition, cats leave small particles that they will be able to smell later on to figure out who you are.
5. STRESS
When cats are stressed, they tend to lick away things. They usually lick themselves, but they can also lick your hand and face if you are around. Cats do this when they feel uncomfortable.
Usually, if it is out of stress, you can see that it is a kind of nervous licking, and there is no purring.
WHY DO CATS LICK YOUR NOSE?
Cats kissing you on your lips and face will aim at your nose as the preferred target. So why would cats decide to lick your nose and seem to be so obsessed with it?
Cats used to lick each other faces and also each other noses. They do this with you for the same reasons: they like you and try to bond with you. It signifies affection and that you are your cat's property.
If cats are coming close to you so they can lick your nose, this is already a sign of trust. Your cat is trying to bond with you and wants affection in return.
Why do cats kiss you on the lips and nose, then? If I think back at my cat licking my nose, I see that he comes on me. He walks onto my chest, kissing me on the lips and often the nose. He is purring simultaneously, so I know I need to pet him. He wants me to scratch him under the chin and the head.
So basically, cats want to have a moment with you, a moment of affection.
FREQUENTLY ASKED QUESTIONS
Are cats touching noses a good sign?
Yes, usually, cats touching noses with each other is a good sign, meaning they are greeting each other and marking the other cat with their scent; so if they do it, let it be, they are socializing.

Is it OK to kiss your cat on the lips?
It can be unsafe to kiss a cat on the lips as we do not know what kind of bacteria he may carry. However, it can be different with indoor cats since cat owners usually vaccinate them and keep them clean.

What does it mean when a cat licks you?
Cats may lick you in many instances. For example, if you are petting them, picking them up, or if they are coming to you, they may start licking you.
It is a sign of affection and bonding. Your cat likes you and will show it to you by licking you on the face, hands, and other places. He is also trying to groom you and leave his scent on you.

Should I let my cat lick me?
Cats try to lick you to show affection, and they want to bond with you. If you do not let them, they may feel rejected. Of course, if you think that the cat may carry some bacteria, then don't let them do it to you. In other cases, you can wash it later on.

Why do cats kiss each other?
Part of cats' communication is the display of affection through kissing and licking each other. So if you see two cats kissing and licking each other, you know that those two cats are boding and are friends.

What does it mean when cats touch noses with you?
Cats typically touch noses because they smell each other to know who the other cat is and greet the other cat. So if your cat touches your nose with you, he has a similar purpose: to smell and say hello to you.
This way, a cat can leave his scent on you or another cat. Cats have a funny way of saying they like you by making you their property!

Do cats give kisses with their nose?
Cats give "kisses" with their nose as a sign of affection and because they want to smell you. This happens when cats lightly touch your lips or face with their (usually wet) nose.

What happens if you kiss a cat on the lips?
If you kiss a cat on the lips, usually nothing happens besides that your cat usually doesn't appreciate it. If you do this with stray cats, it can be dangerous because they might be sick and carry harmful bacteria.
Indoor cats, if routinely checked, should not get you in trouble.