WHY DO CATS BLOCK STAIRS? 3 SURPRISING REASONS
Why do cats block stairs? Amongst the weird things your cat does, there is the staircase stunt. At some point, your cat decides to sit in the middle of the stairs, and no one shall pass! Or else!
Cats block stairs because they are territorial and want to show other pets and humans that they own that space. In addition, sitting in the middle of the staircase is a way to prevent sudden attacks from other pets since cats can see both directions, and other pets can't hide.
Here is more about cats and stairs.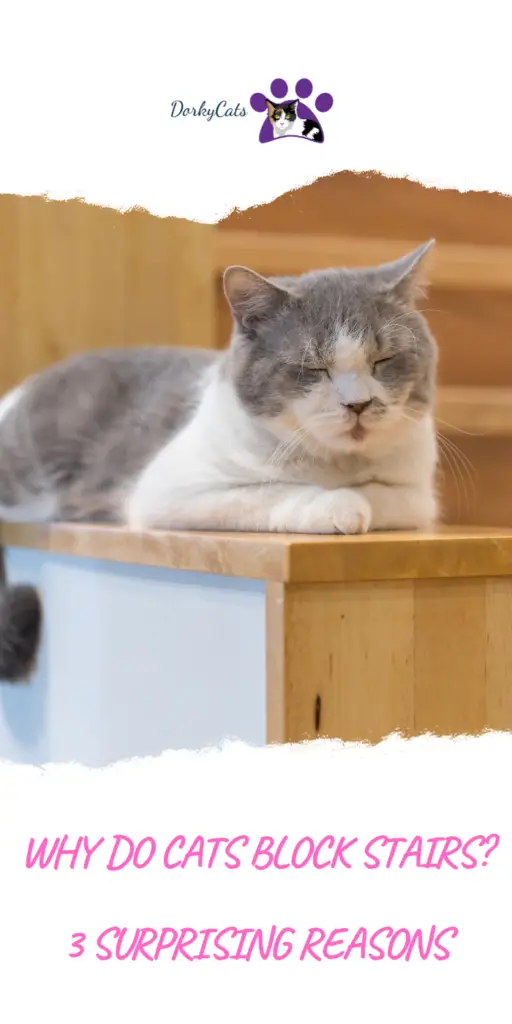 WHY DO CATS BLOCK STAIRS?
Every cat parent knows that walking up or down the stairs in the dark is a bad idea. Many cats have a strange habit of sprawling out on stairs, creating a safety hazard for all involved. So why do cats block stairs if they could potentially get stepped on?
There's no specific reason known for why cats love laying at the top or bottom of stairs or even in the middle of the stairs. For some cats, it may be a comfort thing, an attention-seeking thing, or a display of their perceived ownership over every corner of your home. 
Unless you decide to block your cats from accessing stairs, you'll just have to get used to looking out for them and finding ways to step over your cat when they're napping on your stairs. 
Here are the top reasons for cats blocking the stairs:
1. TERRITORIAL ISSUES
Cats like to sit at the top of the staircase, watching other pets or humans from the top, because they want to make a statement about owning the territory. Everyone can see them, and every pet knows they will be in danger if they try to get by.
Even dogs are afraid to pass by a cat that blocks the stairs or a corridor; they know if they do it, the cat will try to hit them, so they are cautious about it. Cats let everyone know they are in charge and no one should mess with them.
Likewise, when you see cats standing at the bottom of the stairs, preventing anyone from going upstairs, you know your cat is making a statement about the territory and making sure no one invades his space.
2. SECURITY
Security and safety are essential for cats. When they rest or loaf, they want to be prepared to attack if necessary or see others approaching them from a distance. The stairs are perfects. If cats sit in the middle, they can see both ways.
If they sit at the top, they will see everyone approaching them in time to hide or prepare for the attack. If they sit at the bottom, they can guard the space and have the certainty that no one is behind them.
3. CAT PERSONALITY
Sometimes cats have a sassy personality and like to mess around with other pets or humans when they try to pass by them. Therefore, it is an excellent occasion to play with other pets, such as another cat or dog, and chase them around the house.
Who has never been the victim of a prank from a cat?
WHY DO CATS LIKE STAIRS?
If you have carpet or a soft runner on your stairs, your cat may simply enjoy the warmth and coziness these things provide. They may not see how stretching themselves out on a step could be preventing you from using them. 
Cats may also like to block stairs because they know you'll use them, and you'll have no choice but to stop and give them some pets. Similarly to how cats like to run in front of you as you're walking, they've figured out just how they can make you stop and focus on them.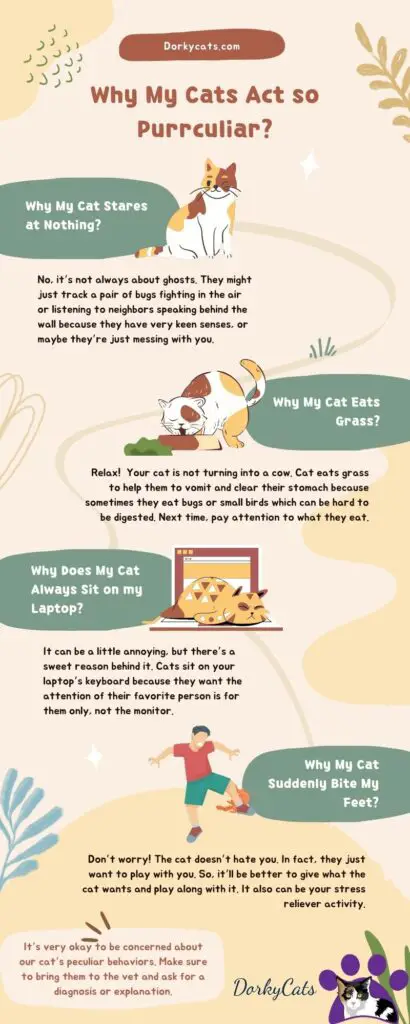 DO CATS THINK THEY OWN STAIRS?
It's no secret that your cat believes your home and stuff are theirs. So, naturally, everything is fair game for them to turn into a cat bed; everything except for the cat bed you bought them already, of course. 
As your scent gets transferred onto stairs when you walk on them, your cat may be trying to replace your scent with their own. But, on the other hand, your scent is very comforting to your kitty. This is why cats often lay on our clothes. 
WHY WON'T CATS LET PEOPLE PASS THEM ON THE STAIRS?
Some cats won't react when you pass them on the stairs, while others might swat at you, meow, and stretch out so you can't pass. They may be doing this intentionally, especially towards other pets.
This is essentially a cat's way of trying to dominate their territory. Even if your cat gets along with everyone in the home, human or animal, they still enjoy being the boss of the house. 
In addition, sudden movements near a cat can trigger an instant reaction, which is why cats might try to hit the offender.
Giving your cat access to your stairs is a great way to encourage them to exercise without actually making them exercise, which many cats don't like. However, if you have small kids who aren't always as careful, keeping your cats off the stairs may be necessary, though they likely won't be too happy about it. 
While there are many reasons one could assume cats love blocking stairs, it's possible that it's just one of those funny quirks that most cats seem to have and nothing more.
HOW CAN I STOP MY CAT FROM GOING UPSTAIRS?
If you want to prevent your cat from going upstairs, the best thing to do is to buy a divider or a kid barrier, to stop the access to the stair. You could use baby gates for stairs.
Although you can try many other tricks, such as using a scent or trying to train your cat, the best thing to do is simply to get a divider and block the way.
FREQUENTLY ASKED QUESTIONS
Why do cats block doorways?
Cats block doorways because they want to control who is coming in and out. They feel secure and safe if they are not going to be surprised by other pets or people getting by without them knowing. Cats do this because they are territorial.

Why does my cat sit in the middle of the room?
Cats sit in the middle of the room if they think that particular spot is cool (when it is hot) or it is hot (during winter). In some cases, they also do it because they think it is a place where they can observe the rest of the room or protect themself from potential dangers.

Why does my cat sleep in the middle of the floor?
In general, cats sleep in the middle of the floor. It must be a place where they feel safe and secure. Sometimes, it might be a warm place they like to use during winter or cool if it is summer—however, cats like places where they can be aware of the environment.