DO CATS UNDERSTAND MUSIC? 5 THINGS TO KNOW
Do cats understand music? You may have noticed your cat reacting when you are playing music or even when sounds are coming from the TV. But does the music communicate anything to cats?
Cats understand music. They can understand the vibration of the music and get various sensations depending on the tempo and the rhythm. For example, they can get a soothing feeling if they hear relaxing music such as classic, or become scared if they hear heavy metal sounds.
Here is all that you need to know about music and cats.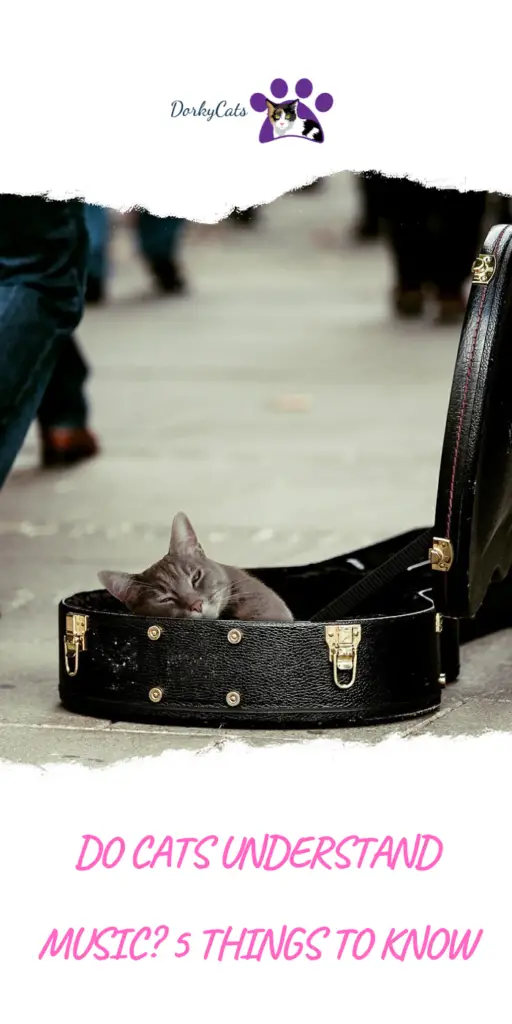 DO CATS UNDERSTAND MUSIC?
Music is an essential element of human life as it acts as a stress-reliever. It can also get us pumped up or sad, depending on the type of music playing. But what about animals like cats?
Cats don't perceive music the same way humans do. Cats are very sensitive to music because of their high hearing and the sensitivity in their whiskers. They hear music differently than we do because they hear differently than us, which means although they understand music, they don't enjoy it unless it's pandered to cats.
The rest of this article will cover how cats hear music, what music is good for cats, and if you should play music around your cat.
HOW DO CATS HEAR MUSIC?
Cats and their whiskers are very sensitive to music because of the vibrations it produces. This means that your cat is likely to find your music too loud. They have a much broader hearing range than humans and other animals, so their ears are so sensitive to sound.
To put this into perspective, humans can hear between 20 and 20,000 Hz. Now compare this to cats, who can hear between 48 and 85,000 Hz. Cats can hear high and low pitches, and their hearing range is one of the broadest out of other animals.
This hearing difference is why music sounds different to cats than to humans. They can hear all the different pitches, making the music sound distorted to them. That's why music made by humans is for humans: it's how we hear, and we design it based on how we hear.
With this new knowledge, you can determine how your cat will react to music. However, this doesn't mean there aren't types of music that your cat likes. In addition, there are types of species-specific music that are good for cats.
IS THERE MUSIC MADE FOR CATS?
There has been an instance of a musician composing music specifically for cats, with sounds that resemble purrs, bird sounds, and sounds that cats are familiar with. In general, those sounds should have a relaxing and calm effect.
But you do not have to research music composed purposely for cats. As far as you find relaxing, sweet music, your cat will feel safe and will relax. In my experience, my cats will be ok with soft, pop music, while when I play to music too loud or heavy music, I see them staring at the music box, and sometime they will go closer to smell it.
It looks like they want to ensure it is not dangerous. Here are five things to know when playing music for your cat:
Do not put music very loud
Use relaxing sounds
Play sounds instead of music, such as birds singing, or chirping ( your cat might be intrigued)
Test different music and sounds and see how your cat reacts
Do not put the music box too close to your cats
WHAT IS A SPECIES-SPECIFIC MUSIC?
Species-specific music is music made specifically for a particular type of animal species. The sounds, tones, rhythm, pitches, and overall music is made to sound familiar to certain animals.
Since the sounds are familiar to a specific animal, there are more chances that they will be liked, which can positively affect the animal behavior. For example, monkeys would appreciate higher pitch sounds, while dogs would respond to another type of music.
WHAT MUSIC IS GOOD FOR CATS?
Humans interact with one another by speaking. Cats interact with one another by meowing. However, cats can't understand talking, and humans can't understand meowing. With this in mind, music replicating how a cat communicates is the best for them.
A study by the University of Wisconsin determined that by switching out a drum beat with a purring melody, the cats responded better to the melody. In addition, they determined that the cats liked the music because they went up to the speakers and rubbed themselves against them.
WHY SHOULD YOU AND SHOULDN'T PLAY MUSIC AROUND YOUR CAT?
Loud, bass-boosted music isn't an excellent choice to play around with your cat. There are certain types of music your cat will like and specific types that they won't. Loud music is one that they don't like and one that you shouldn't play. This includes metal, screamo, and hard rock.
However, there are types of music that calm a cat. These music types include classical, instrumentals, and lo-fi. This music has calming beats that are easy on their ears and whiskers, meaning it's okay to play around with your cat and even ease their stress.
WHAT TO PLAY TO YOUR CAT?
If you are looking to put together a playlist to relax your cat, here are some ideas for you:
Test them and which one is more effective for your cats.
DO CATS LIKE THE RADIO?
Cats might feel comfortable with the radio if you put a radio station that provides calm and relaxing music in general. Also, leaving the radion turned on when you are not home can help your cat think that humans are around and that they are not alone.
It is like when you leave the TV on to keep you company. Just make sure that the radio is not too loud and runs in the background.
DO CATS LIKE CLASSICAL?
Cats like classical music because, based on recent studies, they feel more relaxed, and their heartbeat slows down when they listen to it. In addition, researchers have found that classical music decreases pupils' diameters, showing that it has a soothing effect.
In addition, cats that listened to classical music before and during surgery were able to recover much faster.
DO CATS LIKE THE PIANO?
Some cats have been found to "play piano" randomly. They are seen going near it and pushing the keys of the piano. Surely cats are intrigued by the fact that they can paw at something and create a sound with it.
But some other cats have also been seen mewing (singing) while their owners played a pleasant and relaxing melody. So some music composed with the piano can be soothing and comfortable, and cats might like it.
If you have a piano, don't forget to close the lid if you do not want to listen to the strange music "composed" by your cat!
DO CATS LIKE JAZZ?
If the jazz you are playing is lazy and soothing, cats might like it. Of course, some forms of jazz could be too high-pitched for a cat, but in general, it is a nice relaxing kind of music, and most cats like it.
You can try playing some jazz and see how your cat reacts to it before making a final decision. Remember that cats are different and not all of them have the same personality and taste.
DO CATS LIKE LOFI?
Lofi music can be very good for cats, especially the most relaxing ones. Cats might enjoy music with different sounds in it. They might find the sounds familiar and feel comfortable with them.
As far as the music is not scary and doesn't have sudden high sounds, it is okay for cats.
DO CATS LIKE ROCK?
Rock music is not suitable for cats in most cases. Some types of rock can be too loud and have too many strong sounds that can scare cats off. Cats might tolerate you playing rock music, but it doesn't mean they feel good with it.
Observe what happens when you put rock music. For example, if your cat moves to another room, you know that rock music is a no-no.
FREQUENTLY ASKED QUESTIONS
What do cats think when they hear music?
When cats hear music, besides the sounds of the music, they sense the vibration emanating from it. The pulse of the sounds can send relaxing messages to the cats or any other type of sensation, depending on what is playing. For example, low vibrations can calm a cat, and a loud sound with a higher rhythm can send the opposite message to a cat.

Do cats remember music?
Cats could recognize sequences of sounds in music and part of an arrangement of a melody or a song. It is not clear how much they can cat remember, but for sure, they can figure out a series of sounds when they hear them again.

Are cats affected by music?
Cats are affected by music, as demonstrated by several studies. For example, classical music can relax a cat, music with a higher rhythm and beat can send a message to a cat to get into action, and some other music can even scare a cat.