WHY MY CAT WANTS ME TO WALK HIM TO THE FOOD? 3+ REASONS
Why my cat wants me to walk him to the food? Cats have strange habits, and indeed this is one of the things that are both funny and weird. My cat comes to wake me up so I can follow him to the food bowl, and once we are there, he starts to eat.
Cats want you to follow them to the food bowl because it is a habit for them to see you there filling up their bowl just because they start eating. They might want fresh food, believe that they can eat when you are there, or feel safer eating when you are there.
Let's see what is behind cats' mechanism wanting you to follow them to the food bowl.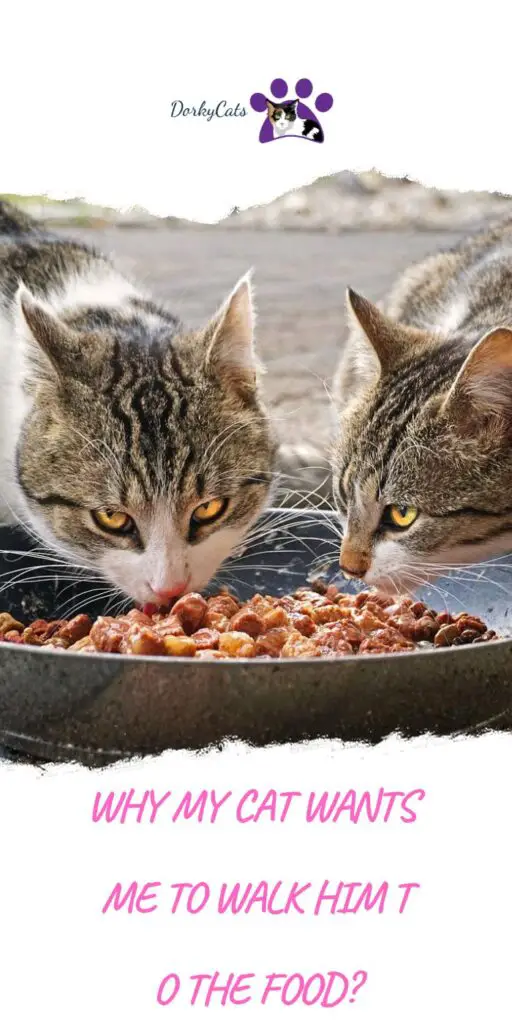 WHY DOES MY CAT WANT ME TO WATCH HER EAT?
Some cats like to be watched while they eat, and actually, they want their owner to be there in those moments. This show that cats are not so independent and selfish after all.
One of my cats wants that I watch him even when he goes pooping. Yes, cats are…. cats!
Cats want you to watch them while they eat for several reasons. Here are a few:
Because of habit
Safety
Affection
They like to eat with people around them (social cats)
An illness
Cats are used to you being there while they eat because you fill their food bowl just before, and usually, you stick around for a while. Somehow cats believe that this is the regular routine.
It is strange for them if you are not there while they eat; therefore, they want you to watch them "as usual." In addition, remember that cats are the most vulnerable when eating.
During those moments, they can't protect themselves, and since they trust you, cats figure that if you are there, they will be safe while enjoying their meal.
WHY MY CAT WANTS ME TO WALK HIM TO THE FOOD?
Similarly, some cats want you to walk them to their food before eating. Again, there are several reasons for it, and you can figure it out by paying attention to your cat. With time you will figure out what he wants.
In my experience, since I have a spoiled cat, he wants me to give him fresh food or fill his bowl newly. In some cases, he just wants me to be there to feel good about eating. Here are some of the most common reasons for cats wanting you to walk them to their food:
1. THE FOOD IS NOT FRESH ANYMORE
Some cats are picky eaters. In my experience, my cat always wants to eat fresh food. This means it has to be a new can of wet food just opened or dry food just taken out from the packages.
Somehow cats can sense even when the dry food has been left out for a while, and they might not like it; maybe it doesn't smell as good as before, and the taste is different. So if you have picky cats, they might want you to get to the food bowl to remove the old food and give new one.
Of course, it can also happen if the food bowl is empty. In this case, he wants you to feel it. If you recently filled the food bowl with new food and your cat still wants you to follow him to the food bowl, then you could just stir the food a little or remove the top part of what is in the bowl.
In this way, the food underneath is still fresh, and your cat will eat it.
2. THE FOOD BOWL IS EMPTY
Another reason your cat wants you to follow him to the food bowl is because the bowl is empty. In this case, he wants to tell you that you have to refill and that he is hungry. This is pretty normal.
It is more unusual for a cat to want you to follow him to the bowl when it is already filled.
3. HABIT
Cats are creatures of habit. They might try to get to the food bowl before eating just because of habit. They know that food appears when you are near their food place. Just like magic!
Their job is to get you there so they can eat. It is a solid routine that has happened through the years, and now they do it out of habit. Sometimes it is enough to point or tap the food bowl to make your cat understand that the food is already there.
4. FOOD BOWL IS DIRTY
Sometimes, although you follow your cat to the food bowl and put new food, your cat still will not eat. It has happened a few times with one of my cats ( the picky, spoiled one).
I figure that it is because the bowl is not cleaned, and he won't eat the new food if he still smells the old one. So the routine is to remove the old food (if stirring it or removing only the top part is not an option because the food is not good anymore), wash the bowl, and put the new food.
Believe it or not, cats want to have clean bowls! But they have no problem eating from the floor at times!
5. SOMETHING SCARES THEM
At times would not eat from their food bowl without you because they do not trust to lower their guard since they are scared about something. For example, when one of my parents is at home, I have to stand close to one of my cats so he can eat.
He won't eat with someone else in the house and wants me to be there. So he wants me to follow him to the food bowl ( and wait there) until he has eaten. He is not afraid to reach for his food when we are alone.
It could be any other thing in the room that scares your cat and make him uncomfortable to eat without the owner. If you moved to a new house or changed the environment, your cat would feel safer if you were there.
In some extreme situations, and after just moving house, you need to bring the bowl to your cat and watch him eat.
6. YOUR CAT IS AN AFFECTION EATER
Some cats need to have affection or human companions present when they eat. They might even need to get some pets and sweet words of love to feel good about eating.
Some cats need further encouragement like bringing food close to them, some scratches under the chin, and maybe they just need you to sit there and watch them. Affectionate eaters are not sick cats but only stressed cats.
SHOULD I PET MY CAT WHILE EATING?
In general, most cats do not like to be touched while eating. However, it really depends on your cat. If your cat allows you to do it, then go for it. Some cats might even like it.
But, if your cat is not that type, if you touch him while he eats, it could scare him and prevent him from eating. So, sometimes, when you want to gain your cat's trust, petting him while he eats is the only way.
Some cats allow a new owner to touch them while they eat, and for the cat owner is a way to gain confidence with the new pet.
WHY DOES MY CAT WANT ME TO PET HER WHILE SHE EATS?
Cats want you to pet them while they eat because they are social eaters. They need extra encouragement and love to feel safe and lower their guard so they can eat. In addition, cats feel better if a trusted person watches their back while they eat.
However, some cats might just enjoy the pets and attention, regardless of whether they are eating. It can resemble the action of a mother cat toward the kittens. For example, your cat might have enjoyed some severe licking by the mother cat when eating.
FREQUENTLY ASKED QUESTIONS
Why does my cat want me to watch her poop?
Cats want you to watch them poop because they feel secure with someone watching their back in their most vulnerable moments.
Should I play with my cat after he eats?
In general, cats like to eat then, groom themselves and sleep. But, in my experience, I have seen cats resume playing after eating, although it is happening when eating a small amount of food.

Why does my cat meow at me to follow her?
Cats meow at you to follow them for many reasons, such as food, toilet needs, play, or just because they want attention. It is a good sign that cats have bonded with you and feel confident they can communicate with you.