EUROPEAN SHORTHAIR CAT PERSONALITY AND BREED (ALL YOU NEED TO KNOW)
Are you curious to know more about the European Shorthair cat personality? Despite only recently being recognized by the fascinating world of cat shows, his ancestors have been bred in Europe for millennia.
As you can easily guess, he is a loyal and affectionate cat and prefers the opportunity to go out in the fresh air. At a glance, this cat has mixed descent, requires a little care, is friendly, and likes to be outdoors.
Let's know more about the European Shorthair cat personality and breed.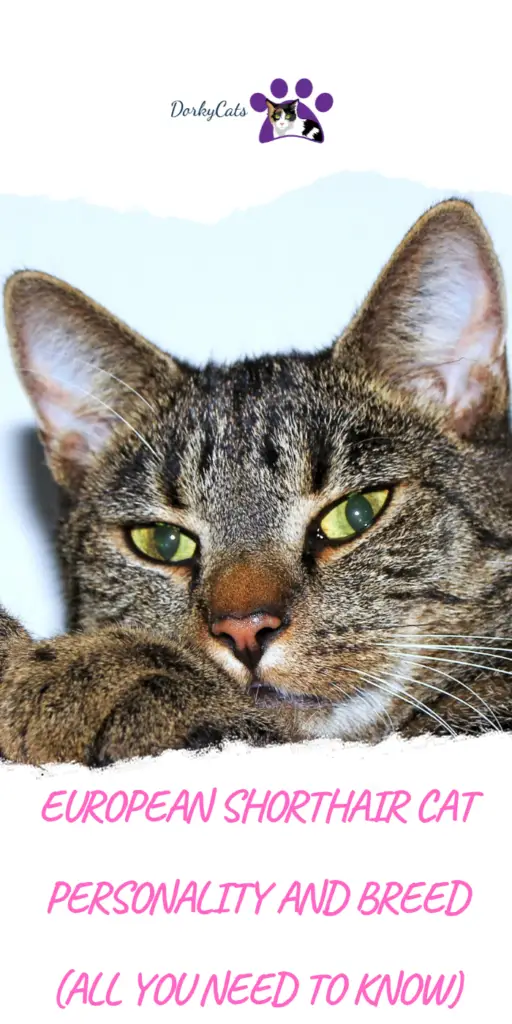 WHAT IS THE EUROPEAN SHORTHAIR CAT GENERAL ASPECT AND SIZE?
The European Shorthair is the cat par excellence. It is a cat that we all think of when we speak of this wonderful feline species. The European cat is not a "common" cat by any means
▷ The color of the eyes varies from yellow to green or orange, depending on the coat.
The tabby colors and the brindle in the European are like the fingerprints in humans: there are no identical specimens.
The European Shorthair cat has round paws. The body is muscular and robust but not as strong as the British Shorthair.
The nose of the European is average long, straight, and of constant width.
CHARACTERISTICS OF THE EUROPEAN SHORTHAIR CAT
Characteristic
Description
Notes
In summary
Very similar to a common
domestic cat, only bigger
Except in Northern
Europe is not yet
a very known breed
Personality
Sociable and affable,
he adapts easily
It does not give
problems with
small dogs or children
Appearance
It looks a lot like a
common domestic
cat,
only with a more
massive build
In the house
It proves to be an
excellent companion,
but also an infallible
hunter
Behavior
Being very active,
while still adoring being
in the house, he does
not mind going on a
patrol outdoors
Grooming
The soft short hair
adheres to the body
and does not need
a lot of care

Most common health
problems
There are no significant
genetic diseases,
he is a strong and
long-lived cat
White specimens with
blue or heterochrome
eyes can be partially
or completely deaf

Size
medium-large; up to 6 kg
for the male, up to 4.5 kg
for the female
Ears
Medium and slightly rounded
Eyes
Round, of various
colors according to
the coat
Head
Longer than broad,
with well-developed
cheeks, rounded skull,
and proportionate neck
Paws
strong, of medium
length, and with
rounded feet
Coat
Thick, short, soft,
shiny, and
appealing coat

Allowed colors
The most typical
is the tabby, but there
are an infinite
range of colors
and designs
The European Shorthair has tabby circles on its tail. On the tail, it stands out an alternation of circles of light and dark hair. The tip is black.
WHAT IS THE HISTORY OF THE EUROPEAN SHORTHAIR CAT?
In the past, the European Shorthair was very similar in appearance to the British Shorthair, with whom he was mated to favor his breed development and increase its size.
Later the typical cobby build of the British stock was considered a defect, and further hybridizations and crossings have since been banned. However, the popularity of these cats has not increased.
Today it turns out more widespread in the Scandinavian countries, but considerable efforts are being made to get the proper recognition elsewhere as well.
It should be emphasized that these thoroughbreds look a lot like Europeans without pedigree, especially when compared to many other, more particular breeds.
A FASCINATING BREED
The European Shorthair is a sturdy cat that adapts easily to domestic environments. However, it retains a developed instinct for hunting, be it birds or rodents.
Of a friendly nature, this cat usually gets along well with other cats and even dogs.
Furthermore, there is a wide variety of colors and designs. However, according to a recent trend, just as in the case of the British Shorthair, it is preferred the colorpoint variant.
A legend says the M on the forehead is a sign left by the prophet Mohammed.
WHAT IS THE ORIGIN OF THE EUROPEAN SHORTHAIR CAT?
It is the typical domestic cat, although there is nothing "common" in this animal, starting with the offspring.
His ancestors presumably come from North Africa and are the same that been revered for centuries by the ancient Egyptians and who then came to Europe aboard the ships of the Phoenicians and, from here, over the centuries, conquered the whole world.
Until 1982 were known two breeds with the name European: one bred in Great Britain and on the continent, which was obtained by crossing common and Persian cats, and the other selected in Scandinavia, was created by crossing only common cats.
In that year, finally, it was put in order among the cat breeds, and today the official European breed recognized is only the Scandinavian, while the British breeds are called the British Shorthair.
The European cat was held in high regard in the ancient Republic of Genoa: it was frequent, in fact, among the merchants to bring one of these cats in the long sea crossings to free the holds of mice.
On his journey to America, Columbus also had cats aboard every caravel.
EUROPEAN SHORTHAIR CAT PERSONALITY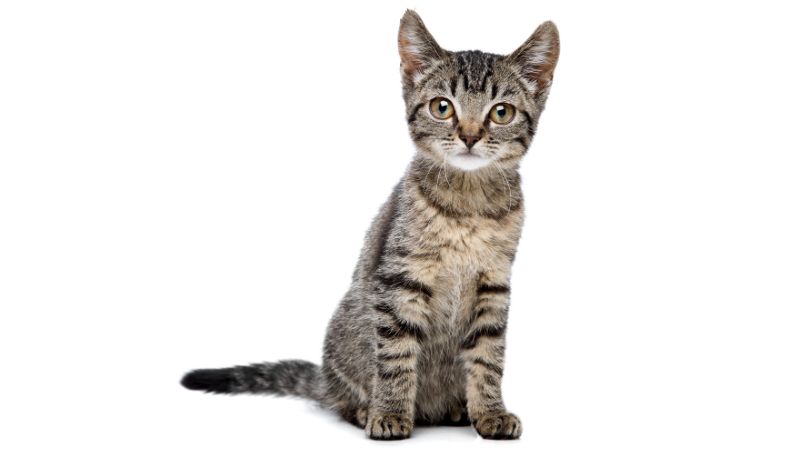 The European cat is a mix of fascinating qualities: intelligent, crafty, skilled predator, and he can bond deeply with humans and demonstrate all his gratitude with noisy and sweet purr and meows, but he likes to keep in every context an independent nature.
Each cat is different than the other, so much so that some specimens love to stay indoors and laze around all day while others would stay days outdoors to hunt. But, in general, females are more affectionate.
Females are somewhat prolific: they can give birth to up to seven kittens.
The European is definitely a sturdy cat, which is the result of a centuries-old natural selection. For this reason, it is suitable to live both in the countryside and the city while always feeling the need to have a certain freedom of movement.
Coexistence with other cats and dogs is usually not a problem. However, even when it seems that the European cat is resting, he is always alert.
AN ADVICE
White Europeans hide under that white coat a decidedly authoritarian nature that needs to be managed with firmness and determination.
HOW TO CARE FOR AND FEED THE EUROPEAN SHORTHAIR CAT
The short-haired coat does not require extreme care. Generally, brushing the coat once a week is more than enough. It is necessary to use soft brushes and rubber gloves. They are perfect for maintaining his fur.
During the moulting, it is always recommended to intensify grooming. In addition, if accustomed from an early age, he will let you bathe him without difficulty.
For what it concerns nutrition and packaged food, always get the premium choice. Dry and wet food is perfect because it provides a balanced contribution of all nutritional elements necessary.
AN ADVICE
European cats quickly get the bad habit of eating only one type of food. It can be canned food, or he can identify a favorite brand or fresh food, or he could prefer only one kind of food (meat, dry, etc.). It is up to us to avoid it.
FREQUENTLY ASKED QUESTIONS
What is the price of the European Shorthair?
The European Shorthair cat is not very expensive. You can expect to spend between $100 and $500 for one of these cats. The cost depends on the breeder, the kitten's age, and the purity of the breed.

Are European Shorthair cats rare?
The European Shorthair cat is very popular and widespread in Europe and cannot be considered a rare cat. However, there are some parts of the world where this cat is not so known.

Are European Shorthair cats aggressive?
European Shorthair cats are not aggressive. They are generally friendly and affectionate pets, sometimes independent, but not mean or aggressive toward others. He can be timid with strangers, but this is all.

Are European Shorthair cats friendly?
European Shorthair cats are amiable and tend to bond with their humans. They can also get along very well with other cats and dogs too.

Can European Shorthairs be left alone?
European Shorthair cats can be independent at times. Therefore they have no problem staying alone for a reasonable amount of time.
Are European Shorthair cats smart?
European shorthairs are pretty intelligent cats and skilled hunters; to do so; they can develop brilliant tactics and learn new tricks. They also love to play and find stimulation in the environment.