WHY DO CATS BLOCK SCREENS? 3+ WEIRD REASONS
Why do cats block screens? Cats will do many things for our attention, and they love getting in the way whenever we try to do anything. And this includes getting between us and a TV or a computer screen.
Cats like to block screens or get between you and a screen because they want attention. If you are staring at the TV, or a computer screen for too long ignoring your cat, then cats are compelled to draw your attention by getting between you and the object of your interest.
Here is the weird relationship between cats and screens explained. The rest of this article will discuss why cats like to block the TV and what to do about the behavior.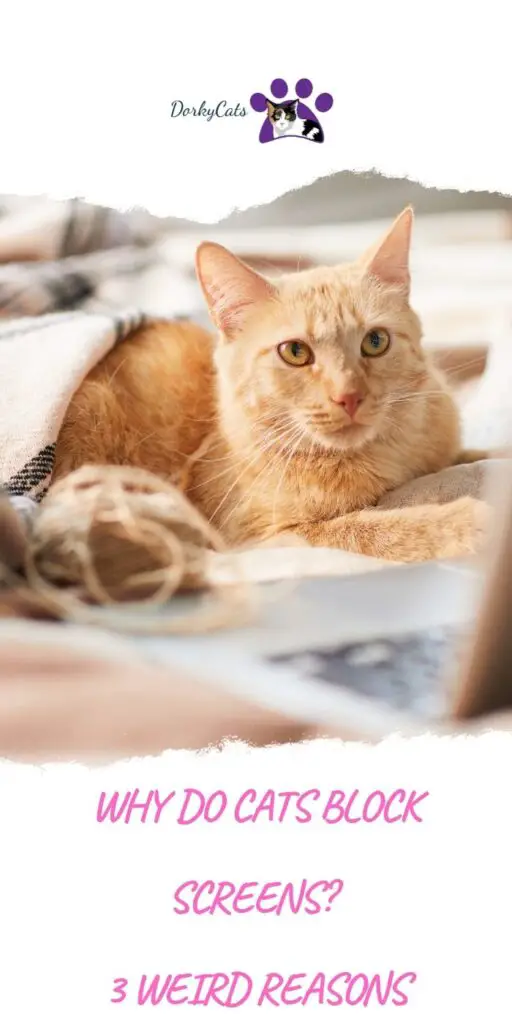 WHY DO CATS BLOCK SCREENS?
Cats are strange creatures. They're so aloof, yet so lovable.
With their comical antics and odd behavior, they bring so much joy to our lives, but if you've ever seen your cat stare you dead in the eyes while blocking your view of the TV, then you may wonder what's up with this behavior.
Is this normal for cats or not? Is your cat trying to tell you something?
Cats block the TV to try to get your attention. They notice that you are fixated on the TV, so they will block it to shift your focus onto them.
There are many reasons why cats like to block the TV, but more often than not, your cat just expects you to respond to the behavior.
Here are the main reasons for cats to block screens:
1. CATS BLOCK THE TV FOR ATTENTION
You've just sat down for dinner and flick on the TV. Not five minutes later, your cat is sitting directly in front of the middle of the screen and looking at you like they're challenging you to a staring contest.
Cats are very picky about when they want your attention, and they'll do just about anything to get your attention. They are well aware that your focus is on the TV, so their natural inclination is to get in front of what you're looking at as a way of saying, "Hey, look at me!"
2. CATS BLOCK THE TV OUT OF SPITE
Cats don't understand the concept of spite or revenge―that's something humans have the market cornered on.
If you notice a correlation between when you accidentally stepped on your cat's tail and when your cat sits in front of the TV, it's probably just a coincidence. Cats don't plot ahead or try to get revenge for anything you do.
3. CURIOSITY
The images on a screen can be attractive for a cat, especially if they are moving. For example, one of my cats would put herself in front of the TV screen during a soccer game and try to paw at the moving ball.
So, in this case, cats don't care about you but are curious about the moving images on the TV and want to play with them.
4. IT IS WARM
During winter, cats always look for warm places. For example, a tv or a laptop is warm when running. So cats will try to get on top of them, like a laptop, or near them, like in the case of a TV.
WHAT DOES IT MEAN WHEN A CAT STANDS IN FRONT OF THE TV?
If anything, the gesture of standing in front of the TV is positive because it indicates that your cat cares enough about you that they want your attention pronto.
You might notice this behavior pick up around mealtime when your cat is anxious to remind you that you haven't fed them yet, especially if you find yourself reacting to the behavior by getting up to feed them.
They may also sit on your laptop or iPad and rub all over your phone should you find yourself preoccupied with something other than feeding them.
Cats block the TV for attention. They recognize that you're focused on something and aim to get in between you and the object of your focus so that you're looking at them. This behavior is sometimes annoying, but it's another thing that makes cats unique.
WHY DO CATS SIT ON THINGS YOU ARE USING?
Cats like to sit on things you are using for several reasons. The most common cause is your smell. Cats find those things familiar and feel secure and safe when they lay on them.
The other reason for cats sitting on things you are using is because they are warm. Cats enjoy the warmth they provide if you use a laptop or even just wear some clothes before you put them off.
ARE SCREENS BAD FOR CATS?
Cats don't have a remarkable ability to focus on something for a long time. So if they like to watch images moving on the screen, it typically is not for long and should not create any harm to cats. Although, if cats are obsessed with screens, it can be bad for a longer period.
If your cat is busy looking at a tablet or the TV, he is not playing with you. It is way better for cats to interact with other humans or cats.
FREQUENTLY ASKED QUESTIONS
Why do cats like laptop corners?
Cats like laptop corners because they are sharp and can rub against them with their face so they can leave their own scent on them. In this way, they can mark territory and one of the main objects that get your attention.
Why is my cat obsessed with my computer?
Cats are obsessed with your computer because it has moving things on your screen, is warm, and is one of the things that get your attention. They want to get some of that attention and are curious about it.

Why does my cat bother me when I'm on the computer?
Cats bother you when you are on your computer because they want your attention. If you sit for many hours working, cats feel you have to take a break and give them a little attention too.