HOW MANY HOURS DO INDOOR CATS SLEEP?
How many hours do indoor cats sleep? It seems like every time you turn around to look at your cat. They are sleeping. You must have asked yourself how many hours indoor cats sleep dozens of times. The truth is, cats sleep a lot, and the same can be said for indoor cats.
Most indoor cats will sleep between 12 and 16 hours every day. When they are kittens, they might sleep a lot more as they're growing, which means between 18 and 20 hours. Once they get a little bit older, they might sleep a little bit less as they are bundles of energy. 
Cats are very fond of sleeping. So let's see precisely what cat's sleeping habits are and how to help them get the most out of their beauty sleep.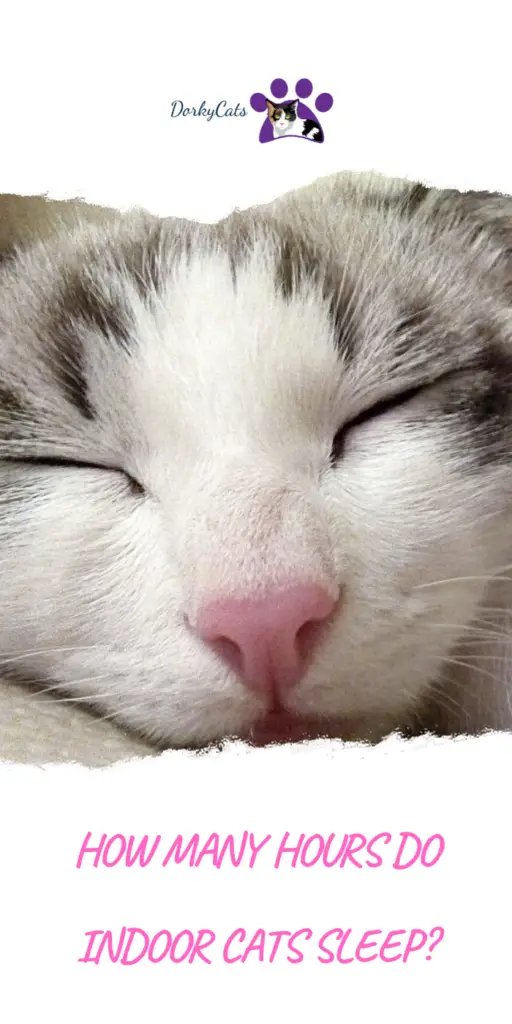 HOW MANY HOURS DO INDOOR CATS SLEEP BY AGE?
With indoor cats being in an environment where they feel safe and secure, they see no reason why they shouldn't sleep the majority of the day. Once your indoor cat reaches their mature stage, they might sleep even longer than 12 to 16 hours. 
Kittens sleep a lot of hours. You would think they can sleep almost all day, which is close to the truth. Kittens can sleep up to 20 hours a day. Once they get out of the "kitten age," you will see them becoming more active and present around the house.
And thus they sleep a bit less. Adult cats sleep on average 15 hours a day, sometimes less, and on some other days a bit more, depending on how active they have been.
Here is how many hours can't sleep by age:
Kittens (0-1 year old): 18-20 hours a day
Young cats (1 to 2 years old): 12 to 16 hours a day
Adult cats (over 2 years old): an average of 15 hours
Senior cats: close to 20 hours (with several napping sessions throgh the day)
This grid gives a small indication of how long cats can sleep on average by age.
HOW CAN INDOOR CATS SLEEP SO MUCH?
Many cat parents don't realize that a large portion of the time when your cat is sleeping, they are just resting their eyes and their bodies. That's why the slightest sound or movement wakes them up. 
When cats were in the wild, they would often rest this way so that, at the first inkling of danger, they could pounce right up and rush to safety. They haven't lost this instinct, even though they've been domesticated. 
Indoor cars can sleep so much because they do not have much to do and also because, in their nature, they are used to hunting only one part of the day (typically at night) and resting during the rest of the time.
Even domesticated cats maintain their instinctive behavior to sleep a lot to conserve their energies and pack their main activities within a few hours of the day or night.
However, if you observe cats, they choose a part of the day to run around in the house and dedicate the rest of the time to enjoying their sleep.
For example, one of my cats runs around like a maniac in the morning. Then, at the beginning of the afternoon, she goes to sleep. She wakes a few minutes here and there, but goes back resting immediately until the following day when she runs like crazy again.
WHY DO INDOOR CATS SLEEP ALL DAY AND STAY UP ALL NIGHT?
Your cat isn't up all night because they're a party animal. However, they are more active at night because, in the wild, they are used to hunting at night. In addition, cats have incredible eyesight at night, so it was easy for them to sneak up on prey when their prey's vision was hindered. 
This is why cats will sleep a lot during the day, even if they are strictly indoor cats and don't need to hunt. Their bodies are hardwired to conserve their energy through the day so they can expend as much as they need to at night. 
HOW CAN I GET MY CAT TO CALM DOWN AT NIGHT?
Once again, cats haven't lost their natural instincts despite being domesticated and not needing to hunt anymore. But, unfortunately, that means there's not much you can do about them zooming around the house at 3 in the morning. 
If you want to try and tire them out before your bedtime, spend some time playing with them with some toys they can chase and bat around. This will help tire them out and get that need to "hunt" satisfied, so they'll be more prone to cuddle up to you in bed. 
Your indoor cat sleeping for most of the day is not a problem. However, if their sleeping habits change, along with other behaviors, that's the only time you might need to be concerned about your cat sleeping so much.
If they seem low energy, their appetite changes, or their bathroom habits change, it may be worth a vet visit.  
WHY DO CATS SLEEP IN A BALL?
Cats sleep in a ball when they want to stay warm. The ball position is perfect for conserving body heat when not near a heat source. The ball position allows a cat to keep warm and to stay safe. In fact, they protect their most sensitive body parts while they sleep.
The ball position allows cats to protect the most important organs and be ready to jump and fight any potential predator. In addition, cats can sleep even with one eye or both opened. However, most of their sleep is not always a deep sleep.
DO CATS SLEEP DEEPLY?
Cats sleep deeply at times but not always. Cats deep sleep when they are not in the REM sleep or not just resting (loafing). Cats sleep deeply, at least 1/3 of their sleeping time, while they spend the rest of their sleeping time in the REM phase.
Cats need to have deep sleep and REM sleep. Therefore, it is essential to provide a safe environment where they can sleep enough and feel safe at the same time, so they do not stress. Cats that can't sleep or are too stressed to sleep might become sick or develop behavioral problems.
SHOULD I LET MY CAT SLEEP ALL DAY?
In general, if your cat is sleeping, you should let him continue to sleep, even if it means that he will sleep all day. Cats sleep for many hours, and usually, they do it throughout the day. While at night, when you sleep, they are awake.
You should become worried about your cat sleeping all day if you also observe other changes, such as lack of appetite, change in litter box usage, or if it is a sudden change in sleeping habits. In this case, you should seek veterinarian advice.
Take into account that your cat is not really sleeping all day. He can be snoozing, loafing, or just closing his eyes without really sleeping.
FREQUENTLY ASKED QUESTION
How much do cats sleep in their life?
Cats sleep between 60 and 70% of their life. Cats used to rest most of their day and are away only for 1/3 of the day on average. Therefore, cats spend most of their life sleeping.

Why do cats sleep at your feet?
Cats sleep at your feet because they like you and because they are "watching over you." They want to protect and alert you in case of any danger. But, at the same time, they like your company.

What is a cat's sleeping position when sick?
Cats sleep curled in a ball when sick or on their side. Both positions are used by cats when they do not feel suitable for protection and release the pressure and pains in their bodies.