HOW LONG WILL A CAT HIDE IF SCARED OUTSIDE? 3 WAYS TO FIND A CAT
How long will a cat hide if scared outside? Cats can hide for a long time when they are scared, especially if an indoor cat can escape from the house. Indoor cats are not familiar with the sounds and all the things they can find outside. So the chances are they will get petrified.
Cats can hide for a few hours to days and sometimes even a week if they are scared outside. It depends on the cat's personality and what is the sources of the fear. In general, cats can hide for between 1 to 5 hours if not too scared and for 1 to 7 days if very scared.
Let's what can happen when a cat goes outside and how to retrieve a scared cat.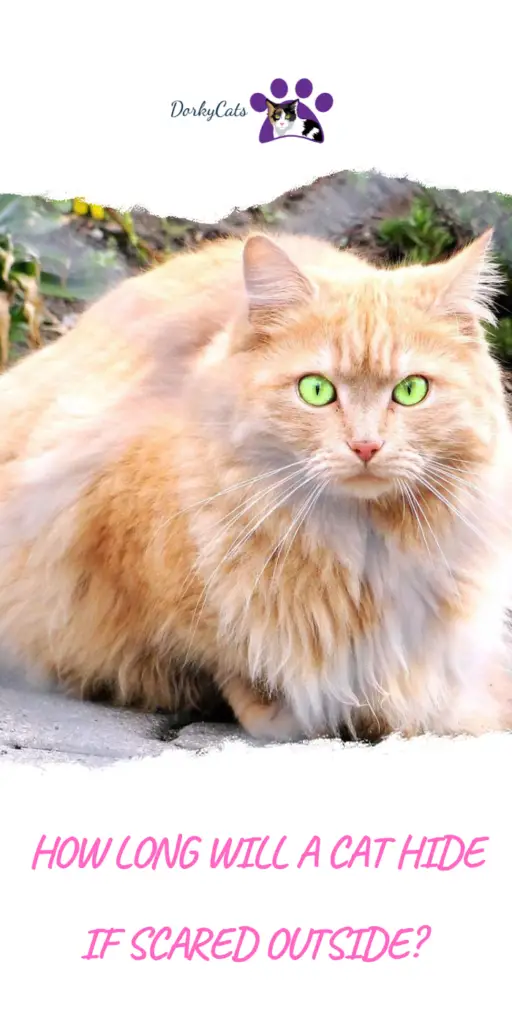 WHY DO CATS HIDE WHEN THEY ARE SCARED?
When a cat is startled or new to an environment, it likes to hide until that fear goes away. The places they hide are in covered spaces like bushes, sheds, and under decks. Don't force them to come out if you see them hiding since you'll make them more scared.
Forcing a cat to come out will increase their fear, and they will run away and hide again. They'll only take longer to come out the more startled they are. The goal is to give them the space they need and let them adjust to their environment independently.
Cats are territorial, so that's why they feel startled when they are in a new home. However, even when adjusted to their new environment, loud noises and predators can scare them enough to run and hide. Sometimes, cats will run outside and hide.
If they run outside and hide, locate them and monitor them, but don't force them out of hiding. But what about how long they will be out? How long will a cat hide outside if scared?
HOW LONG WILL A CAT HIDE IF SCARED OUTSIDE?
A cat will hide between 1 to 5 hours when outside, depending on how startled it is. DoDon'tanic if it takes them several hours to come out of hiding. They'll wait until their fear subsides, then they'll come out. Still, do not force them to come out of hiding; let them adjust on their own.
While in their new home, cats can keep hiding for 1-2 days while getting used to the new environment. If you picked a stray, this wait is even longer and will take up to 7 days. Strays are more on edge than cats from breeders. Be aware of that when choosing what cat is for you.
HOW TO RELAX A SCARED CAT?
To relax a scared cat, first, give it room. Give your cat the space needed space to adjust to what he sees and the new environment. You can tell your cat is scared if they are:
Running away
Freezing up
Hiding
Hissing
Tucking their tails under them
Puffing up their fur
The next thing to do is determine what they are scared of. Some of their fears are new environments, loud noises like fireworks, other cats and dogs, or other predators. When you locate their fear, do your best to limit it.
If they are scared of their environment, give them as much space as possible. For example, if your cat is afraid of loud noises, reduce the noise by turning off TVs and other sources of background noise. For other cats, your cat will need time to adjust to them. And with predators, take them away as fast as possible.
Another thing you can do is close the curtains. A cat can get startled by what is happening outside, particularly thunderstorms. Closing the curtains will help ease their stress. If their fear continues for several days, take them to a vet to get them checked out.
HOW TO FIND YOUR CAT WHEN HE IS HIDING OUTSIDE
The best way to find a cat hiding outside is to think like a cat. When cats are afraid, they find the smallest cracks and hide in them. They can fit into tiny places if they want. But, usually choose a location that humans and other animals can't reach.
It doesn't have to be a lower place on the ground; sometimes, cats climb up on trees to hide from predators and humans. A few studies have been conducted on the search methods used to locate missing cats.
Here are some of the findings (the study took into consideration over 1200 cats):
Over 60% of the cats were found within a year
Around 37% were located within seven days.
Around the 75% of cats did not go further than 500 meters
Approximately 75% of outdoor cats traveled up to 1500 meters
Although this study goes back many years, it gives an idea of what you can expect when cats go missing.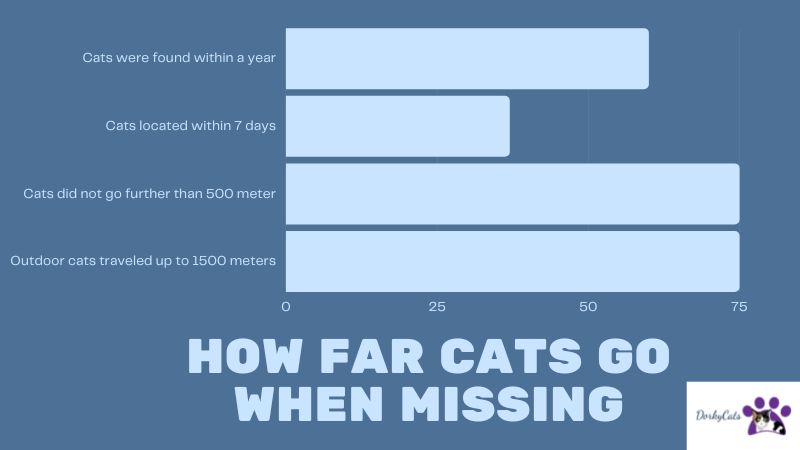 Here are some strategies you can use to get back your cat and get it to come out from hiding:
1. USE YOUR VOICE
We have just seen that most cats do not go too far. If your cat escaped and was scared about something, surely it was not because of you. Your cat knows your voice, and he might meow back at you, even without coming out of hiding, if he hears your voice.
Just get out of the house and search every possible hiding place, such as under cars, on trees, behind objects, wall openings, and even the home of neighbors. Walk around calling your cat and listen if he might meow from somewhere.
If you suspect that your cat might have gone further, increase the search area.
2. USE TREATS
Cats can hear treats when you shake them in the box even over a long distance. So you can walk around calling your cat and shaking the treat box. Do this, especially if your cat runs to you all the time you take out the treats.
Hearing the treats, your cat might come out of hiding or meowing to let you know where he is.
3. ASK OTHER PEOPLE TO HELP YOU
Needless to say that you should look everywhere and ask the neighbors to help you. If you don't find your cat in the first day or two, put photos around with your phone number and ask people to tell you if they see your cat.
But when you go out searching, ask everyone you meet. You can also call the shelter to see if they found your cat or any other similar idea you might get. In general, when my cat escaped and went a couple of floors up in the building, neighbors directed me to where he was.
SOUNDS TO MAKE YOUR CAT COME OUT OF HIDING
Some of the sounds that can help you to make your cat come out of hiding are:
Treats moving in the box
Meowing sounds
Birds sounds
Use a nice and sweet voice to call your cat
Relaxing musing
If you play meow sounds, your cat might get curious and get out of hiding. It can also happen if you try to imitate the sound of a cat. Those are all things you can try to get your cat to reveal his position.
PREVENTING YOUR CAT FROM GETTING LOST
When cats go outside, there is always the danger that they do not come back, especially for indoor cats. However, outdoor cats know their way around and are not so much scared about the outdoor sounds and motions.
In addition, they are used to going out and coming back, so it is difficult for them to really get lost, although it can happen if something unexpected happens.
If you are afraid that your indoor cat will escape and get lost or that your outdoor cat is not coming back, you could use a GPS tracker to locate your cat. Some trackers are tiny, and it is easy to place them on the cat collar.
Here are some excellent GPS trackers for cats you can use:
Table could not be displayed.
FREQUENTLY ASKED QUESTIONS
How long can a cat hide without eating?
Cats can go for 3 to 4 days without eating, but they need at least some water to survive. Some cats have survived even a week without food, but it really depends on the health and condition of the cat.

If an indoor cat gets outside, will it come back?
In general, indoor cats can come back if they go out, but since they are not used to the outside, they might get lost, or if they get scared about people and sounds, they might run away, forgetting how to get back to the house.

How far away can a cat find its way home?
Cats can find their way home even from miles away. Some cats have traveled for 50 miles or more to get back to their owners. But not all cats can do that. In general, cats can find their way back home quickly if they do not go further than 1 mile away from the house.