DO YOU REGRET GETTING A CAT? HOW TO DEAL WITH IT
Do you regret getting a cat? It is more common than you think. Cats are living beings and are a big responsibility. In addition, it can happen that a cat is not a good fit with the family or other pets. So what should you do if that happens to you?
The regret of getting a cat can be caused by the anxiety and the initial panic coming from the responsibility of another living being. But, at times, the cat's personality and behavior are not suited to live in an indoor environment or live with other pets so it can cause regret.
Let's see how to deal with adoption regret.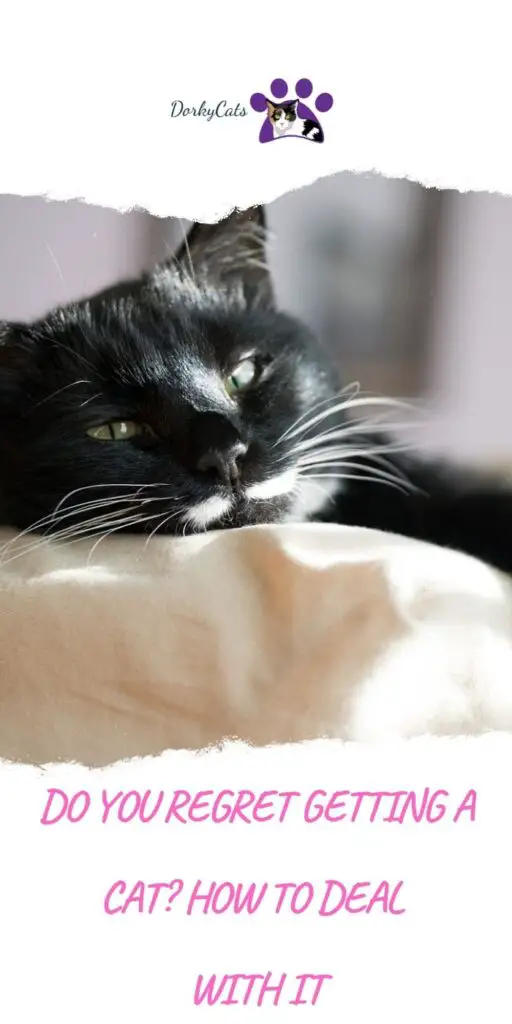 IS IT NORMAL TO REGRET GETTING A CAT?
It is normal to regret getting a cat. Cats owners might have second thoughts when they run into difficulties or if they do not know how to take care of the new cat. However, you should not be concerned if the idea of making a mistake crosses your mind.

In my experience, regrets about getting a new cat come from the following things:
Financial difficulties
Unknown allergies (developed after the cat is home)
Cat has behavior problems (aggressive, destructive, noisy, etc.)
Not getting along with other pets
Cats owners are afraid to harm the cat
Not knowing how to care for the new cat
Cats change behavior when growing up
At times cat owners develop a sort of anxiety about the new cat, worrying too much about what he might need, if the cat is ok, if the food is good, and if it is a problem to be alone for many hours.
WHAT SHOULD I DO IF I REGRET GETTING A CAT?
Although it is normal to have second thoughts after adopting a cat, it is not a nice feeling, and it can be connected with a real issue concerning the cat's behavior. So what can be done about it?
Here are some of the things you can do:
1. IF YOU WORRY TOO MUCH
If your regrets are coming from the fact that you worry too much, you have to know that it will get better with time. In my experience, although you fear for your new cat or kitten, they really need very little to do well.
If you provide all they need, such as food, water, toys, and company, they will be totally fine. After all, cats are not that fragile. So many of your worries come from inside yourself, and if you logically know you took care of your cat, just be patient.
It will get better over time. Your cat will grow up and get to know you, and you will know his personality.
2. CAT BEHAVIORAL PROBLEMS
If your cat is aggressive or has other behavioral problems, before giving up, you could attempt training the cat the behave properly or find out the source of his upset and resolve the issue.
Typically the adoption shelter can give you advice on how to help your cat calm down, and so the vet. Typically, cats develop aggression or behavioral issues when:
They are afraid
They are upset about something
They feel threatened
They do not have enough enrichment
Too many changes in the environment
The cat was traumatized when a kitten
Too many noises in the environment
They are in pain
In general, cats need a safe and calm environment. Kids pulling a cat's tail can make a cat aggressive. If the cat has no food or water, he becomes upset and aggressive. So if your cat is upset, try to adjust things one step at a time, so you can find what the real problem is.
If you interact with your cat when he is a kitten and make him feel loved and safe, your cat will probably grow without big behavioral problems. You can also do training sessions with your cat and teach him his name and a few other words.
Once you have adjusted the environment, you can also bring him to the vet to ensure he is not in pain. If nothing works, you can think about rehoming the cat or getting him back to the shelter, but in general, it is possible to resolve the issues with a bit of patience.
3. ALLERGIES
If you or your family are allergic to cats, it can be more challenging to handle the regrets. If the allergy is very strong, then the cat has to be rehomed. But, if you do not want to give up your cat, then you can try the following:
Vacuum clean your home often
Wash your hands often
Clean the dust away
Remove carpets and things that collect dust or dander
Seek medical advice
4. FINANCIAL PROBLEMS
Ne cats owners can misunderstand what it takes to care for a cat financially. Maintaining a cat in day-to-day life is not so expensive, but the costs can build up if you have veterinarian bills and other unexpected events.
If you realize you can't care for your cat, the solution is to find someone who can or ask for assistance from the local shelter.
5. ANY OTHER PROBLEM
There are many other problems and reasons to develop regrets after adopting a cat. However, most issues can be resolved with time and patience. Usually, any second thought will go away with time and knowing your new cat better.
I WANT TO GET RID OF MY CAT, BUT I FEEL BAD
It is normal you feel bad about getting rid of your cat; after all, despite the issue you might have with your pet, you still love him and care for his future.
If you arrive at the point where you have to give away your cat, you can do all that is in your power to make sure your cat will be fine and will have a bright future. You can look for a new loving family and make sure they know what your cat likes.
Or contact the local shelter and ask for help in rehoming your cat. If you can't take care of him, it is much better to find a new home where he can feel secure and loved. If you just adopted a new cat and you feel "pet adoption remorse," be sure you want to go back on your decision.
Some pet owners regret also returning their cat; just know that regrets can happen during the first period you adopted your cat, and after can go away. So it is better to ponder a new decision and let some time get by.
FREQUENTLY ASKED QUESTIONS
Do cats get attached to their owners?
Cats get attached to their owners after a while. They get to know their owners, habits, and routines, and if you observe them, they often go to their owners for pets and cuddles. Ultimately, every cat has a different personality, and the level of affection cats show is different.

Do cats feel abandoned when you give them away?
Cats might feel abandoned when you give them away. However, cats are creatures of habit and get to know the people they live with and become attached to the person they consider "their owners."
Is it cruel to give your cat away?
It is cruel to give away your cat only if you do not have another solution. If you can't take care of your cat anymore, it is better to find a new loving home than to let your cat become homeless or sick.

Will my cat miss me if I give her away?
Your cat will miss you if you give him or her away. Cats become affectionate to one or more family members and will miss their stable terminal. In addition, a new home is a significant change, and cats will become confused and scared.