WHY HAS MY CAT STOPPED SLEEPING WITH ME?
Why has my cat stopped sleeping with me? Did I do anything wrong? This is the first thing that comes to mind when we see our cats stop sleeping with us. But did we do anything wrong? Or are there some obscure reasons for this particular behavior?
Cats may stop sleeping with you because they may go through phases where they rotate through different sleeping places based on their mood, security, scents, and if they feel comfortable. Sudden movements on the bed and accidental kicks and hits may be another possible cause. Health issues can be another reason.
Let's explore all possible reasons.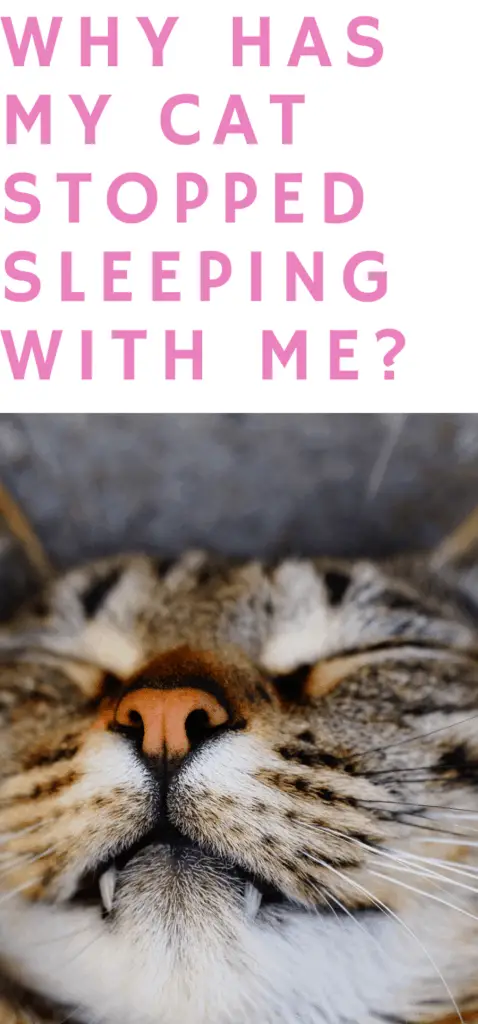 WHY HAS MY CAT STOPPED SLEEPING WITH ME SUDDENLY?
Funny enough, over the internet, you can find people that try to find a way to educate their cats to not come in their bed and sleep with them. Furthermore, many ask if it is safe for cats to sleep in their bed, and many more suggest that cats should not sleep in the owner's bed.
In some circumstances, depending on personal conditions, it may be necessary for cats to sleep elsewhere than the owner's bed. Having said this, cat lovers would not understand why their cat should sleep somewhere else.
It is soon becoming a personal offense if their cat does not choose to sleep with them, making them sad. They miss their cats, their affection, and their love. I speak from experience. When my cats decide to sleep in the other room, I am annoyed.
There is nothing better than a cat coming to cuddle purring. It makes me forget all the wrong things. Those are moments of pure joy. Why someone would not want this experience is out of my comprehension. Sometimes it is enough to watch them sleeping to make someone happy.
Therefore why cats would stop sleeping with us?
6 REASONS FOR CATS NOT SLEEPING WITH YOU ANYMORE
There are a few reasons for cats suddenly changing their sleeping habits, not necessarily having anything to do with the fact that they do not love you. It is not personal.
So, here some of the reasons:
1. CATS LIKE TO SHIFT SLEEPING PLACES
Cats are used in nature to change their hiding spots, so they are not easy prey. It is an instinct in cats to routinely shift their sleeping place. If you notice, cats may sleep in their favorite place most of the time, but often you can find them sleeping in some other hidden spots.
It is not uncommon to find them inside cupboards, drawers, boxes, on top of high furniture, and so on. Cats tend to vary from time to time.
2. CATS MAY GO THROUGH PERIODS
Cats may change their sleeping habit growing up or aging. When they are kittens they may like to sleep in a place, or with you. After they are one year, or two years old, they may move their favorite sleeping place somewhere else.
It is totally normal for cats to go through those periods, if they decide to move from your bed to the couch in the other room, it is not a personal thing. Cats may want to vary because of consideration like security, comfort, temperature, scent and because the feel like it!
To give you an example, my cat has been sleeping for months on the chair, then he moved to the couch, and more recently, he moved to the sofa's armrest. He comes to sleep near my head at night, and when not, he is on the couch. I know it is unfortunate when he moves away from the other side; I also can't force him.
Normally, cats tend to come back after a while and sleep again with you. It is important to be patients.
3. CATS MAY NOT LIKE THE NIGHT MOVEMENTS
It can happen that your cat may have been hit in the night while you are turning around. If that happens, your cat may decide to go to a quiet place to sleep. It is more common than you think. One may not realize how many times their cats were kicked while sleeping.
4. TEMPERATURE
If it is too hot, cats may go and find some cool places to sleep. Or the other way around. Therefore, sometimes cats are switching sleeping places based on this factor. After all, they are going around with a coat of fur.
5. CHANGES IN THE HOUSE
If there are changes in the house like new people, change of furniture, or a new pet, your cat may change his sleeping place. Cats may feel more secure in another place if they see too much movement around them. A new pet can also make your cat sleep somewhere else.
I know something about it because I have not seen my cat coming to wake me up purring for months as soon as I adopted a second pet. Eventually, he got back to his old habit.
6. YOUR BED IS TOO COMFORTABLE
This is funny! Often cats like to sleep on hard surfaces. Sometimes, they also like soft surfaces, but you can see that they are tending to like harder places if you have observed them well.
I may have bought tons of cats bed, and I still find them sleeping on the floor or the bathroom rug. I used to get upset when my cat would not use a fluffy bed. I had to learn this lesson too.
7. HEALTH ISSUES
If a cat is sick or doesn't feel well, he may not like to be close to other people. An older cat may have a problem climbing in bed. Therefore, observe your cat for a sign of sickness, and if this is the case, have him checked.
---
Here some cats bed ideas you may like
Preview
Cats Pick
Our Pick
Product
JCT Dog Bed Soft Cat Bed 50cm Plush Cat Calming Bed Fluffy...
SHU UFANRO Small Dog Bed, Cat Bed for Indoor Cats, Puppy...
Amazon Basics Cat Tower with Hammock and Scratching Posts...
Hollypet Self-Warming 2 in 1 Foldable Pet Bed Comfortable...
Bedsure Cat Beds for Indoor Cats - Large Cat Cave for Pet...
Cats Pick
Preview
Product
JCT Dog Bed Soft Cat Bed 50cm Plush Cat Calming Bed Fluffy...
Preview
Product
SHU UFANRO Small Dog Bed, Cat Bed for Indoor Cats, Puppy...
Preview
Product
Amazon Basics Cat Tower with Hammock and Scratching Posts...
Preview
Product
Hollypet Self-Warming 2 in 1 Foldable Pet Bed Comfortable...
Our Pick
Preview
Product
Bedsure Cat Beds for Indoor Cats - Large Cat Cave for Pet...
---
MY OLDER CAT IS NOT SLEEPING WITH ME ANYMORE
Older cats may have health issues that prevent them from jumping and climbing into beds. Some cats owner provide cats with pet stairs so that cats can get easily on their beds. If a cat becomes old and doesn't sleep on your bed, it doesn't mean he doesn't want to sleep there. Most probably, he can't get to it.
Here is an example of pet stairs you can get.
Know that eventually, your cat will need your help to reach places; he still loves you and wants to be with you. You have to get a little inventive.
In case you want to find additional cats stairs solutions, here are some alternatives:
About this item:
It is a wider and deeper stair landing for dogs or cats. No assembly is required.
The steps are generally sized and have a no-slip surface.
These stairs for pets are available in 4-step configurations to easily match your furniture's height.
The anti-slip mat is added at the bottom to prevent wear and slip.
2.Gw-kennel All Black Pet Step with Carpeted Tread
About this item:
These steps are crafted from pine wood and coated with clear varnish. One year warranty.
Stylish carpet-lined steps keep pets safe from slipping.
Ideal for small pets or older cats/dogs with joint problems or arthritis.
The unit's cutout handles make it simple to transport from room to room.
Pet steps dimensions: 43×60×52cm. Holds dogs or cats up to 20kg
3.PetFusion Hybrid Pet Furniture
About this product:
Pet steps allow access to your couch or bed. Padded perch provides a comfortable resting place. Steps easily stowaway to create a sleek modern ottoman that seamlessly blends in with your home decor. Included pet toy basket perfectly fits inside for extra storage.
It is 18 x 18 x 18 inches. It can easily hold 50 pounds. 4-inch stair height allows use for the smallest dogs & cats. Premium foam perch pad provides maximum comfort.
Heavy-duty lid hinges and screws. Inner hinge over-engineered for maximum strength and durability—premium quality 350gsm 100% polyester fabric. A waterproof inner liner protects the bed in the event of an accident.
About this item:
These stairs are the perfect accessory to help pets reach that high bed or couch! Available in 3-step, 4-step, and 5-step configurations to easily match your furniture's height.
Supports pet health: Made with mattress-grade cushioning to relieve pressure on paws and joints.
Save time: Each stair cover is removable and machine-washable! No more cleaning off dirt and fur by hand.
Decorate your home: Available in 4 stylish patterns and eight colors to match your home's personality!
WHAT CAN I DO TO GET MY CAT TO COME BACK TO SLEEP WITH ME?
Here is the million-dollar question: how can we make our cat come back to sleep with us? I am not sure we can make cats do anything, but we can try to give our cats some good reasons to be near us.
Here a few things you cat try with your cat:
BRING YOUR CAT TO YOUR BED
You could try getting your cat on your bed just before you go to sleep, pet him, rub under his chin, and spend some time with him. Do not force him to stay if he wants to leave. Eventually, he could like attention and stay. I try this with my cat; often, he settles down and sleeps next to me, but some other times he leaves.
Just try, there is nothing to lose anyway.
TRY SPENDING A BIT MORE TIME WITH YOUR CAT
You could try playing and spending some time close to your cat through the day, reinforce the bond between you and him. He may decide to reward the affection coming close to you at night.
Bring some treats to your bed and have your cat jump and get them. After he got the treats, he may decide to stay anyway. If nothing else works, treats always do!
I don't know about your cats, but mine are all over the bed when I am putting cleaned covers. They are just ready to use my cleaned bedsheets. Something you could try at times.
MAKE SURE THE ROOM IS STRESS FREE
Check your room for anything that can scare your cat off. Cats can stress out for noises, and other factor that can create stress in your cat. Your cat has to feel safe when he sleep, if he doesn't feel safe, he will not sleep in your bed.
Ultimately you have to be patient. Your cat will come back to sleep with you; give him some time. He is just experimenting with other sleeping places, or he is in the mood for some time with himself. It isn't easy to make a cat do things on commands.
If you have a good bond with your cat and trained him, you could eventually have more success.
CONCLUSION
I hope we could give you some useful input to understand why your cat is not sleeping with you anymore. Do not take it personally. Cats do not do it because they do not like you anymore. If you want to add anything or ask a question, leave it in the comments below.