DO CATS RECOGNIZE THEMSELVES IN THE MIRROR? [NO… AND YES!]
Do cats recognize themselves in the mirror, yes or no? Cats have the most incredible reactions regarding their reflection in mirrors, often funny.
Cats have been shown not to demonstrate self-recognition in mirrors like many other species do, including humans, apes, and dolphins. However, they may recognize their reflection as a familiar object or another cat and may react to it in various ways.
What do cats see exactly?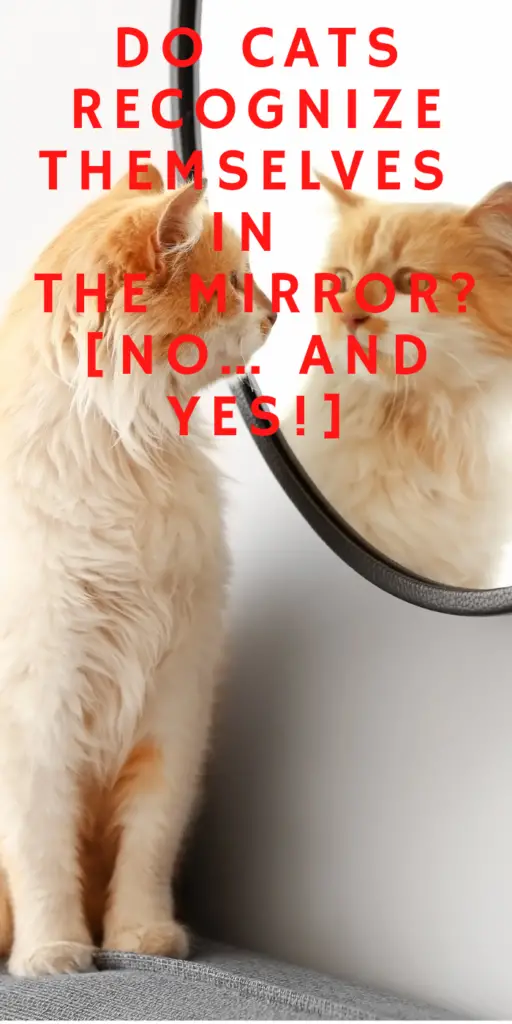 DO CATS RECOGNIZE THEMSELVES IN THE MIRROR?
Throughout their history, cats usually did not have the chance to see themselves in mirrors since it is challenging to find reflecting surfaces in the wild unless they find water on the ground clear enough to reflect their image.
Even in this case, since the reflection is very close to them, they may not actually be able to see it. Therefore, when cats see their mirror reflection, they think they see another cat, so they become all puffy and curve their back.
Cats are not accustomed to mirrors and reflecting surfaces. Seen the reaction of most cats when they see their reflection in a mirror, it is logical to assume they think there is another cat there.
In some cases, cats can try to hit the mirror, meaning they will try to attack the "other" cat! A cat's reaction to a mirror image of himself lets us believe that he thinks he is interacting with another cat; whether he tries to play with "that cat" or attack him, he will still have the most amusing reactions.
WHAT IS THE MIRROR TEST?
The mirror test is a test designed to show if animals can recognize their reflection in a mirror. It is done by placing a colored dot or dye on the animal's body.
The test determines self-awareness by checking if an animal recognizes its own reflection in a mirror as its own body and responds to the image in a self-directed manner. While some species, such as great apes and dolphins, have passed this test, cats have not been shown to demonstrate self-awareness through mirrors.
If the animal, once he watches his reflection in the mirror, can recognize that he has the dye on his own body, then the test is passed.
The test was developed in 1970. Although cats did not pass it, they have other incredible senses that let them outsmart other animals even bigger than them.
IS THE MIRROR TEST DEFINITIVE?
Officially, this is the only test done to verify cats' self-awareness. But it is also controversial since it only tests the ability to recognize oneself through sight. But often, pets or animals do not care about reacting to what they see.
Some animals rely more on other senses; if the reflection in the mirror "doesn't smell" of something, cats might not understand what is in front of them. So while the mirror test can say if cats can see themselves in the reflection, it is not definitive proof of a lack of self awarness.
In my opinion and experience with cats, I would also argue that cats cannot recognize themself in a reflection. After a while, cats see that the "reflection" moves when they move, and they lose interest. Maybe they got that it is their reflection?
Maybe more tests need to be done on this aspect.
ARE CATS SELF-AWARE?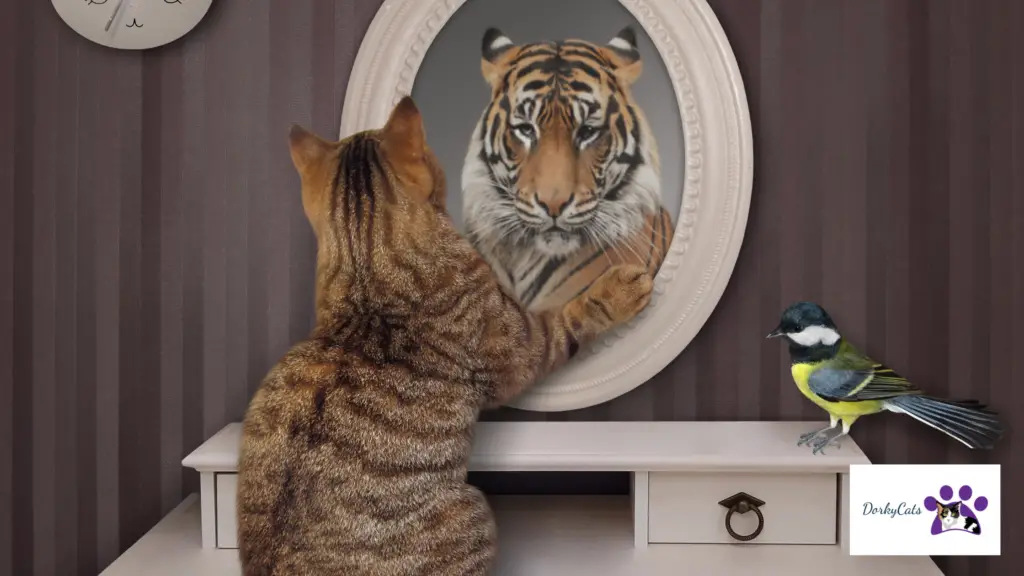 The question of whether cats are self-aware is a complex one and is still a matter of scientific debate.
Self-awareness can refer to various cognitive and behavioral traits, such as the ability to recognize oneself in a mirror, understand one's thoughts and emotions, and display introspection.
While cats are intelligent and capable of exhibiting self-control and problem-solving behaviors, there is limited evidence to suggest that they possess the level of self-awareness seen in some other species, such as great apes and dolphins.
More research is needed to understand the nature of cats' consciousness and self-awareness fully.
IS THERE A SPIRITUAL MEANING TO CATS AND MIRRORS?
The spiritual meaning of cats and mirrors is often interpreted differently based on cultural and individual beliefs. For example, in some cultures, cats are believed to have mystical or supernatural abilities, and mirrors are associated with reflection, introspection, and the subconscious.
In some spiritual traditions, mirrors are believed to have the power to reveal hidden truths and provide insight into one's own soul, and cats are thought to be powerful spiritual guides that can help humans understand their own inner workings.
Some people believe that cats have the ability to see into the spiritual realm and can help humans connect with their own spiritual selves.
However, these beliefs are not based on scientific evidence and may vary widely from person to person. It's important to remember that these interpretations are subjective and open to personal interpretation.
WHAT ANIMALS RECOGNIZE THEMSELVES IN THE MIRROR?
Self-recognition in mirrors is a complex cognitive ability that has been demonstrated in only a few species. Some of the species that have been shown to recognize themselves in mirrors include:
Great apes (chimpanzees, bonobos, orangutans, and gorillas)
Dolphins
Elephants
Magpies
These species are considered to have a high level of self-awareness, as demonstrated by their ability to recognize their own reflection and adjust their behavior accordingly.
DO CATS RECOGNIZE THEIR OWNERS?
Yes, cats can recognize their owners, but not necessarily because of their sight only.
Cats have a good sense of smell and can associate their owners with familiar scents, such as the scent of their owner's skin or clothing. They can also recognize their owner's voice, facial features, and the sound of their footsteps.
Research has shown that cats form strong bonds with their owners and are likelier to approach and interact with familiar people, such as their owners, than strangers. Some cats also develop unique behaviors, such as meowing in a certain way to solicit attention from their owners.
Overall, it is clear that cats can recognize their owners and form strong attachments to them.
FREQUENTLY ASKED QUESTIONS
Can cats recognize themselves in pictures?
Cats would not recognize themselves in pictures, but we can be comforted with the fact that half of the time, on average, they can recognize their owners in pictures. I have seen cats recognize their owners on live video as FaceTime. I guess in the video, cats can use more clues, like the sound of their owner's voice.
Do cats recognize their names?
Cats can learn to recognize their names and respond to them. However, whether they truly understand the meaning of their names is still a matter of scientific debate.
Some research suggests that cats can learn to associate their names with specific actions or rewards, such as receiving food or affection and may respond to their names as a result.
However, it is also possible that cats are simply responding to the sound of their names or to the tone of their owner's voice rather than truly understanding the meaning of the word.
CONCLUSION
I hope we can help you understand whether cats recognize themselves in the mirror or not. If you have more questions, please write them in the comments below.
Read also: WHY DO CATS KISS YOU ON THE LIPS? FUN-LOVING REASONS