MY CAT IS ONLY AFFECTIONATE WHEN HUNGRY – WHY?
My cat is only affectionate when hungry, or he really likes me? Cats owners often wonder if their cats want only food from them.
It's possible that cats are more affectionate when hungry because they associate you with food, and they may be trying to communicate their desire for food by seeking your attention. But every cat has a different personality and can still be attached to their owner in general.
Cats know how to get food from their humans and mainly meow to interact with people, not with other cats. But although your cat might seem interested in you only because of his hunger, this is not the case with many cats and pets.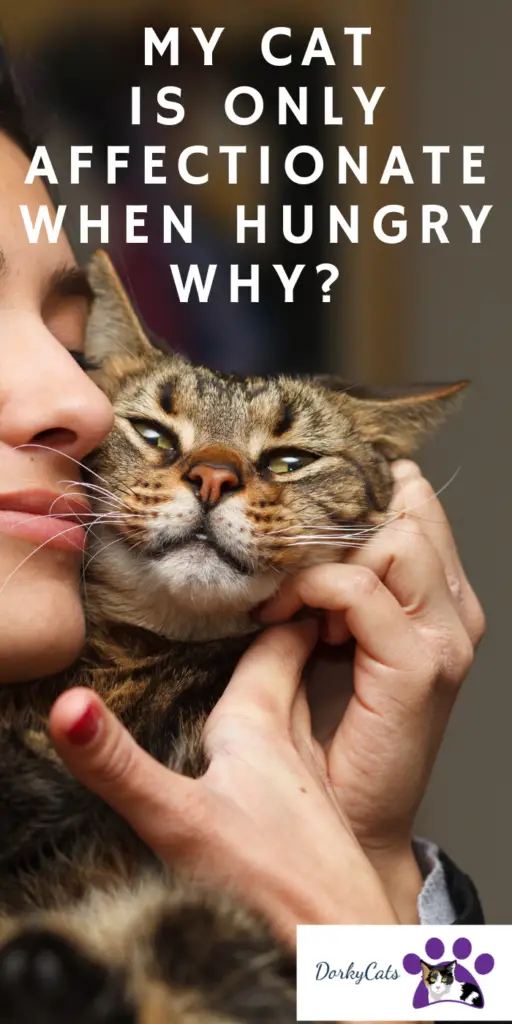 MY CAT IS ONLY AFFECTIONATE WHEN HUNGRY – WHAT CAN I DO?
Cats are known for their independent nature, and their affectionate behavior can be influenced by various factors.
In general, cats are creatures of habit and often develop routines and patterns of behavior. For example, if your cat is used to receiving food when they are affectionate, it may continue this behavior even if they are not particularly hungry.
Additionally, some cats are simply more food-motivated than others, and they may be more likely to seek attention when hungry.
It's important to remember that every cat is unique and might show a different personality than others. For example, you have the classic lap cat that is always attached to its human or the more independent cat that likes to be petted once in a while and just sits next to you (but not too close!).
Here are some things you can do to make your cat more affectionate, even when you are not giving food:
1. DON'T FORCE YOUR CAT TO CUDDLE
Cats can be independent animals and may not always show affection like humans or dogs do.
Cats are known to be autonomous and like to have their own space. So ensure you are not crowding your cat or forcing affection on them. Instead, give them space to explore and come to you on their own terms.
Nothing like forcing cuddles or unwanted contact can make your cat avoid you.
2. USE FOOD TO ESTABLISH A RELATIONSHIP
Giving your cat treats can be a great way to encourage positive behavior and create a positive association with you. Give your cat treats when they approach you or when they show affection.
When he comes to eat the treat, try petting your cat, and establish trust. Often it takes some time for a shy cat to trust cuddling with a human. I know this because, based on my experience with one of my cats, it took about three years for him to come and sleep on me.
Establish a bit of contact every day, even if it is for a few seconds.
3. PLAY WITH YOUR CAT
Cats love to play, and engaging in interactive play with your cat can help build a bond and increase their affection toward you.
4. DO NOT USE PUNISHMENT
Positive reinforcement is a great way to encourage good behavior in cats. Use praise and treats to reward your cat when they show affection towards you.
5. PROVIDE A SAFE ENVIRONMENT
Ensure your cat has a comfortable and safe environment with toys, bedding, and scratching posts. A happy and comfortable cat is more likely to be affectionate.
Remember, it's essential to be patient with your cat and let them come to you on its own terms. Cats are unique individuals with their own personalities and preferences, so it may take time for your cat to become more affectionate.
WHY DOES MY CAT ONLY LET ME PET HER WHEN SHE IS EATING?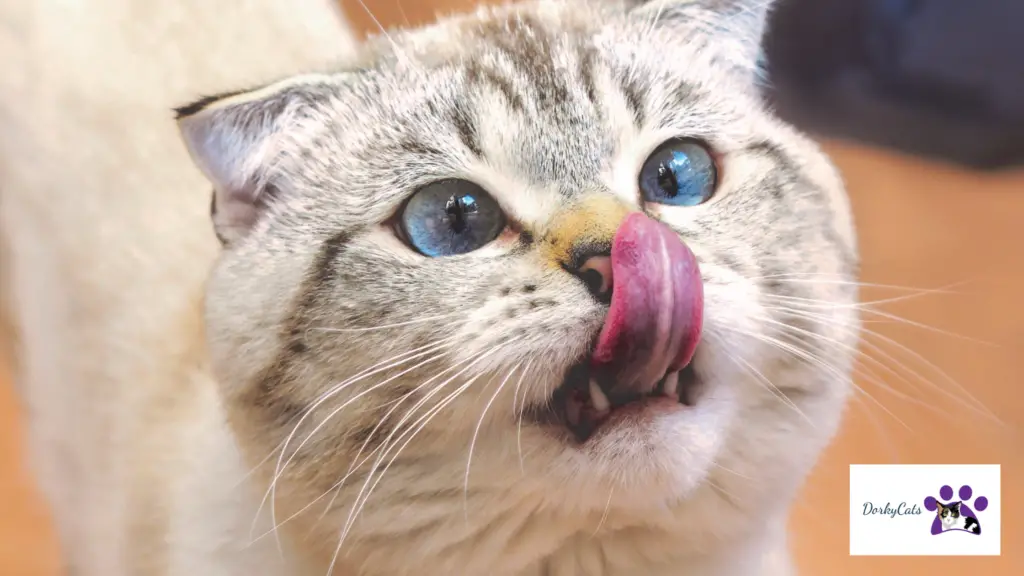 Some cats are more comfortable with being petted while they are eating because it helps to distract them and make them feel more relaxed. In addition, since they are hungry and you just gave them the food, their attention is on eating.
You can use this situation to get your cat used to your touch. Eating releases feel-good endorphins in cats, making them more receptive to physical contact and more open to being handled.
Cats are also natural hunters and often view their food as a valuable resource. When a cat eats, it may feel more vulnerable and less likely to defend its food.
Petting your cat while she is eating may establish yourself as a source of comfort and safety, which can help build trust and strengthen your bond.
However, it's important to remember that every cat is unique, and some cats may not be comfortable petting while eating.
If your cat shows signs of discomfort or anxiety, such as hissing, growling, or avoiding eye contact, it's best to respect their boundaries and avoid petting them while they eat. Instead, you can try sitting near them and offering verbal reassurance, which can help to build trust over time.
DO CATS FAVOR THE PERSON WHO FEEDS THEM?
Cats are creatures of habit and often associate certain people with positive experiences, such as receiving food or treats.
If you are the person who feeds your cat, your cat may come to associate you with the pleasure of being fed and may therefore show more affection towards you. In addition, cats can identify you as the main caregiver or owner if you constantly take care of them.
This can include things such as:
Feeding your cat
Grooming your cat
Clean his litter
Play with him
However, this does not necessarily mean that your cat loves you more than other people in the household. Cats can form close bonds with multiple people, and they may show affection and seek attention from anyone they feel comfortable with.
Cats' behavior may be influenced by various factors, including their temperament, previous experiences, and environment.
If you want to strengthen your bond with your cat, it's essential to spend quality time with them, offer them attention and play, and be consistent in your interactions. Over time, your cat will learn to trust and appreciate you, regardless of who feeds them.
HOW DO CATS ACT WHEN HUNGRY?
Cats may display a variety of behaviors when they are hungry. Some of the common signs of hunger in cats include:
Vocalization: A hungry cat may meow or yowl more frequently than usual, especially if they are accustomed to receiving food on a regular schedule.
Pacing and restlessness: A cat may be more active than usual and may pace or wander around the house in search of food.
Begging for food: Some cats may beg for food by rubbing against their owner's legs or pawing at their food bowl.
Searching for food: A hungry cat may search for food in unusual places, such as the trash can or on counters.
Eating quickly: When a cat is hungry, it may eat quickly and without much chewing.
It's important to note that some cats may display different behaviors when they are hungry, and not all cats will show all of these signs.
FREQUENTLY ASKED QUESTIONS
Why does my cat only let me pet her when she's eating?
Your cat may have learned to associate being petted with positive experiences, such as receiving food. This could be why your cat only allows you to pet her when she's eating.
When cats eat, they are relaxed and contented, which may make them more receptive to being petted.
Additionally, your cat may feel less threatened when she's eating because she's focused on her food, so she may be more willing to let you come close and interact with her.

How do you tell if an unaffectionate cat likes you?
Cats can show affection differently; some cats may not be as overtly affectionate as others. However, even if your cat doesn't seek out attention or affection, if they approach you and initiate contact, it's a good sign that they are comfortable around you and enjoy your company.
If your cat follows you around the house, it's a sign that they enjoy your presence and are interested in what you're doing. Kneading is a common behavior in cats and is often a sign of affection.
Purring is a sign of contentment and relaxation in cats. So if your cat purrs when they're around you, it's a good sign that they are comfortable and may even enjoy your company.

Can you hurt a cat's feelings?
Cats are intelligent and sensitive animals but may not experience emotions like humans.
While it's unlikely that you can hurt a cat's feelings in the same way you might hurt a person's feelings, cats can feel stressed or anxious if they are mistreated or if their environment is not conducive to their well-being.
Cats are social animals that form bonds with their human caregivers, and they may feel stressed or anxious if they feel neglected or if their human caregiver is not providing for their basic needs.