DO CATS GET JEALOUS OF BABIES? 6 REVEALING SIGNS
Do cats get jealous of babies? Are you about to bring a new life into your home but wonder whether this will upset your furry baby? A lot depends on your cat's personality.
Cats do get jealous of babies at times. Bringing a new baby into the home changes the cat's environment through new smells and noises. Also, a baby will take up a lot of your attention, and the cat may feel jealous that you have someone else to care for, and that might threaten their territory.
The following will explain why cats get jealous of babies, the signs of a jealous cat, and how to prevent a cat from becoming jealous of a new baby.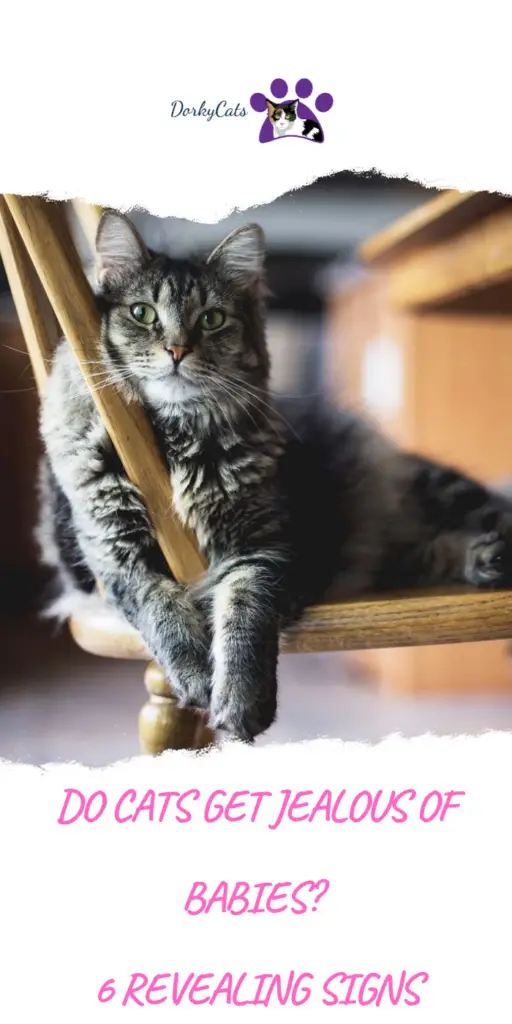 DO CATS GET JEAlOUS OF BABIES AND CHILDREN?
Cats are highly territorial animals, and they enjoy a stable environment and routine as this makes them feel in control. Cats can become distressed and insecure when there is a sudden change, which can lead a cat to feel threatened and territorial. In addition, it raises the feelings of jealousy.
A new baby being brought into the home is a massive change to everyone's environment and routine, and it is no different for your cat. They will be susceptible to the different smells and may be confused or distressed about the noise of a crying baby.
Having a baby will naturally take up a lot of your time, so your cat may feel jealous or neglected as the attention is being taken away from them.
As with humans, not all cats will feel the same amount of jealousy. For example, some cats may be more anxious and insecure by nature, whereas others are calmer and more docile. Also, it can depend on whether you already have children or other pets.
The important thing is to know your cat's natural behavior to spot any signs of jealousy.
HOW TO SPOT JEAlOUSY IN CATS
It is unlikely that an indoor cat will attack your baby or become aggressive with a baby, but it can happen, especially if your cat is the one cat that gets jealous. On the other hand, some cats with a sweet and kind personalities can become even protective of a baby and enjoy their company.
But many things can go wrong. For example, babies can scare or annoy a cat, and cats react out of a protective instinct. This is why cats should always be supervised when near babies.
Cat jealousy signs are:
Aggressive behaviors include hissing, growling, scratching, swatting, or biting.
Hiding away.
Going to the toilet outside the litter box.
Spraying inside the home.
Blocking doorways or access to certain areas.
Destroying furniture.
You can spot signs of aggression in cats by their body posture, the tail movement, the ears flat on their head, the puffy tail, and the hissing. In addition, some cats will show signs of jealousy by hiding, ignoring you, or even becoming depressed (not eating or drinking).
HOW TO PREPARE CATS FOR A BABY
Preparing your cat for the baby's arrival, similar to getting an older sibling used to the idea first, can help make the transition easier.
Here are some steps you can take:
1. FAMILIARIZE YOUR CAT WITH THE NURSERY
Let the cat explore the nursery. Making sure the nursery is ready in advance means your cat can have plenty of time to explore the new setup of the room and leave their scent in there, so it is not entirely unfamiliar territory.
Once the baby arrives, you can set boundaries for allowing the cat in the nursery, but at least now, it won't be a new place they wish to explore.
2. FAMILIARIZE YOUR CAT WITH THE DIFFERENT SMELLS
Introduce the cat to smells. Smells that come with babies are things like baby powder, lotions, and foods, so you can buy some of these things in advance and allow your cat to sniff them.
This way, when the baby arrives with its natural smells, your cat will recognize the odors it has already encountered.
3. PLAY BABY NOISES
Play baby noises for the cat. The sound of a crying baby can be very distressing for a cat. Beginning to play the sounds of babies for your cat before the baby arrives is a way to introduce them to the change of noise level in their environment.
4. INTRODUCE THE BABY SLOWLY
Once the baby is at home, make sure your cat smells the baby as soon as possible under your supervision. Let the cat interact with the baby for a few hours a day until you can observe how he behaves, and you are sure that they are getting along fine.
Your cat can have a different reaction to a new baby:
Run for the hill
Fall in love
Be aggressive
Some cats will not like the presence of a baby because of the noises around the new guest. Those are the cats that love a quiet place. But you can also have a cat that will bring out the maternal instinct and be all over your baby to give him protection and affection.
Finally, you can also find the territorial cat that doesn't like a new person in the environment and will make a fuss about it.
HOW TO PREVENT A CAT FROM BEING JEALOUS OF A BABY
Once the baby arrives, you may notice signs of your cat becoming jealous or territorial. There are ways to help combat this:
1. INTRODUCE YOUR CAT TO THE SCENTS
Introduce the cat to the baby's scent. Letting your cat sniff the baby's blanket or clothing is a great way to introduce them to its smell. Then, let your cat come close to the baby cot when your baby is sleeping, just to get familiar with the scent.
2. LET YOUR CAT INTERACT WITH THE BABY
Supervise them together. When they first meet, you can hold your cat and let them sniff the baby. Cats are loveable animals and will be curious about the baby, but supervision is required as the cat may want to snuggle up next to the baby for body warmth.
As the baby gets older, they might grab the cat's tail or stroke them wrong, and the cat could react to this.
3. TRY TO KEEP THE YOUR CAT'S ROUTINE
Keep your cat's routine. Your routine may have changed since having a baby, but your cat will struggle with any change. Make sure to feed them at the same time as before, or they could get very confused and anxious.
4. FIGURE OUT SOME TIME TO SPEND WITH YOUR CAT
Spend time with your cat and show them love and affection. Give your cat lots of cuddles and pets to show them that you have time for them. One of the triggers of jealousy is the lack of attention cats experience when a new baby arrives.
When a baby arrives, life gets busy, but try to figure out how you can still pay attention to your cat.
5. CALMING DIFFUSER
Get a cat pheromone plugin. Pheromone plugins are a great way to calm cats down, especially with all the new smells in the house.
Here are some ideas for calming diffusers for cats:
Preview
Title
Comfort Zone Multi-Cat Diffuser: Value Kit (3 Diffusers & 6...
bSerene Pheromone Calming Solution for Cats|45-Day Starter...
Calming Diffuser Kit for Dogs & Puppy - Pet Separation...
PREMIUM CARE 3-Pack Calming Diffuser Refill Kit - Cat and...
ADAPTIL Dog Calming Pheromone Diffuser, 30 Day Starter Kit...
Preview
Title
Comfort Zone Multi-Cat Diffuser: Value Kit (3 Diffusers & 6...
Preview
Title
bSerene Pheromone Calming Solution for Cats|45-Day Starter...
Preview
Title
Calming Diffuser Kit for Dogs & Puppy - Pet Separation...
Preview
Title
PREMIUM CARE 3-Pack Calming Diffuser Refill Kit - Cat and...
Preview
Title
ADAPTIL Dog Calming Pheromone Diffuser, 30 Day Starter Kit...
WILL MY CAT ATTACK MY BABY?
In general, cats will not attack a baby without reason, especially domesticated indoor cats, unless the cat is not yet familiar with the new house guest or have some jealousy issues.
If a cat tends to attack a baby or a human often, it is time to figure out if your cat has a health problem or anything that is really disturbing him. Supervise your baby and cat closely to figure out what is going on.
It might be that your cat is pulling your cat's tail or doing anything that scares the cat off. When your baby grows, it is time to teach him or her how to behave with a cat and respect his space.
CATS AND NEWBORN BABIES DANGERS
Leaving a cat alone with a newborn baby can be dangerous, not necessarily because your cat is mean, but because many things can happen by accident. For example, your cat can decide to sleep on your baby's face out of affection.
Cats do this with grown-up humans, but humans will not get negative consequences if that happens. Babies will not be able to move their heads or bodies to keep breathing without problems, and cats do not understand they are obstructing your baby's respiratory tract.
Here are the dangers of cats with newborn babies:
Bites
Scratches
Infections
Respiratory tract obstruction
Babies are very delicate when they first arrive in this world; cats can carry infections that can be harmful to babies. In addition, your baby can move suddenly and hit your cat and get in exchange for a bite or nails in the hands or harm.
Cats and babies have all the time to get to know each other once the baby grows up. However, in the beginning, all interactions should be supervised to prevent any problems.
WHY DO CATS PROTECT BABIES?
But, there is also the case of the cat that is overly protective of your baby. It is the typical situation of a cat sleeping in the baby cot, licking your baby, and even alerting you if there is something wrong with the baby's health.
Cats protect babies because they are reminded of having kittens. A baby brings up cats' motherly instincts,s and naturally, they protect newborn humans. Cats also sense that babies are fragile, and once they get affectionate, they want to protect them.
You might have heard some stories of cats saving a baby's life by getting their owner's attention. Here are some examples:
Midnight: the cat that saved a six-week-old baby (Stacey) with respiratory failure using a baby monitor. Stacey grew up to be Midnight's best friend!
Gatubela: the cat that saved a toddler from falling down the stairs. Samuel, a one-year-old toddler, crawled out of his crib, heading toward a steep flight of stairs. Gatubela, a beautiful Siamese cat, went into action, pouncing on the boys and pushing him back forcefully, saving him from falling.
Masha: the cat that saves a baby from freezing to death. The tabby cats laid over a baby, warming him up and meowing for help after being abandoned in a cold Russian city.
In reality, there are many stories of cats saving babies. So your cat can be an extra added value that will help guard your new baby!
FREQUENTLY ASKED QUESTIONS
Do cats get jealous of each other?
Cats can get jealous of each other if they feel the other cat is invading their territory or give more attention to one cat too much, ignoring the other cat.

Do cats get jealous of their owners?
Cats get jealous of their owners if they feel neglected and think they are giving attention only to others. So your cat might start to act funny and try to get your undivided attention.

Do cats get jealous of pregnancy?
Cats get jealous of pregnancy sometimes. However, it is more probable that your cat will sense the new life growing inside you and become protective of you and the baby.

Will my cat hurt my baby?
Indoor domesticated cats are not hurting a baby. But accidents can happen. Therefore cats should get well introduced to the new arrival and be supervised when interacting with a tiny baby.

What is a cat's behavior after a new baby?
A cat's behavior after a new baby is not changing. There is an initial adjustment to the new guest, but your cat will always be your cat with his personality. If there are jealousy issues, your cat might act differently, but in this case, you can resolve it by giving more attention to your cat.