Why does my cat eat my hair? Does he think I am a mother cat? Or is there another reason why my cat decides to eat my hair?
In this article, we are going over the reasons cats like to leak and eat hairs.
My cat eats my hair primarily because he likes me. He wants to show me love or play with me. In some instances, he thinks I am his mother, or he is tressed and needs to chew on something to release the stress. Ultimately he may like the taste of my hair.
Let's examine all those factors and some more.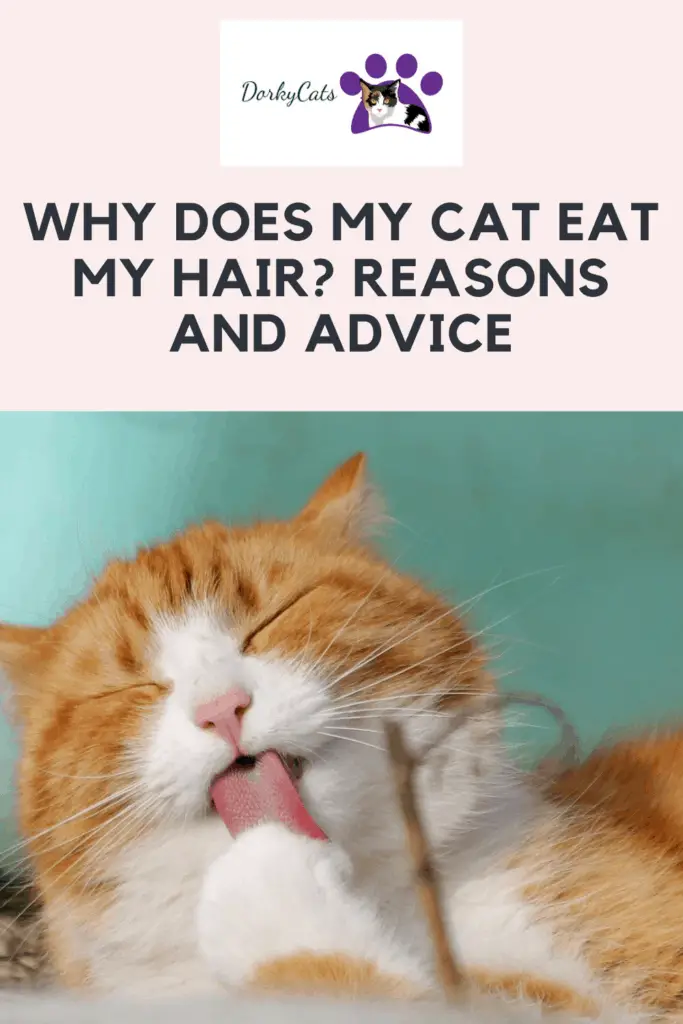 WHY DOES MY CAT EAT MY HAIR?
It has always been a mystery why my cat suddenly would sneak on me and start leaking my hair and biting on it. I thought he was a weirdo, and it is another weird thing that my cat can come up with when he is bored.
But, I soon realized that he actually does it for a reason ( of course, for him, it does make sense). Here is a list of good reasons your cat heat your hair:
1. YOUR CAT LIKES YOU
If you have 2 or more cats, you have observed that they like to lick each other and bite each other, especially before going to sleep or cuddling together. When cats like someone, either another cat or a human, they show it by licking them.
The hair of your head resembles the fur of other cats. Therefore it is logical for them to go there to lick and bite.
Make sense, right?
2. YOUR CAT THINKS YOU ARE THEIR MOTHER CAT
Especially for young cats and kittens, your hair is like cat fur. If they do not have their mother around, you are the mother. In the end, you feed them, you clean them, you play with them, you cuddle them, and you are next to them all day.
This means you are their mother, cat! It can be a signed that they were weaned to young.
It is great you have created a bond with the little furball, but now he wants your affection and wants to show you his love.
3. YOUR CAT LIKES TO CHEW EVERYTHING BECAUSE HE WANTS TO PLAY
Maybe you have a cat that likes to chew everything they can put their paws on! Well, cats usually like to chew everything by "default."
But, what about those cats who can't stop doing it, even if they become older, somehow they have to chew objects and anything that comes near them?
They could have a compulsion to chew.
If you think this compulsion goes way above and beyond what is reasonably expected by a cat or kitten, maybe it is time to bring the cat to the vet and see if everything is ok. He may have some nutritional deficiency.
See below for more informations on a possible compulsion.
4. HE LIKES YOUR HAIRS
He literally likes your hairs' taste, maybe because of some scent they have or a particular shampoo, conditioner, or whatnot. Difficult to know what drive a cat to like the taste of someone's hair. But, it is possible for them to like it!
5. PICA
Some cats can have a medical condition called pica, this condition can be found in dogs and also in humans.
Pica (/ˈpaɪkə/pIE-kuh)[1] is a psychological disorder characterized by an appetite for substances that are largely non-nutritive, such as ice (pagophagia); hair (trichophagia); paper (xylophagia);[2] drywall or paint; sharp objects (acuphagia);[3] metal (metallophagia); stones (lithophagia) or soil (geophagia); glass (hyalophagia); feces (coprophagia); and chalk.[4] (Ref. Wikipedia)
Therefore when cats have a compulsion to eat objects, the compulsion is referred to as Pica. Pica can occur in people who have lower than normal nutrient levels and poor nutrition (malnutrition).
It would be recommendable to bring the kitty to the vet to make sure he is ok, and in case he has problems with nutrition, get advice on what to do.
6. STRESS
Another possibility as to why cats are heating your hair is stress. It may be that there are environments conditions that your cat doesn't like that trigger this particular behavior.
Maybe he started doing it after a new person or animal came into the house, or after a change. Try to remember what has happened and when your cat actually started.
in this case, one can just remove the stress factor and your cat should calm down.
7. HE IS PUTTING HIS SCENT ON YOU
After all, you are his property; therefore, he has to make sure it is widely known to other cats and animals! When he starts grooming you and leaking your hair, he is actually putting his scent on you.
Congratulations! Now you are your cat's property, and everyone knows it, he has reached his purpose.
HOW DO I STOP MY CAT FROM EATING MY HAIR?
If you really don't like it, or if it is happening too much, there are things you can try to deter your cat from eating your hair.
Here some of the things you could try:
Each time your cat starts eating your hair, pick him up, and put him in some other place. If you do this all the time, especially when he is young, he may associate this action because it is not ok to eat your hair.
The chances are that he does it when you are sleeping, try to hide your hair, or make your head difficult to reach.
If you found out that he is stressed, try removing the stress factor in the house to calm down a little.
Is your cat alone? If so, you may try getting him a brother or sister to play with and comfort each other. My own cat improved a lot in his sociability since he got a smaller sister. He goes and licks her head instead!
Cats could be made to associate words with something they should not do. For example, my cat knows that if I say "NO," he has to stop what he is doing. I do not scream, though. I say "NO" and repeat until he stops.
If he doesn't stop whatever he is doing, I pick him up and make him stop. In the long run, he understands that if I say "NO," he has to stop.
It takes a bit of patience, but you can eventually train your cat.
RELATED QUESTIONS
While I could have to find the answer to "why does my cat eat my hair, other questions are coming up to be answered.
Here some:
What happens if a cat eats human hair?
Well, if you are cleaning the litter box of your cat, you may have seen instances of hair within the poop. Well, they do not digest hair, and thus end us in the poop nearly as it came in. Hair in the stomach can create problems for your cat. Therefore it is better to avoid any incident.
Is it OK for my cat to lick my hair?
Certainly, there is nothing really wrong with this from your cat's viewpoint, he loves you, and it is normal to show it for him. It is not wrong because it is normal in nature for them to do it. He basically loves you.
However, if you want to stop him from doing it, try some of the above suggestions or learn to train your cat with the guide below.
Why does my cat bite my hair after I shower?
It may have happened to you that as soon as you get out of the shower, your cat start biting your hair. It is possible he likes the scent from the shampoo or he likes that your hair are hanging in strands and he wants to play with it.
Why does my cat bite my hair when I'm sleeping?
For all the reasons explained above, however, if he does it particularly at night, it is because you can't protect your hair, and he has free access. It may also be that he wants to wake you up. One way it is to bite and pull your hair.
My cat comes to wake me up every morning. Usually, he pokes me on the face (sometimes he actually slaps me!). Other times he pulls my hair and bites on it. I guess it depends on what degree of force he has to use to get me out of bad!
CONCLUSION
Why does my cat eat my hair? I wondered for a long time why my cat heats my hair without really searching for the answer, but as soon as I bonded with my cat, I went into knowing everything about them.
I hope we were able to answer your questions. If you want to ask something else, write it in the comments below.
Read also: WHAT OBJECTS DO CATS HATE? THINGS YOU DIDN'T KNOW CAN MAKE CATS SCARED