WHY DOES MY CAT EAT MY HAIR? 11 REASONS AND ADVICE
Why does my cat eat my hair? Cats enjoy coming around, especially when sleeping, to eat or lick your hair. It is usual for them since all other cats have fur, and they habitually groom each other. So why would it be different with you?
Cats eat hair primarily because they like their owner. They want to show love or want to play, and it is part of cats' grooming habits. Cats owners are considered family and friends by cats and thus deserve grooming. In some instances, cats do it because of stress or health problem.
In this article, we are going over why cats like to leak and eat hair. So let's examine all those factors and some more.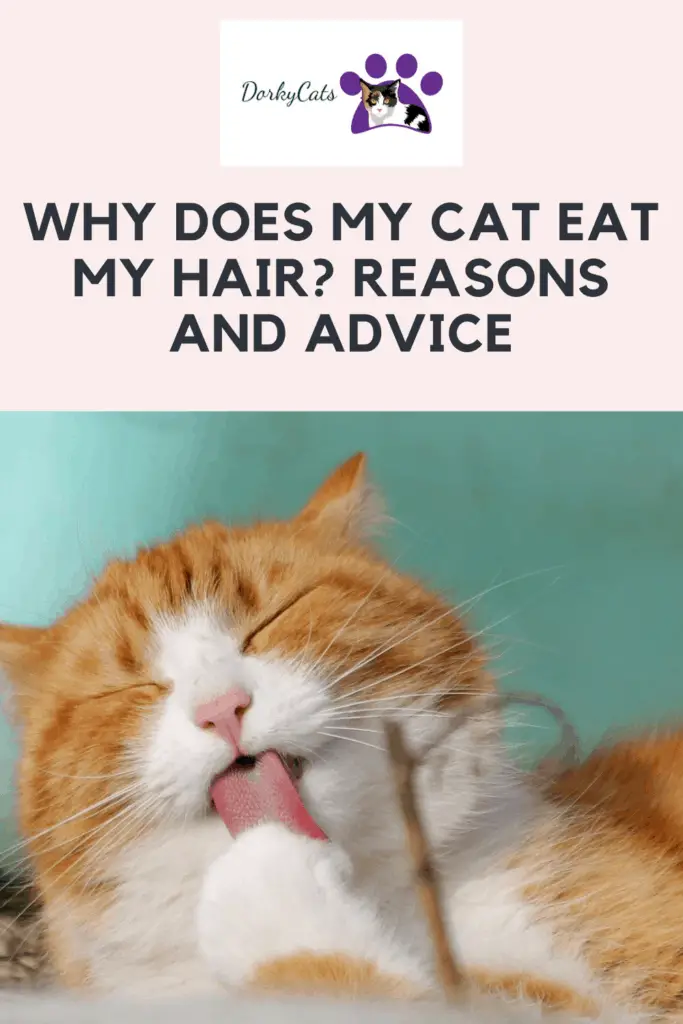 WHY DOES MY CAT EAT MY HAIR?
It has always been a mystery why my cat suddenly would sneak on me and start leaking my hair and bite on it. Although cats can come up with weird things during the day, chewing hair is for sure one of them. Sometimes can also be annoying and painful when cats decide to pull the hair.
In general, cats chew, lick or bite your hair because they want to show affection and consider you part of their cat family. Cats groom each other when they believe each other friends.
You should be honored to get this type of attention from your cat; however, there are some instances in which biting and licking your hair can be excessive. Here are all the reasons your cat might be licking your hair:
1. YOUR CAT LIKES YOU
If you have two or more cats, you have observed that they like to lick each other and bite each other, especially before sleeping or cuddling together. When cats like someone, either another cat or a human, they show it by licking them.
The hair of your head resembles the fur of other cats. Therefore it is logical for them to go there to lick and bite. After all, you are just a big cat? Isn't it?
Make sense, right?
2. YOUR CAT THINKS YOU ARE THEIR MOTHER CAT
Especially for young cats and kittens, your hair is like cat fur. If they do not have their mother around, you are the mother. In the end, you feed them, clean them, play with them, cuddle them, and are next to them all day.
This means you are their mother cat! So it can be a sign that they were weaned too young.
It is excellent you have created a bond with the little furball, but now he wants your affection and wants to show you his love.
3. HE WANTS TO PLAY
Maybe you have a cat that likes to chew everything he can put its paws on! Well, cats usually like to chew everything by "default."
But what about those cats who can't stop doing it? And even if they become older, somehow they have to chew objects and anything near them?
They could have a compulsion to chew.
If you think this compulsion goes way above and beyond what is reasonably expected by a cat or kitten, maybe it is time to bring the cat to the vet and see if everything is ok. He may have some nutritional deficiency.
4. HE LIKES YOUR HAIRS
He likes your hairs' taste. Maybe because of some scent they have or a particular shampoo you are using, or a conditioner. Difficult to know what drives a cat to like the taste of someone's hair.
But if your cat intensifies the biting and licking of your hair right after you take a shower, then the cause of the attraction may be a particular product you are using.
5. PICA
Some cats can have a medical condition called pica. This condition can be found in dogs and also in humans.
Pica (/ˈpaɪkə/pIE-kuh) is a psychological disorder characterized by an appetite for substances that are largely non-nutritive, such as ice (pagophagia); hair (trichophagia); paper (xylophagia);[2] drywall or paint; sharp objects (acuphagia);[3] metal (metallophagia); stones (lithophagia) or soil (geophagia); glass (hyalophagia); feces (coprophagia); and chalk.

(Ref. Wikipedia)
Therefore when cats have a compulsion to eat objects, the compulsion is referred to as Pica. Pica can occur in people with lower than normal nutrient levels and poor nutrition (malnutrition).
It would be recommendable to bring the kitty to the vet to make sure he is ok, and in case he has problems with nutrition, get advice on what to do.
6. STRESS
Another possibility as to why cats are heating your hair is stress. There may be environmental conditions that your cat doesn't like that trigger this particular behavior.
Maybe he started doing it after a new person or animal came into the house or after a change. Try to remember what has happened and when your cat started to bite your hair.
In this case, one can remove the stress factor, and your cat should calm down.
7. HE IS PUTTING HIS SCENT ON YOU
After all, you are his property; therefore, he has to make sure it is widely known to other cats and animals! So when he starts grooming you and leaking your hair, he is actually putting his scent on you.
8. GENETIC
Some cat breeds are more active and are more attracted by strings, cords, and hairs. Long hair cats are more used to grooming long coats, and it is innate to lick and clean the hair of their beloved master.
Such cats might be more likely to behave like obsessed with your hair.
9. COMPULSIVE BEHAVIOR
Some cats can show compulsive behaviors, such as aggression and obsessive chewing. Cats can develop a compulsive chewing habit because of stress, a bad upbringing, or health problems.
Cats with behavioral problems need veterinarian assistance and help to calm down.
10. OTHER HEALTH PROBLEMS
Compulsive chewing and biting can derive from other health problems which need to be discovered. One example could be hyperthyroidism. If the thyroid is too active, your cat might feel the need to chew on things.
Typically, you can also observe weight loss in your cat too.
11. YOUR CAT IS WAKING YOU UP
Commonly, cats lick and bite your hair in the morning when you are sleeping. They do it because they want to wake you up. In my experience, most of my cats lick my face and hair when they wish I wake up.
It is time to feed them or to play. Cats sleep a few hours, then wake up, play, eat and sleep some more. You sleeping for 7 or 6 hours is too much for them. It is time to wake up!
HOW DO I STOP MY CAT FROM EATING MY HAIR?
If you really don't like it, or if it is happening too much, there are things you can try to deter your cat from eating your hair.
Here are some of the things you could try:
Each time your cat starts eating your hair, pick him up, and put him somewhere else. If you do this all the time, especially when he is young, he may associate this action because it is not ok to eat your hair.
The chances are that he does it when you are sleeping, try to hide your hair, or make your head challenging to reach.
If you find out that he is stressed, try removing the stress factor in the house to calm him down a little.
Is your cat alone? If so, you may try getting him a brother or sister to play with and comfort each other. My own cat improved a lot in his sociability since he got a smaller sister. He goes and licks her head instead!
Teach him the word "NO" when you want your cat to stop doing something
Cats could be made to associate words with something they should not do. For example, my cat knows that if I say "NO," he has to stop what he is doing. I do not scream, though. I say "NO" and repeat until he stops.
If he doesn't stop whatever he is doing, I pick him up and make him stop. So, he understands that if I say "NO," he has to stop in the long run.
It takes patience, but you can eventually train your cat.
Read also: WHAT OBJECTS DO CATS HATE? THINGS YOU DIDN'T KNOW CAN MAKE CATS SCARED
FREQUENTLY ASKED QUESTIONS
What happens if a cat eats human hair?
If cats eat human hair, nothing dangerous happens. This is because they do not digest hair and thus end up in the poop nearly as it came in. However, hairs in the stomach can create problems for your cat when there are too many.

Is it OK for my cat to lick my hair?
There is nothing really wrong with your cat licking your hair. He loves you, and it is customary to show based on his viewpoint. However, if you want to stop him from doing it, try distracting your cat with other toys.

Why does my cat bite my hair after I shower?
It may have happened to you that your cat starts biting your hair as soon as you get out of the shower. It is possible he likes the scent from the shampoo or likes that your hair is hanging in strands and wants to play with it.

Why does my cat bite my hair when I'm sleeping?
If your cat bites your hair when you are sleeping is because you can't protect your hair, and he has free access. It may also be that he wants to wake you up. My cat comes to wake me up every morning. Usually, he pokes me in the face (sometimes, he slaps me!). Other times he pulls my hair and bites on it. I guess it depends on what degree of force he has to use to get me out of bed!

Why does my cat eat my hair off the floor?
Cats have the habit of ingesting their own fur when they see it lying on the floor or the bed. It is a spontaneous action derived from their grooming habits. Since they groom you too, they might eat even your hair when they see it on the floor.
Why does my cat eat my other cats' hair?
Your cat eats other cats' hair because it is a habit for them to ingest fur through grooming. They do the same when grooming other cats, and if they find their fur on the floor, they might eat it.

Why does my cat eat my hair and purr?
In general, if your cat eats your hair and purr is because he wants your attention and wants you to pet him or give him food. He just wants you to pay some attention to him.