DO CATS GET JEALOUS? TOP SIGNS AND HOW TO FIX IT
Do cats get jealous? If you ever felt that your cat was jealous, know that you were not far from the truth. Although it may sound weird for such independent pets to show jealousy, it is actually possible.
Cats can become jealous when they feel insecure, threatened, or territorial. This can be due to a change in their environment or not feeling in control. The presence of other pets and the decrease of attention from their owner can trigger jealous behavior in cats.
Let's see how cat shows their jealousy and what we can do to make them feel better.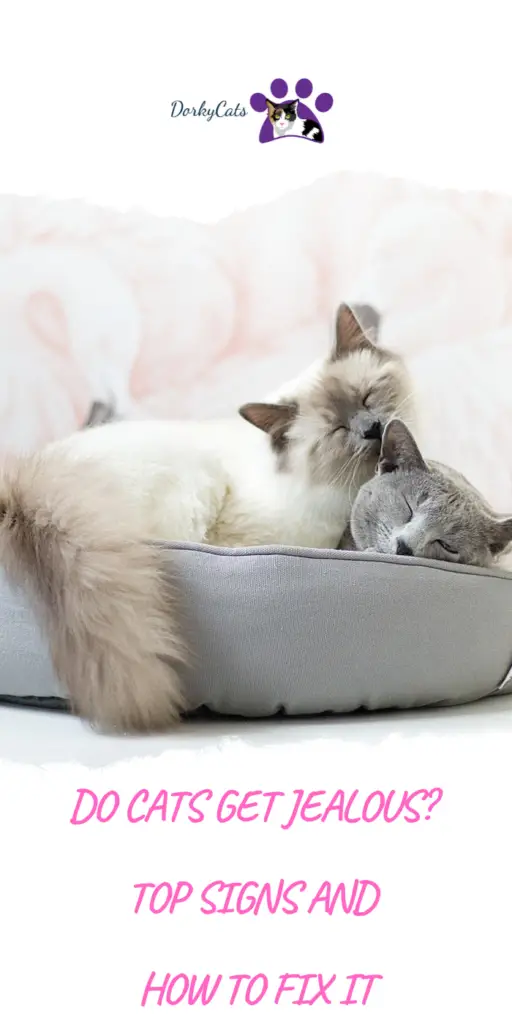 DO CATS GET JEALOUS?
Have you ever come home from another cat owner's house and felt like your cat can tell that you have petted another cat?
This can then make you wonder, do cats get jealous?
Not all cats get jealous to the same extent – some cats are generally more insecure and get stressed more quickly, whereas some cats do well with other pets and children. However, you will need to observe your cat's behavior and monitor any cues of them becoming jealous.
Some cats are very welcoming to new entries, such as new pets or other people, while some other cats are sensitive to anything new entering their territory. Jealousy, for cats, is translated into the protection of their territory and what they consider their properties ( such as their owners!!!).
In humans, jealousy is defined as a perceived or real threat posed by others toward a personal relationship. For example, some people resent others when they seem to take away the love and affection from their existing friends or family members.
Humans can feel anger, resentment, and hostility. Cats can manifest a similar behavior.
WHAT ARE THE SIGNS A CAT IS JEALOUS?
Cats show jealousy through aggression and other means. If your cat is jealous, you will be the first one to know because of his strange and unusual behavior. For example, they will try to get between you and the object of their jealousy. They will be aggressive to other pets or humans, etc.
These are some warning signs that your cat is feeling jealous:
Hissing or growling
Swatting or scratching
Biting
Hiding
Going to the toilet outside the litter box
Destroying furniture
Spraying furniture and areas in the home
Blocking doorways or access to certain areas
Invading personal space
Showing aggressinve eye contact with another person
Trying to get attention in many ways
Fawning
If your cat suddenly shows any of these behaviors in coincidence with a new pet or person entering the house, the chances are that your cat is jealous.
But even changes in routines or your sudden change in work schedule ( more hours missing from home) can trigger jealousy in cats. Also, new babies, anyone stealing your cat's favorite sleeping place, etc., can trigger jealousy.
DO CATS GET JEALOUS OF OTHERS CATS?
Cats can become jealous of other cats in the household if their territory or safety feels threatened. For example, they may worry that the other cat may take their food or territory away. In addition, they may feel insecure about the attention they will receive compared to the other cat.
This is often why cats who live together or cats in the same neighborhood become territorial and aggressive with each other. Cats can become stressed when another cat comes onto their territory and lashes out at the intruder to drive them away.
DO CATS GET JEALOUS OF OTHER PETS?
New pets in the household can make cats feel jealous, and they may feel more jealous of larger animals such as dogs due to feeling insecure or threatened.
They will worry about their status and place in the household. Dogs will be likely to explore the house and sniff around, and your cat may see this as them taking over the environment.
DO CATS GET JEALOUS OF BABIES AND CHILDREN?
A new baby being brought into the home can make cats jealous as it changes their environment and naturally takes a lot of your attention away, as there is someone else to care for.
Cats may be unsure about the noises and crying a baby makes, and it can make them feel stressed. In addition, people with newborn babies will change routines and habits. Cats are susceptible to it.
However, some cats do not react this way and are protective of babies. So a lot depends on your cat's personality.
DO CATS GET JEALOUS OF KITTENS?
Cats can become jealous of kittens when you stop giving attention to them and provide a lot of love to the smaller cats. In addition, kittens are very active and can invade the resident cat space, disturb him while sleeping, and always want to play.
Older cats do not always have the patients to play with kittens, and they want their space and territory to be respected, things that kittens do not understand. Furthermore, cats might feel their household hierarchy threatened by new kittens.
DO CATS GET JEALOUS OF HUMANS?
Cats can get jealous of humans if a girlfriend, boyfriend, husband, or wife if their owner is ignoring them and only giving attention to them. On the other hand, sometimes cats have a favorite person in a household.
You see them sleeping near a person or going to one person to get food and attention. In that case, cats can show aggression to other people when they intrude too much " in their relationship" with their favorite human.
WHY DO CATS GET JEALOUS?
If you have experience with cats, you know that not all show signs of jealousy. On the contrary, some cats are amiable and do not mind the new addition to the household. In my experience, some cats like to meet new people; they see it as a unique play opportunity.
But why do some cats show jealousy instead?
In some cases, cats grow up in poor conditions and do not have the chance to socialize with other cats or humans. In other cases, cats grow dependent on a specific person and do not like others to intrude.
Besides the cat's upbringing and personalities, they also get jealous because they feel their space and security are compromised.
HOW DO YOU PREVENT A CAT BEING JEALOUS?
What should you do if your cat shows signs of jealousy? And what is the best way to prevent it? In general, it is imperative to keep giving love and attention to your cat as usual. Regardless if there is another pet or human.
It is also essential to preserve their space and make them feel safe. Here are some things you can do to prevent jealousy in your cat:
1. CONTINUE TO SHOW LOVE TO YOUR CAT
Show your cat lots of love and equal attention to other pets. If you got a second cat or a dog, do not forget to cuddle your cat as usual or play with him. If you play with the new pet, remember to include your cat or spend the same time with him.
2. GET NEW TOYS AND PROVIDE SPACE
If your cat is becoming aggressive, use a toy to try and distract them and help them get some of their anger out. Ensure your cat has a personal space that the new pet is not using.
Dogs or new cats should have their beds. In this way, your cat is not feeling threatened.
3. INTRODUCE NEW PETS GRADUALLY
If your cat is being aggressive to another cat or animal, keep them apart for a while before reintroducing them. If they act positively, reward them with treats. A gradual introduction gives a chance to new pets to know each other at their own pace.
In this way, new pets are not forced into the other cat space, and there are higher chances they become friends. Use positive reinforcement, such as rewarding them with treats, for any peaceful and non-aggressive behavior they show.
4. PROVIDE A LOT FOOD AND WATER
One of the best methods to prevent jealousy between cats is to make sure they have a lot of food and water available, so they will not fight over it. Provide additional litter boxes, toys, and beds so each cat can have enough of everything.
FREQUENTLY ASKED QUESTIONS
Do cats get possessive of their owners?
Cats can be possessive of their owners. They will try to get on them and keep away other pets coming close to their humans. They can also display disappointment with their owners giving attention to other pets by biting, scratching, etc.

Do cats pick a favorite person?
Cats pick a favorite person often. But, typically, it is the person in the household that most take care of them, giving food, playing with them, cleaning them, etc.

Are cats loyal to one person?
Cats tend to be loyal to a person and, in general, have a favorite person. However, they can be affectionate to several household members and play with them.
Do cats get jealous of boyfriends?
Cats get jealous of boyfriends if they take too much time and attention from their owners and are new in the house. In the beginning, cats can be jealous of a new person, but things can get better after a while.

Do cats get jealous of girlfriends?
Cats get jealous of a girlfriend or wife if they get in the personal space of their favorite person or owner. Cats do not like their owner giving them less attention than usual.

Do cats get jealous of their siblings?
Cats can be jealous of their siblings if there is an unbalance in the household hierarchy. For example, some cats are dominants and can develop jealousy if siblings do not respect their position.

Do cats get jealous of phones?
Cats get jealous of phones if you spend too much time looking at the screen and not paying attention to them, especially if you spend a few hours on your phone without moving. Cats pretend you do not focus on other things unless you take time to pet, play, and cuddle them.