HOW TO FEED CAT WET FOOD WHILE AWAY?
How to feed cat wet food while away? One of the problem to face when one has a cat, is the feeding and care in case it is necessary to go away for a while. It is not uncommon for a cat owner to brainstorm endlessly on this issue. So, what to do?
If you have to go away for a while, you can use different methods to feed your cat wet food. The most common ways are to use an automatic pet feeder, to have a friend or family member help you, hire a pet sitter, and use other tricks and creative ideas to keep your cat fed. Those can be freezing wet food, so it can last longer, adding water, etc.
Let's see what are all the options.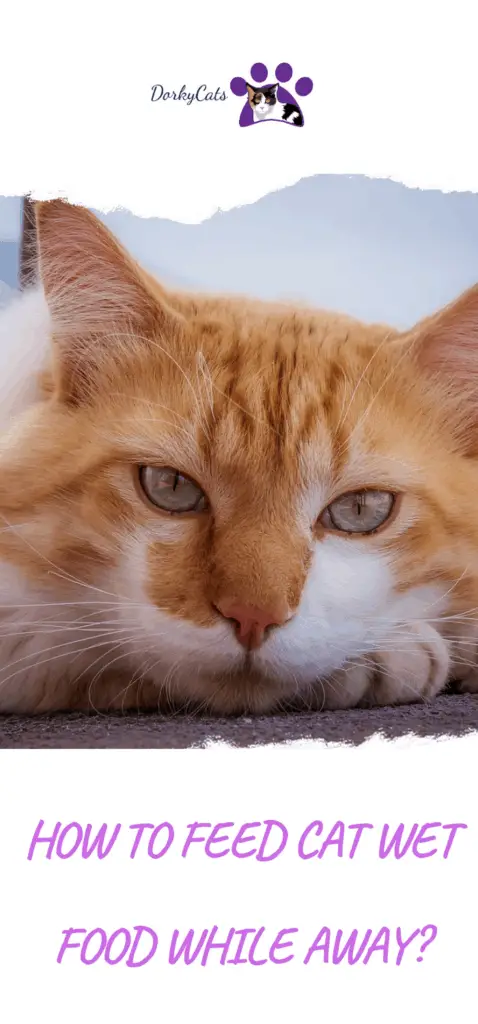 HOW TO FEED CAT WET FOOD WHILE AWAY? FROM 12H TO 48H
If you have a cat, sooner or later, you will run into the situation of having to leave for a while and figure out how he will be fed. It is a feeding problem, and how to make sure he is going to be fine alone and that he will not suffer in any way.
Cats owners have to be created when it comes to solving that kind of situation. Fortunately, cats are pretty independent, but still, they can stress out if they do not see you around, and if there is a change in means plans and timing.
Some cats are used to eat wet food mainly, and they would not eat much dry food if you are gone. Some other cats can't eat dry food for medical reasons. Therefore a solution is in order.
So, how to feed cat wet food while away? Here some useful tips if you go away from 12h to 48h:
1.FEED THE CAT BEFORE LEAVING
It is important to feed your cat just before you go. In this way, he is going to be ok for several hours. Even if your cat eats wet food as the main meal, it is good to leave him some dry food for him. If he goes hungry, he will eat dry food throughout the day. Unless, of course, he can't eat dry food.
2.GET AN AUTOMATIC FEEDED
There are feeders that you can set to feed your cat after you are gone. Some of these feeders (we will recommend one below) have the possibility to feed 5 meals before you have to reload them again.
They have ice packs to keep the food cool. The lead of each tray is closed until served. Therefore between the ice and the lid, wet food can be ok for 12h approximately. Maybe you can test some of those feeders when you are at home and see how the food is after 12h. So you can see if it can last longer or not.
With this strategy, your cat can have food for 24h and then you can have him eat the dry food until you get back. If your cat can't eat dry food, you need to get someone to come home, feed your cat and replenish the feeder so it last until you are back.
Leave always a lot of water and maybe get a water fountain so that the filters can keep the water clean for the two days you are missing.
3.DRY FOOD
If your cat also eats dry food, leave bowls around with different types of dry food, so there is some variety, and your cat can eat it if he is hungry. If they have dry food and eat it, they will be fine for a couple of days. Remember the water.
Since my cat is a picky eater, I would mix a few treats between the normal dry food, so I would trick him into eating the rest of the food too. It works. In this way, you can be sure that if he doesn't have wet food, he will try to eat dry food.
In this way, you do not need anyone to come around and replenish the automatic feeder. Your cat can wait for you.
HOW TO FEED CAT WET FOOD WHILE AWAY? OVER 48H
If you will go away for more than 2 days, the situation is a bit different. Obviously, it is not possible to feed your cat at a distance wet food, and it is hard to do even with dry food. Even though with automatic feeders, you can feed them dry food for days.
Also, it is better to supervise the cats and have them watched. They also need water and the litter box cleaned.
There is a lot of joy that comes from having cats around the house, but with this, it comes to the realization that they are living beings, and they need to be cared for. They can't be left alone for long. It is like having a baby that doesn't grow up. In other words, the diaper's time is endless.
If you go away for more than 2 days, you have to get someone to come over. If you use the above strategy, with the feeder, you can have a person coming over every 2 days, feed the cats, change the water, replenish the feeder, clean the litter, spend a bit of time with them.
The best is to have someone watching over them every day, but if you can't, this can be a good strategy.
There are cat's hotels in some areas, where pet owners going away for long periods can leave their cats. For some cats, this can be a very stressful experience, and for the owners, it can be expensive.
If you have the budget, at this point, it is better to hire a pet sitter or pay someone to come over to your house and take care of your cat. Int his way, your cat doesn't have to change his territory. It is way less stressful for him.
It is already a big stress factor that you are not there and that a new person is going around the house. As a matter of example, I had a similar problem with my own cat. He is a timid and scared type of cat.
I had to leave for 1 month, and I knew he would not come out and eat if a stranger was moving around the house. I had to familiarize my cat with a friend of mine weeks before I had to go. In this way, I was sure that he wouldn't hide under the bed for 1 month!
WET CAT FOOD FEEDERS YOU CAN USE
It comes naturally the question about what cat feeders that dispense wet food are around in the market and if they work.
We have put together a selection of 3 wet food cat feeders, based on the fact that those are the highest-rated and most purchased by cat owners:
1.Cat Mate C500 Automatic Pet Feeder with Digital Timer for Cats and Small Dogs
4.4 stars out of 5 – 3,315 global ratings (Number of people who bought it and let a review)
It is one of the most used because it includes ice packs that keeps the wet food cool and make it last longer. It can be used for dry and wet cat food.
About this item
Material-Plastic. Five food compartments will serve up to five meals. Each holds 11. 5 ounces of wet food.
Removable, easy-to-clean cover and bowl (also dishwasher-safe)
Battery status indicator. Two cooling ice packs and one close-fitting cover keep the feed fresh
2.Casfuy – 5 Meals Automatic Cat Feeder
4.7 stars out of 5– 623 global ratings (Number of people who bought it and let a reviews)
This food dispenser has a timer, voice recorder, and it has space for 5 meals. It is good if you want to call your cat to eat with your voice, even when you are not there.
About this item
Casfuy pre-programmable pet feeder features a built-in timer and multiple sections to help you feed your pet up to 5 meals per day, control their portions, and create a routine feeding schedule even with your busy schedule.
Casfuy automatic pet food dispensers are made of BPA-free ABS materials that care for your pet's health. Dishwasher safe and easy to clean. Each compartment has a capacity of 240 ml for storing dry/wet food.
Each Casfuy pet food dispenser has a built-in voice recorder that lets you capture up to 10 seconds of your voice.
The Casfuy automatic feeding system uses both C batteries and a power adapter to keep your feeder working even if the power goes out.
3.TDYNASTY DESIGN – 5 Meal Automatic Cat Feeder
4.3 stars out of 5 – 99 global ratings (Number of people who bought it and let a reviews)
This is another great cat feeder for both wet food and dry food. There is a timer and you have the possibility to load 5 meals.
About this item
Automatic and Timed Pet Feeder – Built-in programmable timer, it is very flexible to set the pet's mealtime. You can arrange up to 5 meals a day and customize the amount of food as needed.
Size of Timed Pet Feeder – The pet feeder is 33*32*8cm (13*12*3 inches), 5 plates, which can hold about 1.6Lbs of dry food or 2.0Lbs of wet food.
High-Quality Materials – The feeder is made of BPA-free plastic material with no odor and quality assurance.
Built-In Voice Recording Function – You can preset any voice recording in advance, and it will be broadcasted three times in a row.
Easy To Clean – The feeder's smooth material surface is effortless to clean; the plate can be removed and rinsed with water.
4.iPettie Donut – 6 Meal Automatic Pet Feeder
3.8 starts out of 5 – 181 global ratings (Number of people who bought it and let a reviews)
This is another pretty used feeder. It allows you to feed up to 6 meals; it includes a timer, a battery, and all the necessary to program your cat feeding. It also includes ice packs.
About this item
This device can schedule 6 meals a day, 2 meals a day for 3 days, or 1 meal a day for up to 6 days (you get the idea).
Food grade, BPA-free ABS food trays care for your pet's health. The trays are removable, dishwasher-safe, and easy to clean. You can also place an ice pack under the trays to keep food fresh. (Each potion holds 6 ounces of food, an ice pack is not included)
The iPettie feeder is powered up by 3 C size batteries or a power adapter, allowing you to place it wherever needed. The power adapter and batteries can be used at the same time. Batteries are installed to ensure the dispenser continues to function in case of a power outage. (Batteries are not included)
4.5 starts out of 5 – 38 global ratings (Number of people who bought it and let a reviews)
Another great pet feeder with a voice recorder, timer, and the possibility to program up to five meals.
About this item
With a built-in timer, this auto pet feeder features 5 compartments for use with dry, moist, and wet food or even treats and medication. (Each tray slot holds for 1.6lbs dry food or 2 lbs wet food.) ORSDA automatic cat feeder delivers precise portions and dispenses small amounts of food at certain intervals.
Featured with a multifunctional panel for smart programmed settings and Voice Recorder. A built-in voice recorder notifies your cat for each meal with a personalized voice recording.
Both the cover and food bowl are removable and top-shelf dishwasher safe.
This automatic pet feeder dishes out 1 to 5 meals per day and is connected to wall power, and conveniently, it can also run on 3 AAA batteries in the event of a power outage.
CONCLUSION
How to feed cat wet food while away? I hope this was useful. If you want to add anything or have any questions, leave them in the comments below.