11 BEST MULTIPLE CAT FEEDING STATIONS AND HOW TO CHOSE ONE
Multiple cat feeding stations can be necessary if you have two or more cats. It can be practical to have a station that provides eating space for your cats, so they can eat in without having to fight. Additionally, an excellent cat feeding station can help you economize space and look nicer in your house.
A cat feeder for multiple cats is a feeder with enough space for more than one cat to eat. It has separated bowls or containers for a different cat, allowing each cat to eat comfortably. It can be elevated, automatic, and in different shapes and forms.
Let' see the best multiple cats feeding station in the market.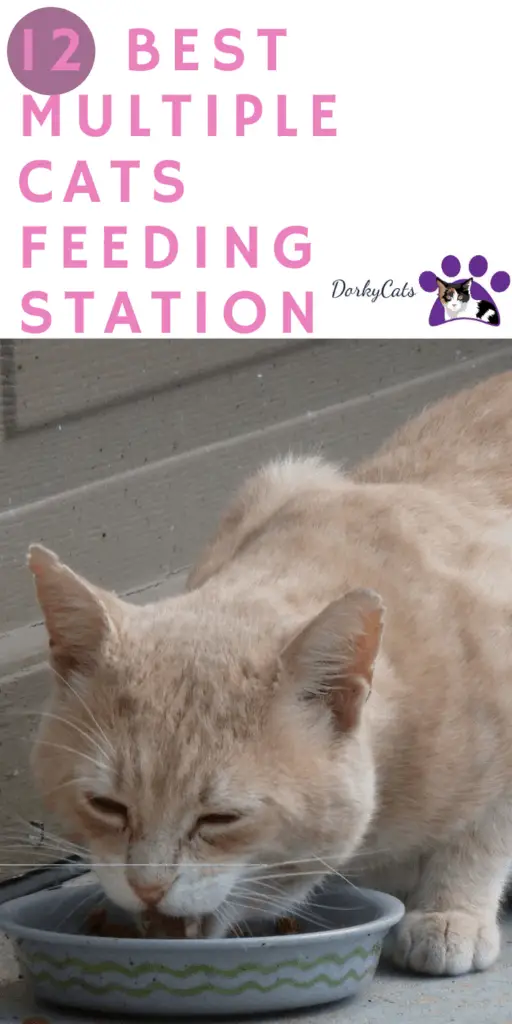 MULTIPLE CAT FEEDING STATIONS GUIDE
When you are in a multi-cat home, to decide the best solution for your household, we have to evaluate the situation with your cat's eating habits and decide based on that.
For example, if you have cats that are eating next to each other without problems and do not have a particular diet that differs from others, you could use a multi-cat bowl.
A multi-cat bowl is a simple bowl with separate containers so that more cats can eat simultaneously, but it is built together.
If you have cats with a different diet from the others and want to give them another type of food, you need to separate the feeding area and feed this cat separately.
In alternative, you can have a smart feeder that can dispense food to a cat, using sensors or collar sensors, face recognition, microchips recognition, timers, gravity, or a manual cat feeder.
In summary the alternatives are:
Multi-cat bowls
Automatic feeders or smart feeders
We have checked what products have been most purchased and have the best customer feedback. This is our selection:
MULTI-CAT BOWLS
The easiest solution for a multi-cat house is to get a multi-cat bowl or several, depending on how many cats are present. When all cats present do not have a different diet and cats eat together without significant problems.
However, cats must have their bowl. Not all cats can eat from the same bowl at the same time. Some cats can end up not eating enough, and some cats overeating if you leave it up to them to decide how much food to leave to the other cats.
Additionally, a more aggressive cat would not tolerate another cat picking from his bowl, better a bowl for each cat.
Here we have a selection of multi-cats bowls that have been purchased the most:
1.Smith Chu Premium Elevated Pet Bowls
This multi-cat bowl has a 5 stars review from every customer that has bought it. We are talking about over 270 people. It is outstanding feedback.
About this item:
The bowls are made of ceramic.
The structure is made of bamboo, ultra eco-friendly, and durable to use.
It allows you to fill your pet's food and water bowls without moving the whole unit.
Pets with arthritis, neck, or back problems find it a relief to eat from a raised feeder.
2.Etna Pet Store Elevated Cat Bowls
It is one of the most purchased bowls. It has four stars feedback from over 360 customers. It is nice to look at and allows three cats to eat at the same time.
About this item:
Raised cat bowls promote better digestion and lessen the stress on their joints, neck, shoulders.
Provides a clean eating station by having elevated cat food bowls. Keep bugs, dirt, and dust out
Prevent feline acne with this elevated cat bowl with stand, non-porous removable metal bowls
Easy to carry three bowl cat feeder that with elevated cat bowls with an adorable cat shape carry handle
3. Messy Mutts Elevated Double Feeder
This multi-cat feeder bowl is for two cats at the time. Therefore if you have more than two cats, you have to get two of them. The peculiarity of this bowl is that you can adjust the height for your cats. It has 4,5 stars from customer feedbacks (over 370 customers).
About this item:
The ergonomic design and height promote healthier digestion. It includes three sets of legs to accommodate three different heights: 3″, 5″, and 10."
The raised lip around the border helps to contain spills and channels everything back to bowls.
Each 40oz / 5 cup capacity bowl is 7 x 2.5″; the deck is 20″ wide x 11.5″ deep plus height 3″, 5″ or 10″ depending on leg height of choice.
4.FUKUMARU Elevated Cat Ceramic Bowls
This item was purchased over 1500 times with a 5-star review. Impressive. It has a lot of space for cats to eat their food, and it is efficient.
About this item
REDUCE NECK BURDEN – The 15° tilted elevated bowl reduces the strain when leaning their bodies, which helps avoid future spine and digestive system problems. Pets with arthritis, neck, or back problems find it a relief to eat from a raised feeder.
EASY TO USE & CLEAN – Bowls are removable, dishwasher, and microwave safe.
PICKED FOR CATS AND PUPPY – The feeding bowl dimensions are 5.1'' wide and 1.7 '' deep. The shallow and wide shape prevents whisker fatigue, while rounded edges make it easy for your cat to get every bit of food. Deep enough to contain your cat's food without spilling
AUTOMATIC FEEDERS OR SMART FEEDERS
Smart feeders or automatic feeders can be a good idea when you feed your cats on a rotation or want to have food always available or available at certain times. Some cats owner use feeders to regulate the amount of food consumption of their cats since most feeders allow you to decide the portion amount and number.
Smart feeders are the right solution for cats with a different diet and can eat a specific food only, but other cats should not access it.
Smart and automatic feeders are also a solution for feeding cats when you are not at home. Different feeders can perform different functions.
With modern technologies, there are quite some fancy feeders for cats. Some feeders cat talk; some others can recognize your cat face, use sensors or chip recognitions. Some feeder have ice available to keep wet foot preserved
Since there are many options available, based on the situation of your cats, you can choose one or more smart feeder for your home.
Here some great options for your cats:
5.PetSafe Healthy Pet Simply Feed
This cat feeder allows you to perform many functions, but the most important for this article's purpose is that it will enable you to get an adapter and feed three cats simultaneously. One can have multiple cat feeding stations around the house using this feeder and his adapter in case of necessity.
Therefore if you want to use this feeder to feed two cats or more, you must get the adapter. If your purpose is to rotate cats through food or feed one cat only, the adapter is not needed.
About this item
Conveniently schedule up to 12 meals per day for your cat.
Schedule 1/8 cup to 4 cups per meal depending on your pet's unique needs
The feeder works with dry and semi-moist pet kibble that is up to 3/4 inch in diameter.
For pets who tend to eat too quickly, schedule meals larger than 1/8 cup to dispense over 15 minutes slowly
In my view, this is a complete and straightforward feeder; it can dispense a large amount of food, you can use it for one cat or more, you can schedule feeding time, and it is a reliable and workable option.
This is a great feeder. It feeds cats on rotation or one cat. It has a timer, voice recorder to call your cat if you are not home or in the morning, so your cats are not kicking you out of bed too early. Customers have given 4,5 stars feedback.
About this item:
The built-in programmable timer allows you to personalize each meal's feeding times and portions for your pets. You can schedule up to 4 meals a day, 1 to 20 portions per meal, 5g(0.18 oz) for every portion.
It comes with a 3.5 liter (14 cups) hopper, can feed your dog and cat for several days; the exact number of feeding days depends on how much your pet eats.
With the voice recorder and speaker, you can leave a personal voice message of up to 10 seconds, such as ''Baby, come and eat', 'Mealtime now,' to call your pets to eat.
The automatic feeder can be powered by a power adapter and 3 D-cell alkaline batteries.
This feeder is perfect if one of your cats in the house requires a different type of food, and you do not want other cats to eat it instead of him. It works reading the microchip of your cat.
It is perfect for one cat too, but I believe it can be more of use if there are more cats or dogs around the house who are stealing food from the other cat. It has 4,5 stars review feedback from over 70 customers.
About this item
Connects to the Sure Petcare app via the Hub (HUB INCLUDED)
Monitor how much, how often, and when your pet eats
Accurately weigh your pet's food using the integrated scales. Bowl holds 14 fl ounces.
Microchip operated – Scans Pet's ID Microchip – Selective Feeder stops pets from stealing each others' food.
8.PETLIBRO Automatic Cat Feeder
It is one the most bought feeder, and it has five stars customer feedback. It is convenient, easy to use. It has a timer, voice recorder, and the possibility to regulate the portions.
About this item:
A timer to dispense food at the right time, 1-4 meals per day, and up to 9 portions per meal customized healthy diet for your cats.
This 4L / 16.9cup cat feeder automatically provides food for your cats smoothly for a couple of days.
Dual Power Supply.
10s voice recording clip.
9.WOpet Sprite Ⅱ 7L WiFi Smart Feeder
It has a 4,5 stars feedback review from over 750 customers. It is a great smart feeder with the addition of a camera. You can see your cat and monitor how he is doing. You can even talk to your cat while you are not there.
About this item:
Feeding your pet automatically or using the manual feeding from your mobile device instantly.
HD Camera for voice and video recording, work as a smart pet camera with a connected app that lets you see, talk, and play with your pet. 
Connecting with your pet while you are away with the supported audio chat/recording.
Sharing your favorite moment on social media directly.
Large/Small size food rotator for all sizes' pets. Each meal can range from 1-39 portions.
10. XingCheng-Sport 2 in 1 Pets Feeder
This feeder fills up automatically. When food is eaten, new food is coming down on the bowl. It works with gravity. It is good for more cats eating on rotation, or one can have more feeders for more cats. It has 4,5 stars from customers.
About this item:
The automatic water dispenser and Food Feeder uses gravity to ensure a consistent supply of food and water.
Adopt PP food-grade plastic material, non-toxic, thick texture, bite resistance, durable, recyclable, and safe without odor.
Large pet waterer and food feeder with 3.8L capacity. The automatic system can last about 7days for small pets, 3days for big pets.
Wide-mouth food hopper and water bottle for easy filling and cleaning.
11. Decdeal 3.75L Dog Cat Automatic Gravity Food Dispenser
It has 4,5 stars feedback from customers, and it has a large bowl for cats to eat in. Perfect for one cat or multiple cats who can share food on a rotation.
About this item
High-quality food-grade plastic material, BPA-free, safe, healthy, and environmental protection
Anti-fall durable use, which will save you money
3.75L large capacity: gravity supply principle, automatic feeding device, saving time and safety
WHAT I HAVE TO LOOK FOR IN A SMART FEEDER?
If you choose to buy a smart feeder or an automatic feeder, you must consider the different features and options they have to offer.
It is essential to consider the reliability, the capacity for storing food, how long it can last without refill, if it needs batteries or if it can be connected to a power outlet. If it works on battery, how long o they last?
In summary, let's see what are the points to consider in purchasing a smart cat feeder:
It works on batteries or it has a wire?
The best is to get a feeder that connects to power through a wire. We want to make sure that cats are fed, and we do not run out of power. From the other side, check if the feeder can run on batteries if the power goes off in your house. In this way, you are covered.
You want to maintain proper hygiene and be sure that you can easily dismantle and clean the feeder. If food can get stuck somewhere, it is not good. Most feeders have clean instructions you can read before purchase, so you can see if it is easy to clean.
What is the capacity and how long cat it last?
Based on your necessities and depending on how many cats do you have, you want to check if the capacity is good for your case.
Do you need a camera or voice recorder or chat?
Is your cat responsive to your voice? Do they follow your commands? In this case, you can consider a feeder that provides a voice recorder or a live chat where you can talk to your cats when you are not at home.
At times you want to be reassured that your cat is safe. It is more for the owner than for the cat. A camera option can be right for you. Great for people that have a cat owner anxiety.
Is the material safe for cats?
You do not want cheap plastic of toxic materials for your cats. It can get them sick. Check what type of materials are used for the feeders and bowls. Ceramic is best for cats, but steel is still a good option. Plastic the last alternative to choose.
Of course, price consideration cannot miss. Once you have checked all the options, features, and so on, it is essential to establish if the price is right for what it is being offered. You can compare the product with similar products and see the differences.
Since some feeders are digital, you want to make sure that they are easy to regulate and set. If they are too complicated, you may end up feeding the wrong amount of food or feeding your cat at the wrong times.
Some cat feeders are noisy. Check the descriptions before buying them. Some cats could be scared of the sounds and not go close to them. It can also be disturbing for cat owners.
Cats are smart. They may try to break in and get the food. They can bite the feeder, use the paws and nails to try to open it up. Make sure the feeder you are getting is cat-proof.
WHAT IS MY CAT OPINIONS ON AUTOMATIC FEEDERS AND SMART FEEDERS?
Well, cats need to get used to work with a smart feeder. They can think it is a toy to play with, or some cats could be afraid of the sounds.
You may have to train your cat to use some of them and get them used to the sounds of it. Cats are fine as long as they get the food.
Cats could try to dismantle a feeder to get the food since they can smell it or play with this "new toy ."Cats are curious and could be entertained with the new object.
Once they know that food is coming out from there and get used to it, the feeder could become their new friend!
CONCLUSION
We have chosen the best sold and best-starred feeders, and we have given you some advice on selecting a feeder or multiple cat feeding stations. I hope it was useful. If you want to add anything or ask a question, write it in the comments below.