CAN CATS LIVE ON WET FOOD ONLY? 4 ADVANTAGES
Can cats live on wet food only? It is normal to be unsure on what to feed a cat, there are too many choices at the store, but at the end, one wants to know what is the best solution for the health of his cat, and whether or not a cat can live on wet food only.
Wet food has a higher amount of water, moisture, proteins compared to dry food. It is most probably a type of food that approximate the most a hunted prey in the wild. Wet food is often fed to cats with kidney problems and urinary tract problems to alleviate the symptoms. Wet food has more fat and protein – especially animal protein – and fewer carbohydrates than dry food, which is beneficial to cats.
Let's see the specifics.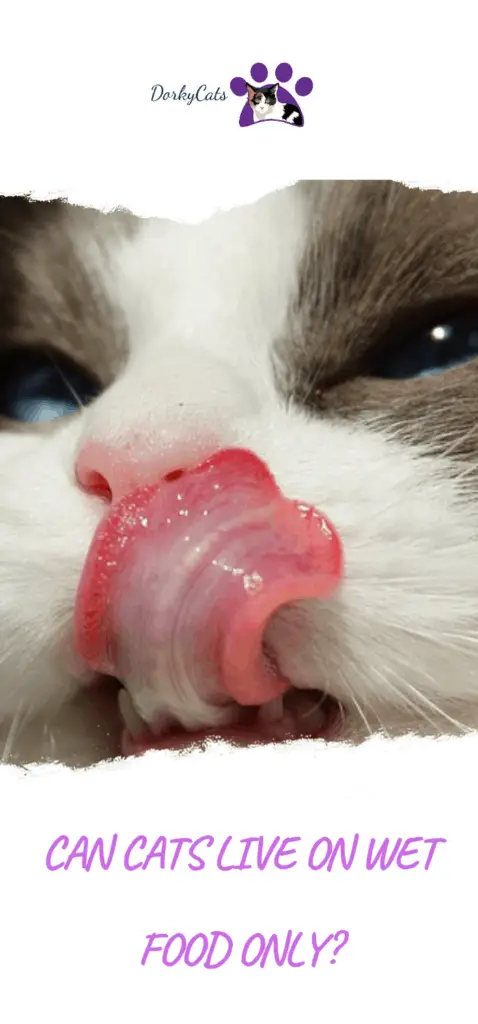 CAN CATS LIVE ON WET FOOD ONLY?
Every cat owner wants the best for their cats, and sometimes it isn't easy to figure out what can be the best type of food for them. Besides, cats may decide to make our life complicated, acting picky with certain food or certain brands. Sometimes it is a mystery why they eat food from a brand and not from the other or eat only wet food or only dry food.
Wet food present some advantages when it comes to nutrition for our cats.
Cats are obligate carnivores—meaning, they are true carnivores and depend upon the nutrients present in animal flesh for their dietary needs. Even domesticated cats will relish freshly killed meat from rodents, rabbits, amphibians, birds, reptiles, and fish. Still, cats are also opportunistic feeders and will readily take cooked food and dried cat food when offered if that food is palatable. The natural diet of cats, therefore, does not include any vegetable matter, although cats have been known to eat certain plants and grasses occasionally, usually as an emetic. Cats cannot synthesize some essential nutrients required for survival, including the amino acids taurine and arginine, so these nutrients must be sourced from fresh meat in the natural diet. Cats lack the specific physiology to extract nutrients efficiently from plant-based materials and require a high protein diet, which is why high-energy meats from freshly killed prey are optimal foods. (Ref. Wikipedia)
As you can see there are many points that cats can find similar to hunting and eating a prey, when they eat wet food.
Here some advantages for cats eating wet food:
Wet food has up to 78% moisture content than dry food. Moisture is water or other liquid diffused in a small quantity as vapor, within a solid, or condensed on a surface. When cats hunt a living animal, what they eat from it has moisture. Cats take from their part of the water they need for survival.
Wet food tends to have more fat and protein – especially animal protein – and fewer carbohydrates than dry food. This is an advantage for cats because this is exactly what they need as cats. It fits better their natural feeding habits in the wild. Therefore even if the meat is not freshly killed, it is still very close to it.
Since it approximates the diet in the wild, wet food can prevent certain problems, like obesity, urinary tract problems, weight management, and constipation. Since wet food contains more proteins and fewer carbs than dry food, it helps a cat maintain weight and not gain it. The water and moisture help to prevent constipation problems, urinary tract problems, and kidney problems.
Often cats like wet food that taste more. They think it is more palatable. Of course, not all cats. But the one who likes so much wet food could get it instead of a treat from time to time.
Wet food offer also more variety in the diet, even from meal to meal. Seen all the advantages it is probable that cats can live on wet food only. It most approximate their diet in the wild.
Regardless if you feed wet or dry food to your cat, you have to make sure that it is not junk food. A lot of cat food around stores are full of preservatives and bad ingredients. Find food that is natural and not processed. I explain more about this subject HERE.
RELATED QUESTIONS
Here some related questions to: "Can cats live on wet food only?" and related answers:
Can cats live on dry food only?
Dry food is high on carbs and lacks water. A dry food diet may cause different problems to a cat in the long run due to a lack of proper nutrition. I give full detailed answers in this article.
How often should I feed my cat wet food?
You can feed your cat wet food 2 or 3 times a day. Kittens may require more food, grown up cat less. Therefore, from 2 to 3 times a day.
Is Wet food better for older cats?
Older cats may have problems eating. Wet food is easy to chew and easy to ingest. So, old cats would have an advantage. Additionally, wet food can provide more nutrients, which they may need if they have some health problems.
Can i give my cat wet food as a treat?
Most definitively cats would like wet food as a treat, however due to the nutrients in it, wet food should be used as a main meal, or primary food for cats. Even though, I do not deny that when my cat is asking for treats, I may give him wet food instead and he is totally fine with it.
How much wet food should I feed my cat?
In average feed an average-sized adult cat one 3-ounce can per 3 to 3-1/2 pounds of body weight daily.
do cats poop less on wet food?
Wet food has more nutrients than your cat will need. A cat will absorb and use more of the wet food. There are more proteins and fats in them. Those are the things your cat's system will need to have. Dry food has more carbs, and a cat normally would not eat carbs. Additionally, there is more water in wet food, and a cat needs that too. Dry food doesn't contain that much moisture. Because of all those factors, it is possible that a cat on wet food would poop less since the body retains more of it.
Is wet food bad for cats' teeth?
The short answer is NO. Cats' wet food is not bad for cats' teeth. There is an idea that dry food helps clean teeth; however, not always a cat will chew the dry food really.
CONCLUSION
Can cats live on wet food only? I hope this was useful. If you want to ask a question or add anything, leave it in the comments below.