HOW TO GET A SCARED KITTEN TO TRUST YOU? 10 METHODS
How to get a scared kitten to trust you? You just got a new kitten and found out that he is a shy and timid kitten? It may be a traumatic experience for a new cat owner to deal with a scared kitten. What to do if that happens?
There are various methods and behavior patterns you can use to deal with a scared kitten. Best practices in this situation are to give the kitten space, reduce noises, and make the environment calm. The kitten needs to have time to smell you and be familiar with the environment, no sudden moves, no touching, let the kitten come to you and some treats!
Let's see what we can do if we find ourselves with a scared kitten.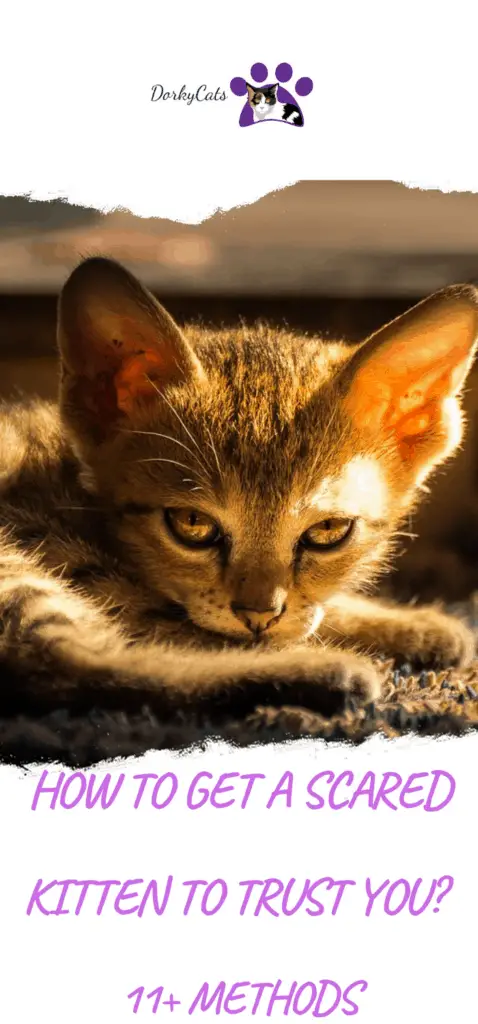 HOW TO GET A SCARED KITTEN TO TRUST YOU?
If you have a scared kitten, like me, you wonder what you can do to make him feel better. My first cat was terrified and shy. When he arrived home, he was not moving, he decided to stay in a corner, and I had to bring him water and food, and even the litter box.
I was scared, and I had no idea what to do. But, I learned what to do overtime and developed the needed skills. Cats may not be the most trusting animals. Some are even worse; therefore, to win them over, you have to be patient and respect their "rules."
Here is a collection of methods, advice, and cats rules to respect to win over a scared kitten and make him trust you:
0. BE PATIENT
This is the basic rule to keep in mind when applying the rest of the points listed below. You have to be patient and give your kitten time. Forcing it can be worsening the situation. Some cats need a bit of space and time. They will start coming to you pretty fast. Some need more time, and some need months, depending on their stories.
1.PROVIDE A QUITE ENVIRONMENT
The house needs to be calm and safe. Until your kitten is getting out of his fear, you have to eliminate loud music, shouting, sudden moves, running toward the kitten, people who come in the house and make noise—even house guests.
If you expect visits at home and know that your kitten would be scared, move the kitten to a room with a closed-door for a bit. Later on, when your kitten is already used to you and the house, you can train him to recognize your guest.
TIP: You can have the guest waiting for a while on the doorstep and let your kitten smell around and become more comfortable. I remember the time I had a friend of mine who wanted to see my cat, waiting at the door for my cat to come close and smell her hand so that she could come in and he could stay in the same room.
You can't do this with all visitors, but maybe family members and close friends. In the long run, if your kitten sees that you are in the same room with a new guest, he may come out to spy on the scene from very far. Or come in the room keeping distances, of course.
2.FAMILIARIZE
Go slowly close to your kitten and extend a hand. Make the kitten smell you and be there with the kitten without doing anything so that he becomes familiar with you. Bring some treats and see if he is willing to come closer to you and eat it from your hand or place it on the floor near you and let him come close. It is better if you sit on the ground than if you are lying down. If you do this consistently, he will start to trust you.
3. INTELLIGENT PETTING
Don't expect your kitten to let you pet him if he is such a scared cat. However, you can get your kitten use to your touch when you are giving treats. When he is eating treats or eating, you can take the opportunity to pet him on the head, slowly and softly. If you do this consistently, he will get used to you and gain trust. He will let you pet him later on.
I know that kittens are adorable. The first instinct is to hold them and pet them. Not all are up to it, and if you get such a kitten, you have to hold your horses and wait for the kitten to come to you. They will do, in the night, purring and asking for you to pet them. You have to be patient.
4.PROVIDE A FEW NESTS HE CAN USE
Ok, I have spoiled my kitty rotten. However, it was a good idea. I have bought him a sort of house cat, or a kitty city or something like that. I bought it the first week I got him. I remember I spent 4h figuring out how to build it.
It provided many balls hanging, 3 levels of heights, cushions to sleep on at different levels, and many enclosures where he could hide and sleep if he wanted. Corners provided several scratching posts.
Useless to say, he liked it a lot, he was already sleeping inside the enclosures, jumping all over, and he learned to use scratching posts instead of my furniture. It was his space, and I respected it. He started to feel more comfortable and safe since he could now find more than one place to hide.
Even a few boxes can be provided if one can't buy a full structure for the kitten. Cats like boxes and could use them to hide and sleep in eat for a while.
---
Treat Your Cat!
Preview
Best Pick
Product
JOYO Cat Tree for Indoor Cats, 65.5 Inches Multi-Level Cat...
CatRomance Cat Tree Tower for Indoor Cats, 35.4in Cat Tree...
HIPIPET Kitten Bed Cave Bed for Cats & Dogs, Cat Hut/Covered...
rabbitgoo Cat Tree Cat Tower 61" for Indoor Cats,...
rabbitgoo Cat Tree Cat Tower for Indoor Cats, Multi-Level...
Best Pick
Preview
Product
JOYO Cat Tree for Indoor Cats, 65.5 Inches Multi-Level Cat...
Preview
Product
CatRomance Cat Tree Tower for Indoor Cats, 35.4in Cat Tree...
Preview
Product
HIPIPET Kitten Bed Cave Bed for Cats & Dogs, Cat Hut/Covered...
Preview
Product
rabbitgoo Cat Tree Cat Tower 61" for Indoor Cats,...
Preview
Product
rabbitgoo Cat Tree Cat Tower for Indoor Cats, Multi-Level...
---
5.CARE FOR HIM
All of the above is wasted in terms of getting his trust if you do not feed him. You have to provide food, water, and litter. Ensure he has all that he needs and doesn't feel scared because he can't find food or water.
6. PLAY TIME
Kitten can't resist a good toy. You can get toys that let you play with your cat, even at a distance, make him chase a mouse on a leash or throwing a ball to him, and so on. Whatever it is, play with him consistently.
7.TOYS
Even when you are not there, your kitten can have some fun if he has some toys, balls, mouses, and things to chase. He will be active, and it will help him to explore the environment. Especially if you have to leave for work, it is necessary to keep him busy and prevent a bad behavior to develop because he is left for long time alone.
8.CONSIDER A SECOND KITTEN
Another idea would be to find another kitten or cat to join the family so that he has someone to play with and become more social. Sometimes cats, interacting with other cats, become more friendly. Maybe they see the other cats interact better with humans. He can become more confident, as well. This is a thing I have tried with my own kitty. The second kitten made him more social and affectionate.
9.DO NOT DO THE CAT'S DON'TS
There are somethings that cats and kittens disapprove of. If your kitten is scared or shy, do not try to do these things or enforced it on him. Things like: touching the belly, touching the tail, pick them up, and hold him like a baby, touching paws, stare at your kitten's eyes. Those are a big no-no.
10. ROUTINE CAN HELP
Your kitten can gain trust if he starts to understand what happens every day. For example, if you feed him first thing when you wake up, he will learn that that is part of the daily schedule, and with time he will feel more safe knowing that he can predict it. And so, with other things. Cats like their habits. If you build a pattern, your cat will start relaxing even more.
This is how to get a kitten to come to you and get a scared kitten to trust you. You have to give a lot of space and wait for them to come to you.
RELATED QUESTIONS
Here some related questions to: "How to get a scared kitten to trust you?" and related answers:
How to get a scared stray kitten to trust you?
For a feral kitten, you have to observe the points listed above. It may be that with feral cats and kittens, you have to give it even more time and leave even more space. They would not trust you necessarily in a short time, depending on the experiences they had.
Therefore the above care points with an extra dose of patience. If you leave them alone, provide a calm environment, food, water, toys, and do not try to get them all the time, a scared stray kitten may come to you and trust you.
How long does it take for a kitten to trust you?
A kitten may start trusting after 24-48h they are with you. After a week you can already be a best friend. Some kittens take their time. If they are the scared type or the shy type, it may take weeks and months. Cats and kittens with bad experiences may take longer as well.
Why is my new kitten so scared?
A new kitten doesn't know you and the house. He needs the time to become familiar with the new place. When the new kitten has seen that you are friendly and there are no dangers around, he will start relaxing, and you will see the true personality.
CONCLUSION
How to get a scared kitten to trust you? Let us know your experience with scared kittens. Leave it in the comments below.