CAN CATS SURVIVE ON DRY FOOD ALONE? GOOD AND BAD
Can cats survive on dry food alone? It is a common question amongst cat owners, could their cat be fed only dry food or need wet food? It is important to know what is a good balance for a cat, to avoid medical problems.
Practically cats could "survive" on dry food alone, but cats often get kidney and urinary problems and other medical issues from this kind of diet. Cats being carnivores, need proteins, moisture, and water in their diets. Carbohydrates are not the typical cat diet.
Some high-quality dry food can be better, providing cats would drink a lot of water ( and usually they don't). They could live on it. Some cats get along just fine, but many do get sick in the long run.
Let's go into the specifics.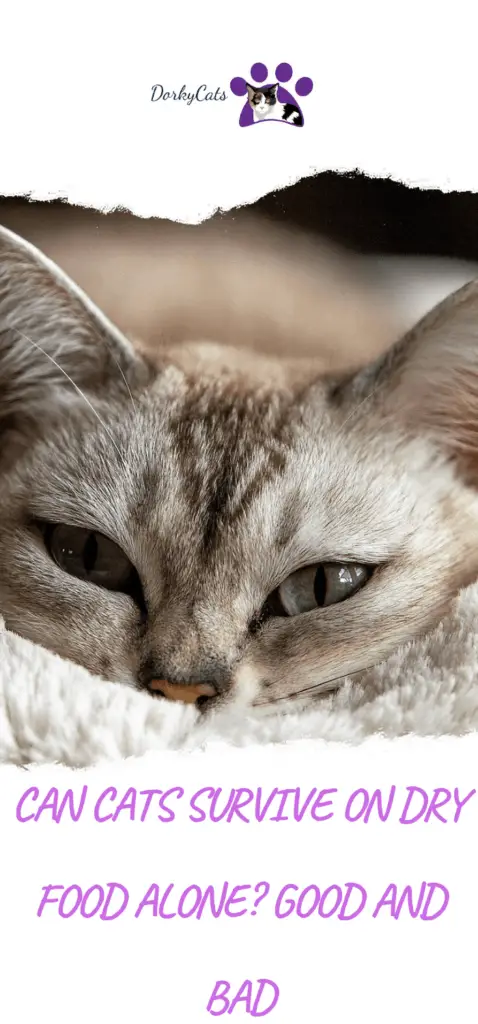 CAN CATS SURVIVE ON DRY FOOD ALONE?
Cats, like humans, do not have the same preferences. Some cats like to eat dry food, and some cats like to eat only wet food; they would not come near dry food unless it is a treat.
Aside from cats' preferences, can cats survive on dry food alone? Many cat owners report their cats becoming sick after a while on dry food; cats would get urinary tract infections and problems with their kidneys.
Maybe someone was feeding dry food because less expensive, but they had to pay a much higher price in terms of vet bills and see their cats suffering in the long run.
On the other side, some other cat owners would swear their cats have been living on dry food only and a lot of water.
What are the facts? Cats are carnivores and live on proteins. They do hunt their prey down in the wild for food, preys being other animals or birds. They do not live on plants or grass.
WHAT IS THE PROBLEM WITH DRY FOOD?
Dry food commonly found in stores does have a high concentration of carbs, and it is indeed "dry." Cats hunting get their moisture and liquids needed to get hydrated from their prey as well. Cats are also not famous for drinking a lot.
This alone can make them sick and bring about chronic problems with their kidneys, bladder, and urinary tract, in the long run. Some cats eating mostly dry food become obese and have weight problems, bringing other medical problems.
If you have noticed, some cat food brands have created dry food for urinary tract problems, overweight cats, and so on. I was wondering what that was all about. Eventually, they are adjusting products to contain fewer carbs and more protein.
Who knows? But the existence of such new products should tell us that this is a problem that exists, and many cats are affected. Otherwise, brands would not go all the way in creating products and selling them. It must be a market for it.
I am not saying that dry cat food from some brands brings about sickness in cats. I observe that a health situation exists in cats more than ever when they eat dry food or even a certain type of canned food.
In my personal experience, one of my cats died of kidney problems. It was unfortunate. The vet at that time recommended to take off the cat from a certain type of dry food since he had gotten many cats brought over with the same issue eating the same dry food brand.
We do not buy that cat food brand anymore, and we are now researching more natural food for our cats. After 1000 dollars in medical bills, he died suffering anyway. It is not worth it.
In summary:
CATS NEED PROTEIN MAINLY
CATS NEED TO STAY HYDRATED
DRY FOOD IS REACHER IN CARBS, AND DOESN'T CONTAIN MOISTURE
IF CATS ARE FED DRY FOOD MOSTLY, THEY NEED TO BE DRINKING A LOT OF WATER
IT IS BETTER TO GET HIGH-QUALITY DRY FOOD (LESS CARBS: corn, rice, beans, peas or potatoes, LESS JUNK AND PROCESSING, AND MORE PROTEIN)
CAN FOOD CAN BE ALSO JUNKY, LEARN TO READ THE LABEL AND GO TOWARD NATURAL SOLUTIONS
IS DRY FOOD BAD FOR CATS?
Dry food can be bad in the long run if nothing else is fed to the cat, and the cat is not drinking water. A combination of dry food and wet food is most common in cats' diets. Therefore, dry food is bad for cats as a sole source of nutrients and water scarcity.
A more expensive and natural dry food could be better.
These days it isn't easy even for humans to find the organic, natural type of foods. Many foods are processed, full of preservatives, hormones, colorants, and the list goes on. Cat food can be even worse since most of their food in stores is made from leftovers. If you read the labels, you can also see some weird ingredients.
Because a cat food cover says "natural," "with no preservative added," or similar, it doesn't mean there aren't processed ingredients or worse.
There are dry foods that are made naturally and do not have suspicious elements inside their ingredients. And it is the same for wet food. One has to do some research and find products that have nutrients for a cat. Not junk.
Mixing wet and dry food can also be a solution. Cats would get nutrients, would keep hydrated, and still have the possibility of having dry food.
As a source of reference:
" Cats cannot synthesize some essential nutrients required for survival, including the amino acids taurine and arginine, so these nutrients must be sourced from fresh meat in the natural diet. Cats lack the specific physiology to extract nutrients efficiently from plant-based materials and require a high protein diet, which is why high-energy meats from freshly killed prey are optimal foods." (Ref. Wikipedia)
There you have it. Carbs and junk is a no-no for cats.
---
Here some idea of natural cat treats
Preview
Product
Vital Cat Freeze-Dried All-Natural Minnows Cat Treats, 0.5...
FELINE GREENIES SMARTBITES Skin & Fur Crunchy and Soft...
Fruitables Wildly Natural Cat Treat Variety Pack with...
Wellness Kittles Natural Grain Free Cat Treats, Tuna &...
ORIJEN Original Freeze Dried Cat Treats, Grain Free Treats...
Preview
Product
Vital Cat Freeze-Dried All-Natural Minnows Cat Treats, 0.5...
Preview
Product
FELINE GREENIES SMARTBITES Skin & Fur Crunchy and Soft...
Preview
Product
Fruitables Wildly Natural Cat Treat Variety Pack with...
Preview
Product
Wellness Kittles Natural Grain Free Cat Treats, Tuna &...
Preview
Product
ORIJEN Original Freeze Dried Cat Treats, Grain Free Treats...
---
WHERE CAN I FIND NATURAL FOOD FOR CATS?
The best is to find some natural raw pet food if you can't make it at home for them. By natural, I mean meat, fish, etc., un-altered.
An example can be RAW PAW PET FOOD. They products are natural, non processed, grass fed, free range, no preservatives, GMO Free, No Added Hormones, etc.:

Here is an example of a product: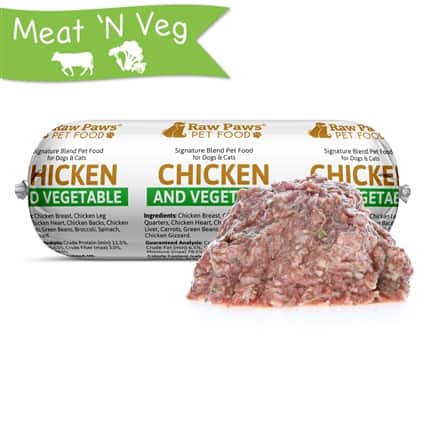 This is an example. There are more places you can find, I am sure. When you see such a product, read the label. In this example, when we are going to read the label, this is what we find:

There are no weird ingredients with names you don't understand that sound like chemicals. Here is an example of what you find in a typical label in dry or wet cat food in normal stores.
As a matter of fact, here are the ingredients for a dry food bag you can find in a store. It is from Meow Mix Original Choice Dry Cat Food:
Ingredients
Ground Yellow Corn, Corn Gluten Meal, Chicken By-Product Meal, Soybean Meal, Beef Tallow (Preserved with Mixed Tocopherols), Animal Digest, Calcium Carbonate, Turkey By-Product Meal, Salmon Meal, Ocean Fish Meal, Phosphoric Acid, Choline Chloride, Salt, Potassium Chloride, Titanium Dioxide (Color), Vitamins [Vitamin E Supplement, Niacin Supplement, Vitamin A Supplement, D-Calcium Pantothenate, Thiamine Mononitrate (Source of Vitamin B1), Riboflavin Supplement (Source of Vitamin B2), Pyridoxine Hydrochloride (Source of Vitamin B6), Menadione Sodium Bisulfite Complex (Source of Vitamin K Activity), Vitamin D3 Supplement, Folic Acid, Biotin, Vitamin B12 Supplement], Minerals [Ferrous Sulfate (Source of Iron), Zinc Oxide, Manganous Oxide, Copper Sulfate, Calcium Iodate, Sodium Selenite], Taurine, Yellow 6, Yellow 5, Red 40, Blue 2, Rosemary Extract.
As you can see, they have corn, gluten, soy, Pyridoxine Hydrochloride, Titanium Dioxide, and some other weird things.
I have written another article where I list some of the side effects of these elements. You can read it HERE. Unfortunately, not only dry food contains these ingredients.
CONCLUSION
Can cats survive on dry food alone? I hope this has been useful; if you have any questions or want to add something, leave it in the comments below.