HOW EASY ARE CATS TO TAKE CARE OF? 5+ REASONS THEY ARE THE EASIEST
How easy are cats to take care of? If you wonder how easy it is to take care of a cat, you will be happy to know that cats are easygoing. It is easy to make them happy, but there are some things that you must provide for them.
Cats are pretty easy to take care of. Although each cat is unique and has a different personality, they generally do not require extensive work from a cat owner during the day. Cats are independent pets and make the work of their owners way easier.
Below you can find all there is to know about caring for a cat.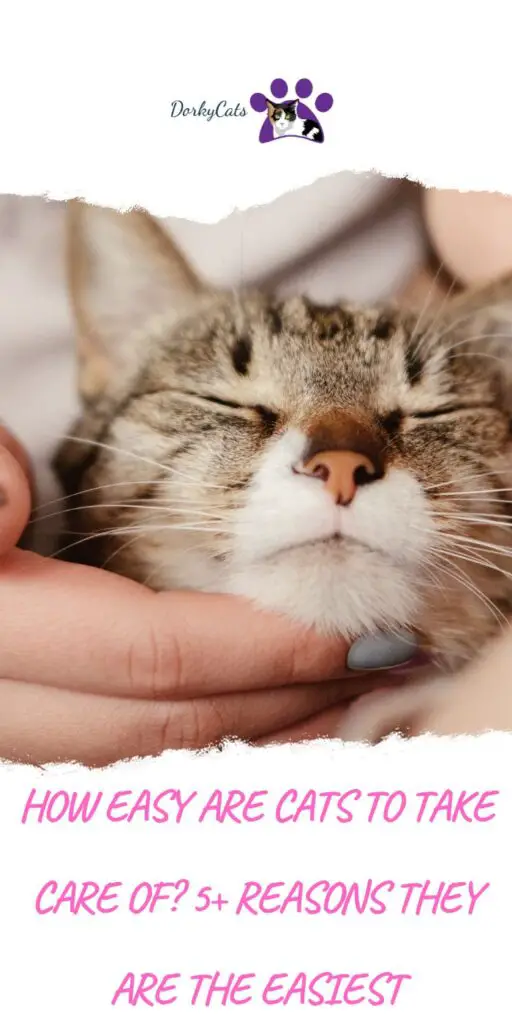 HOW EASY ARE CATS TO TAKE CARE OF?
There's a common misconception that cats are independent creatures who only want their pet parents for food, a soft place to sleep, and nothing else. So those considering adopting a cat might wonder, how easy are cats to take care of?
Cats can all come with their own unique needs and preferences, but generally speaking, cats are relatively easy to take care of. Your feline friend has dietary needs, the need for affection and play, as well as regular grooming and veterinary care. 
Compared to some other pets, cats do not require a lot of maintenance, and they do enjoy varying degrees of alone time and independence. 
Here are the essential things that cats need:
1. CATS NEED PROPER DIETS AND EXERCISE
Cats are a carnivore, and they need their diet to reflect that. Cats should be fed dry kibble, as it is formulated for their daily nutrient requirements and supports healthy teeth. However, the occasional treat and wet food are perfectly acceptable. 
Wet food can be given to complement the diet since it is close to what cats would eat in the wild, and it contains higher moisture and proteins.
To manage an indoor cat's weight, they need opportunities to exercise. Unfortunately, not all cats are fans of playing, while others are adventurous explorers.
They need:
A combination of interactive toys
Toys you use with them
Scratching posts
Areas to climb and jump are all essential to keeping a cat active
2. CATS NEED COMPANIONSHIP
Despite popular belief, cats don't like being left alone all the time. Some cats love to cuddle, while others are more selective in how and when they want to snuggle up to their human family members.  
Cats sleep often but usually prefer you're close by should they need you. Just be sure you listen to your cat when they've had enough physical touch. If you adopt a cat and leave him alone for days or long hours, the cat can develop behavioral problems.
It is necessary to interact with a cat daily, playing, snuggling, or just being there so he can socialize and feel loved. A good solution is to get a second cat so they can play together and move around through the day.
If you observe your cat, you will notice that he will come to you purring once or twice a day for scratches and cuddles. So cats need affection and interaction. However, it is not true that cats always want to be alone.
3. CATS NEED GROOMING 
Regardless of whether or not you adopt a cat with short or long fur, they must be brushed often to keep their fur smooth and free of debris. You should also brush their teeth once every other day at the least.
Cats are excellent bathers, so you'll rarely have to bathe them. But, of course, you should also ensure their ears and eyes are kept clean. 
4. CATS NEED A TRUSTED VET 
Cats require a yearly checkup and typically need vaccines or shots every year to two years. A dependable vet will also help ensure your cat remains happy and healthy as they age.
Vets can also help answer questions about proper grooming techniques, diet, and behavioral concerns. In addition, if your cat gets sick, you want to have someone you can trust to go to.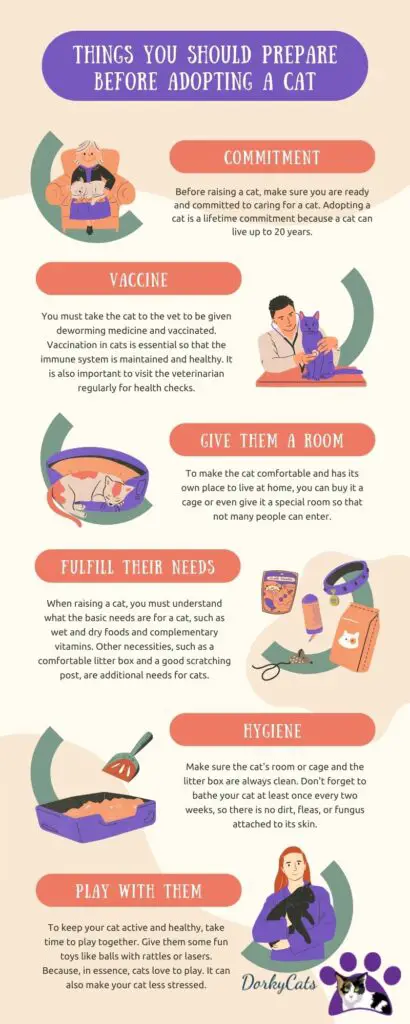 5. ALL CATS HAVE DIFFERENT NEEDS
One of the most wonderful things about having a cat at home is they always surprise you. They are very intelligent animals that learn quickly, but at the same time, they can be silly and unpredictable.
As you get to know your cat, you might find they have their own quirks and special needs that they will depend on you for. 
Adopting a cat is one of the most rewarding things you can do for yourself and your cat. As long as they are loved, well fed, and groomed, they will thank you endlessly for giving them a home in their own unique way.
WHAT DO I NEED TO TAKE CARE OF A CAT?
There is a lot of business going around cats. You can find a lot of gadgets, toys and things for cats. But do cats need all those things?
In reality, cats do not need them. They can adapt to the house and find the place they like the most. However, providing them with toys, trees, beds, and various gadgets can make their life easier.
For example, cats will use your furniture to trim their nails and stretch if you are not getting scratching posts.
Here are the things that you might need if you have one or more cats:
Litter boxes
Scratching posts
Cats tress
Cats toys
Cat brushes
Cats beds
Food and water bowls
Products against fleas
Grooming products
In my experience, if you have a cat, you will buy most of the above things because of necessity and because your want to spoil your cat. I have all the above, and I admit that my cats have cat shampoo, wipes, toys, and more.
Cats' trees and toys make cats active and entertained. If they are indoor cats, it is helpful to have those things around for the excellent health of the cat.
Title
Yaheetech 79in Multi-Level Cat Trees Indoor Cat Tower with...
rabbitgoo Cat Tree Cat Tower for Indoor Cats, Multi-Level...
Yaheetech Cat Tree Tower Kitten Condo Scratching Post with...
54in Cat Tree Tower for Indoor Cats Multi-Level Cat Condo...
Preview
Title
Yaheetech 79in Multi-Level Cat Trees Indoor Cat Tower with...
Preview
Title
rabbitgoo Cat Tree Cat Tower for Indoor Cats, Multi-Level...
Preview
Title
Yaheetech Cat Tree Tower Kitten Condo Scratching Post with...
Preview
Title
54in Cat Tree Tower for Indoor Cats Multi-Level Cat Condo...
Preview
WHAT CATS ARE EASY TO TAKE CARE OF? 
If you are looking for easier breeds of cats to take care of, then you should look for species that are:
Short air breeds
Independent breeds
For example, some cat breeds are airless. Therefore, it can be easier to maintain a cat with no fur from the viewpoint of cleaning and grooming. In addition, independent cats are less reliable on humans.
Some cat breeds tend to be sweeter and more well-behaved.
Here are some of the breeds that are the easiest to take care of:
Ragdoll (well-behaved cats)
American short air (easy grooming and good behavior)
British shorthair (easygoing cat and easy to groom)
Scottish fold (easy to care and intelligent cat that can even be trained to do tricks)
Birman (quiet, sweet, and gentle cat breed)
Sphynx (airless, friendly, and clever cat)
Abyssinian (easy to groom and intelligent cat)
Main Coons are remarkable and intelligent cats. Their personality resembles that of a dog; however, cat owners must take care of their grooming due to their long air fur. Depending on what you want, Main Coon is definitively easier to train but remember you have to brush them and help them maintain their coats.
ARE CATS GOOD PETS?
In general, cats are good pets, but a lot depends on what you are looking for and the personality of the specific cat. For example, if you want to have a pet and do not have too much time to bring the pet out for walks, a dog would not be the best option.
A cat is an affectionate, independent pet. Some cats are brilliant and act like dogs, someone how. But, you can also run into cats that have behavioral problems, pee around the house, or are otherwise aggressive.
Fortunately, most of the time, cats can be trained to use the litter box and even use scratching posts instead of the house furniture. With any pet, there are always positive points and negative points.
Here are the positive points of owning cats:
They are independent
They are easy to take care
They are affectionate with their owners
They are funny and goofy at times
They make people laugh
Cats owners do not have to do a lot of work to maintain their cats
Relatively not so expensive in their daily life
On the negative side, there are some points to keep in mind:
You have to clean the cat litter daily (otherwise, it smells)
Cats can develop behavioral issues if you do not train them correctly
Cats need at least some interaction or will get sick or stressed
You have to clean your house more often to remove air
Cats might not listen to you as dogs do
If they get sick wet bills can be expensive
Cats are intriguing, you will find them doing funny and weird things all the time, and they will keep bugs away from your house!
HOW DO YOU TAKE CARE OF A CAT FOR BEGINNERS?
When a cat owner brings a cat home for the first time can make the mistake of being all over the cat to ensure that everything is fine. However, you will discover that the best way to interact with a cat at the beginning is to provide some space and let the cat adjust to the house.
Here are basics things to do:
1. LET THE CAT KNOW WHERE THE LITTER AND THE FOOD ARE
When you bring a cat home, if you have a tiny kitty, it is better to place the kitten in a room and provide water, food, and litter. Let the cat smell where those things are and let him orient himself in the space and become familiar.
Once familiar with the room and oriented, you can open the door and let him explore the house. If you have to move the litter and the food, let him smell where everything is.
Initially, your cat might be scared, so let him have space to adjust and understand no one will harm him. Then, interact a little with him daily; the cat will come to you when ready. Often, at night, a new cat will start to sleep next to you.
But let them have time to adjust without being all over them.
2. ESTABLISH A ROUTINE
Cats like routine and stability. With your new cat, try to leave the litter and food in the same place and feed him at the same time every day.
Once your cat is oriented, play with your cat every day, and provide toys. Make it normal for your cat for you to touch him and interact with him. If you have to groom him later, he will let you touch him.
3. ENRICH THE ENVIRONMENT
You can treat your cat with toys, trees, scratching posts, and other things. Remember that if you provide your cat with scratching posts earlier, he will get used to them and not start scratching furniture.
Cats like to watch outside the windows; maybe you can provide a nice cat perch so they can watch outside.
But, it is up to you. If you observe your cat, you can figure out what he likes and how to spoil him!
Preview
Title
K&H Pet Products Deluxe Kitty Sill w/ Bolster Cat Window...
Topmart Pet Cat Window Seat Wall Mount Perch House Pets...
K&H Pet Products EZ Mount Window Sill Cat Bed, Cat Window...
Cat Window Perch, Cat Hammock Window Seat w/Free Fleece...
Zakkart Cat Window Perch - 100% Metal Supported from Below -...
Preview
Title
K&H Pet Products Deluxe Kitty Sill w/ Bolster Cat Window...
Preview
Title
Topmart Pet Cat Window Seat Wall Mount Perch House Pets...
Preview
Title
K&H Pet Products EZ Mount Window Sill Cat Bed, Cat Window...
Preview
Title
Cat Window Perch, Cat Hammock Window Seat w/Free Fleece...
Preview
Title
Zakkart Cat Window Perch - 100% Metal Supported from Below -...
DO AND DON'TS OF OWNING A CAT
Here are some do and don'ts of owning a cat, so you can figure out what is best to do when your new cat arrives home:
DO
Make clean water always available
Provide food every day (goo quality food)
Groom your cat routinely
Keep the cat belonging clean (litter box, bedding, food bowls, and the house)
Make sure the cat can play and can exercise
Play and interact with the cat every day
Microchip and ask for vet guidance
Enrich the environment
Give him window access and some outside time when possible
DON'T
Don't pick up your cat too much
Don't force him to do things he doesn't want
Don't overcrowd or play too rough with your cat
Don't change his food place too often
Don't leave him alone for too long
Don't let others scare your cat
Don't close your cat in a small room
Don't hit your cat when he does something wrong; train him positively
Don't scream or scare suddenly your cat
Don't grab his tail
Cats do not need a lot, but the new things they need must be provided to make a happy cat.
THINGS I WISH I KNEW BEFORE GETTING A CAT
There are things that future cat owners should know before adopting a cat, so there is the right awareness level, and they know what they are getting into.
Here are some of the main things to know before getting a cat:
Cats are easy to care for, but you can't ignore them
You have to have the money to feed them and bring them to the vet if necessary
You have to be prepared if your cat has a behavioral problem and pees around the house; if that happens, you need to resolve it and not abandon your cat
You should train your cat early own with the litter box and proper manners in the house
You should enter or spay your cat before one year or early to prevent problems later on unless you know how to deal with it
Cats need to exercise and be active if you need to find a way for them to do so
You have to clean the house every day or more often if your do not want it to smell or be dirty with cat air or similar
Cats can ruin furniture if you don't train them properly, and even if you teach them, it can still happen if they chew on things or scratch the couch. So you have to know it, accept it, and take protective measures, but not hit or harm your cant if that happens.
You can't leave delicate objects on surfaces; your cat will break it
You can't leave for long holidays or leave your cat alone for too long
Your cat will be with you for a very long time. Can you still adopt him?
Probably there is more to know about it, but these are the main thing to know before adopting a cat.
FREQUENTLY ASKED QUESTIONS
What are the disadvantages of having a cat?
Cats are a huge commitment and can impact your life and your furniture. You have to care for them daily, and you can't leave them alone for too long. Cats do not listen to you as dogs do, and you must tend to their needs.

What do cats need to be happy?
Cats do not need a lot to be happy; once you provide food, litter, a space, and toys, they need your attention and time to play and get quality time with you. They need to feel loved.

What are the psychological benefits of having cats?
Cats can provide many psychological benefits to cat owners and people in general; this is why cats are increasingly used as therapy pets. The main advantage is stress release; cats are known to help their owners get rid of stress.