DO CATS MAKE EYE CONTACT? 3 SMART THINGS TO KNOW
Do cats make eye contact? Maybe you have heard the saying of not looking cats in the eyes. But is that dangerous to stare at a cat straight into the eyes?
Yes, cats make eye contact! Eye contact is very important to cats. Cats use their eyes to communicate with other cats, animals, and humans. Their eyes are very expressive and can give us a good insight into what's going on in the mind of our feline friends.
Let's check it out.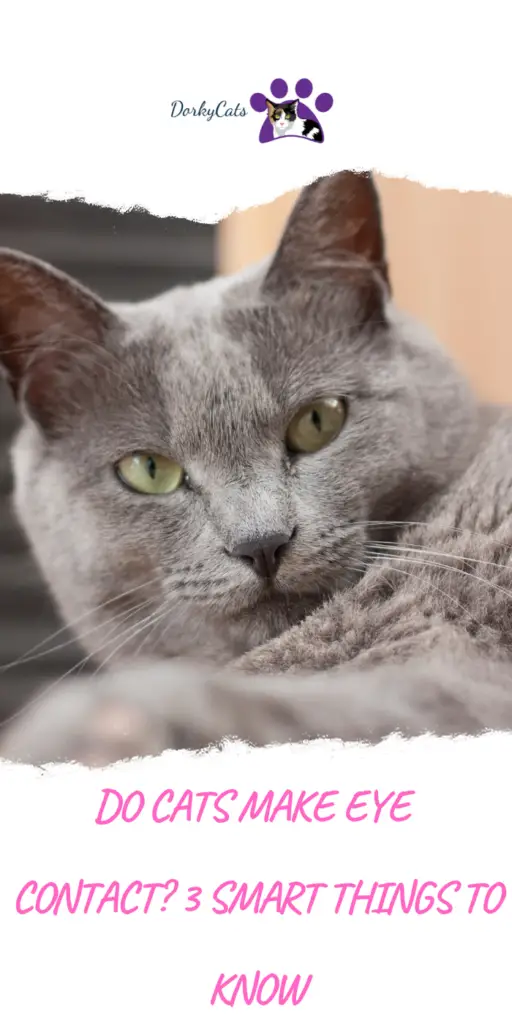 DO CATS MAKE EYE CONTACT?
Cats are funny creatures. From their tendency to trip their humans and tip water glasses to their top-tier mouse-hunting instincts, there are many aspects to cat behavior. However, one essential aspect of feline behavior is eye contact.
That is, of course, if we know what cat eye contact means and how to interpret it.
But, you might be thinking, do cats actually make eye contact? If so, why? Cats make eye contact for several reasons. For example, when they are fighting with other pets such as cats or dogs.
If cats look at humans in the eyes, they are probably about to attack unless they look at you and slowly bling at you simultaneously. In this case, they want to send you a message of love or affection.
WHY DO CATS MAKE EYE CONTACT?
There are many reasons for cats making eye contact; it is good to know the most important one:
1. SUBMISSION
When two cats interact, they may stare each other down as an intimidating tactic.
When one cat blinks, it indicates that he is giving in or submitting to the other. If neither cat blinks, it can lead to wrestling and swatting — all while maintaining eye contact until one cat blinks.
Once one of the rivals blinks, submission has been established. For example, if you are playing with your cat, you stare at him in the eyes, and if the cat stares back at you, he is preparing to attack.
2. AFFECTION
Cats can often be seen blinking their eyes slowly in the presence of their human companions. According to many sources, this is a sign of affection and trust, as closing one's eyes in the presence of another indication that they trust you not to harm them.
If your cat were afraid of you or didn't trust you, their eyes would be trained on you at all times to be sure that you wouldn't attack them.
3. COMMUNICATION
As we said, cats use their eyes to communicate. So when a cat blinks and narrows its eyes at another, it's a sign that the blinking cat isn't a threat.
At times cats sit next to your face, especially when you are sleeping at stare at you. If you open your eyes, they will keep staring into your eyes. It means they want something. Typically, food.
DO CATS LIKE EYE CONTACT WITH HUMANS?
Cats enjoy making eye contact with their beloved humans.
This is a sign of affection — and why wouldn't a cat want to show affection towards the person that feeds, houses, and cleans up after them?
To your cat, you're a member of the family and worthy of slow blinks and intense, highly-interested staring.
WHY ISN'T MY NEW CAT LOOKING ME IN THE EYES?
When a cat first gets to know someone (human, feline, or other), they are likely to avoid direct eye contact.
Direct eye contact can suggest rivalry with other animals, which isn't what most cats are looking to signal upon first meeting another being.
Your new cat should eventually come around and make eye contact with you in no time.
WHY DOES MY CAT STARE AT ME?
A cat staring at you could mean that the cat is feeling protective of you. In domestic cats, it can also signify that it's feeding time or that the litter box is dirty. It is common for a cat to stare at you while waiting for you to feed them.
In addition, it could be because they love you and are interested in what you're doing.
WHY SHOULD YOU NEVER LOOK INTO CATS EYES?
Looking into cats' eyes can be interpreted as a sign of aggression on the part of cats. However, in my experience, this is true for cats that are unfamiliar with you, stray cats, and feral cats.
My very sweet domesticated cats have no problems at all if I look into their eyes. In fact, it is common for my cat to look at me when he is sitting a few meters away. But, typically, despite his trust in me, he still looks into my eyes to figure out if I am about to stand up and move toward him.
In other words, if you look your cat straight into the house, he might think you are about to make a move, and he will keep staring back at you until he is sure you are not a threat.
WHY DON'T CATS MAKE EYE CONTACT?
Some cats do not make eye contact easily with their humans. Cats do not like making eye contact because it is a sign of aggression in their world. At times to make a cat look into your eyes, you have to move his head physically.
But remember that cats are all different in their character, and those who are more open to human contact might have less problem looking into people's eyes more often.
FREQUENTLY ASKED QUESTIONS
Is it good when cats make eye contact?
In general, it is not always good when cats make eye contact. It depends on the circumstances. For example, eye contact is not a good sign if they feel threatened. On the other hand, it is a sign of affection if they are relaxed and slowly blinking at you.
Do cats like it when you look at them?
Cats like if you look at them only if the circumstances are favorable. If you are playing or enjoying cuddling time, cats definitely like that you look at them.

Why does my cat stare at me without blinking?
If a cat stares at you without blinking, it is because he wants something; they are curious, surprised, or afraid that something is about to happen.

Why do cats sit in front of you and stare?
In general, when cats sit in front of you and stare, it is because they want something. It is a funny and unsettling way that your cat has to tell you that he wants something.