HOW TO EASILY INTRODUCE YOUR NEW DOG IN YOUR MULTI-PET HOME (8 Tips)
Would you like to know how to introduce your new dog in your multi-pet home? Do you already own several pets in your home and are planning to get a new puppy?
Bringing a new pet into an existing multi-pet home is quite challenging. It doesn't matter where you have dogs, cats, or both; introducing a new furry member will create an uncomfortable situation for all of them.
Therefore, in this article, we'll help you to introduce your new dog to your multi-pet home. You'll also learn aspects such as things to keep in mind and prepare, along with eight crucial tips.
Let's start.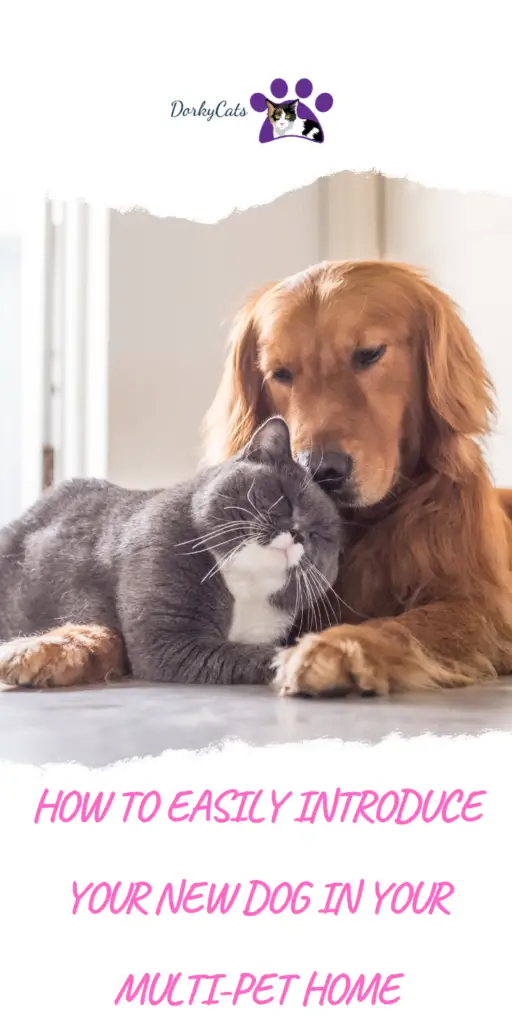 EARLY PREPARATION BEFORE INTRODUCING A NEW DOG
The first thing you need to consider if you are planning to bring a new dog is whether your current pets are willing to adapt to the change.
If your dog is stubborn or has a cat who hides in the corner all the time, will they be able to greet and welcome the new puppy?
Imagine when you offer wet food for senior dogs and other pets, they generally start fighting with each other to grab the food. Don't you think such situations can harm them and the newly introduced pet?
Below are the early preparations and things you should do before bringing the new dog to your multi-pet home:
You need to find out the behavior of your current pets. And also you must take a look if you'll be able to bear a new responsibility. Once you've identified these things, your next move will be preparing your home for the arrival of a new puppy.
You won't want to consider a breed of dog that has an aggressive temperament. Choosing a trained and socialized dog will be better. Furthermore, choose a suitable breed and ensure all other home pets are compatible with the change.
Allow your cat or dog to smell a blanket or toy that bears the aroma of the new pet so they can become used to it. Give your new pet permission to use your old pet's belongings similarly.
To prevent any concerns related to pets fighting over food, get a food bowl for your new pet and prepare to feed each pet individually.
THINGS TO KEEP IN MIND ON INTRODUCTION DAY
After you have done all the preparations, wait for the introduction day. Maybe you have opted for puppy delivery or will drive to the kennel to pick up your dog.
Whatever the situation is, ensure your pets at home are on their leashes, and family members are there to handle them.
Once you are at home with the new pet, don't make other pets interact immediately. Instead, slowly let them watch and understand each other.
If you have done the scent part, half of your work gets already done. Just stay alert and give them enough time to explore themselves. And if anything unfortunate takes place, separate the pets immediately.
Always remember that a successful introduction has two factors that are much needed: immediate safety and long-term bonding. You have to follow both for the betterment of your pets.
USING THE TRAFFIC LIGHT PROCESS WILL HELP
We have been learning the traffic light system to know traffic rules. For example, red denotes "stop," yellow indicates "continue with caution," and green means "go." You can use these alert systems while introducing a new dog to your multi-pet home.
Let's see how it may help you:
Red Light: During the introduction, if you find that your pets are behaving aggressively and have fearful behavior towards each other, you must act quickly. Stop the interaction, separate the pets, and regroup. You can try again after some time.
Yellow Light: You may be concerned about how your pets respond to each other. They may show tense body language, such as a stiff posture. If they do so, please stay alert and monitor them.
Green Light: This step shows that your objectives of a great introduction have been successful for your pets. If the animals appear curious and friendly, and any initial tension has swiftly faded, continue with the interaction.
HOW TO INTRODUCE A NEW DOG TO YOUR RESIDENT DOG?
If you have a dog already and are bringing a new dog, then you must take things slowly and patiently. First, ensure that your adult dog is leashed. Moreover,  a walk before the introduction would be a great idea.
Let them sniff each other. After briefly sniffing each other, you can call the dogs apart or distract them. Continue walking, and then after a while, let them sniff each other again for a little bit.
If the process goes well, repeat it frequently and in a few days, the dogs will be friendly, understand each other and start playing together.
You can probably introduce the dogs in a neutral enclosed environment, such as a side backyard or an empty play area, if either dog is leash reactive.
HOW TO INTRODUCE A NEW DOG TO YOUR RESIDENT CAT?
In the case of dog-to-cat introduction, allow the dog and cat first to interact while keeping the dog on a loose leash. Use a muzzle if required if you worry the dog might flee and hurt the cat. Then, to reduce any stress, separate the animals into their own spaces.
Remember that you must prevent the cat from becoming scared and escaping because doing so will make the dog want to chase. As a pet parent, you aim to assist the animals in learning to trust each other. It'll develop a healthy relationship between your pets.
It's your own decision if you want to hold your cat while introducing yourself as you know your cat's behavior. Trim its nails before they interact with each other. Keep a keen eye on your pets; if things go well, you know you're doing good.
Note: If you have completed the scenting process a few days before, you don't have to put in the hard effort during the introduction.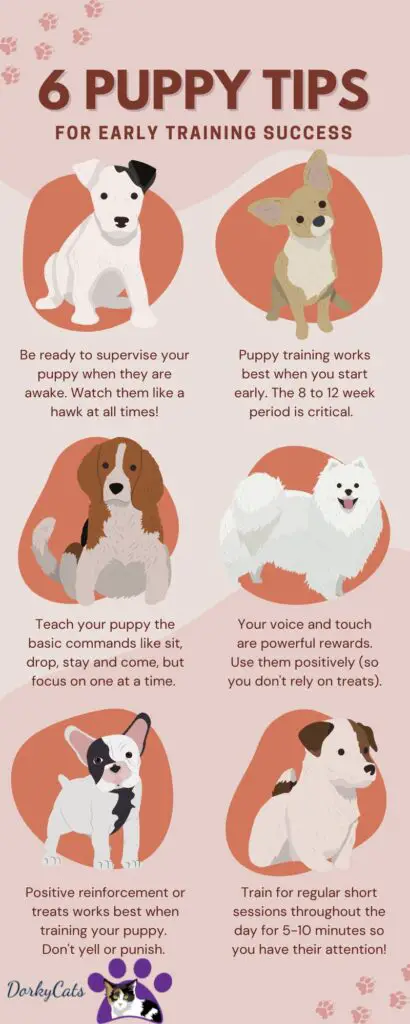 8 CRUCIAL TIPS TO INTRODUCE YOUR NEW DOG IN YOUR MULTI-PET HOME
These are eight tips that will be helpful if you introduce a new dog to your multi-pet home:
1. INTRODUCE AT A NEUTRAL TERRITORY
A sudden introduction of a new dog in your existing pet's territory can lead to aggressive behavior. It won't understand what's happening and how to react. So, introduce your dog while in a neutral environment.
It can be a backyard, a neighbor's garden, or any open space nearby. Bring along your family and start your stroll with each dog on a separate leash so they can see one another without provocation.
Allow them to approach gradually, and don't be frightened if there is some growling or barking.
2. TEMPORARILY REMOVE TOYS
The next step you have to follow is to remove all toys temporarily. As a pet parent, you must know how protective pets are regarding their toys. Generally, they don't like sharing their things with anyone.
When your new dog first meets your other pets, an aggressive encounter with toys could result in an uncomfortable relationship in the long run.
3. LET THEM TAKE TIME FOR THE INTRODUCTION
You may find that your new dog and current pets stay quiet for some moment, then slowly come closer to each other. Keep a note that you don't need to force an introduction.
Instead, let them take their own sweet time. And when pets feel safe with each other, you'll find a happy and friendly interaction. Make sure your pets' interactions are positive by playing with them and taking them on walks together.
4. STAY CALM AND HAVE PATIENCE
The most crucial aspect is to take the interaction slowly and steadily. It may take a few weeks until all the pets feel comfortable and behave nicely toward each other. Therefore, you need to stay calm and have patience.
The more patient you are, the more successful you will get. Hissing and tail swishing may occur initially, but this should stop after a few days.
5. STAY ENGAGED AND ALERT
You should carefully notice the new dog's and other pets' body language. It includes their tail, teeth-baring, growling, and a prolonged stare. If you see such activities in your pets, quickly separate them.
Also, you can distract them by greeting, clicking pictures, and patting them. You should be close to them and stay alert, as anything can happen during the introduction. Whenever the dogs are relaxedly looking at one another, give them treats.
6. USE POSITIVE REINFORCEMENT
Positive reinforcement builds strong bonds with your dog based on trust and respect. It also helps in avoiding stress and aggression. You can use treats, praise, and playtime to reward your pets.
Furthermore, keep in mind that these are resources for the animals and may cause rivalry while introducing dogs. Therefore, you must keep things balanced and reward your pets based on their reactions.
7. KEEP PETS SEPARATED
You don't know how your pets will behave with each other and without your supervision. For instance, cats do well without human intervention for up to three days, while dogs don't do well after a few hours.
For instance, you can learn how long indoor cats can be left alone. Similarly, ask your vet or Google the same for your dog or any other pet.
You should separate the pets into crates until you know their behavior. Then, provide your new dog a separate "safe room" with the best-canned dog food for senior dogs and drink bowls, litter box, toys, and bed.
Ensure that your new dog receives plenty of care, including cuddling, petting, and combing to make them comfortable and habituated to the new environment.
8. MONITO MEALS AND BEDTIME
It's important to understand that after the first introduction, your pets will encounter each other regularly. So, your responsibility increases as you have to look after all of them with love and care.
To ensure they get enough food and sleep, keep a close eye on their water supply, food, and sleeping arrangements.
Since a new dog has just come from a different environment, it'll take time to adapt to the new surroundings. They need your love and support.
CONCLUSION
When you introduce a new dog to your multi-pet home, your aim should be to establish a healthy long-term relationship. Maybe you don't achieve it in the first meeting, but keep trying until they feel comfortable with each other.
In this article, you have learned a great deal about how you can introduce a new dog to your multi-pet home. It includes some early preparation and some tips and tricks. They are the keys to success in this regard, and you should follow as many as possible. Best of luck!