What to do with indoor cats when going on vacation? It isn't easy to plan vacations when there are cats in the house. Unlike dogs, not all cats can be moved or can go on vacation with their humans. But, what to do in this case?
When going on vacations, cat owners can bring indoor cats with them if the cat allows it and the destination is pet friendly. For example, cats owners can hire a pet sitter or ask a friend, ask a neighbor to take care of the cat, use cats hotels, or relocate the cat to a parent or friend's house.
There are many things a cat owner can do to help a cat during vacation time. Cats can feel lonely, become stressed, and have other problems. Let's see what can be done.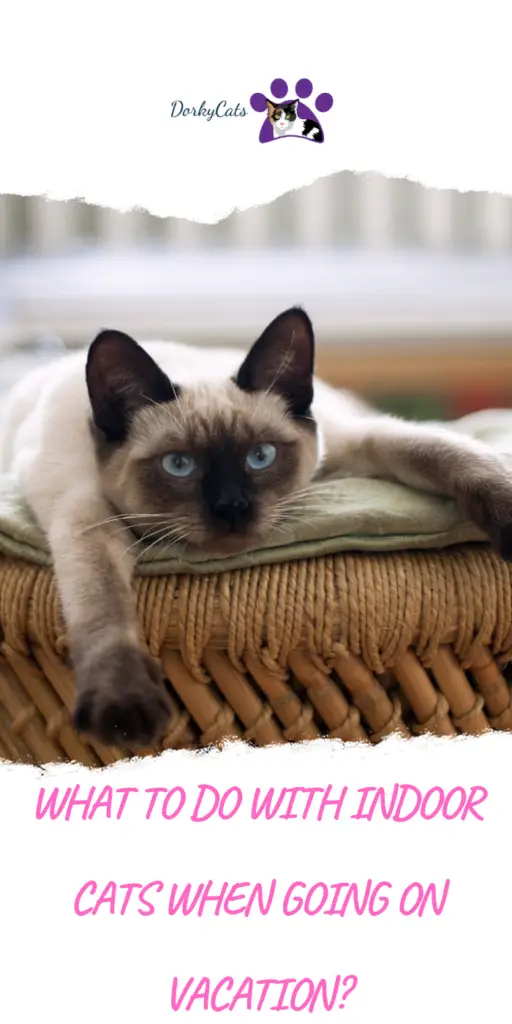 WILL MY CAT MISS ME WHEN I GO IN VACATION?
Cats are not the most accessible pets to understand because they can decide to stay on their own and keep their mood and emotions to themselves. But, those who have cats know that cats grow affection for their owners, and the lack of their favorite person is not going unnoticed.
Cats will miss you when you go on vacation. They will miss you even when you go to work and leave them home for several hours. Our cats seem to not care about what we do and do not care if we are there or not, but the truth is that they do care, and they know exactly where we are.
My personal experience with my cats shows that they care if you leave. I went away for two weeks, leaving my cat with my roommate. She told me that he would cry often, and he would go around looking for me.
When I got back home, he kept meowing at me for the first 15 minutes I was in the house, visibly complaining at me because I left him. But, cats have their way of showing that they miss their owner. For example, they could do the following things if you go away:
Stop eating
Hiding often
Crying often
Be sad
Becoming inactive
Show signs of aggression
Break object
Become stressed easily
Some cats are amiable and would allow their owners to bring them on holiday, but not all places are pet-friendly, unfortunately. So, what to do with indoor cats when going on vacation?
WHAT TO DO WITH INDOOR CATS WHEN GOING ON VACATION?
Before adopting a cat, each cat owner knows that it will come that time of the year when the vacation comes. There is a variety of options to choose from when deciding what to do with your cat. In this case, we are looking at things that you can do when you go away for a prolonged time, or at least over three days. If you go away for only three days or less, there are other things you can do.
Therefore, if you go away for a long time, here is what you can do:
1. SOMEONE TAKE CARE OF THE CAT AT HOME
If your cat is not the friendly and brave type to bring around, leaving him at home in his environment is best. The stress of being alone for a while will be less if you carry him around with you. In this case, it is better to have a friend coming over once or twice per day to check on your cat.
That person can clean the litter box, give food, give clean water and make sure there is nothing wrong with the cat. It is best to spend some time at home with the cats to reassure them, pet them, and eventually play with them.
If you have a timid cat, you want to ensure that the person coming to feed him is someone familiar. Otherwise, a stranger can stress the cat even more. The same is valid for family members. If your cat knows them already, it is better.
With this solution, you still have your cat at home alone for a big part of the day. So while he will survive through it, the chances are that he will feel very lonely at times and bored.
You could watch him and talk to him from time to time to make sure he is ok, using remote devices and webcams that allow you to speak and interact with your cat.
Title
Best Option
eufy Security Solo IndoorCam C24 2-Cam Kit, 2K Security...
Best Option
Furbo Dog Camera: Treat Tossing, Full HD Wifi Pet Camera and...
Security Camera 2K, blurams Baby Monitor Dog Camera...
Iseebiz Smart Pet Camera, [2021 UPGRADED] Dog Camera Treat...
Pet Camera, Indoor Security Cam with 2-Way Talk Remote Live...
Preview
Best Option
Title
eufy Security Solo IndoorCam C24 2-Cam Kit, 2K Security...
Preview
Best Option
Title
Furbo Dog Camera: Treat Tossing, Full HD Wifi Pet Camera and...
Preview
Title
Security Camera 2K, blurams Baby Monitor Dog Camera...
Preview
Title
Iseebiz Smart Pet Camera, [2021 UPGRADED] Dog Camera Treat...
Preview
Title
Pet Camera, Indoor Security Cam with 2-Way Talk Remote Live...
Preview
2. BOARDING FACILITIES
If you do not have available friends or family members who can take care of your cat, you must consider boarding facilities. But, it should not be one of the first options considered. Cats can stress easily. You are already going away. Moving him out of his environment can add a lot more stress.
Again, if no other choice, this is definitively a way to go about it; obviously, a cat can't be alone for days or weeks. Please read the reviews and visit the boarding facility ahead of time to ensure it is a good place and that your cat will be well cared for.
3. RELOCATE YOUR CAT TO A FAMILY OR FRIEND'S HOME
This is a good solution for those cats who are suffering a lot when staying alone. If you have one of those cats, the best solution is to search for a friend or ask a family member to take your cat to their house. In this way, your cat can become familiar with another person and have a bit of company while on holiday.
Cats need to play, require good doses of daily scratches and require a lot of love. So if you go away, try to do everything possible to provide a loving environment for your cat.
4. PET SITTER
Another solution is to hire a professional. A pet sitter is experienced in dealing with cats and knows how to care for them properly. If you go away and need to leave your cat in your home, a pet sitter can be a good solution, even though it is a bit expensive.
Pet sitters can interact with your cat and know how to become friends with them. They could spend some time with your cat and make sure they do not feel alone.
5. INVITE SOMEONE TO LIVE IN YOUR HOUSE
If you can have someone to come live in your house, it is even better. Some people may want to have the certainty that the house is kept safe and guarded, together with the cats. One can rent a room or invite someone to leave for a few days or a few weeks inside the house in exchange for taking care of your cat and the home.
In this way, your cat is doesn't have to move out. However, if you can, you should familiarize your cat with the person that will move in so that he will feel comfortable with a new person around the house.
CAN YOU LEAVE A CAT AT HOME WHEN YOU GO ON HOLIDAY?
You can leave your cat at home when you go on holiday, but you cannot leave him without supervision for days. First, you have to arrange for someone to come and check on your cat, give him food and water, make sure his food and water bowl are clean, and finally clean the litter box.
Cats left at home alone for an extended period without supervision can become sick or can get into accidents, break objects, or get injured without anyone knowing. However, if you live for one or two days, it is possible to arrange your cat with enough food, water, and clean litter.
But, it is still better to have someone come in and check what is going on. I had left my cat at home alone for two days, and when I got back, there was a mess everywhere. Cats can accidentally spill the water from their bowl and remain without it or get into other silly situations.
ANXIETY ABOUT LEAVING YOUR CAT WHILE IN VACATION
Cats owners may feel very anxious to leave their cats home alone when traveling or going on holiday. This is the phenomenon of feeling always worried about their loving pet. To some degree, there will always be a certain degree of anxiety when leaving a cat behind.
Cats and owners have a routine together, and both the cats and the owner will miss each other when separated; it is inevitable. Therefore, cats owners should do everything possible to lower the anxiety by securing their cat when left at home.
Knowing that they go away, a cat owner should secure trusted persons to take care of the cat, make sure the house is secure for your cat to stay alone for many hours, buy enough food and everything necessary for you to be relaxed and have your peace of mind.
The key is to organize your cat life for the entire time you are away so that you can lower your anxiety.
FREQUENTLY ASKED QUESTIONS
How to keep your cat happy while you're away?
To keep your cat happy when you are away you need to have him supervised by a known person, so he feels safe, leave him toys, have the pet sitter leave the lights on at night, clean food and litter, leave around clothes with your scent on it, use a modern camera that allows you to speak to your cat through the day, and make sure the pet sitter plays with your cat.
Is it OK to leave a cat alone for a week?
No, it is not ok to leave your cat alone for a week. It can be dangerous for your cat to stay alone all that time. He may run out of food, not eat, get injured, get into a situation of lack of hygiene, and do other things. Someone has to supervise and check on the cat regularly.
How long can you leave a cat while on vacation?
A cat can be alone safely for 1 or 2 days. Eventually, a cat can stay alone for three days, but no more. Cats need to have clean water, clean food, and clean litter, and of course need love and affection from their owners.