DO CATS HAVE LAST NAMES? ALL YOU NEED TO KNOW
Do cats have last names? Usually, we call cats by their first name, but you might have heard that some people give their cats two or three names. While it is not common, it is possible.
In general, cats do not have last names, but sometimes vets or officials assign a cat the last name, which is typically the same as the owner. Therefore, cat owners could eventually decide on a different last name.
Here is all there is to know about cats' last names.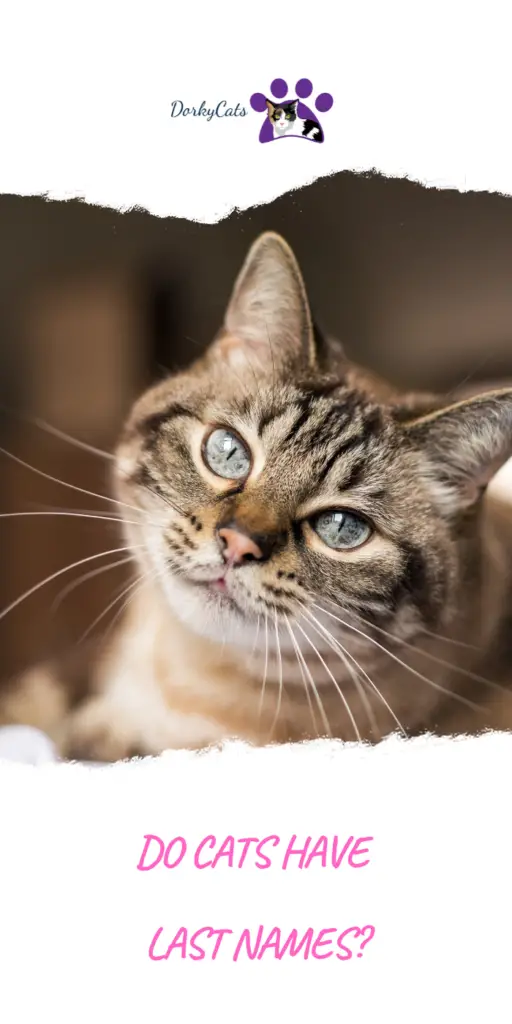 DO CATS HAVE LAST NAMES?
If you own a cat, then you might wonder whether it's worth giving them a last name that fits their personality or whether to introduce your cat's last name as your surname.
Cats are unique pets with many charming characteristics that make them distinct from other animals but is adopting a cat like adopting a dog, wherein they take on the owner's surname?
Cats, unlike dogs, aren't usually assigned surnames. However, if the owner chooses to give them a last name, then a cat can undoubtedly have an unofficial last name.
There are many interesting reasons why most people choose not to give their cat a last name. For example, some people give their cat the last name just because it sounds funny, while others simply don't see the need.
DO CATS HAVE SURNAMES?
Cats aren't assigned your surname when you bring them home, but dogs usually are.
That's because putting the owner's last name on a dog tag provides more information to someone if the dog should ever be lost.
In addition, some vets refer to dogs by their first and last name to clarify ownership of the dog and distinguish it from other animals that might be in the vet.
WHY DON'T MOST PEOPLE GIVE THEIR CAT THE LAST NAME?
Here are some of the reasons for cats owners not assigning last names to their pets:
Most people just don't bother giving their cat a last name because a single name works well enough for a cat.
Often, a cat spends a lot of its time off doing its own thing or away from home; dogs, on the other hand, are much more interactive and dependent on their owner. As such, closely associating a dog with the rest of the family by giving it a surname makes more sense than with a cat.
Cats might also not be given the last name because most cats don't wear collars. In some cases, collars can be a hazard to an outdoor cat, so there's no need for a collar with the cat's full name.
In some cultures, it's believed to be bad luck to give a cat a last name, so it's quite possible that cultural diffusion has led people to innately choose not to give their cats the last name.
WHEN MIGHT A CAT HAVE A LAST NAME?
Some people give their cats the last name for humorous reasons. Katy Purry, for example, is a funny cat name with both a first and last name.
Other owners might also choose to refer to cats by surname (or made-up last name) if they have two cats called the same name or if, in conversation, they need to specify which cat they are referring to.
Cats don't have assigned last names, but that doesn't mean you can't just make one up or refer to them by their full name if you so choose. Whether you do or don't, the name you choose for your feline friend will fit them perfectly.
DO CATS KNOW THEIR NAMES?
Cats know their names but do not always decide to go to their owner when called. Unlike dogs, cats do not have a lot of discipline when it comes to following directions. However, they can still be trained to understand their names and do other tricks.
In my experience, my cats often come to me when I call them by their name. Let's say that on ten times I call my cat, he would react and come close to me seven times. So I often have to call them more than once to make them react.
However, I have trained my cats to come to me when I say "come." Since I purposely trained them on this word, it is way more likely they react when I say this word than to their names.
FREQUENTLY ASKED QUESTIONS
Can you give a cat a middle name?
It is possible to give cats middle names. Many cat owners give their cats two or three names, although they call them by only one name or by an abbreviation of one of their names.

Do cats get attached to their names?
Cats get attached to their names in a way. Cat owners call their cats a certain way, and with time cats get used to hearing and reacting to it. Somehow cats can figure that their name has something to do with them and their owner.

Do cats remember names?
Cats remember the sound of their names. They get used to it and can recognize the sound even after a certain time. So if you say a name very often, cats will get accustomed to it.