41 THINGS I WISH I KNEW BEFORE GETTING A CAT! HOW TO BE A PERFECT CAT PARENT!
There are things I wish I knew before getting a cat! I love my cats. I really do. However, there are a few things that I wish I knew before getting a cat. I wouldn't change owning a cat for anything on this planet, but I wish I was a bit more prepared.
On this page, I want to run you through a few of the things that I probably should have considered beforehand. Hopefully, it can also help you be prepared for your cat parenting!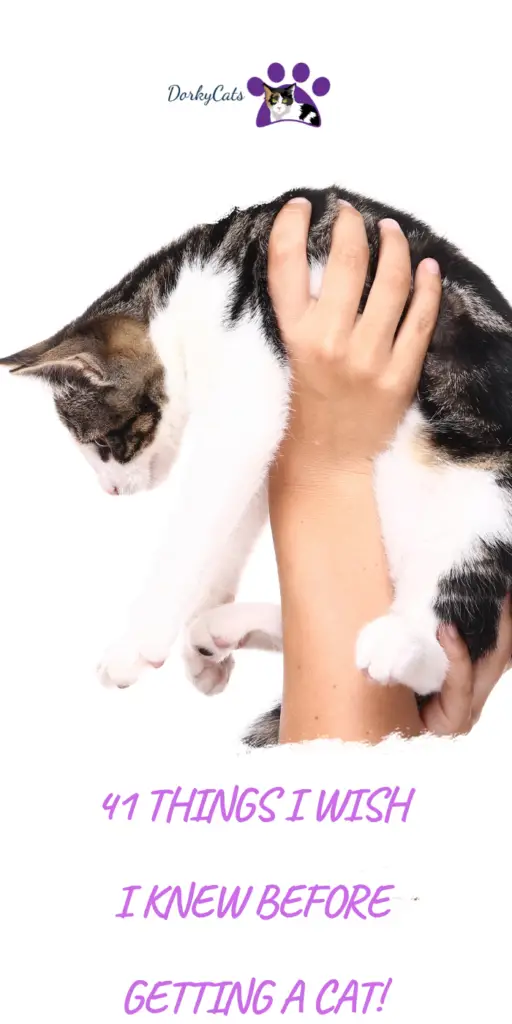 ALL THE THINGS I WISH I KNEW BEFORE GETTING A CAT
Getting a cat is a big step in terms of responsibility, but also very rewarding. Cats are not dogs; unlike any other pets, they require specific things and care from their humans. You might have heard different things about cats, but the truth is that each cat has a unique personality.
While many things are common to all cats, the one cat you adopt might have unique personality and preferences.
If you want to make sure to be prepared for your first or next cat, here are all the things you should have clear in mind before including a little furry friend in your family:
1. CATS ARE EXPENSIVE
Cat food is cheap. Cat litter is cheap. Owning a cat…not so much.
Cats can be incredibly expensive. First, you need to pay for insurance. Then, you need to pay for regular health checkups. Cats can easily cost you hundreds, if not thousands, of dollars per year.
As your cat ages, the costs of owning that cat will creep up even further. Remember that your cat might not cost you a lot for a long period of time, but when he is sick, the vet bills can be expensive.
2. CATS ARE A LIFETIME COMMITMENT  
Cats live for 15-20 years. Some can even live longer than that. So if you purchase a cat, you need to know that it will be with you for over a decade. Are you willing to dedicate a good chunk of your life to your cat? 
If you are going through a period of change in your life, and one where you may be moving about a lot, then cat ownership may not be for you. Although cats seem uninterested in what is happening around them, they actually suffer if their owners leave them behind or alone.
Remember that you will be in for a long journey with your cat!
3. CATS LOVE TO SLEEP
Cats spend the vast majority of their time sleeping. In fact, it is not uncommon for a cat to be hidden away, sleeping for a good 90% of its day. So if you want a highly active animal, a cat probably isn't going to be for you.
Although you can still choose a cat breed with an active personality, cats will give you attention when they want.
4. CATS ALSO LOVE TO PLAY
Of course, when cats do decide to wake up, they love to play. They love attention. They are probably going to demand that from you. Cats can get exceedingly annoying when they are in the mood for a bit of play too.
While cats will stay mainly indoors, they still are cats and have their hunting and wild instincts. Therefore, it is essential to provide enrichment and stimulation in the form of cat toys, trees, and more.
5. CATS LOVE TO SCRATCH THINGS
Cats need to scratch things. It is a natural instinct that helps the cat to wear down its claws. Therefore, cats will scratch pretty much anything that they can too.
If you have a cat, then you need to get a scratching post pretty early on. If you don't, you will end up with walls and cabinets that your cat's claws have completely destroyed. 
Remember that you should educate your cat to use the scratching posts instead of your furniture; it is useless to mistreat the cat.
6. CATS THRIVE ON A SCHEDULE
Cats love to be fed at the same time. They love to sleep at the same time. They love to play at the same time. Cats will even poop at the same time every day (in most cases).
If you cannot give your cat a regular schedule, particularly when it comes to feeding, then it may cause issues with the animal. They need to know where their next meal is coming from. 
7. CATS CAN'T BE LEFT ALONE FOR LONG PERIODS
Finally, on the list of things I wish I knew before getting a cat, I have to point out that while cats are solitary creatures, they do miss their owners.
If you are going to be out of your home for more than 8-10 hours at a time on a regular basis, then cat ownership probably isn't going to be for you. Cats can get exceedingly lonely. 
8. CATS LOVE CLEAN SPACES
Cats can be really picky. If you do not clean their litter box daily, or if you do not wash their food bowl before each meal, they might now eat or poop. Cats spend a significant part of their day cleaning themselves; therefore, keep this in mind.
Cats also like to sleep in a clean place, so it is essential to clean up regularly their sleeping place. Therefore, you will have to spend part of your day cleaning your cat's things and area.
9. CATS REQUIRE GROOMING
When you have a cat, it is not enough to clean their things or the areas they most use; you have to groom them too. Depending on the breed, some cats require daily brushing, and others only weekly brushing.
You still have to spend time with them brushing, cleaning their ears and teeth, and sometimes trimming their nails.
10. THEY CAN BE DEMANDING
Some cats are particularly needy. They want to cuddle, sit on your lap, sleep on you, or otherwise get a good dose of scratches each day. Keep this in mind before adopting your cat.
On the other side, you can get a cat that is not the "cuddling type"; in this case, you should respect his space and be patient. But, of course, he still loves you in his own way!
11. THEY GET INTO EVERYTHING
If you have a cat in the house, you must keep an eye on your furniture and what things you leave around the house. For example, you can't leave plastic bags, boxes, and similar objects in the open.
Your cat will get into it or even chew or scratch them. You can't leave open drawers or doors. Your cat will surely get into it.
12. THERE IS NO PRIVACY
Cats are inquisitive. Nothing moves into the house that a cat is not closely supervising. In addition, if you are behind a closed door, chances are that your cat will meow, protesting behind it until you do not open it.
This is also true when you go to the bathroom. Or you let your can in with you, or he will stand behind the door complaining until you are done and come out.
13. OFFICE WORK IS IMPOSSIBLE
Working from home with a cat is a challenging task. Your cat will get into all your papers, on your computer, and you while you work. If you are on a desk, your cat will get on it next to you the entire time.
Maybe while you work, your cat is taking a nap next to you on the table or will get on it, purring in the hope you give him some attention.
Nothing else should get your attention!
14. SLEEPING FOR MANY HOURS CAN BE DIFFICULT
You can't get away with sleeping for many hours when you have a cat. In the early morning, your cat will get all over you to get food or cuddles. You can't sleep for too long; your cat will wake you.
Although when your cat sleeps for too long, you are not allowed to disturb his beauty sleep!
15. YOUR HANDS AND FEET ARE NOT SAFE ANYMORE
You can't leave your feet pending from your bed when you have a cat. Your cat will jump on them in an attempt to play. The same is with any hand that comes out from under the covers.
16. CATS LOVE HIGH PLACES
Even if you are prepared for everything, cats can surprise you! They will get to the top of the highest place watching the world. However, sometimes they can't get back. You need to help them to come down!
Remember not to put fragile objects on top of things, or they will get broken!
17. CATS ARE TERRITORIAL
Some cats can get pretty territorial with other cats or other pets. Sometimes they will fight with others, especially if they are not introduced properly. So it can be a problem at times. However, each cat can react differently.
Some cats are friendlier and easily get along with other pets. Just try to figure out your cat before adding a new pet.
19. YOU HAVE TO CAT PROOF YOUR HOUSE
Let's face it! You can't leave certain things around in the house. Cats are very agile; they can get into small cracks, chew cables, plastic, and papers, and just be on top of very high places where you keep that special ornament ( just to make sure it falls on the floor).
Cats can't stand objects on a high surface. They will throw them on the floor. So, if you want to keep your belongings intact, you have to place them outside your cat's reach.
21. YOU HAVE TO LEARN WHICH FOOD IS TOXIC FOR YOUR CAT
Certain foods are toxic for cats. You have to make sure to know which one should be avoided. For example, some of the foods that your cat can't eat are:
Chocolat
Garlic
Onion
Coffee
Citrus fruits
Grapes
Salt
But there can be more.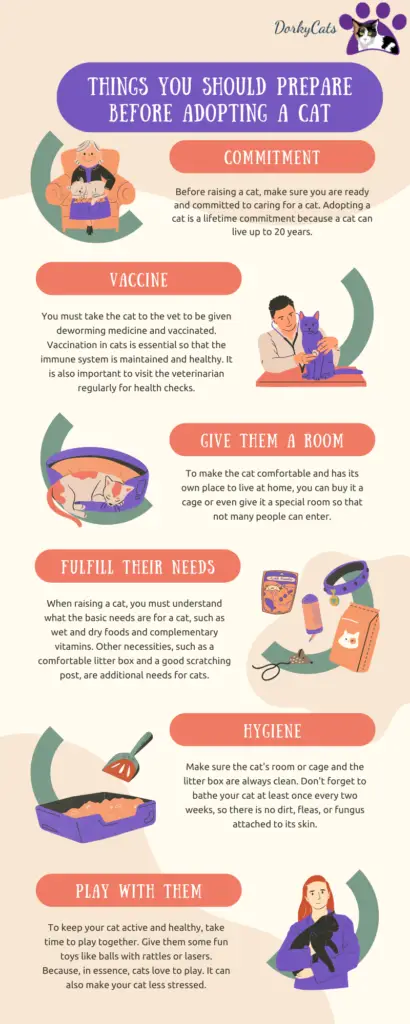 22. MEOWS ARE FOR YOU AND OTHER HUMANS
Cats meow mainly to communicate with you. If your cat meows, he wants to tell you something. With time you should learn what each type of meow means and understand better what your cat wants to say to you.
For example, you can figure out when your cat wants food or wants to go out, etc.
23. PAWS AND BELLIES ARE FORBIDDEN AREAS
Some parts of a cat's body are off-limits. For example, cats do not like people rubbing their bellies or even touching their paws. Similarly, tails can be very sensible. However, some cats allow humans to touch them in those places.
But it is not always the case. Remember this if you do not want to be scratched by your cat's nails or bitten.
24. CATS DO "ZOOMIES"
Cats have crazy moments when they run around the house like lightning. It is common in kittens, but also adult cats can have those moments. Just know that it can happen, usually, those moments are funny, but cats can also bump into things.
25. TWO IS BETTER THAN ONE
Adopting one cat sometimes is not good enough. Typically cats need a playmate. It is better if they have someone to chase so they can stay fit and not feel lonely while away for work.
Two cats can keep each other company and be more active.
26. RESPECT YOUR CAT LIMITS
Some cats do not like you to touch them in a certain place or do not like to be picked up. In addition, particular cats have favourite sleeping places or hiding places. So do not do the things your cat hate, and make sure you do not move or take away the places he likes the most.
Doing those things can stress your cat and make him hate you.
27. CATS WILL NOT LISTEN TO YOU ALWAYS
Cats are not like dogs! Although some cats can be trained, cats generally do not always follow instructions from their owners. For example, let's say that cats "decide" when it is worth listening to you.
They hear your voice and command, but cats, unlike dogs, do not care about pleasing humans. This doesn't mean they do not love you, but it means they assume they are in charge (not you!).
28. CATS CAN BE PICKY WITH FOOD
Cats are weird with food. They can refuse to eat the food they usually like. But when you figure out again another brand they want and have bought many cans of food, they can decide to stop eating it.
Some cats might only eat wet food, others only dry food, and some cats can be snobs about the food they eat. So just know that you are in for a potentially capricious child!
29. YOUR HOUSE WILL BE BUGS FREE
No bug will enter the house safely. Cats will chase them all and often even eat them. Flies are the favorite victims, as spiders, mosquitos, and other small insects. At times you will see cats staring in a particular direction; just know they are chasing something.
30. CATS WILL HEAR AND SEE THINGS YOU DON'T
Sometimes cats go on alert mode or will start running in certain directions. They have generally seen or heard things that humans can't see. There is no reason to get scared.
At times they can even alert you of an imminent danger or that a stranger is behind the front door. Don't ignore it. It is better to verify what your cat is up to. In most cases will be nothing, but in some other cases, there will be something to be careful about.
31. YOU CAN TRAIN YOUR CAT
Cats can be trained to follow specific instructions, but not all cats will allow you to teach them. Some cat breeds are better for training. But every cat can understand some of your commands.
You can still teach them a few things using a lot of patience!
32. CATS ARE CARNIVORES
Cats should mainly eat animal protein. They can be curious about your food, but remember they should eat mainly cat food or an appropriate diet.
33. CATS GET IN TROUBLES
You should expect your cat to get into impossible troubles, such as getting stuck into things, being closed inside a cupboard, getting nails stuck somewhere, falling from very high places, or getting into some epic fails.
It is usual for cats. However, you must constantly watch them to ensure they do not go too far!
34. CATS DO NOT LIKE NOISES
Cats stress easily. Loud noises, screaming, loud music or TV can terribly affect them. They might not feel safe in their environment. Remember that you should provide a quiet and safe place where they can stay.
35. YOUR WIRES AND CABLES ARE NOT SAFE
You can't leave wires pending or coming out of things if you have a cat. Cats will attack them and chew them. If you have expensive computer cables (such as those of a Mac computer), you have to secure them.
Similarly, be careful with phone charging cables and other wires.
36. IT IS SIMILAR TO A BABY
Think of a cat as a capricious child that gets in trouble often but is also affectionate, funny, and goofy. Be prepared to be a sort of a parent.
37. YOU HAVE TO BE CAREFUL WITH THE DOORS
Watch the floor before closing a door; your cat can get harmed by it. Cats often try to sneak inside the room before you close the door; it is not uncommon to get squashed.
If you hit their head, they can get severely injured.
38. IT IS HARD NOT TO SPOIL YOUR CAT
The hard part of being a cat parent is to limit the pampering. It is hard not to buy them toys, beds, and many other things. Cats get into your soul and mind.
It is hard not to spoil them!
39. YOU NEED TO CHANGE YOUR CLOTHES
If you do not want your new pair of pants or your new pullover ruined by your cat's claws, it is always better to change your clothes when you get home. Unfortunately, it is not uncommon to forget it and get your new $100 pair of pants ruined.
40. HOLIDAYS AND TIME AWAY CAN BE DIFFICULT
When you have a cat, you must know that you can't leave on holiday without someone to take care of your cat. You must consider who can take care of your cat or what will be set up if you leave for several days.
Or you have to bring your cat with you and organize your holidays accordingly.
41. YOU CAN BECOME OBSESSED WITH YOUR CAT
You can become obsessed with your cat! This means taking tons of videos and photos and spending much time with him. After all, cats are great at making their humans love them!
Know that when you have a cat, this can happen to you!
FREQUENTLY ASKED QUESTIONS
What to buy before getting a cat?
Before getting a cat, make sure to have at least food bowls, water bowls, a litter box, cat beds, and cat food.

Should I get a cat?
If you can take care of a cat financially and invest the time in taking care properly of a cat, then you should get a cat. Remember that cats are independent but still need love.

When is it not the case to get a cat?
It is not the case to get a cat when you do not have the financial needs or the time to take care of a pet. In addition, cats don't like dogs. Cats are not the best choice if you wish to have a pet that interacts more with you.