9 BEST WAYS TO CLEAN THE HOUSE WHEN YOU HAVE A PET
Would you like to know how to clean the house when you have a pet?
We know how much you love your pets, especially when these lovely creatures come up to you with their sparkling eyes.
Even though you enjoy each moment with them, you also realize that they may make your house dirty and unhygienic at times, which means that you'll need to take some measures to clean your home or maintain its cleanliness.
For instance, dogs shed hair while running, playing with you, or coming home from outside. So, today we'll talk about the tips that can help you clean your house while having a pet at the same time.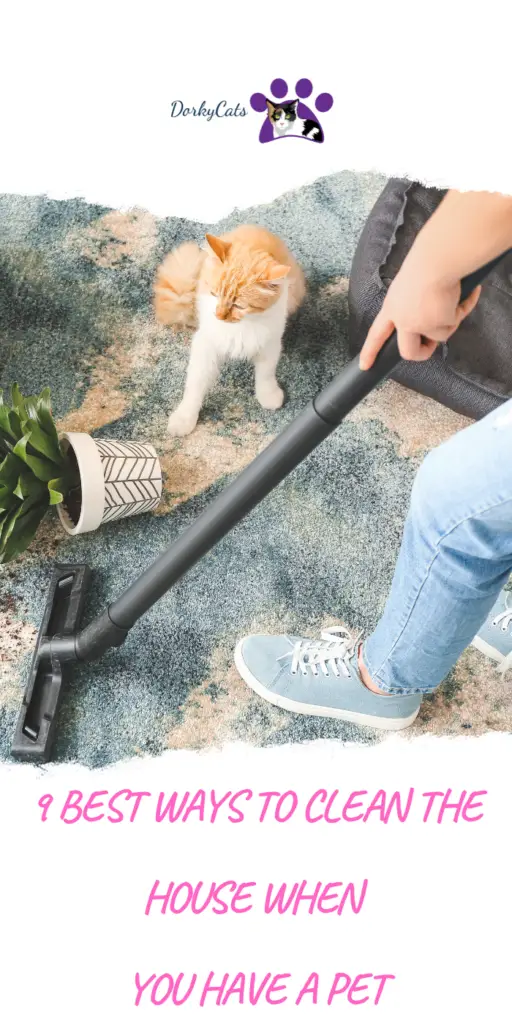 HOW TO CLEAN THE HOSE WHEN YOU HAVE A PET AND KEEP IT CLEAN
When you have a pet can be more challenging to clean the house properly and keep it clean.
Your dogs' sweet faces and innocent eyes make you feel even more thankful and in love with these priceless beings, but you don't have much time to run after them and clean every corner.
Here are some tips that can make your life easier:
1. LAY DOWN DOORMATS
Make sure your pets' paws are clean when they enter the house. Place a little doormat in front of each entrance to capture any water and dirt your pet could bring.
Consider where your pet loves to lay and put some other doormats in those places, including under the dining room table, sofa, etc. These are easy to clean with a damp cloth and don't let anything seep in. 
Even if you can't teach your dog to wipe its paws, doormats are still quite helpful for dog paws. Put a durable doormat outside the door and a machine-washable rug inside. Once your dog walks across them, they leave dirt and debris, which the rug and doormat will catch.
If you don't want a doormat, then try putting some rags or newspapers by your back door. It will make it simple for your pets to clean their feet. Lay out additional towels for them to walk on before entering your home if it has been raining. You can even wash their paws before they enter the house to avoid sweeping, mopping, etc. 
2. USE HIGH-QUALITY PRODUCTS
It's essential to use the best hygiene products for the overall cleanliness of your pets and the hygienic environment of your house. Also, ensure that your cleaning supplies are safe to use around your pet.
You need to contact your veterinarian before choosing air fresheners or cleaning products. It is best to stay away from bleach and other caustic substances. Additionally, you must open windows to allow fresh air into your home to prevent bad odor.
3. CONSIDER A VACUUM CLEANER
Imagine how much debris, dirt, and other things pets carry on their paws and fur after returning from the park. Even if your pet doesn't shed hair that much, vacuuming is essential for the overall cleanliness of the house. 
In light of this, consider getting a pet-friendly vacuum cleaner, and start cleaning the room's perimeter before moving indoors. These tools are helpful if you ever need to eliminate hair buildup.
Vacuuming the house once a day is a good idea if your pet sheds a lot of hair. But, it's essential to consider changing the filter regularly, as the dirt and hair-clogged filter may spread the pet odor. 
If you don't want to spend too much time vacuuming, then consider buying a robot vacuum, which can automatically clean the house when you are asleep or outside the home. Also, a robot vacuum cleaner can access hard-to-reach areas.
Choose a vacuum that can function on all surfaces, has strong suction, and won't become rapidly clogged with excess hair. Once you've decided on a tool, check to see if it's simple to empty and has a quality filter that will prevent the spread of odor.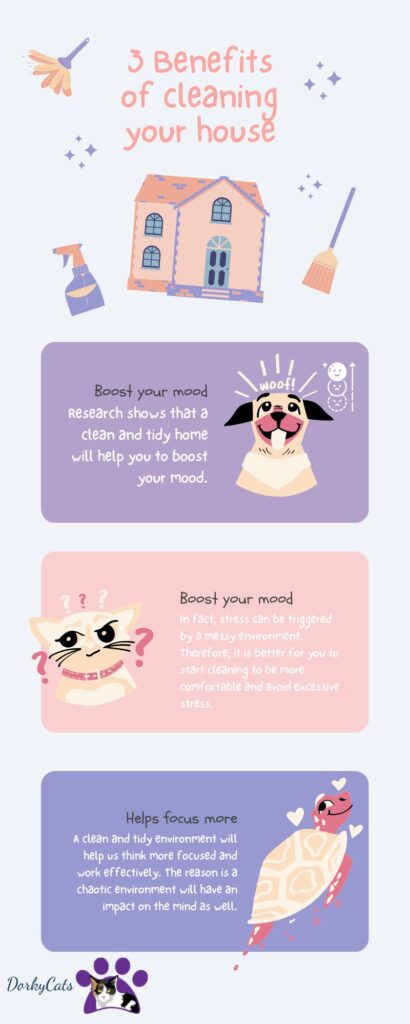 4. COVER UP THE SHEETS
Have spare sheets to change out the linens while you clean the house. Cover the places where your pet chooses to slumber frequently with a clean sheet.
This way, you can keep the places and furniture away from potential stains and hair but also prevent pet odor. In addition, you can wash the sheets whenever you need, which is easy and quick. 
5. CLEAN THE PET BEDDING 
No matter whether it's a cat or dog bedding or bird and reptile enclosure, it's essential to clean the area.
A dirty area will not only be a breeding ground for bacteria and germs that can cause infections to your pets but also will be uncomfortable for them and can cause an unpleasant odor. If there are pee deposits, you can clean them with vinegar.
Absorbent and high-quality bedding materials may minimize the need for frequent cleanings and can help to reduce unpleasant odors. For instance, maintaining a clean cage is crucial to keeping your bird healthy and preventing odors and extra feathers from accumulating in the house.
6. GET RID OF URINE STAINS
We are all aware that teaching a new cat, bunny, or another small animal how to take care of their own needs can be challenging at first. For example, if they leave pee deposits, having a bottle of stain remover on hand will be useful.
Your carpet will not become stained, and your house will remain odor-free. Removing any pee or vomit stains right away is crucial to maintain hygiene, get rid of any smells, and lessen the likelihood that the pet will return to the same area. 
So, have a cleaner on hand that is made to remove pet stains and odors. Once you see any stains, immediately apply the cleaner to be able to remove the stain. 
7. CLEAN YOUR PET
You must first clean your pet if you want to keep your house clean. Generally, you should bathe your dog every four weeks, though this may vary depending on the pet.
Every 4 to 6 weeks, light trims around the face, genitals, and ears are required. Even though you shouldn't use pet shampoo frequently, a brief washing with regular water might have a significant influence. Once you clean your pets, keep them in one area, especially on a floor that is easy to clean. 
Dealing with pet hair all over the house is the most challenging part of pet ownership. Even though there is no way to stop shedding, proper grooming can significantly reduce it and preserve healthy skin.
For proper grooming, ask your veterinarian for recommendations. Also, regular brushing will lessen the amount of hair shed. Brush as soon as possible to remove the coat so that it doesn't accumulate in your home. You can brush the pet outside to avoid sweeping the floor. 
8. TRIM THEIR NAILS
To prevent potential nail damage, it's a good idea to clip your pet's nails. Leather, hardwood flooring, and upholstery are damaged when pets prowl around with too-long nails, which also causes scratches and punctures.
This could cause an injury that needs veterinarian attention. Additionally, dogs find it more difficult to move comfortably when their nails are longer. 
9. WASH HANDS
To avoid spreading zoonotic diseases, washing your hands after handling or feeding your pet is crucial. Washing your hands thoroughly with enough water and soap is always a good idea. And don't forget to dry your hands because a moist surface is an ideal environment for bacteria and germs to flourish.
Before placing food on counters, always clean the surface with wet wipes, as many pets, such as cats, may walk on those surfaces. 
WHY YOU NEED TO CLEAN YOUR HOUSE
The following are the main reasons why you need to clean your house frequently:
Reduce allergies
Minimize stress
Keep you organized
Encourage inviting guests
Prevent bacteria and germ spread
Prevent illnesses (e.g., asthma attacks, breathing problems, etc.) caused by dirt and debris
Maintain the fresh look of the house
Save time
This was a simple guide on keeping your house clean while playing with your pets and enjoying time with these precious creatures. Implement these tips and stay healthy! 
FREQUENTLY ASKED QUESTION
Does having pets make your house dirty?
Having a pet in the house can make it a bit dirtier than it would usually be. It also depends on the type of pet. However, a daily cleaning routine to remove dust, and clean the pet area, can resolve the problem.

What is the best cleaning schedule for a house with pets?
The best cleaning schedule for a house with pets is to clean the locations your pet use every day and sweep the floors daily. Washing the main surfaces every day is recommended. Deep cleaning can be done every 3 to 5 days.

Does owning a cat make your house smell?
Owning a cat doesn't necessarily make the house smelly if there is proper air circulation and the litter box is maintained clean. However, daily cleaning of the house is recommended to prevent the accumulation of odors.