CHAUSIE CAT PERSONALITY PERSONALITY AND BREED (ALL YOU NEED TO KNOW)
Are you curious about the Chausie cat personality? It is surprising the variety of sizes these cats can take, which are becoming more popular with time.
They are naturally friendly, very demanding, witty, and skilled in climbing, running, and hunting. The coat needs minimal care. At a glance, it is a massive breed with slow maturation; it has three recognizable varieties and an athletic physique.
Let's learn more about the Chausie cat personality and breed.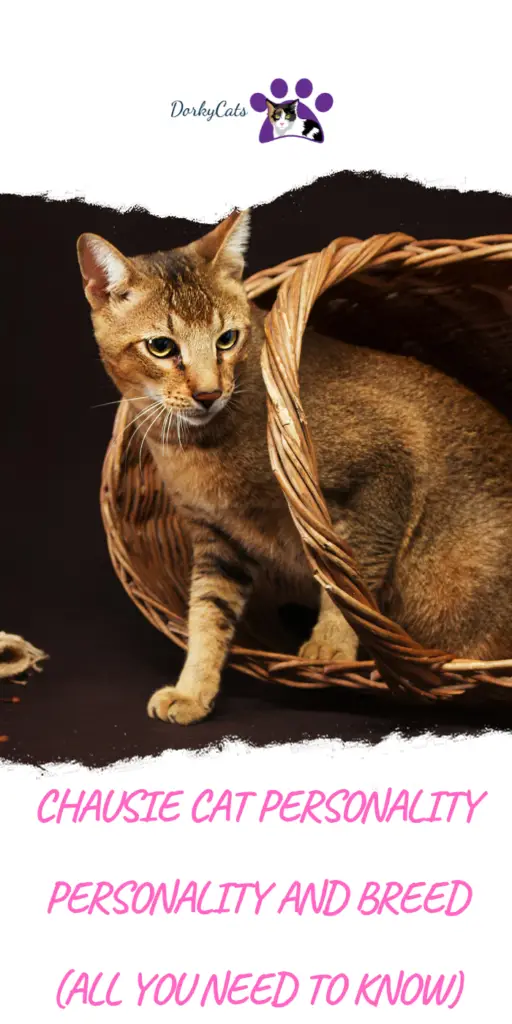 WHAT IS THE CHAUSIE CAT GENERAL ASPECT AND SIZE?
Large, broad ears are a distinguishing feature of the breed and often end with a tuft of hair at the tip. The head resembles that of a miniature puma. In addition, this cat has a white chin. It is a hereditary trait from the Jungle Cat, quite common in the Abyssinian.
CHARACTERISTICS OF THE CHAUSIE CATS:
Characteristic
Description
Notes
In summary
Wild hybrid but less
popular than its
spotted cousins
Personality
It depends on how
many generations
have passed from
the wild ancestor
The fourth generation
(F4) will be quite
treatable and
less nervous
Appearance
Sturdy, often with a
ticked tabby coat.
Males are bigger
than females
the Abinnino has
contributed
considerably to
the development
In the house
Very agile, at times
he manages to
jump almost
two meters
Behavior
Confidente and smart,
he loves to play.
Curious about nature
It takes three years
for it to reach
the size of an adult
Grooming
The coat is short,
so it needs minimal
care
Most common health
problems
Some specimens turn
out to be intolerant
to gluten, an element
not to be underestimated
for the diet
WHAT IS THE HISTORY OF THE CHAUSIE CAT?
Although it has only recently obtained the right recognition, thanks above all to Bengal's increased popularity, the Chausie's origins date back to the 1960s. The initial aim of its creators was to obtain a domestic breed that resembled the Jungle Cat (Felix chaus) but had a more manageable and pleasant character.
Present in a large area including Turkey and Malaysia, as well as in Egypt, the Jungle Cats, although considered among the largest species belonging to the genus Felis, nevertheless present considerable differences from one individual to another, both in size and in the color of the hair.
The same peculiarity is found in the Chausie, whose weight can oscillate between 7 and 14 kg.
The Abyssinian played a significant role in the development of the Chausie, thanks to the particular tabby design of the coat.
There is also a black variant of the Chausie and one with a black background but with single white hairs in the body and black at the ends (this particular design was inherited from the Jungle Cat and is not encountered in other breeds).
They are very active felines. Therefore they must be kept in large spaces where they have the possibility to move.
CHAUSIE CAT PERSONALITY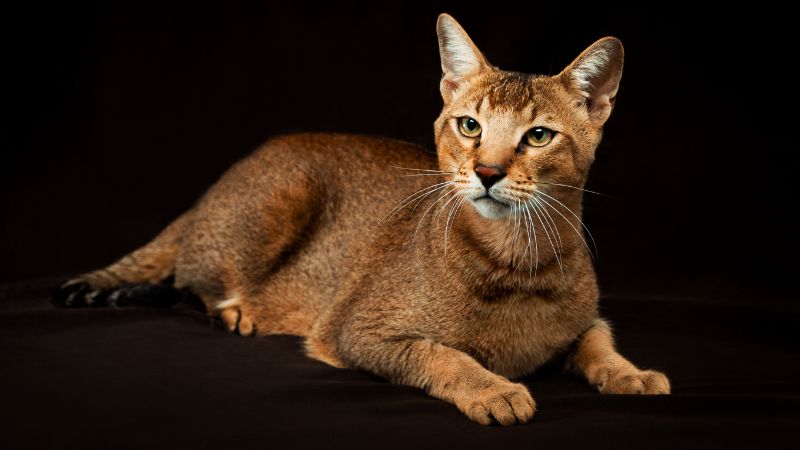 The Chausie cat is lively, intelligent, playful, and curious. However, he is not a cat that likes to take long naps and spend the day cuddling. Although he is affectionate toward humans and other pets, this cat retains some wild instinct, making him an active feline.
However, the level of wilderness depends on how many generations are passed from the original wild ancestor. The first generations that descend from the Jungle Cat are wilder in their temperament.
The Chausie gets along well with other pets, such as cats, dogs, and many other domestic cats. Despite their high activity level, these cats are easy to train because they are also brilliant.
These cats need a lot of stimulation and interaction to do well. They cannot be left in a room with no possibility to exercise their very athletic bodies, and they do not like to be left at home alone without any attention.
Although they get along with children, they have big sizes and are very active. For this reason, you should supervise the interaction with small children to avoid accidents. Also, remember that the Chausie is a larger cat and heavier compared to other domestic cats.
Another peculiarity of the Chausie cat is that he can be trained to walk on a leash, and they do not dislike water.
HOW TO CARE FOR AND FEED THE CHAUSIE CAT
The Chausie cat has a very short coat that doesn't shed too much, although this doesn't make this cat hypoallergenic. For this reason, the grooming required is minimal. It is enough to brush this cat weekly.
Are not required other particular grooming actions besides those generally required for most cats, like ear cleaning or nail clipping. It is not necessary to bathe the Chausie; however, if you wish to do it once in a while, the Chausie likes water, which can make the task easier.
The Chausie has delicate digestion and can be intolerant to gluten. In addition, these cats can develop inflammatory bowel disease and food allergies. Therefore, choose the food for this cat carefully, and avoid high carbs and low-quality food.
They need a high-protein diet. Often fresh food or cooked meat or fish is better than commercial food, which often is filled with colorants and additives. In other words, it is better to provide homemade food or cat food that is high quality.
FREQUENTLY ASKED QUESTIONS
What is the lifespan of the Chausie cat?
Chausie cats can live up to 15 years. However, the lifespan of these cats can increase by providing proper food, medical care, and a good environment.

What is the price of the Chausie cat?
Depending on the generation of the Chausie, the price can range between $500 and $ 10.000. Furthermore, the price depends on the breeder and the kitten's age.

Is the Chausie cat suitable for families?
Chausie cats are suitable for families since they are affectionate and friendly with humans and other pets. But, unfortunately, the wild aspect of their character tends to diminish with each new generation.

What is a Jungle Cat?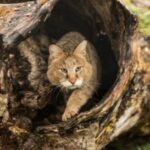 The Jungle Cat, also known as the Felis Chaus, is a medium-sized cat that can be found in the Middle East, Southeast Asia, and China. Its coat is sandy or reddish and doesn't have any spots. This is a solitary cat but a very skilled hunter.
Do the Chausie cats have health problems?
Chausie cats do not have health problems; besides the delicate digestive system, this cat is healthy and doesn't have any other hereditary illness.

Are Chausie cats hypoallergenic?
Chausie cats are not hypoallergenic, although they shed very little, and their coat is very short.