Is there a cat food for cats that only like the gravy? Some cats like to lick the top of their wet food without really eating it. This can be a problem since cats end up not eating enough. Do you have a cat that only licks his wet food or likes only the gravy? We are going to show you possible solutions to this situation.
Cats food for cats that only eat the gravy or the jelly on top of the wet food exist. Some cats are greedy and like the taste of the liquid around the wet food or gravy. Some cats may not even eat the food since they only like the sauce's taste in it. This is not always good because most of the gravy sauce or jelly on top of the wet food is full of colorants and other unnatural ingredients.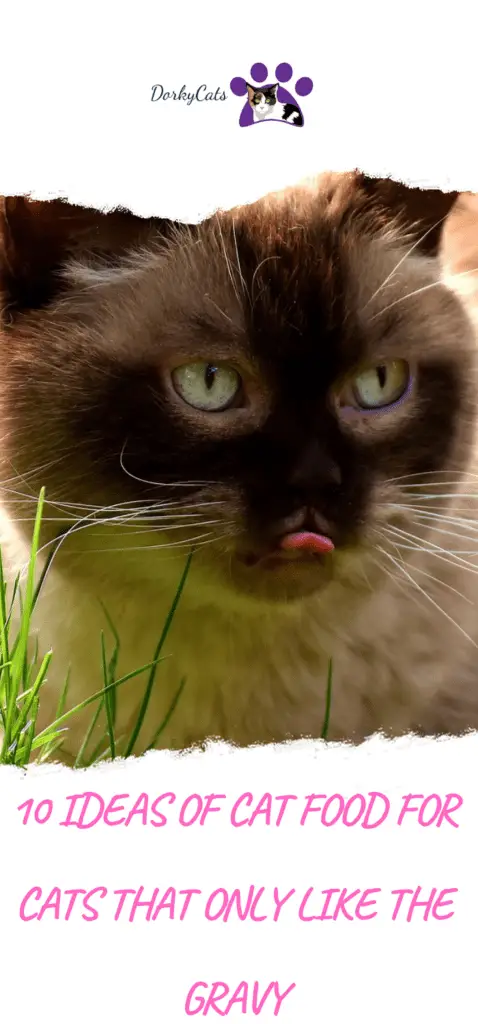 MY CAT LICKS FOOD AND GRAVY BUT DOESN'T EAT
Some cats are smart; they lick the food and do not eat it. They go for the tasty elements and leave on the plate the real meat.
It is like a child that eats the chocolate cake and hides the meat in the napkins or gives it to the dog as soon as the parents turn their head. Then, they pretend they eat it all.
If your cat is a licker and not an eater, it can become a problem since he needs to eat. He can't live his life out of "chocolate"; he has to eat the meat.
Why is a cat only licking the food? Unfortunately, the gravy sauce and the liquid part of the wet food is where all the colorants, carbs, and tasty things are. But, those ingredients are not healthy for a cat. This is also why it is addictive for a cat.
Some of the wet food around is not that good since it is too much processed, and there are too many fillers and non-natural ingredients. The trick is to find natural food for our cat, so they do not get sick over time, and in case of a licker, a good cat gravy or soup that can make him eat as well.
My cat is a licker too. I often trick him by buying soups for him, with pieces of meat or fish. In the end, he ends up eating the meat too. In this way, I got him eating wet food as well, not just licking it.
There are other things you can do to make him eat the food, I'll share some tips down below.
CAT FOOD FOR CATS THAT ONLY LIKE THE GRAVY
The problem is to find good cat food for cats that likes only to lick wet food or like gravy. In fact, we want to find natural and healthy food for our babies, so that they can stay healthy and eat a bit more.
After some research, we came up with a selection of cat food for cats that only like the gravy. But it is also as natural as possible:
It includes:
Sixteen (16) 2 oz. Pouches – Purina Beyond Natural, High Protein, Grain-Free Wet Dog Food Complement, Pacific Tuna Recipe
Made with regionally sourced tuna
Wild-caught tuna is sourced from MSC-certified sustainable fisheries
High in protein
No corn, wheat, or soy
Just perfect for a cat that only wants to lick, he will start eating the rest of the content. A plus is that it is a natural product.
It contains:
High protein because cats are carnivores
Grain free
No potatoes, corn, rice, wheat or processed plant proteins
Non-GMO Ingredients
High moisture to help support hydration
No fillers, artificial colors, flavors or preservatives
It can be a good alternative to give to your cat. He will lick it and eat the meat or fish inside. You can be sure that he will not lick only colorant and preservatives. Look at the ingredients:
Salmon broth, salmon, fish extract, guar gum, xanthan gum.
It contains:
Contains (24) 1.4 Ounce Pouches of Wet Cat Food Toppers (8 Classic Chicken Recipe, 8 Tasty Tuna Recipe, 8 Creamy Chicken Bisque)
All-natural complements for cats made with real white meat chicken or flaked tuna & veggies in an irresistible variety of broths.
Lickable cat treats or meal complements deliver tasty hydration.
Convenient pouches make it easy-to-open and pour.
No grain, corn, wheat, or soy ingredients
This is another great alternative for cats. It is as natural as you can find around and looks really yummy!
It contains:
Wholesome recipes – make your cat purr with recognizable ingredients like flaked fish and pumpkin that offer homemade-like goodness for cats that like real food.
High protein – These meat-forward recipes feature real tuna and Tilapia in a savory broth To give your cat the protein she needs.
Non-GMO ingredients – The high-quality diets you expect with carefully chosen ingredients for your cat.
Superfoods – Each recipe features pumpkin or cranberries for an added boost of vitamins.
Grain-free maintains overall wellness with our grain-free wet cat food made with no corn, soy, potatoes, rice, or wheat.
This goes a bit further adding superfood for your cat, definitely something to try. It is another great natural alternative.
It includes:
HQS (High-Quality Sourced) is made with meat or fish that "originally were fit for human consumption" and that are now used for pet food only
Rotational Diet
Source of High Bioavailable Energy
Low-Fat Content
High restriction standards for heavy metals (Fish only)
Almo has various foods for cats made from natural sources, including some food that cats can lick. Even normal wet food is a good type of natural food.
TIPS TO GET A CAT LICKER TO BECOME AN EATER
Sometimes you can use some tricks to make your cat actually eating his food and not only licking it. For example:
Add some water and mix or blend it. Your cat may decide to eat it all, thinking that it is more gravy.
Use some treats next to the wet food leftover. He may eat the treats and then continue eating the food.
Buy some of the above products and add a bit more of other wet food. He may eat wet food while licking all the rest.
---
Additional Natural Cats Treats Ideas
Preview
Product
Vital Cat Freeze-Dried All-Natural Minnows Cat Treats, 0.5...
Greenies FELINE GREENIES SMARTBITES Healthy Skin and Fur Cat...
Wildly Natural Cat Treat Variety Pack with Chicken, Tuna and...
WELLNESS Kittles Natural Grain Free Cat Treats, Tuna &...
ORIJEN Freeze Dried Cat Treats, Grain Free, Natural & Raw...
Preview
Product
Vital Cat Freeze-Dried All-Natural Minnows Cat Treats, 0.5...
Preview
Product
Greenies FELINE GREENIES SMARTBITES Healthy Skin and Fur Cat...
Preview
Product
Wildly Natural Cat Treat Variety Pack with Chicken, Tuna and...
Preview
Product
WELLNESS Kittles Natural Grain Free Cat Treats, Tuna &...
Preview
Product
ORIJEN Freeze Dried Cat Treats, Grain Free, Natural & Raw...
---
RELATED QUESTIONS
Here some related questions and answers:
Why does my cat only eat the gravy?
Cats are driven by taste. There are many fillers, preservatives, colorants, and those are tasty in today's cat foods. The good taste and flavors attract cats. But it is not a healthy way of eating.
Can I make gravy for my cat?
Yes, gravy can be made at home, boiling the chicken in broth. There are many ways to do it. Cats would like more the chicken done from you. Sometimes I boil a bit of chicken for my cats, and they like it.
Do cats get bored of eating the same food everyday?
If you lived long enough with cats, you know that they get tired of always eating the same thing. You could try to vary the diet from time to time. It is not healthy to eat only the same food every day. Some nutrients could be missing from the diet.
A cat can be used when he is a kitten to eat different things, or simply from time to time vary a bit the food, and see how he reacts.
Is cat food with gravy bad?
It is important to look at the labels and see what is inside any cat food, including gravy. Most of what is around can have a lot of unnatural elements. Therefore try to get the one that is the least processed and the most natural.
CONCLUSION
I hope we were able to give you some good ideas and useful information. If you want to add anything, leave it in the comments below.