SHOULD INDOOR CATS WEAR COLLARS? HOW TO DECIDE
Should indoor cats wear collars? Your cat may have a different idea about collars. What we think is a nice and important thing to place on our cat's neck may not be seen in the same way by our furry friends. But is it so harmful to put collars on cats? We will go over it in detail.
Indoor cats should wear collars if there is a possibility that they go outside. A collar can show a stranger that a cat belongs to someone and can help get him back home. Cats who live only indoors and have no chance to get out could avoid using a collar.
Let's see what are the best practices when placing a collar on a cat and what are the pros and cons.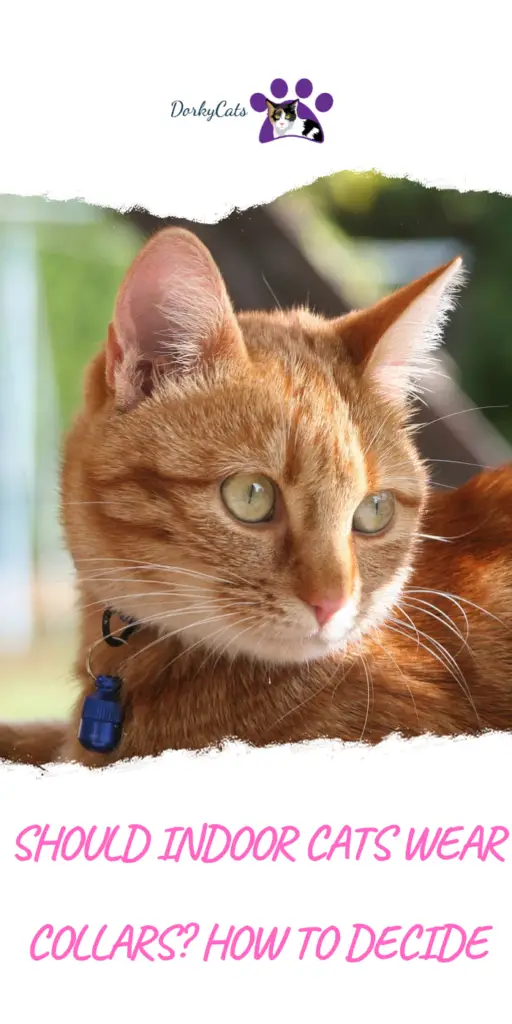 ARE COLLARS UNCONFORTABLE FOR CATS?
If you have ever tried to make your cat wear a collar, you know that some cats do not like it at all and will try to get rid of them. One of my cats went utterly wild and destroyed an entire table and what was in it to get rid of his collar.
On the other side, some other cats may have a different opinion and may allow you to place a collar on them and not create any problem whatsoever. Between those two types of cats, some need a little time to adjust. In the beginning, they may create a problem but then get used to it.
Each cat is different and can react differently to a collar. Collars are not comfortable for cats in general because they are used to the freedom of not having anything on them. However, in my experience, if cats are introduced to collars since they are kittens, they will get used to it way more easily.
Adult cats can be more challenging to educate to a collar, and they are more vigorous and fast to escape when you try to place a collar on them (and they have sharper nails!). If you want to avoid cat scratches, try to introduce your cat to a collar as early as possible.
SHOULD INDOOR CATS WEAR COLLARS?
Now we have established that cats do not like collars, which can be uncomfortable for them. But, of course, there are always exceptions, and some cats with a sweet and friendly personality do not mind it at all.
Indoors cats should wear collars. Collars can save cats' lives when they accidentally go missing and do not know how to get back. A stranger can read the information on them, like a phone number or an address and make sure a cat get back to their owners.
But, the point is more about if indoor cats should wear it or not. It depends on the cat and what they do. If a cat has been educated about collars and can wear them without problems, it is better to make him wear one, especially if there is even a remote possibility for the cat to escape.
When cats are going around without collars, they can be mistaken for stray cats. Unless they end up in a local shelter or to a vet, where they can verify a microchip, there is no way for ordinary people to know that a cat already has a loving home.
For those who know their cats are not going to go out and there is no way they run away and dislike collars, there can be an exception. A cat owner has to evaluate what is best for his cat and decide based on it.
PROS ON CATS WEARING A COLLAR
There are positive points to having a cat wear collars. Here are some:
Identification: when cats get losts, collars help strangers to understand where the cat is coming from and make contact with the owner
Avoid a cat stealing: if there is a collars, people are not going to house or adopt your cat
Decorative functions: some collars do look nice on cats
Recognize which cat it is: in case of cats looking identical, a collar can distinguish them
Make cats visible at night: some collars can reflect light and make cats visible at night, it can prevent accidents and cars hitting them
Help agaist parasites: some collars help cats to get rid of parasites
CONS ON CATS WEARING A COLLAR
There are also some points against the use of collars. Mainly, cats can be very annoyed by collars, and some become very intolerant to them. Here are some of the cons of collars:
Cats do not like them
Can be dangerous for cats: collars can get stuck in things and become dangerous for cats life. One has to choose the most safe collars
Cats can outgrow it: onwers have to regulate the size often to make sure collars are not becoming too small
Collars with sounds are disturbing for cats: collars with bells may be annoying for cats and work against their natural instints.
BEST CATS COLLARS
Here are some of the best collars for cats, as far as safety and other practicalities:
Product
Faleela Cat Collar Breakaway with Bells - 2 Pack Bling...
Taglory Reflective Cat Collars Breakaway with Bell, 2-Pack...
Best For Cats
Kittyrama Tangerine Cat Collar with Bell. Cat Friendly Award...
ICICECREAM 2 PACK Breakaway Cat Collar with Bells &...
Cat Collar Breakaway Bling Skull with Bell - 2 Pack Charming...
Most Complete
GoTags Personalized Cat Collars with Breakaway Safety...
Overview
Product
Faleela Cat Collar Breakaway with Bells - 2 Pack Bling...
Overview
Product
Taglory Reflective Cat Collars Breakaway with Bell, 2-Pack...
Overview
Best For Cats
Product
Kittyrama Tangerine Cat Collar with Bell. Cat Friendly Award...
Overview
Product
ICICECREAM 2 PACK Breakaway Cat Collar with Bells &...
Overview
Product
Cat Collar Breakaway Bling Skull with Bell - 2 Pack Charming...
Overview
Most Complete
Product
GoTags Personalized Cat Collars with Breakaway Safety...
Overview
Collars should be safe for cats. Breakaway collars open up if the collar gets trapped into something, preventing cats from getting strangulated. Bells can be taken away if a cat owner doesn't want them on their cats.
Reflecting collars are best for those cats wandering out at night and preventing cars from hitting them. In addition, some cat collars are hypoallergenic, comfortable, waterproof, and safe for cats.
For example, the above Kittyrama collar has won an award as one of the most cat-friendly collars. In fact, this collar is lightweight, and cats almost do not feel they have it on. It opens up if there is a load above 5.5 lb, keeping a cat safe.
Some collars are customizable and are indicated for writing information like phone numbers and addresses to help people know where the cat is coming from.
SHOULD CATS WEAR COLLARS WITH BELLS?
When deciding if to use bells on cats collars, one has to consider what would be the purpose for it. Unless one is preventing a cat from hunting, bells are unnecessary. In addition, cats do not like bells. It prevents them from moving quietly.
Cats need to protect themselves and follow their instincts. They usually would not wear a bell; therefore, unless necessary for a specific purpose, most probably should be avoided.
Collars have a purpose in case of cats getting lost and have other benefits. Bells can be cute, but if they have no meaning, they can be very disturbing.
Even when cats do not mind having collars or bells, it may not be a good idea for them to go around making sounds at all times. It is up to the cat owner to judge whether or not a bell would be necessary.
SHOULD INDOOR CATS WEAR FLEA COLLARS?
A flea collar is a collar that contains substances able to kill fleas on cats. When cats wear it, a substance is released on a cat's body over time, repelling or killing fleas. They are commonly effective, but they also have side effects.
Even indoor cats can get fleas. They can come in contact with other pets, or even just going on the porch or standing at a window or if they go outside, even for few minutes. Additionally, vet visits can create a situation for a cat to get fleas, and even humans can bring fleas to cats.
A pet owner could decide to place a flea collar on a cat for all those reasons, but there are side effects. Cats lick themselves and can ingest some of the substances used to kill fleas, which is toxic.
Common signs of poisoning are vomiting, diarrhea, drooling, weakness, and some more severe consequences. Therefore, pet owners have to be careful when choosing a flea collar for their cat and making sure to follow instructions.
FREQUENTLY ASKED QUESTIONS
Should kittens wear collars?
Kittens should wear collars if there is any possibility for them to run away and get lost. It can be good to teach kittens to use collars or get them accustomed to them. When cats grow, it is more challenging to get them used to a collar.

How tight should a cat collar be?
A collar should not be tight on the cat's neck. There should be between 2 to 3 fingers of space. Cats should have enough room for movement, but it should not be too loose or cats could take it away, or it can get stuck into things.

Is it OK to leave the collar on a cat?
If cats are at home and all windows and doors are closed, one could safely take off the collar. Ultimately, it really depends on how a cat is getting along with his collar. If a cat has a lot of problems with it, then it is best to take it away when not necessary.

Does my cat need a collar if it's microchipped?
A collar can be the fastest and more visible evidence that cats are belonging to someone and that are not stray cats. Anyone can see it and help the cat to return home or call the cat owner. Microchips are still needed in case a collar is getting lost or broken. Microchips can be identified only from a vet or at a shelter that is provided with the proper devices.

Is it cruel to put a bell on a cat?
Cats do not like bells because it is not natural and it prevents them to be invisible and quiet. Out in the wild, or just outdoor, cats can be heard from other animals, putting them in danger. There should be a valid reason for placing a bell on a cat, otherwise is better to not do it.