DO CATS AND FERRETS GET ALONG? HOW TO MAKE THE BEST FRIENDSHIP
Do cats and ferrets get along? If you already have a cat and are planning to get a ferret or vice versa, it is imperative to plan how to introduce them and make them become best friends or live peacefully.
Cats and ferrets can get along and live in harmony. It all depends on their age, how they are introduced to each other, the living space they share, and each animal's temperament and personality. Domesticated cats have more chances to get along with a ferret.
The following will inform you how to keep pet cats and ferrets together, introduce them properly and create a safe living space for these furry friends.
Let's see how to get a cat and a ferret to become friends.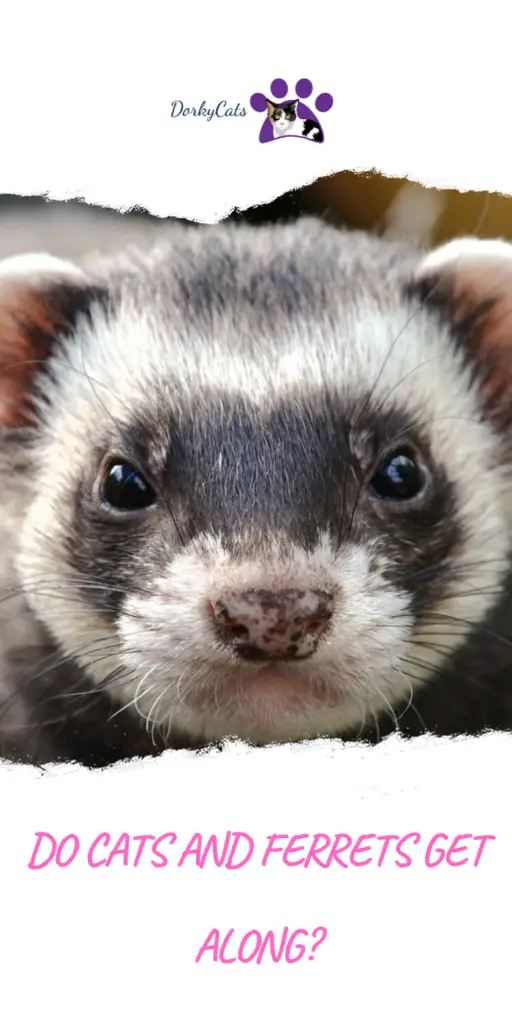 DO CATS AND FERRETS HAVE SIMILAR PERSONALITIES?
If you have a pet cat or ferret and want to introduce another into the home or are thinking about getting these animals as pets, you might wonder if cats and ferrets get along?
Some animals are better off as solo pets. For example, if the cat or ferret is aggressive and doesn't get along with other animals, it will not be suitable to introduce another animal into the home.
Ferrets are social animals who love other ferrets' company and get along well with other animals such as cats. Cats' personalities vary; they can be laid-back, affectionate, shy, or territorial.
So the reactions to each other can be as many as their moods and personalities.
ARE CATS AND FERRETS BOTH ACTIVE?
Cats and ferrets have a similar sleeping schedule – they enjoy napping and can sleep for up to 20 hours a day.
When they are awake, ferrets are very active animals. They are curious and like to explore, so it is essential to have a safe area where they can exercise for a few hours a day. Ferrets are like cats, they have to get into everything, and when they are away, they run a lot.
They also like to play with toys, socks, shoes, and anything they can find that interests them. Cats are most active when they are kittens, but some cats continue to be active and playful throughout their adult lives.
If they get along, they can play with each other and run out the extra energy.
CAN CATS AND FERRET PLAY TOGETHER?
Cats and ferrets are both playful animals, especially when they are kittens. However, ferrets remain more playful even as they get older, and your cat may get annoyed by this as they get older, dependent on their personality.
Although even adult cats like to run around the house and play to chase someone. I have two cats, and despite the age difference, they run behind each other every day. Cats can play in the same way with ferrets and can even be intrigued with the ability of ferrets to hide or sneak into small places.
It is hilarious to see cats and ferrets play with each other.
Any play between cats and ferrets should be supervised to ensure there is no harm done during rough play. Both animals can show aggressive, predatory behaviors such as stalking, pouncing, biting, and swatting.
But, once they become friends, usually they will not harm each other. Cats also know how far they can go with biting during play. So, when they play, they do not bite hard on the playmate.
CAN CATS AND FERRETS BE LITTER TRAINED?
Both cats and ferrets can be litter trained, but they should have separate litter boxes to avoid any territorial or hygiene issues. Ferrets tend not to cover up their waste, so cats would not want to go in an unclean tray.
Both animals are clean and bathe themselves as well as using the litter box.
CAN CATS AND FERRETS EAT THE SAME FOOD?
Cats and ferrets are both carnivores and have a similar diet made up of meat, proteins, fats, and fiber. Chicken, turkey, lamb, and beef are safe for both animals to eat.
When they are both young, they can share food as kitten food has enough protein and fats for ferrets, but adult cat food is not appropriate for ferrets. So instead, you can purchase ferret food which has at least 34% animal meat protein and 22% fat.
The main differences in their diets are that ferrets do not eat fish whereas cats love it, ferrets require more protein and fats, and ferrets eat smaller meals more frequently throughout the day, whereas cats eat 2-3 times a day.
Here are some excellent ideas of food you can feed your ferret, which is different from your cat's food:
Preview
Title
Wysong Ferret Epigen 90 Digestive Support - Dry Ferret Food...
Wild Harvest Advanced Nutrition Diet For Ferrets, 3-Pound
Marshall Premium Ferret Diet Food, 4 Pound, 2 Pack
ZuPreem Premium Daily Ferret Food, 8 lb - Made in USA,...
Kaytee Fortified Premium Pet Ferret Food Grain Free & Gluten...
Preview
Title
Wysong Ferret Epigen 90 Digestive Support - Dry Ferret Food...
Preview
Title
Wild Harvest Advanced Nutrition Diet For Ferrets, 3-Pound
Preview
Title
Marshall Premium Ferret Diet Food, 4 Pound, 2 Pack
Preview
Title
ZuPreem Premium Daily Ferret Food, 8 lb - Made in USA,...
Preview
Title
Kaytee Fortified Premium Pet Ferret Food Grain Free & Gluten...
DO CATS AND FERRETS GET ALONG AND ARE SAFE TOGETHER?
One of the biggest concerns when questioning if cats and ferrets get along is if both animals will be safe around each other.
They are both predatory hunters with sharp teeth and claws who can scratch and bite during fights. Unfortunately, ferrets have poor eyesight, and cats can sneak up and catch them off guard.
Reasons for aggression will be territorial or defensive. For example, if one animal is scared of the other, they tend to become aggressive and strike out. Giving both animals separate areas in the house can prevent any fights over territory.
Interactions between these animals should be supervised for this reason.
HOW SHOULD YOU INTRODUCE CATS TO FERRETS?
If you are familiar with introducing two cats to each other, you have an idea of what it takes to introduce ferrets to cats. It should not be a sudden and scary event, but things should be done gradually.
Here are some of the steps you should take to introduce cats to each other:
1. CONSIDER THEIR AGE
Cats and ferrets should be introduced when they are a similar age and not when one is an adult and the other a baby, as a ferret could hurt a kitten, but a grown cat is larger than a ferret.
They will also adapt more quickly to the living situation when they are younger.
2. KEEP THEM SEPARATED AT THE BEGINNING
Keep them in separate areas at first. Wipe a cloth over each animal and give it to the other to introduce the scent.  Allow them to smell each other in a safe environment. Keep the ferret safe in its cage and allow the cat to sniff it.
3. HAVE THEM MEET UNDER SUPERVISION
Allow them to meet a few times until they are familiar with the scent and seem more comfortable with each other. Then, supervise to keep them safe and allow them an exit point if they need to escape.
4. ALLOW THEM TO STAY WITH EACH OTHER
Once they are comfortable with each other, leave them space to know each other and become friends. Always keep an eye on them.
HOW TO MAKE FERRETS AND CATS GET ALONG LIVING TOGETHER?
There are ways to help your furry friends live in harmony. Here are some things you can do if your cat and ferret have problems getting along with each other:
Provide them with separate areas: Feeding areas and litter trays should be kept separate. Also give them separate beds and toys so they can mark areas and items as just their own.
Provide hiding places: Cats like places where they can be up high, and ferrets like smaller spaces such as tubes that they can hide in.
Feed them separately: Feed them in separate areas and at different times. Ferrets eat more frequently throughout the day than cats, so this will prevent aggression or competition over food.
Spend time with both equally: Show equal love and affection to each pet so there is no jealousy.
FREQUENTLY ASKED QUESTIONS
Do dogs and ferrets get along?
Dogs and ferrets can get along, especially domesticated, and friendly dogs will not attack a ferret if appropriately introduced. However, some dogs may not understand they can hurt a small pet when they move or have it in their personality, not to like ferrets.

Can a ferret kill a cat?
Ferrets can kill kittens, not cats. It is difficult for a ferret to kill an adult cat, although it could happen in some rare instances. But, it is improbable. Kittens are tiny and can succumb to a ferret.

Can cats and ferrets share a litter box?
Cats and ferrets cannot share a litter box because they have different habits when they go to the toilet. Cats might not like the smell of the ferret poop and decide not to use the litter, and the cat litter can be harmful to ferrets.
It is better to keep their litter separated and buy litter made for ferrets.

What animals do ferrets get along with?
Ferrets can get along with cats and dogs, but in some cases, they can also get along with other household pets if properly introduced. Ferrets may react with interest, fear, or aggression, depending on their personalities and experience.
If you have hamsters, birds, or other pets, slowly introduce them to ferrets.

How long do ferrets live?
Ferrets can live between 6 to 10 years. Most likely, the average ferret lives for around eight years. Well-cared pet ferrets can live longer.

Are ferrets safe around cats?
Ferrets that have been adequately introduced to cats are safe around them. If you have supervised them long enough to know they became friends, ferrets are not in danger.

Are ferrets afraid of cats?
In most cases, ferrets are curious about cats and will sniff them and inquire about what they do. But not all ferrets are equal. Some may be afraid and become aggressive.

Are ferrets smarter than cats?
Surprisingly, ferrets are more intelligent than cats. Despite their small size, ferrets can resolve many problems and are intelligent creatures. Humans can only be delighted to have them around.
Ferrets have remarkable problem-solving skills and can even be trained to do tricks and follow instructions.
References
Animal humane society – https://www.animalhumanesociety.org/adoption/ferret-care
ASPCA – https://www.aspca.org/pet-care/cat-care/common-cat-behavior-issues/aggression-cats
Cats Protection – https://www.cats.org.uk/help-and-advice/cat-behaviour/introducing-cats