DO CATS OR DOGS MAKE BETTER PETS? READ THIS BEFORE YOU DECIDE
Do cats or dogs make better pets? Both cats and dogs make wonderful companions which bring you love and joy, but the best pet for you depends on your lifestyle, home, and how much time you have.
Cats or dogs make a better pet for you, depending on your personality, lifestyle, and living conditions. Both types of pets have many qualities and make perfect companions for humans. But owning them has pros and cons, only you know which one fits better for you.
Here we will explore the pros and cons of both cats and dogs to help you decide which is the best pet for you and whether cats or dogs make better pets.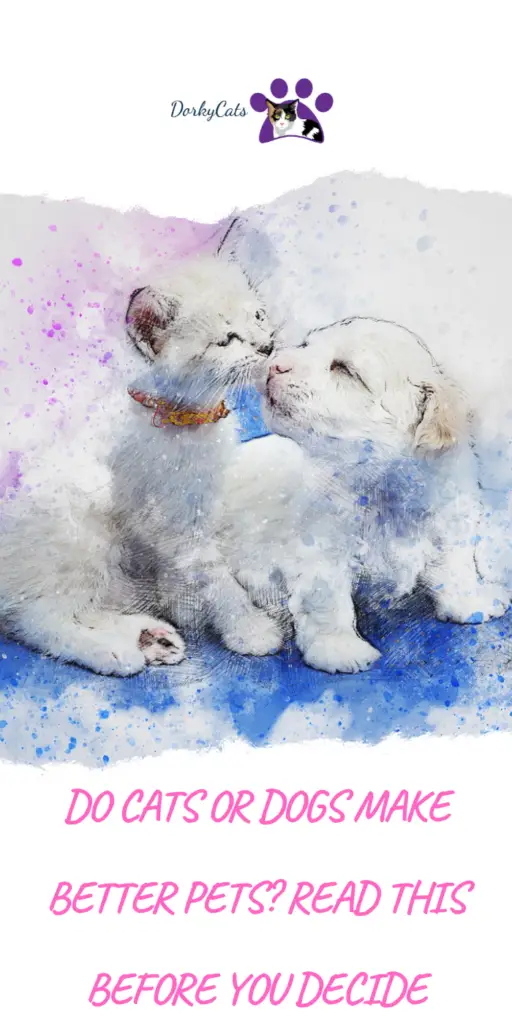 HOW DO YOU KNOW IF YOU ARE A CAT OR A DOG PERSON?
You may be thinking of getting a furry friend for your family home, but this raises the age-old question – do cats or dogs make better pets?
But it is not only about cats and dogs; it is also about you and your personality. Maybe you can benefit likewise from getting a cat, dog, or both. However, if you must make a choice, the first thing to consider is whether or not you are a cat or dog person.
In addition, remember that cats and dogs have their moods and personalities as you have your character. But in general, you can expect cats and dogs to have precise traits that differentiate them.
IF YOU ARE A CAT PERSON
If you are a cat person, most likely you feel in the following way:
You like to have time for yourself
You don't follow the crowd but go your own way
You do not like to have fixed appointment or a time table
You are always after new things
You tend to be easily stressed
You are curious and creative
You are moody at times
You choose carefully your friend
Cats people like to have pet companions that are not too invasive but that at the same time provide love, fun, and all that is to be expected from an intelligent pet like a cat. Therefore, you can expect a cat person to dislike routines and love the fact that a cat is there without being there.
A cat person can enjoy time alone, likes to take time to think before making a decision. The typical cat lover is often a thinker and is sensitive to stress. Because of this, cat lovers like to relax alone, and a purring cat on them is "ideal."
IF YOU ARE A DOG PERSON
If you are a dog person, most likely you feel in the following way:
You like discipline
You like to plann the day, week or month
You are an energetic person
You are positive, enthusiastic, and generally extroverted
You are trusting and affectionate in general
You are a very social person
Dog people like to plan their day and have the energy to spend. Dogs require more attention than cats and require dogs owners to be active and play with them. Dogs are more invasive than cats (and in most cases also bigger!).
A dog person tends to have a more active lifestyle than a cat person and doesn't mind an invasion of personal space.
PROS OF HAVING A CAT
Cats have a series of positive qualities; consider them carefully before deciding to adopt a pet:
CATS ARE LOW MAINTENANCE
Cats are easy to care for and are happy to nap for a lot of the day. You do not have to bring them out, 2 or 3 times a day. If you provide all they need, cats can manage to take care of themselves.
CATS ARE INDIPENDENT
Cats do not need constant attention and are content to be left alone. Of course, they still need love and affection, but most cats are not clingy or do not require you to pet them all the time. However, you still need to make them feel your love and play with them.
But you can get away with it sometimes. For example, cats have their own interest during the day that do not require your participation, such as playing with toys, other pets, watching the birds, sleeping, and eating.
CATS GROOM THEMSELVES
Cats are spotless and hygienic animals that rarely need brushing or bathing. They are capable of taking care of their grooming without your intervention most of the time. Some cats do not even like to be touched.
Although cats are so independent, you can't forget about them. They are still living beings and need love and care, even if cats are less demanding than dogs.
CATS DON'T TAKE UP MUCH SPACE
Cats can fit into compact living spaces, just needing a bed, feeding area, and litterbox. Cats can stay safe inside or take themselves outside through a cat flap.
They can go to the toilet when they want and go out to explore. In addition, cats can find their way home if you train them to be outdoors too.
CATS ARE QUIETER
Even if they are noisy cats, it is less volume than a barking dog. Most cats do not meow a lot, although they may vocalize at night when they are in heat. But dogs really know how to be loud.
KEEP THE HOUSE FREE OF BUGS
Cats can keep vermin-like mice and rats out of your home. So if you want to make sure that nothing enters your home, cats are perfect. They will hunt all bugs and will keep away mice just with their presence.
When mice sense the presence of cats, they stay away from your home.
CATS REDUCE STRESS
The frequency of the vibrations of cats purring is seen to have healing qualities. In addition, cats are known to have beneficial effects on humans.
CATS HAVE A LONGER LIFE EXPECTANCY
Cats live longer than dogs on average. So you can expect your beloved pet to stay with you and make your life happier for a longer time.
CONS OF HAVING A CAT
But even cats have some negative points. Here are some problems you can expect to encounter when you adopt a cat:
NOT EASY TO TRAIN
Cats cannot be trained quickly and often don't react to their names or obey commands. So if you adopt a cat, you have to know that you need a lot of patience trying to get a cat to do what you want.
In addition, you should prepare yourself for the fact that your cat may decide to ignore your orders when he wants.
CATS DEVELOP HAIRBALLS
Cats often sick up hairballs and vomit. So you have to take the time to clean up after them and also have to take care of their health properly.
CLEANING ISSUES
The smell of the litterbox in the house and cleaning it is off-putting. However, if the litter box is not cleaned often, and the area where your cat is are not routinely cleaned, your house can develop a bad small.
CATS ARE WEIRD
Cats can bring you dead animals as a gift. Although cats can be funny-weird, sometimes you should expect dead animals as presents, crazy runs around the house, and other inexplicable things.
PROS OF HAVING A DOG
Dogs are the ultimate pets. They are intelligent, goofy, fun, and can help humans in so many ways.
Here are the positive points of having a dog:
DOGS ARE AFFECTIONATE
Dogs are incredibly affectionate and loving. They are called man's best friends for a reason! Dogs are very responsive to their owner's emotions and require constant attention.
They are there to provide affection when you need it and are loyal.
THEY ARE LOYAL
Dogs are loyal to their owners and protective over them, making wonderful guards and watchdogs. Dogs are known to give their life to save their owners. In addition, some dog breeds are known to be excellent swimmers and rescuers.
Dogs can be trained to be service pets and can do a lot to improve their owner's health.
DOGS CHEER YOU UP
Dogs are always happy to see you when you get home and will excitedly greet you, which will cheer you up. They can understand your emotions and be near you when you are sad. In addition, they are goofy and funny. So you will find a way to enjoy their presence.
THEY ARE EASY TO TRAIN
Dogs respond to their name and interact with their owners more. In addition, dogs are easy to train. They can quickly learn commands, tricks, and toilet training.
Dogs can be trained to do jobs and services, are brilliant animals who do lovely service to society. But, not only are they great therapy animals, they benefit the community working with the police and with the army.
DOGS KEEP YOU ACTIVE
Dogs help you get exercise. They need walks every day, so there are no excuses for the owner to get out and walk.
DOGS ARE SOCIAL
Dogs usually get along well with other animals, and you can also meet other dog owners on walks and at the dog park.
CONS OF DOGS
Although dogs are wonderful like cats, they also carry some problems you have to consider before adopting them.
Dogs are more high maintenance and expensive.
Dogs can't be left alone.
Dogs need to be bathed and groomed regularly.
Not everyone has time to take their dog on walks.
Owners have to pick up poop on walks.
FREQUENTLY ASKED QUESTIONS
Why are cats better than dogs?
Cats are better than dogs because of their independence and low maintenance qualities. But they are still very intelligent and affectionate pets. On the other hand, dogs require more attention and routine care.
Why are dogs better than cats?
Dogs are better than cats because they are easy to train, very intelligent, funny, and can do many helpful things for humans. In fact, they are wonderful service pets.

Should I get a cat or dog first?
If you should get a cat or dog first depends on your personality and what fits better for you. If you like the energy a dog can inspire, that is the best choice. On the other hand, if you want a pet that can be there for you without invading your space, then a cat is best for you.

Do cats or dogs cause more damage?
Dogs are bigger and stronger and are capable of causing more damage than a cat. But, cats can do much damage too over time with their constant chewing and clawing.