ARE CLAW CLIPS BAD FOR CATS? [NOT ALWAYS, AND HERE IS WHY]
Are claw clips bad for cats, or can they be used in some circumstances? Cats claws clips or caps have a terrible reputation for hurting cats, making them uncomfortable, or even preventing them from self-defense.
Claw clips can be harmful to cats if misused. Cats have sensitive skin and delicate fur, and claw clips can cause pain, discomfort, and damage if they are tightened too much, left on for too long, or placed in an uncomfortable position.
But it is not always the case. It depends on the situation and the cat. Let's see how.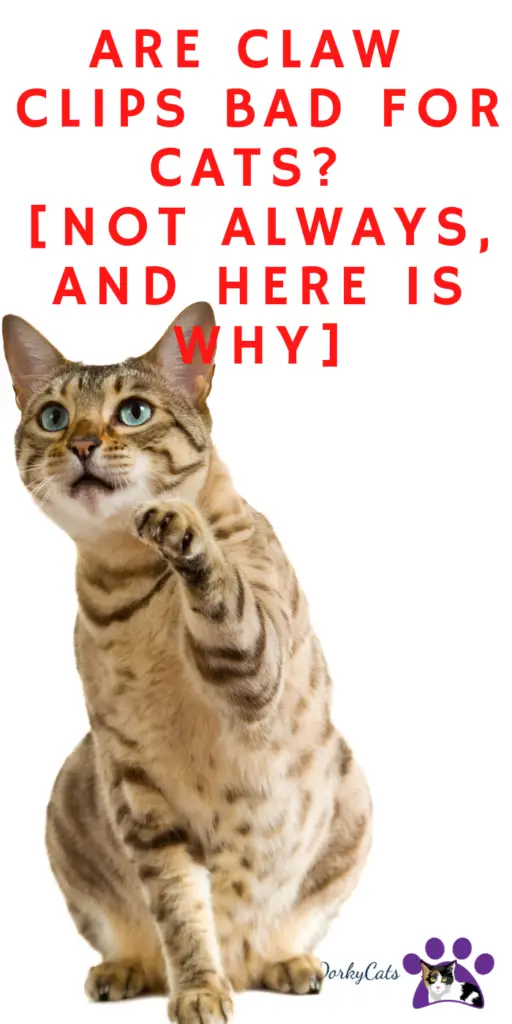 DO CATS CLAW COVERS HURT THE CAT?
Not always cats claw covers will hurt a cat. But it is very possible that in the beginning, due to errors and trials in the application, cats could experience some pain. Cats also need to adjust to them.
It can take some time for a cat to feel comfortable with claw covers. Some cats may try to chew or bite the clip, which can cause injury or lead to choking. Cats owners need to supervise their cats at the beginning closely.
Cat claw covers, also known as soft paws, can cause discomfort to some cats. The process of applying the covers involves trimming the tips of the cat's claws and slipping a plastic cap over the trimmed nail.
In some cases, the covers may fall off and be swallowed, which can be dangerous. Therefore, it's essential to consult a veterinarian before using claw covers and monitor the cat for any signs of discomfort or distress.
ARE CLAW CLIPS BAD FOR CATS, OR ARE THEY SAFE?
Claw caps are generally considered safe for cats when used correctly. However, like any other product, they can cause discomfort, inconvenience, or even harm if misused.
Some cats may experience pain or sensitivity in their paws. However, with a proper introduction, best if done by gradient, claw caps are totally safe for cats.
HOW TO PLACE NAIL CAPS ON CATS
Placing nail caps on cats requires patience, practice, and a calm and gentle approach. Here are the steps to follow:
Gather your materials: You will need the nail caps, a tube of adhesive, and a pair of scissors. You may also want treats or a toy to keep your cat calm and distracted.
Trim your cat's nails: follow the instructions given below.
Apply the adhesive: Squeeze a small amount of adhesive into the bottom of a nail cap, and use a toothpick or similar tool to spread the adhesive evenly inside the cap.
Place the nail cap: Carefully place it over your cat's nail, ensuring it's positioned correctly and not too tight or loose. Hold the cap in place for a few seconds to allow the adhesive to bond.
Repeat the process: Repeat the process for each nail, working on one paw at a time. If your cat becomes agitated or uncomfortable, take a break and try again later.
It's essential to be patient and gentle when placing nail caps on your cat, and never force them on or use any type of restraint.
HOW TO CLIP CATS CLAW SAFELY?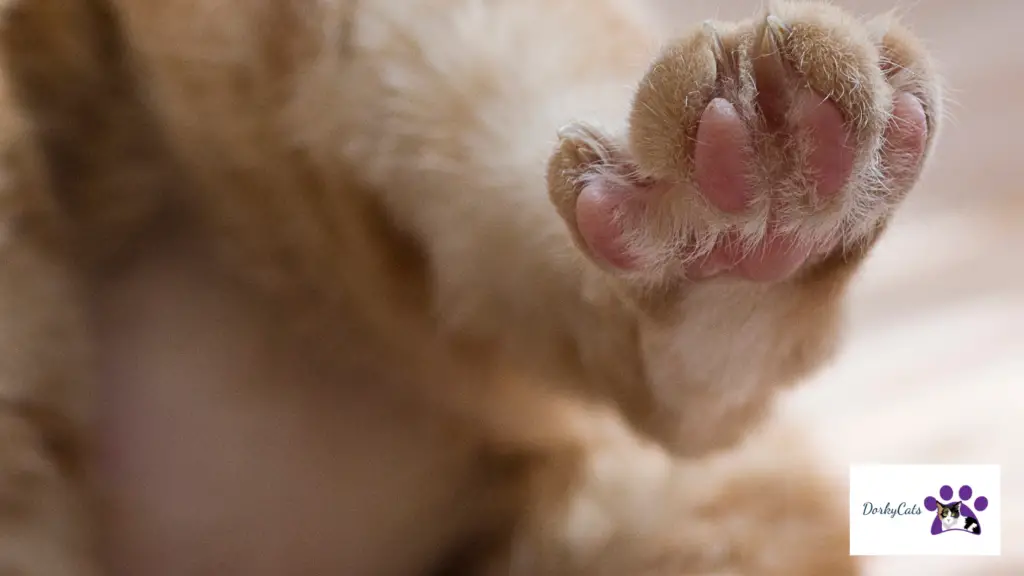 If you want to use cat claw clips or cover, you must deal with your cat's willingness to have his paws touched. Some cats are very sensitive when it comes to their paws, and they do not like others to touch them.
In my experience, even after three years of happy domestic partnership, one of my cats will not allow me to touch his paws. Maybe he lets me touch for a few seconds the front paws, but not the rear.
So, if you have a cat like this, you need assistance to apply the covers. Clipping a cat's claws can be done safely by following these steps:
1. GATHER THE NECESSARY SUPPLIES
You will need a pair of sharp, cat-specific nail clippers and a styptic powder or cornstarch to stop any bleeding in case you accidentally cut the quick (the blood vessel inside the nail).
2. MAKE THE CAT COMFORTABLE
Hold the cat securely but gently, and offer praise and treats to calm and reassure them. Ask for help if you need it.
3. LOCATE THE QUICK
For lighter-colored nails, the quick is visible as a pinkish hue inside the nail. For darker nails, you will need to look closely to see where the nail begins to curve and become opaque.
The "quick" is the sensitive inner part of a cat's nail that contains blood vessels and nerves. It is usually visible as a pinkish hue in lighter-colored nails and is the area that you should avoid cutting when trimming your cat's nails.
If the quick is trimmed or cut, it can cause pain, bleeding, and discomfort for your cat. In addition, the quick becomes longer as the nail grows, so it's important to regularly trim the nails to keep the quick from becoming too long.
When trimming your cat's nails, it's essential to look closely for the quick, especially in darker-colored nails, and only to cut the tip of the nail that extends beyond the quick.
4. TRIM THE NAILS
Hold the clippers at a 45-degree angle and gently squeeze to cut off the tip of the nail, avoiding the quick. If you do accidentally cut the quick, apply the styptic powder or cornstarch immediately to stop the bleeding.
5. REWARD THE CAT
Offer your cat praise and treats to reinforce positive behavior.
CAN I ALSO GO TO A CAT GROOMER FOR NAIL CLIPPING?
Yes, you can go to a cat groomer for help with clipping your cat's claws. Cat groomers are trained in handling and grooming cats; many are experienced in clipping claws. They can provide you with guidance and support and help make the process easier and less stressful for both you and your cat.
SHOULD I CLIP THE BACK CLAWS OF MY CAT?
Yes, you should clip your cat's back claws as well. Cats have retractable claws and use their back claws for stretching and scratching. If the back claws are not trimmed regularly, they can become overgrown, causing discomfort and interfering with the cat's ability to move and play.
Trimming the back claws is just as important as trimming the front claws, and it should be done as part of a regular grooming routine.
ARE CAT NAIL CAPS AN ABUSE?
Whether or not cat nail caps are considered abuse is a matter of debate. However, some people believe that using cat nail caps is a humane alternative to declawing, as it allows the cat to retain its claws while reducing the risk of damage to furniture and other household items.
However, others argue that cat nail caps are unnatural and may cause discomfort or inconvenience to the cat.
It's important to remember that cats have a natural instinct to scratch and mark their territory, and clipping or covering their claws can interfere with this behavior.
Additionally, some cats may experience discomfort or pain when the nail caps are applied or removed or if the caps fall off and are ingested.
Ultimately, the use of cat nail caps should be based on careful consideration of the individual needs and preferences of the cat and should only be done under the guidance of a veterinary professional.
It's always a good idea to explore all options and choose the best option for your cat's health, well-being, and happiness.
DOES CLIPPING CAT NAILS HURT?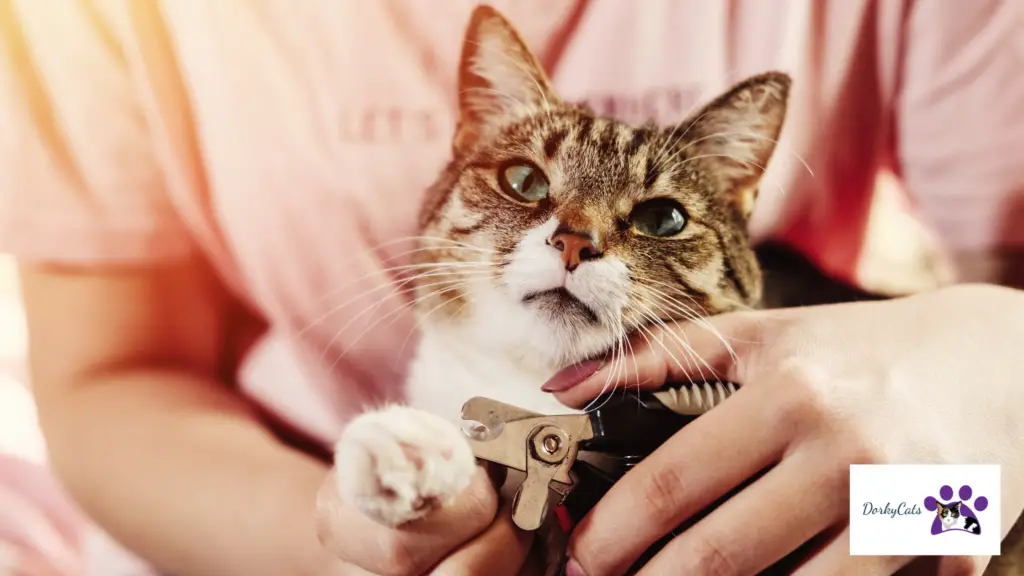 Clipping a cat's nails can be uncomfortable or even painful for some cats,significantlyy if the quick (the sensitive inner part of the nail containing blood vessels) is accidentally cut.
However, the experience can be relatively pain-free for most cats with proper technique and a gentle approach.
Getting your cat used to having its paws handled from a young age and gradually acclimate them to the nail-clipping process by offering treats and praise.
You should also choose a sharp, cat-specific nail clipper, and be gentle and patient as you trim the nails, taking care to avoid the quick. If you do accidentally cut the quick, you should apply styptic powder or cornstarch to stop the bleeding.
With time and patience, most cats will become more relaxed and comfortable with the nail-clipping process.
DO NAIL CAPS PREVENTS CATS FROM DEFENDING THEMSELF?
Yes, cat nail caps can limit a cat's ability to defend itself.
Cats have a natural instinct to scratch and use their claws for defense and to mark their territory, and covering their claws with nail caps can interfere with these behaviors.
In some cases, alternative solutions, such as the use of scratching posts, may be a better option for your cat's health, well-being, and happiness.
WHICH CATS CAN BE A GOOD CANDIDATE FOR NAIL CAPS?
A good candidate for cat nail caps is a cat who:
Has a tendency to scratch furniture or other household items.
It is not aggressive or highly territorial.
Is comfortable having their paws handled.
Does not have any underlying health conditions that would prevent the use of nail caps.
Cats with relaxed, easy-going personalities, which are used to being groomed and having their paws handled, are generally the best candidates for nail caps.
Nail caps are not recommended for aggressive, highly territorial cats prone to biting or scratching when their paws are touched.
WHAT CAN I DO INSTEAD OF USING NAIL CAPS?
There are several alternatives to using cat nail caps, including:
Regular Nail Trimming: Regular nail trimming is the most effective way to keep your cat's claws from damaging furniture or other household items. The process can be relatively pain-free for most cats with proper technique and a gentle approach.
Scratching Posts: Providing your cat with various scratching posts can help redirect their scratching behavior and reduce the need to use their claws on furniture and other household items.
Positive Reinforcement Training: Training your cat to scratch a designated surface, such as a scratching post, can effectively modify its scratching behavior.
Diversion Tactics: Diversion tactics, such as redirecting your cat's attention with toys or treats, can help prevent scratching on furniture and other household items.
Soft Paws: Soft Paws are a type of cat nail cap that is made of soft vinyl material. Unlike traditional cat nail caps, they are designed to fall off naturally over time and do not require removal.
FREQUENTLY ASKED QUESTIONS
Do vets put on claw caps?
Yes, some veterinary professionals offer nail cap placement as a service for their clients. The procedure is typically performed by a licensed veterinary technician or veterinarian and may be done during a regular wellness visit or as a standalone service.

How long do cat claw caps stay on?
The lifespan of cat claw caps depends on several factors, including the caps' quality, the nails' growth rate, and the cat's activity level. On average, cat claw caps can last from 4 to 6 weeks before they need to be replaced.
Can cats remove claw caps?
Yes, some cats can remove their own claw caps. This is more likely to occur in cats who are especially active or playful or have vigorous chewing or scratching habits.