19+ BEST CAT SUBSCRIPTION BOXES | HOW TO FIND THE BEST
Best cat subscription boxes: have you ever wondered if there is a way to surprise yourself and your cat every month? Or surprise another family member or friend who is a cat lover? Have you ever thought about subscription boxes?
A subscription box is a nice way to surprise your cat and yourself. It is a monthly subscription to a box full of treats and various items delivered to you. You do not fully know what is inside, even though you can choose the type of item, like treats, toys, food, and so on. Those monthly subscriptions can be interrupted at any time, and there are many types of cat subscription boxes.
"This blog is readers-supported, and this post contains affiliate links, which means I will make a commission at no extra cost to you should you click through and make a purchase."
Let's see what is there to choose from.
BEST CAT SUBSCRIPTION BOXES
What do we want to see in one of those boxes to place it amongst the best cat subscription boxes?
We want to see the value, we want to see a nice combination of items that can surprise and bring joy to the cats and their owner, the ability to create every month something different, and we want to see something inside that cats normally are going to like and be attracted.
To help you out, we have put together a grid showing each box, type of items, and prices, and below that, the full description.
Here is our selection:
Here we will describe each cat subscription box, so there are more elements to decide what cat subscription box fits you.
0. KIT NIP BOX
Here is an example of what can be in the box:
Handmade Catnip Bell. 100% wool felt, stuffed with irresistible, all-natural, locally grown catnip.
Refillable Catnip Heart Toy. Tell your cat(s) you love them with this beautiful heart. The toy contains AAA grade catnip for extra fun!
Caterpillar Kicker. A big, fun kicker toy for your kitty to bat, kick, and hug!
Festive Fun-Filled Felt Toy. Crinkly and bright, this toy will have your kitty purring with delight.
Includes a bell for bonus purrs!
Zuke's G-Zees Tender Grain-Free Treats. These tender, delicious turkey treats also offer powerful joint support and promote urinary tract health for cats.
[et_bloom_inline optin_id="optin_3″]
1. CAT LADY BOX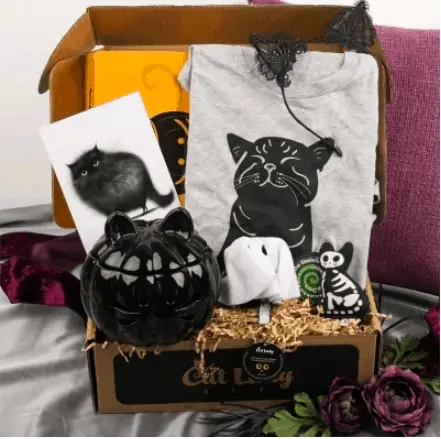 This particular subscription box is perfect for people who are obsessed with cats. It is a perfect box for yourself, family members who are into cats, and friends. If you want to surprise a friend with this box, it is filled with a Cat Lady and toys for a cat. So the owner and cat can have a pretty nice time.
In this box you can find T-shirts to wear, and when you order you need to indicate the size.
Inside the box: EXCLUSIVE CAT LADY ITEMS + CAT TOYS, TOO: Get a box full of unique and amazing cat-themed items for YOU, plus premium toys for your cats, too!
And $70+ VALUE IN EVERY BOX: Each "Crazy" CatLadyBox contains 3-4 items for you plus 2 toys for your cats… for a total retail value over $70!
2. CATTITUDE BOX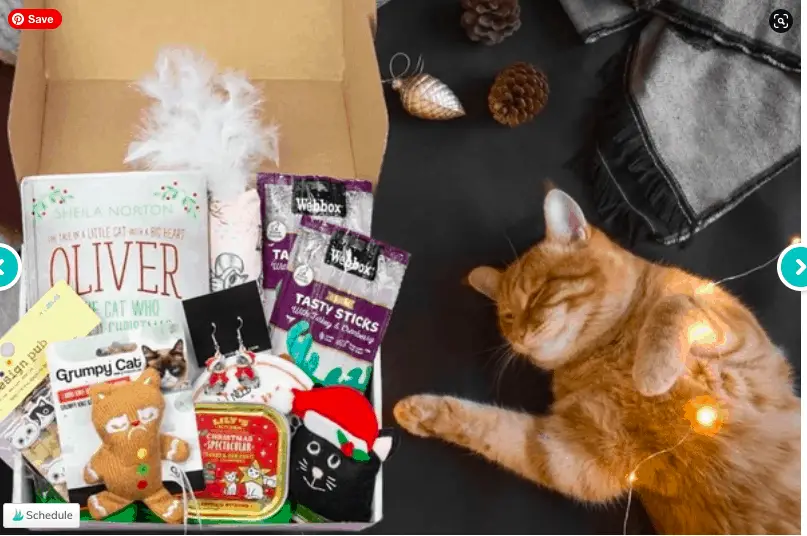 This is one of the best boxes since it contains handmade toys, tasty food. This type of box is designed for cat ladies in the main. The quality of this box is very high. You can change the type of food if your cat is problematic about it.
Those boxes have a quirky cat-themed lifestyle/home accessories; the theme changes every month. Therefore it is always a surprise. Pamper your cats and show them how fur-tunate they are while enjoying a few treats yourself!
3. MEOWJANE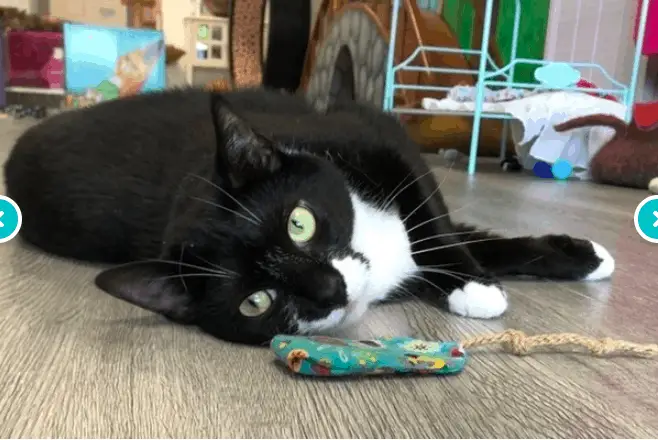 This is a cat box that your cat is going to love very much: Every month. You will receive a handmade refillable mouse toy with either a single serving of either our all-natural Catnip, Coarse Ground Silvervine, or Valerian Root. The mice feature adorable patterns or a seasonally themed fabric.
This box is mainly for the furry friend and for us enjoying seeing our cats thrilled about a new toy. The box is:
Handmade with love in the USA
All-Natural Catnip, Silvervine or Valerian Root
Safe and Healthy- Promotes play and helps to relieve anxiety and boredom in house cats
Great for individual play and interactive play
4. PAWS & CLAWS KIT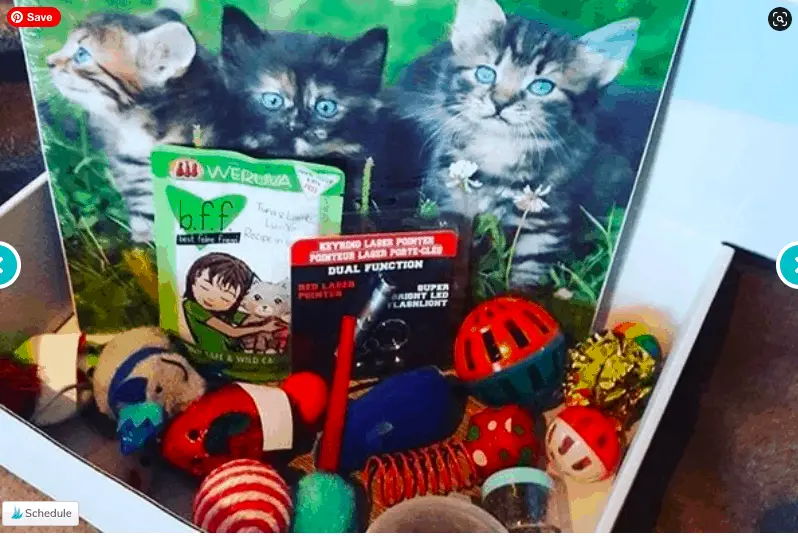 This box provides great variety and a lot of toys for your cat; you will be surprised with toys, treats, cups, and other items that will make you and your cat love it.
Paws & Claws Kit is a subscription box that makes being a cat owner easy. Every month you will receive a box filled with treats, toys, food, nip, and accessories your cat will love. Guaranteed to have them purring. We leave a special gift for you too!
Includes:
Different box every month!
It always includes treats, yum!
Fur parents receive a gift in every box too!
High-quality cat products in every box!
FREE SHIPPING!
5. PAWS & POUR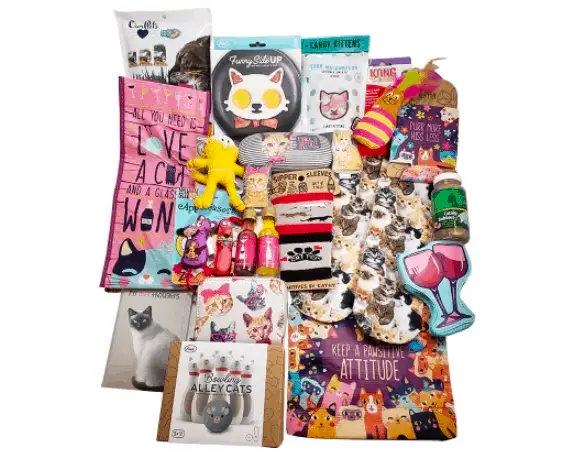 It is a box for cats owners who also love wine.
Paws & Pour brings you a monthly, specially curated subscription box, with 4-6 goodies for YOU & your DOG, CAT, or BOTH! Fun, unique, dog or cat, wine & seasonal themed merchandise perfectly arranged & shipped right to your door. Purr yourself a drink, snuggle your furbaby & have a great time unwrapping & enjoying your gifts together.
High quality, fun & unique products for you & your dog, cat, or both, every month. **Please note 4-6pcs included in each box. The number of items for hooman, dog, cat, or both will vary.
New dog or cat, seasonal & wine themed products catered to you & your furbaby.
Exclusive & limited edition items
When included, wine is only for dogs & cats. Wine themed goodies & related products for humans.
A portion of every box is donated to animal rescue organizations
6. CRAZY CAT CRATES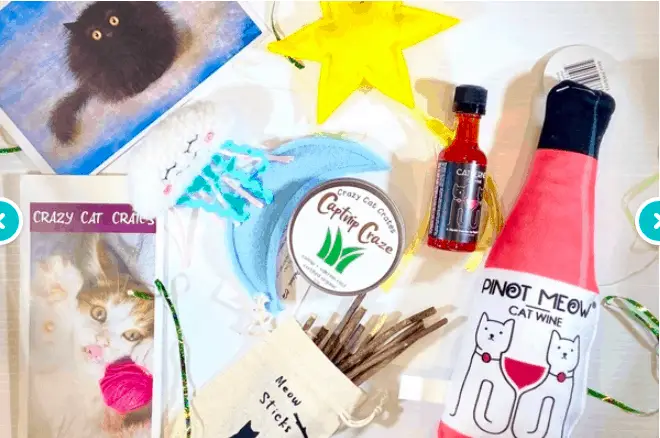 Crazy Cat Crates is a premium cat toy and treats subscription box. Each box is curated from a place of love for our cats, containing high-quality products including handmade cat toys, cat treats, and certified organic catnip made from small business independent makers.  You will also receive a unique art print with helpful cat care tips.
It includes:
Specially curated PREMIUM cat toys and treats.
We prioritize SMALL-BATCH and HANDMADE products created by independent makers.
Five products in each box, including unique items created exclusively for Crazy Cat Crates.
We donate to cat rescues and organizations as our commitment to the well-being of our furry friends.
We prioritize products MADE IN THE USA
7. GUS & BELLA BOX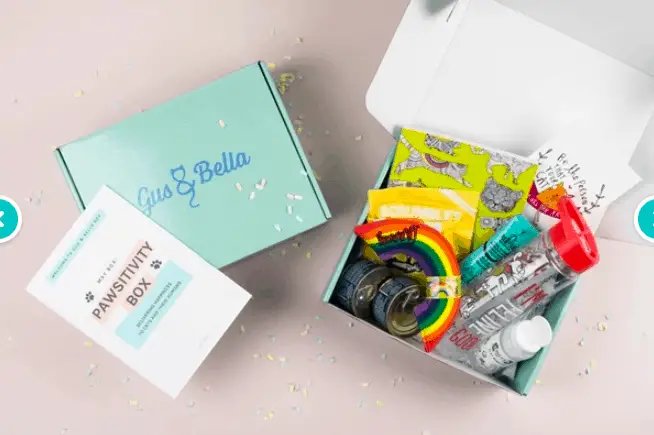 The most exciting & on-trend subscription box to treat your cat (and yourself!) each month or as a one-off gift. With adorable monthly themes, golden ticket opportunities, and the chance to discover & save on innovative cat toys, pioneering health products, delicious natural cat food/treats, and adorable gifts for cat lovers.
It includes:
Cute monthly themes (ie. Santa Paws (Christmas), Feline Spooky (Halloween) & Take Meowt (Valentines)
Chance to FIND a Golden Ticket in your box with a cat-themed prize up for grabs
Natural, high protein food for cats plus unique, innovative cat toys from new brands you might not yet have discovered
Stylish, tasteful & useful cat-themed goodies for humans. Lifestyle, self-care, confectionery, accessories, etc., all tailored to a monthly theme.
Custom boxes for kittens, sensitive cats, and the unashamedly fussy!
8. PET CLEVER MEOW! BOX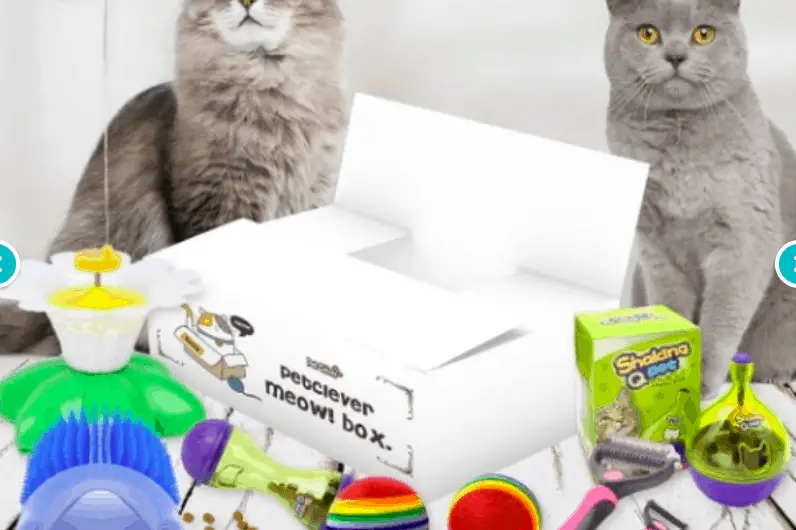 Get your favorite cat (or cat lover) this monthly subscription box packed with the best high-quality cat toys, cat costumes, and other fun cat products. It is a box that helps stimulate and enhance your cat's ability.
Shipped automatically to your doorstep
Easy cancel at any time
Find something new for your cat to enjoy every month
9. PET THRIVE BOX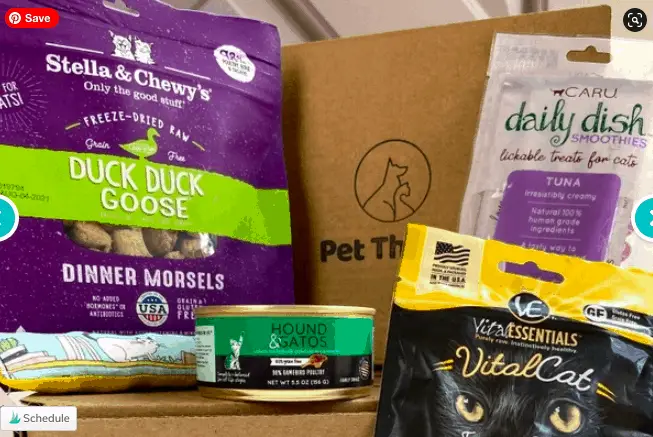 A one-of-a-kind monthly assortment of exciting pet foods, treats, chews, and supplements specifically tailored for dogs and cats. Each subscription box is cautiously curated by a Certified Clinical Pet Nutritionist who specializes in species-appropriate holistic health and nutrition. Nothing will go into the boxes that would not be given to our own.
It includes:
Flexible plans
Every other month plan
Yearly savings
Certified Clinical Pet Nutritionist curated
New and unique food, treats, and supplements
If you want a box with cats food only, this is your box.
10. LIL COOPERCCINO SHOP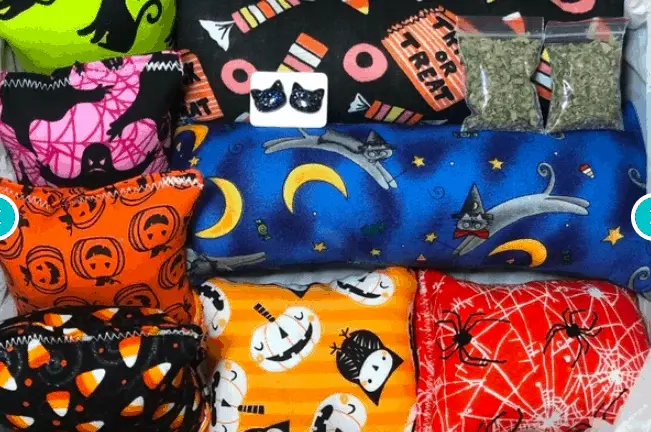 Quarterly Organic Catnip Toy Subscription Box: This box collects great catnip toys, beautifully designed.
It includes:
ONE CAT TOY BOX: – 1 XL Kicker Toys – 3 Small Pillow Toys – 1 Small Bag of Loose Organic Catnip – 1 Piece of Handmade Cat Themed Jewelry – 1 Handmade Reversible Collar Slip Pet Bandana. MULTI CAT TOY BOX: – 2 XL Kicker Toys – 6 Small Pillow Toys – 2 Bag of Catnip, 1 Piece of Jewelry, and 1 Bandana.
Box exclusives!
Quarterly themes!
All organic catnip!
Everything handmade with love!
New releases every quarter!
11. PET TREATER
Here is what you will find in this box: each pack is filled with 3-4 hand-selected items, featuring various super fun toys, mostly USA & Canada made treats (never China), & Extra Goodies!
Some facts about this box:
The first pack ships immediately filled with the most popular fan favorite!
Every shipment leaves our warehouse around the 10th
You can count on the value being MUCH great than the monthly cost!
Canceling is easy, and you can do it anytime!
12. THE CAT CAFE' BOX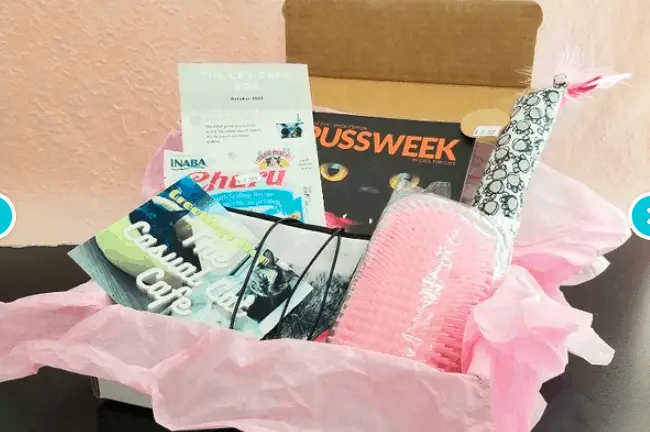 The Cat Café Box is a subscription box that allows you to experience, support, and learn about cat cafes across the nation, all from the comfort of your home! The box will feature 4-6 cat-themed items for yourself and your cat!
It includes:
Box Items will Retail around $50-$55
One Featured Item from that Month's Represented Cat Café.
Cat Items are Specially Selected Based on what theirs Adoptable Lounge Cats Enjoy
Each Box Helps Support the Featured Cat Café by Donating a Portion of that Months Proceeds to Them!
13. WORDS & WHISKERS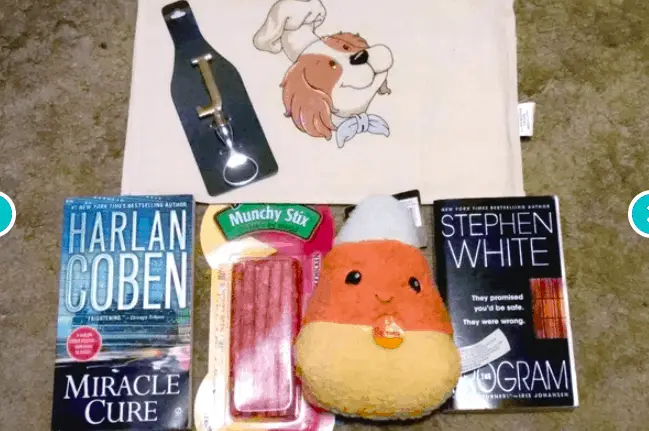 The Words & Whiskers Box contains items carefully chosen for the pet lover who enjoys relaxing & reading. Included in this box are secondhand books of your chosen genre, items for your pet to enjoy, and pet-related & relaxing items for you!
You can choose between basics, deluxe and premium boxes. One box includes:
2-3 Secondhand Books (depending on Box level)
1-3 Items for your Pet (depending on Box level – may include treats, toys, accessories, grooming products; 1 Kong item in the Premium Dog Box)
1-2 Bookish, Pet-Related, or Relaxing Items for you (including a Premium item for the Premium level box!)
Order the Premium Box for the most bang for your buck! *Includes 1 Premium item not found in the Deluxe or Basic boxes*
14. THE KIT TEA KIT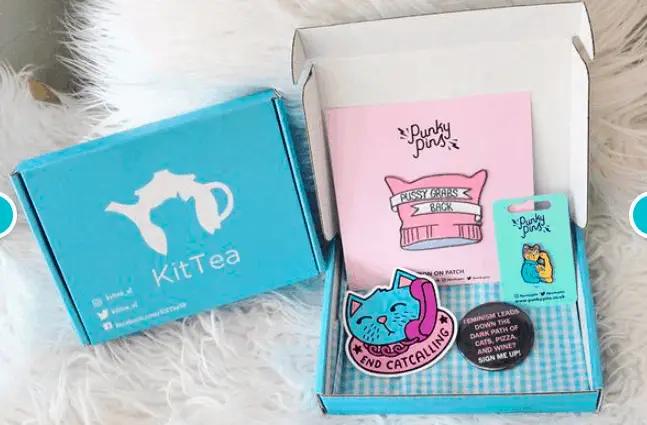 This is a box for cat ladies. It is for cat lovers and owners. There aren't items for cats but cat owners.
Join The KitTea Kit subscription to receive a monthly delivery of cat-tastic, cat-centric other fur-bulous accessories for yourself or the cat lady in your life. Each monthly box comes with 3-5 items ranging from lapel pins, patches, buttons, stickers, socks, stationary, and meowch meowr! Each box supports KitTea Cat Cafe's cat rescue efforts!
It includes:
New cat-related items every month
Features products from cat-loving artists
You get the bling – your cat gets the box!
15. PETURE PERFECT
For this particular box, they will use your own photo or create a hand-drawn illustration of your pet, which forms the basis of all the wonderful things to come… Each month you will receive an adorable item (maybe a mug, notebook, or coaster – we want to keep back some surprises) featuring your pet's image as well as a couple of other goodies.
It includes:
Pawtrait boxes include the creation of a unique personalized head & shoulders illustration drawn from your photo WORTH $40
Each month's box includes several gifts for your home, including your pet, such as a clock, tote bag, pet treat recipes, or coaster.
Ships worldwide at just $3 per month
An artist personally creates all illustrations.
You can change the image every three months in the Pawtrait Clubs or as often as you like in the Photo Clubs
16. CATNIPPORIUM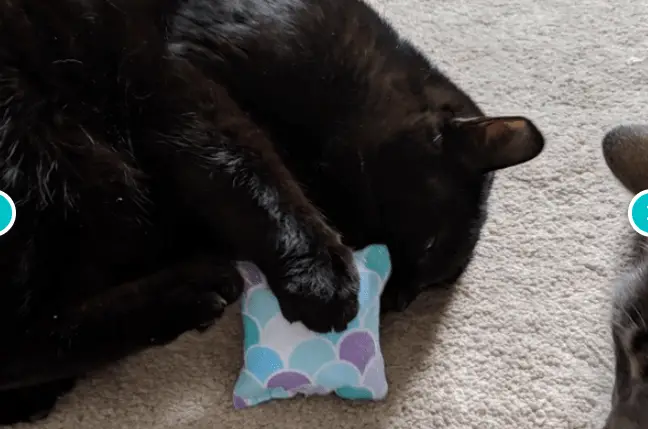 Each monthly box contains 5 cat pillows, all with different patterns matched for the month, a single BIG kicker, plus a secret treat or toy for your special furry friend! Every pillow is stuffed with super fresh all-natural catnip! All pillows are vacuum-sealed to ensure they are as fresh as possible when they arrive! Too much? We have a mini box!
It includes:
Handmade High-Quality Cat Pillows
Crinkly Cat Kicker
17. LITTER BOX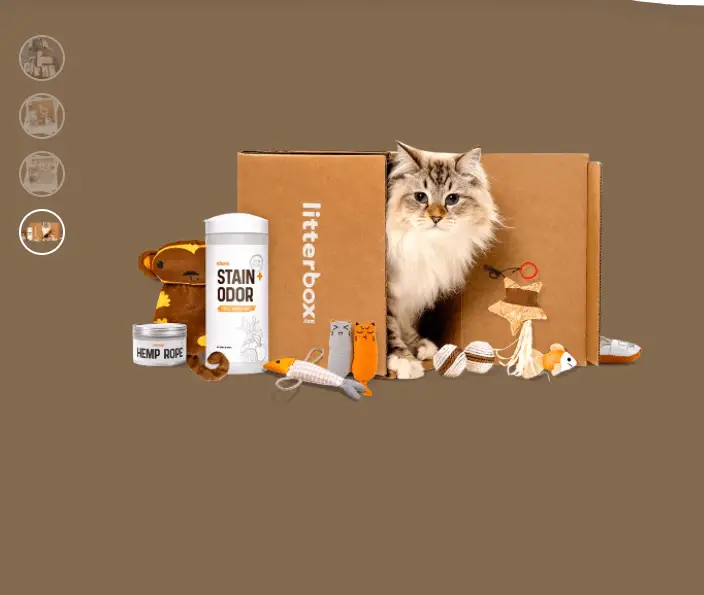 From catnip and pet cleaners to crinkle toys and grooming items, Litterbox.com offers a cat subscription box filled with goodies that you and your cat will love!
It includes:
Unique cat products every month
Free shipping to the contiguous U.S.
No hidden fees
Hassle-free cancelations
18. NOM NOM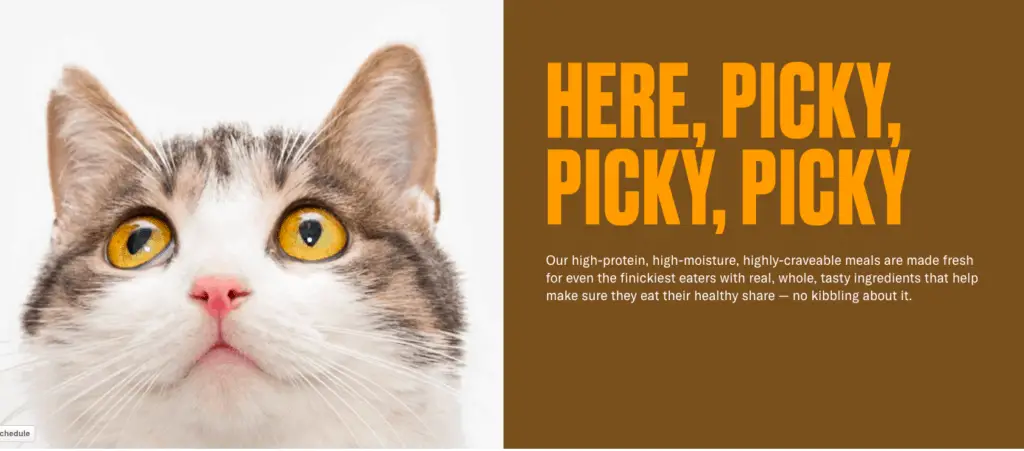 It is a monthly subscription aimed at delivering one of the best cat food ever: high-protein, high-moisture, highly-craveable meals are made fresh for even the finickiest eaters with real, whole, tasty ingredients that help make sure they eat their healthy share — no kibbling about it.
There are fewer than 100 board-certified veterinary nutritionists in the US, and Dr. Justin Shmalberg is one. He creates each Nom Nom recipe to the nutritional levels established by AAFCO Food Nutrient Profiles. He believes that feeding our pets well is the best way to prevent chronic disease.
19. RESCUE BOX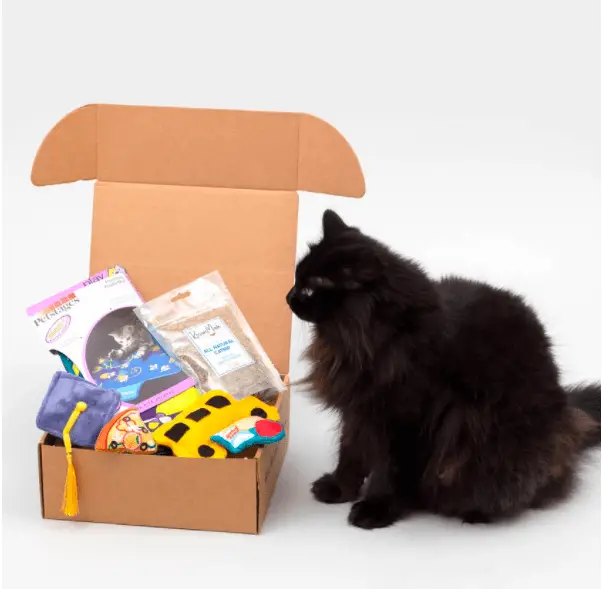 RescueBox® has joined The Animal Rescue Site to provide the same awesome monthly subscription box experience of premium toys, treats, and chews, plus RescueBox now funds even more meals for pets in need! Learn more
Feeds 142 Shelter Animals!
20. KITTY POO CLUB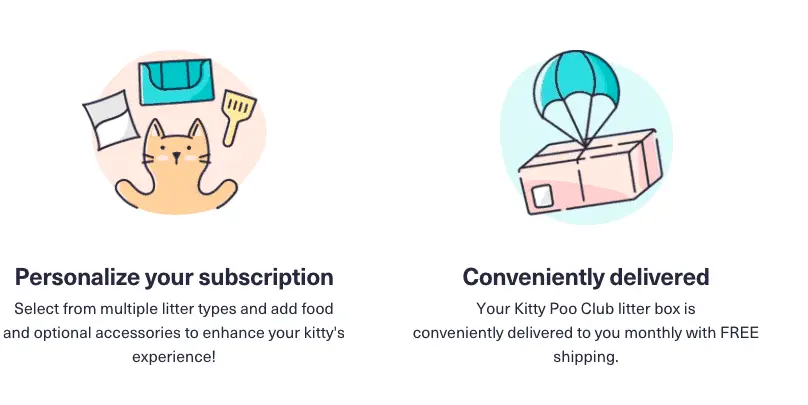 You can get a monthly subscription with the best litter around, and you can choose the one you want between 2 or 3 types. It is going to be shipped every month to your house. Never worry again about buying litter, and never worry again about the quality.
CONCLUSION
Best cat subscription boxes: it was quite a listing! I hope you found the one you like, and the one your cat likes, or the one for your friends and family. If you have any question drop a comment below!