Cats positions meaning: if you have a cat, you can't possibly have missed one of the funniest things they can do; this means their sleeping positions, postures, and the acrobatic way they may lay on things.
Cats' positions and postures may have different meanings. How they sit or how they sleep may tell you more than any word about cats' emotions and what is going on in their head. You can see if your cat is relaxed, or if he is afraid, or in pain, and even what they are about to do.
Understanding cat's positions meaning can help you to live with a cat and bond with him.
Let's dive into it.
CATS POSITIONS MEANING
Understanding cats positions can be one of the "must be done" tasks for a cat owner, understanding better the little friend can make you have a better relationship with him and understand his needs better.
So what are the most common positions for cats and the cats positions meaning?
1. THE CURLED UP SLEEPING POSITION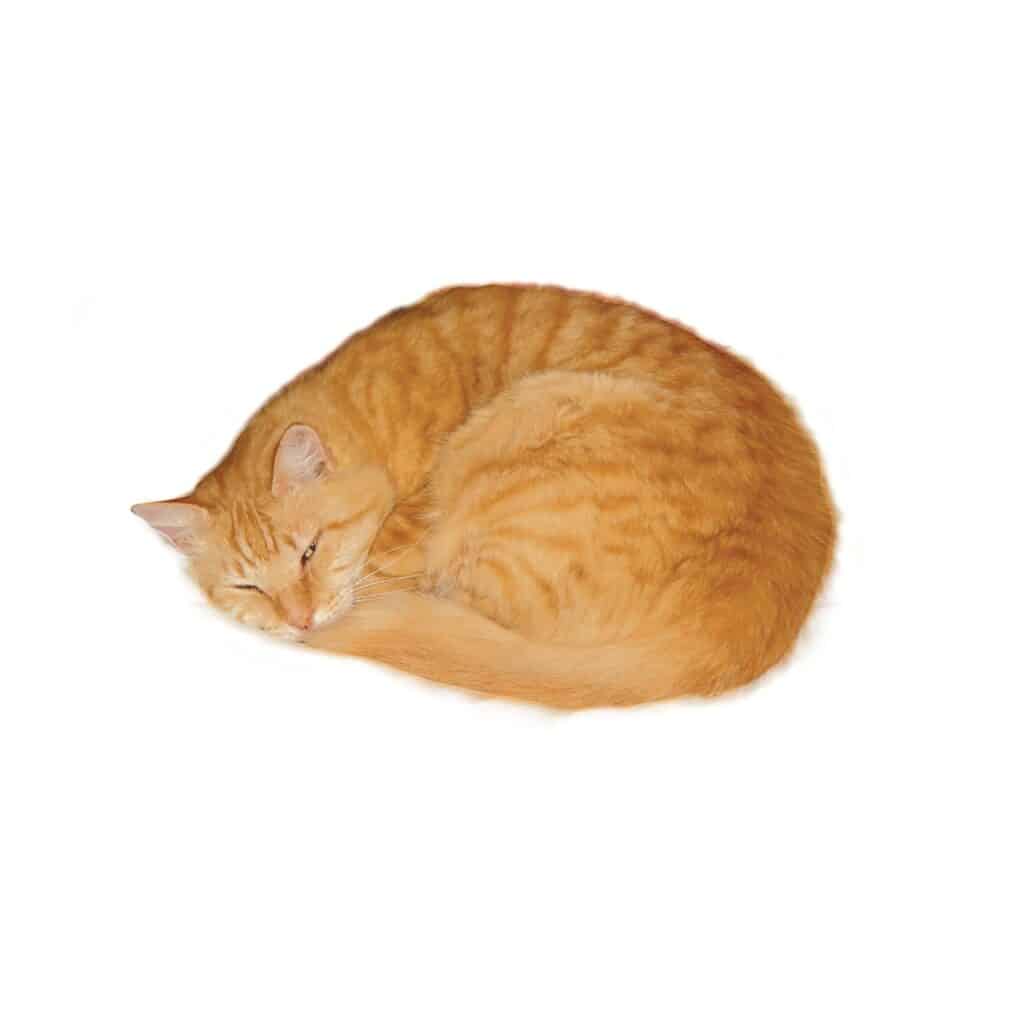 This is the most common position for cats to sleep. It is almost impossible not to run into a cat that doesn't use this position. Cats like to curl up so they can stay all warm and cozy during cold weather and feel protected. Most animals like to sleep in this position. If you have a dog, you may have observed dogs doing the same.
Additionally, it is also a position that let cats fit in smaller space; my cat would use this position mainly if he tries to sleep on a chair, If he sleeps on my bad or on his cat bed, which is very big and fluffy, he normally stretch and roll and does all the fancy things that cats do when they sleep. It means that a curled-up position lets cats use less space while they sleep.
2. CATS STANDING UP ON THEIR HIND LEGS
Some cats may stand on their hider legs to try to reach something higher than them. They may also raise on their hinder legs if they try to intimidate other cats or animals. It is a bit what bears do when challenged; they stand on their legs and become way taller. By doing this, they are trying to become way scarier to others than they really are.
If they are not trying to reach something and take this position, cats are not relaxed, they are wither scaring someone off, or they are afraid and looking for something.
3. LOAF POSITION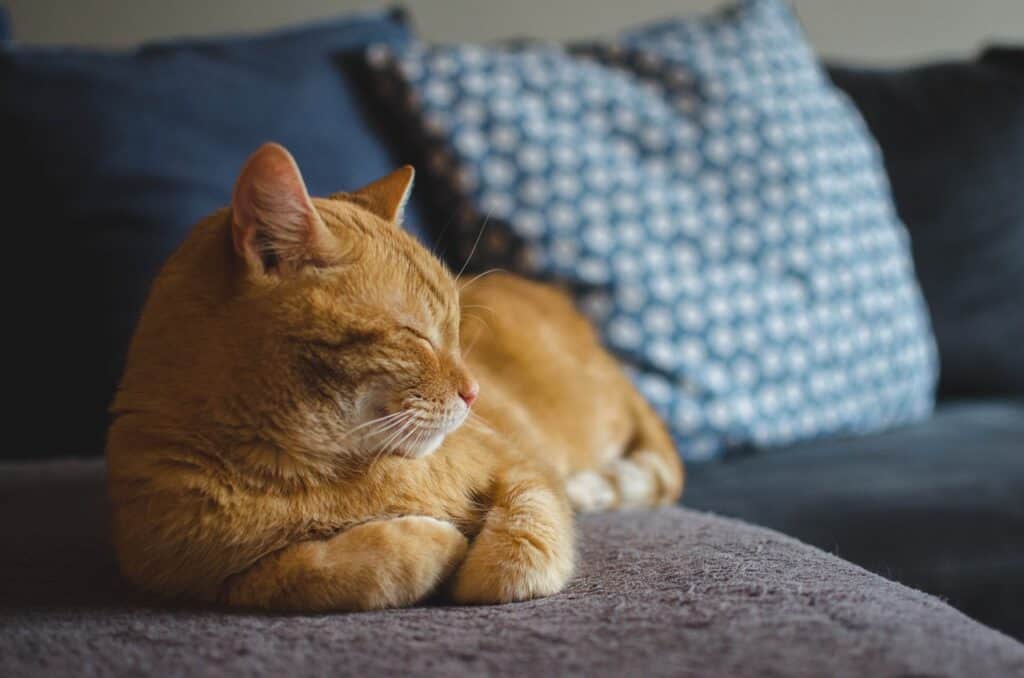 Sometimes cats sit up in a sort of loaf; they fold their paws under them and stand there lounging, closing their eyes or leaving their eyes open at times. In this position, cats are resting and chilling but without really sleeping. It is a way for cats to rest but still keep alert and watch the world.
If they stand in this position means they are relaxed and see no immediate danger. However, they are still ready to jump if needed.
4. SIDE SLEEP POSITION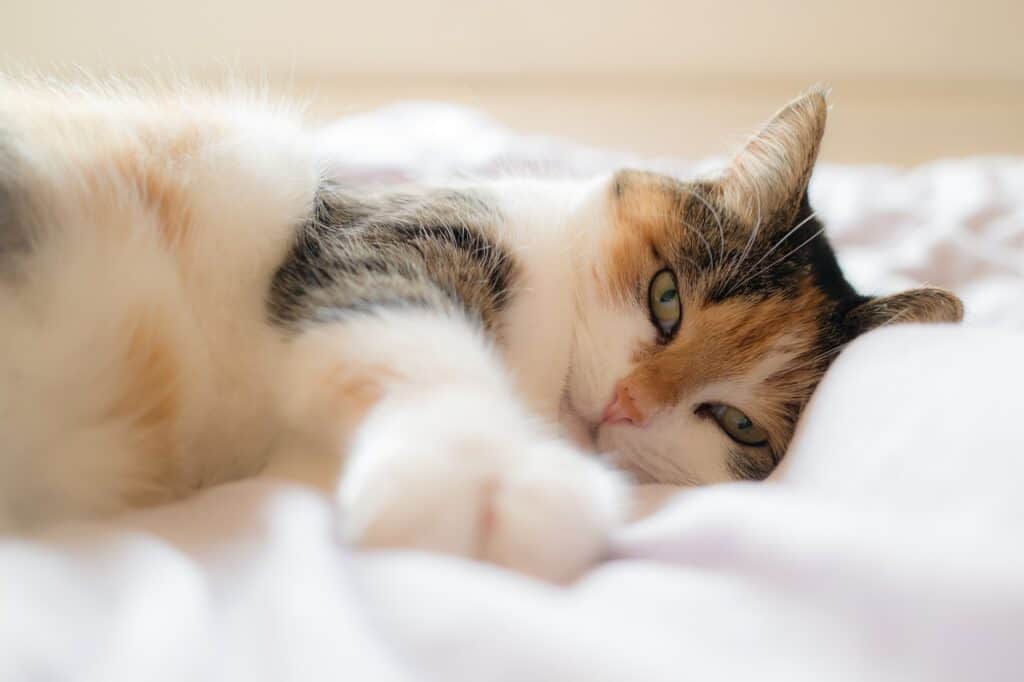 I do not know about your cat, but my cat starts to sleep on his side only if he thinks that he is totally safe and that I or anybody else in the house is not about to jump on them. He has to be very relaxed and in a state of mind, that tells him he can lower his guard.
He does the side sleep more easily when he sleeps on his bed under my bed, sometimes he does it on my bed, but I have to be very quiet about what I am doing to finally start sleeping on his side and showing me his belly.
It doesn't matter if we know each other for 2 years and I haven't cooked him yet, he still keeps his guard very high. But I am delighted when he takes the side sleep position because he is comfortable and trusting.
Here more cats positions meaning explained.
5. PAWS IN THE FACE POSITION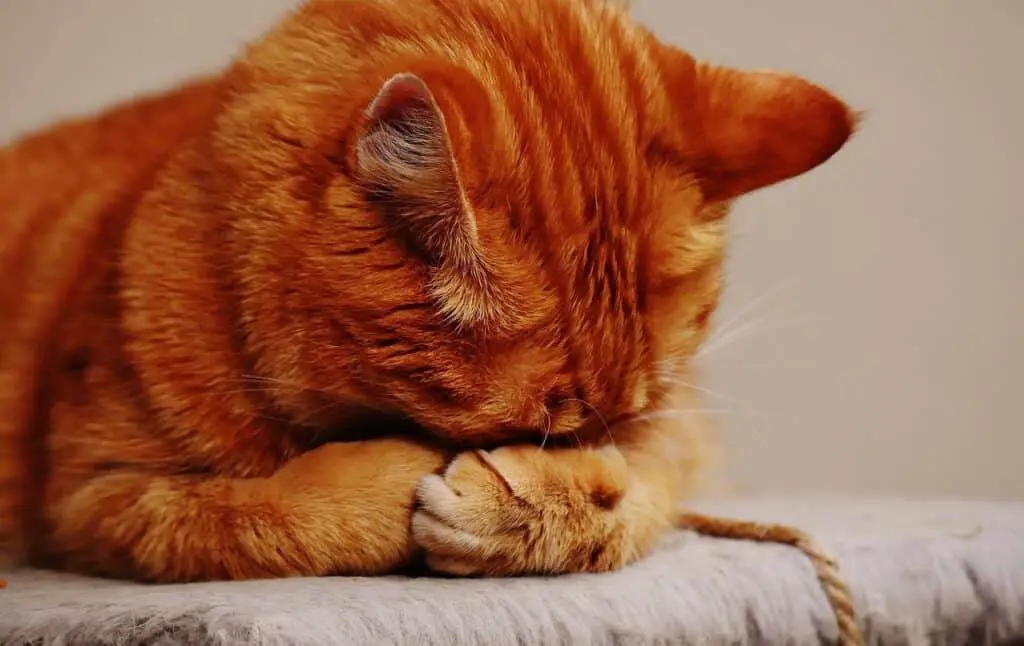 Sometimes cats put their paws on their face, especially when they are sleeping. I have observed my cat covering his face with his paws when I am petting him while sleeping. I thought from his gesture that he wanted to be left alone.
Indeed if cats put their paws in their face, they want to tell you to let them enjoy their sleep and not disturb them. It is a bit like you are sleeping under the covers, and someone comes to take your covers away. Not funny!
6. BELLY UP POSITION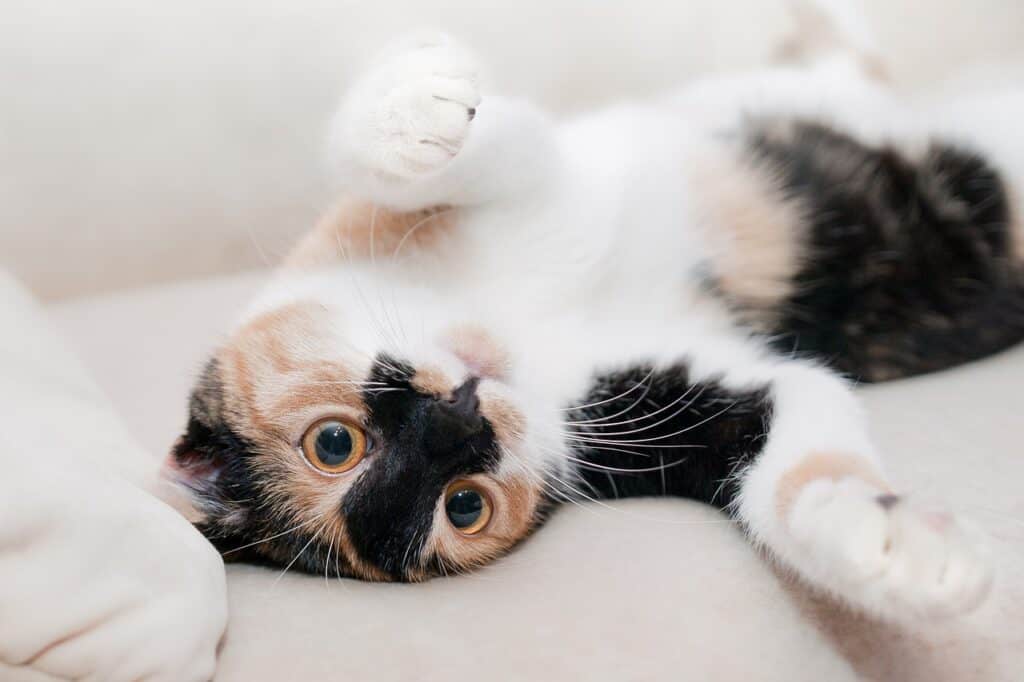 Cats can show you the belly in different circumstances. They may want to play and turn upside down, they are sleeping, and suddenly they start sleeping on their back and showing the belly, or they see you, and suddenly they get on the floor showing their belly. In the last case, if they do it is because they want to say hello, they are excited to see you.
If they show the belly while sleeping, they are completely in a deep sleep, and they are very relaxed and secure in the environment, and you do not think that something bad is about to happen. In this position, cats are totally exposed. Therefore if they do it, they really have trust in you and the environment.
Let's see more cats positions meaning and pictures.
7. ACROBATIC OR CONTORTIONIST SLEEP
Cats are weird and unpredictable, which is why we like them; they can always surprise us. You can find this quality in cats even when they sleep, somehow they can sleep on anything, and I mean anything. It doesn't matter how hard, cold, unpleasant it is; they can still use it as a bed.
Cats have the gift of a very flexible and mobile body that allows them to be contortionist even in their sleep. Cats would sleep on anything they think are safe. If they are standing in a higher position, they feel safe, but the safest places that are also high enough are not the most comfortable. So cats deal with it as they can.
If they sleep in any weird position because they want to feel safe, or suddenly they get tired, and they suddenly sleep.
9. AFRAID POSITION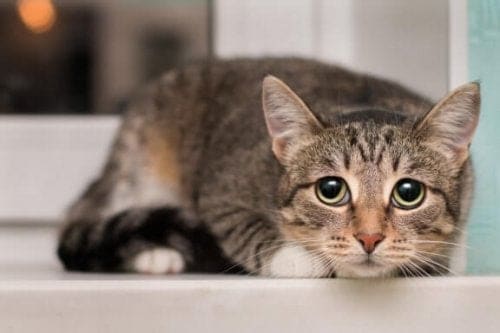 You may have seen your cat crouching down, try to make himself small, heir eyes will be open very wide, with pupils fully dilated, the ears can be flattered back against the head, the tail is placed under them, or you will see it moving widely from one side to another. Cats may growl or meow as well.
Some cats may arch their back to seem taller and try to frighten someone else. When they do it, it is because they are afraid in the first place, not because they want to fight.
10. RELAXED POSITION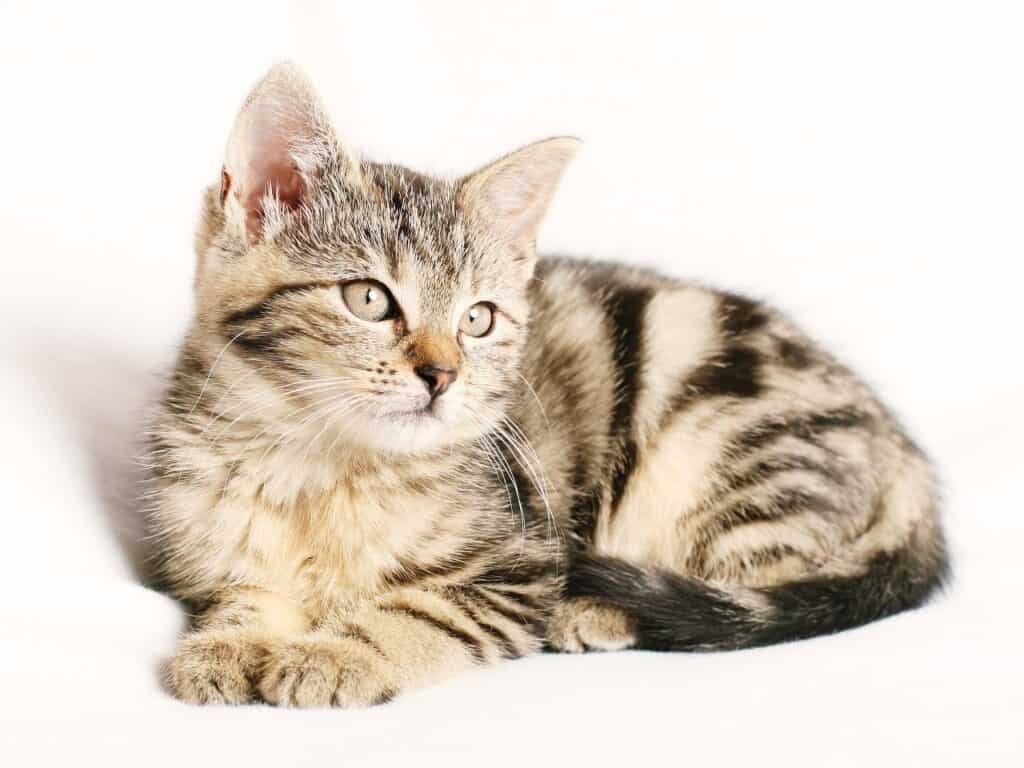 Cats may just sit and look around doing nothing; they show no sign of tensions, the eyes are not wide dilated, ears are normal, the tail is not moving wildly or pointing up-words. If they are relaxed, they may have their eyes half-closed, or they may slow blink as well. Cats may also relax by stretching their bodies.
11. FOCUSED OR POINTING POSITION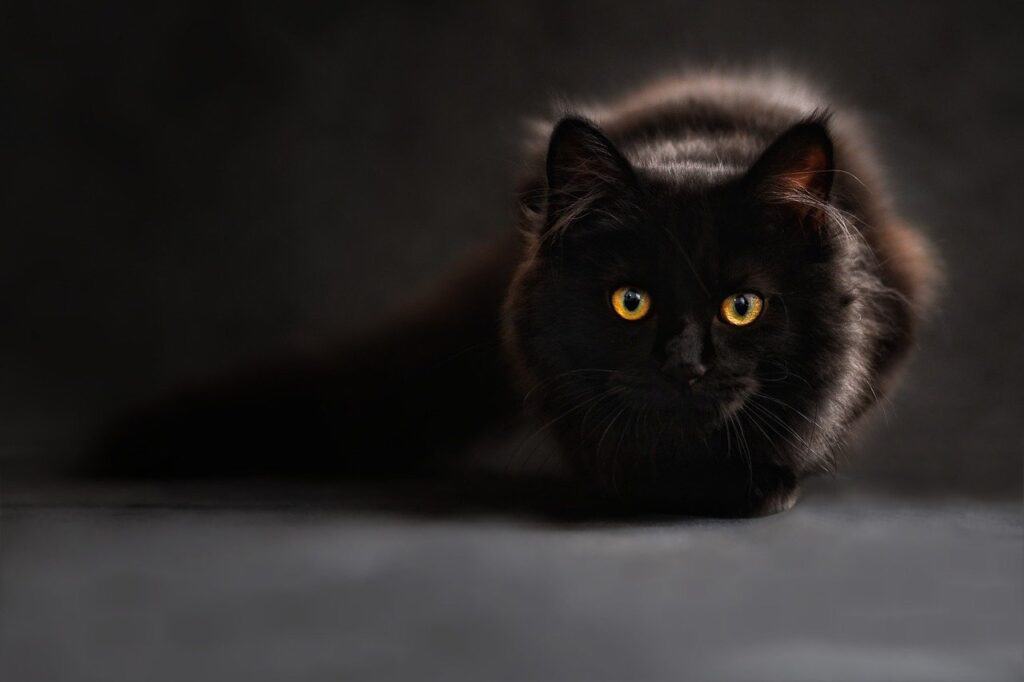 Cats are hunters, so you may find them stalking something or someone and focusing on them with all their attention. Their eyes will be open with pupils narrowed; all their body is pointing or looking in the prey's direction, the body can be lowered while walking, and they will try to stay low not to scare the prey.
Cats will place their tail low as well, but you can see the end of the tail twitching from one side to another. When you see a cat behaving in this way, you are watching a cat hunting something.
12. ANXIOUS CAT POSITION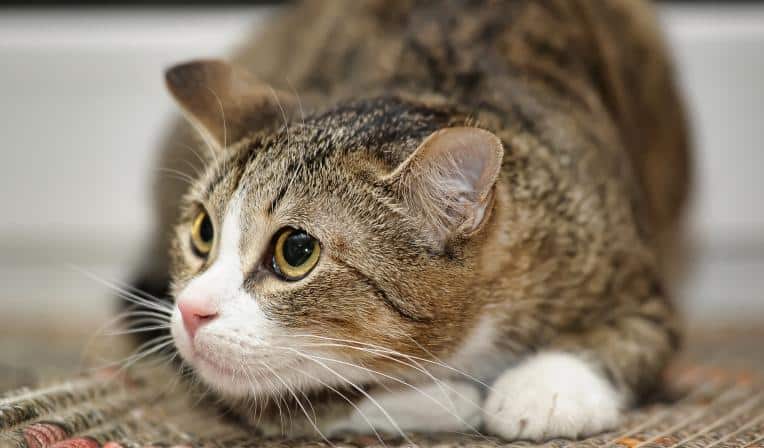 Anxious cats will look like that; they will have big eyes, ears pointing out, cower and arch their back simultaneously as they are ready to run if they have to. Since they are afraid, they may actually stay still and don't move because they are too afraid to go anywhere.
You can see cats taking this position if you make a sudden noise; they will instantly put themselves into it.
Let's move on with more cats positions meaning and examples.
13. ANGRY POSITION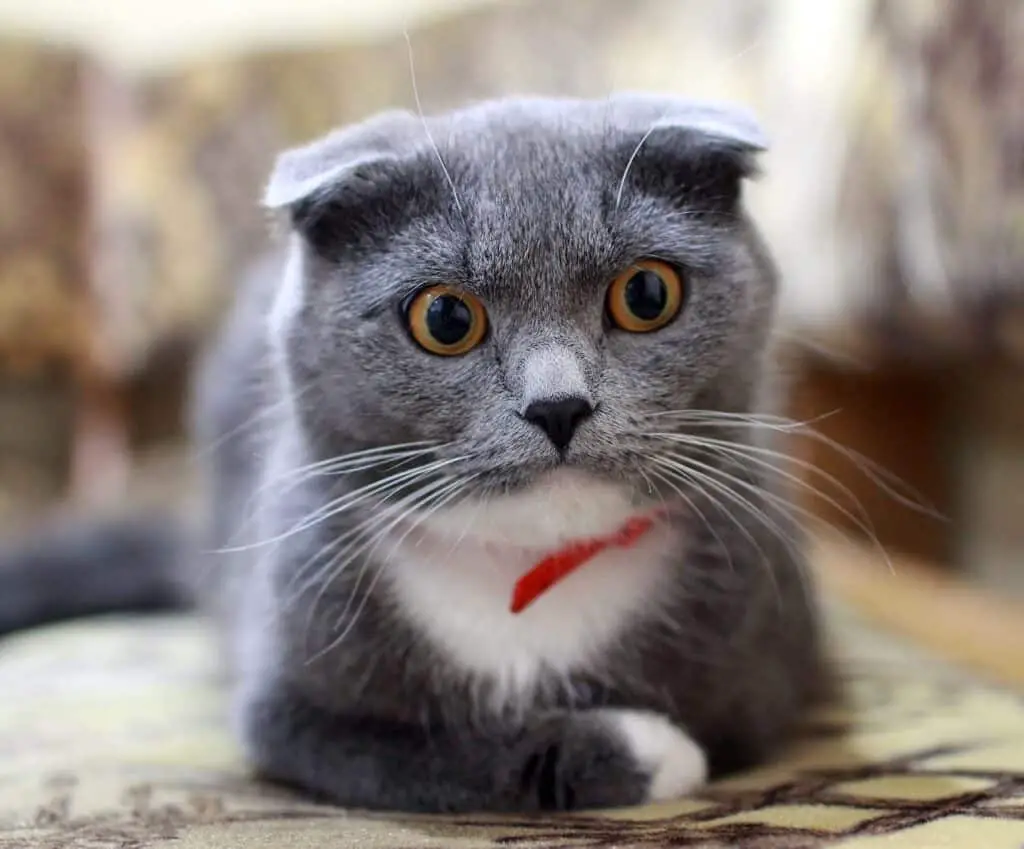 You can see if your cat is upset or angry because his ears will be pointing down, he will have big eyes, you can see in his face that he is not happy at all, they are going to be rigid, and so their tail will be rigid and unmoving, the tail can be rigid and straight or curled under their body.
At the same time, cats can hiss and growl. I think I have seen my cat being furious one time, my brother's cat scratched him, and he was so upset that 2 minutes after the deed, he went to look for the other cat and gave him a couple of swings. It was funny to watch, but he had exactly that posture; his ears were lowered down, and he had big eyes.
14. FRIENDLY POSITION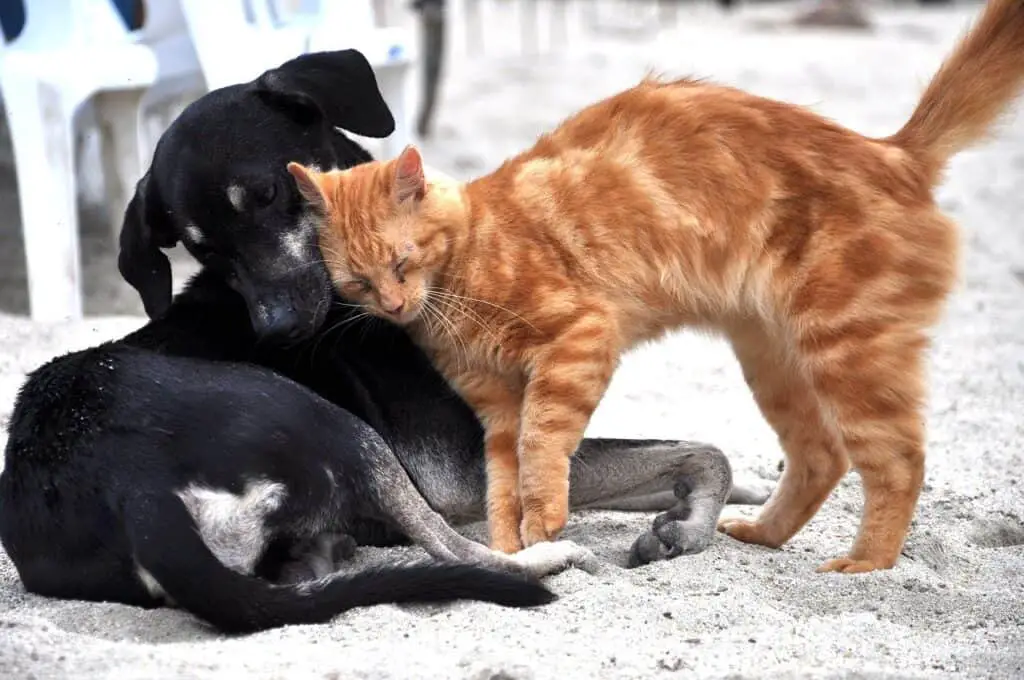 If your cat moves toward you with the tail pointing upwards and rubs against you, your cat is amiable and demonstrates affection. A cat moving or walking with the tail straight up and looking in your direction is a friendly cat; most probably, he will let you pet him.
15. SPLOOTING POSITION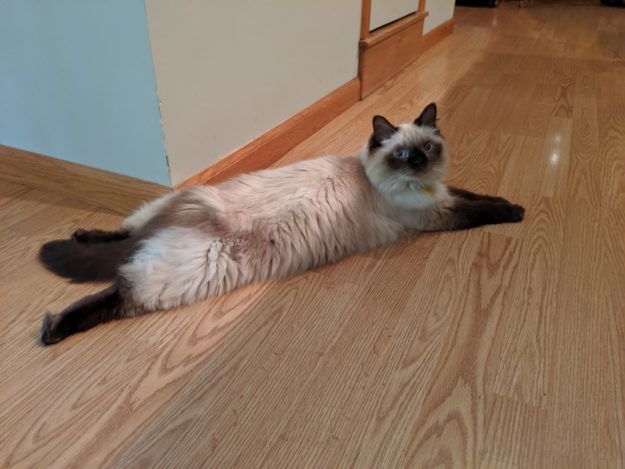 Sometimes cats would lay down with all their legs spread up and the body right on the floor. I saw my cat doing it often when he is on the bed. He likes to stretch a lot, and often his leaves his hind legs wide open, and the front legs are paired together in front. Sometimes he spreads all of them, and he looks like he just splashed on the floor.
I thought it was because my cat is an indoor cat, and he doesn't have many chances to move. Therefore he has to stretch, well it can be too, but I later found out that they also do it because of cooling, they tried to cool down, and therefore they stretch that way, the body temperature decrease, and they are more comfortable if they are hot.
I had not much knowledge of all cat's positions meaning until I had to deal with cats; after a while, one learns how cats behave and what each position means.
---
Here some ideas of cats beds to make cats confortable in any position
Preview
Cats Pick
Our Pick
Product
JCT Dog Bed Soft Cat Bed 50cm Plush Cat Calming Bed Fluffy...
SHU UFANRO Small Dog Bed, Cat Bed for Indoor Cats, Puppy...
Amazon Basics Cat Condo Tree Tower With Hammock Bed And...
Hollypet Self-Warming 2 in 1 Foldable Pet Bed Comfortable...
Bedsure Cat Bed for Indoor Cats -Large Cat Cave for Pet Cat...
Cats Pick
Preview
Product
JCT Dog Bed Soft Cat Bed 50cm Plush Cat Calming Bed Fluffy...
Preview
Product
SHU UFANRO Small Dog Bed, Cat Bed for Indoor Cats, Puppy...
Preview
Product
Amazon Basics Cat Condo Tree Tower With Hammock Bed And...
Preview
Product
Hollypet Self-Warming 2 in 1 Foldable Pet Bed Comfortable...
Our Pick
Preview
Product
Bedsure Cat Bed for Indoor Cats -Large Cat Cave for Pet Cat...
---
RELATED QUESTIONS
Here some related questions to "Cats positions meaning" and related answers:
Why does my cat lay flat on her stomach?
Cats can lay on their stomach because they want to cool off their body temperature, they want to chill, or they want to rest without really sleeping so they can stay alert.
Why is my cat laying on the floor?
Cats may like to lay on floors because floors are much cooler, you can see it, especially in summer when cats are all over the floors. They also may like the fact that floors are harder. For some reason, cats like harder surfaces, my cats have 3 or 4 beds, and they still sleep on the floor.
Is Splooting bad for dogs?
Not necessarily, cats do that on their terms, they need to stretch, and they need to cool down. However, if you see that your cat is doing it too much or start doing it all of a sudden, you can check him out to see if everything is ok.
Why does my cat sit in weird positions?
Cats are weird and famous for sitting and sleeping in the weirdest positions; you never know how your cat will position himself. Therefore a certain dose of "weird" is normal for cats. If he insists on being weird only in particular ways, maybe you can check if he has a body part problem.
Why does my cat sit like a sphinx?
This is most probably the loaf position. If your cat takes that position, he is actually relaxing and trying to rest without lowering his guard, or at least giving that impression to outside people and animals, in that position, if something happens, they are ready to jump and run.
CONCLUSION
Cats positions meaning: I hope we were able to give good information and examples. If you have more cats positions meaning, and examples, leave it in the comments below.