WHY DOES MY CAT SLEEP ON MY SPOT? 7+ SURPRISING REASONS
Why does my cat sleep on my spot? If you are wondering why you can't leave your chair or bed without your cat stealing your spot, you have come to the right place.
Cats sleep on your spot after you leave it because they like your smell, the spot is warm, they feel protected, they are territorial, and they want to place their own smell on your usual place to claim ownership.
But there is more to know about it.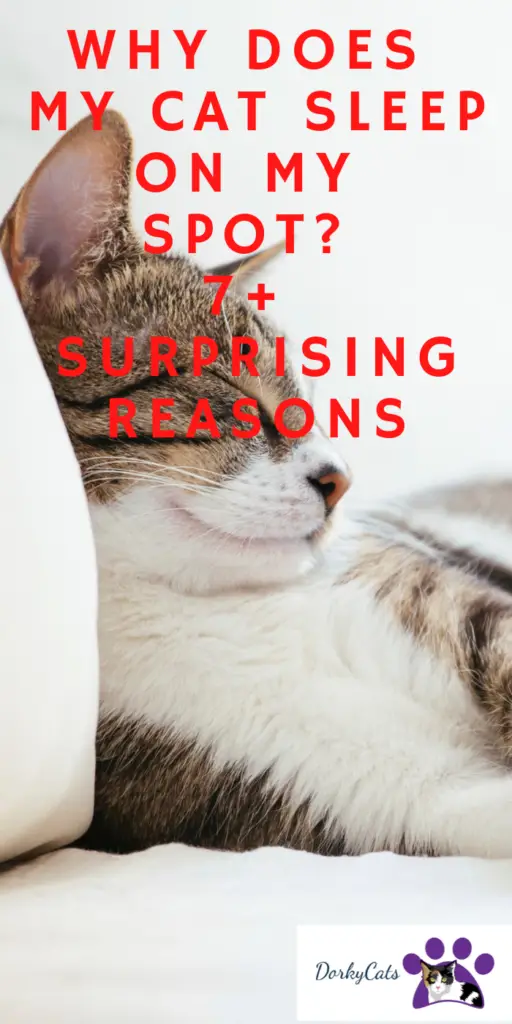 WHY DOES MY CAT SLEEP ON MY SPOT?
If you are a cat owner, you have experienced this phenomenon of your cat sneaking behind you as soon as you stand up and comfortably curl up in the same place where you were sitting before, all the while having the attitude of who has the right to own that spot and with an expression of satisfaction.
When you return and see your cat sitting on your spot, as a cat lover, chances are you are going to sit somewhere else. All of us have gone through this. They are too cute to move, and somehow they know how to get what they want.
Here is why cats like to sleep on your spot:
1. YOUR CAT LOVES YOU
Sure enough, your cat loves you and wants to be with you. Since you are moving around, he has to settle for the last spot you were sitting on. It is still warm; it has your smell on it. It is not you, but as close as he can get.
Definitively cats love their owners, which makes them search spots where they think their owner has been. That is why they sleep in the bed where you sleep, sit on the couch where you used to sit, or even why are in the same room with you and follow you when you go to another room.
2. YOUR SCENT IS ON THAT SPOT
Cats may feel uncertain about environment changes; the only stable point for them is you. They know you by your scent, mainly. If you are not around, chances are, they will find one of your shirts or your pillow and cuddle into it.
When I leave for a long time, I often leave my t-shirt on the bed so that my cat can go and sleep there if he wants to. Of course, I'm not particularly eager to leave him alone, but at least he can find some comfort in things with my scent on them.
3. IT IS WARM
Cats may be attracted to the warmth generated by your body, especially on cold days. Your spot is very well warmed up when your cat is stealing it from you. There isn't any other perfect place for a cat to curl up and sleep. They just won the lottery, and you are without a seat!
4. YOU ARE THEIR PROPERTY
Cats are naturally territorial animals, and your spot may be seen as a territory that they feel the need to protect and claim.
We all know that we serve cats, and they are the sole owners of the house. They primarily do this because they want to leave their scent on you. Cats do the same with places where you have been and that carries your scent; they want to claim ownership of that spot too.
For All Crazy Cats Lovers! The best gift for yourself and others!
5. THEY ARE MISCHIEVOUS
Let's face it; cats have different personalities. Some of them have a bit of that mischievous behavior that makes them famous and featured in movies displaying impossible characters or features as the masterminds behind plots against their owners of other animals.
Things like this one will earn Their reputation; for example, they have to annoy you by stealing your place, and they have to be all over you if you sit on that spot or hit you for no reason; the list can go on. The fact is that cats may like to play and affect you, which is why they decide to steal your spot.
7. SCENT
Cats have a strong sense of smell and may be attracted to your scent on your spot.
8. CONFORT AND SECURITY
Your cat may find your spot comforting and secure, and sleeping on it may provide a sense of comfort and security.
9. BONDING
Sleeping on your spot may be a way for your cat to strengthen your bond and feel close to you.
Regardless of the reason, it is essential to remember that this behavior is generally a sign of affection and that many cats enjoy the comfort and security that sleeping on their owner's spot can provide.
WHY DOES MY CAT SLEEP ON MY PILLOW?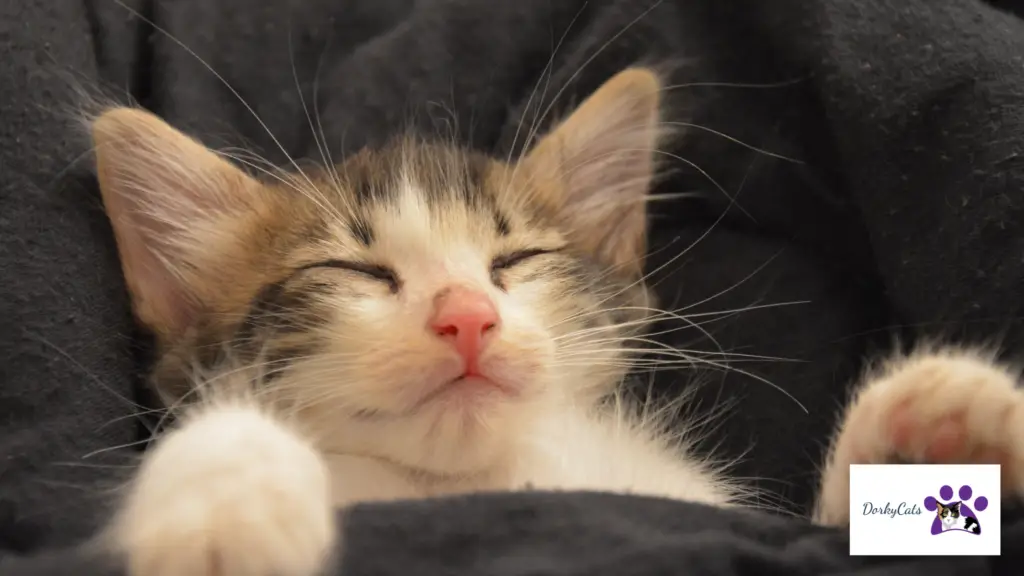 Cats sleep on their owner's pillows for several reasons:
Comfort: Soft surfaces like pillows provide a comfortable place for cats to rest.
Security: Sleeping near you gives them a sense of security and protection.
Scent: Cats have a strong sense of smell and may enjoy their owner's scent on the pillow.
Affection: Sleeping on your pillow can allow your cat to show affection and be close to you.
Warmth: Your head and body warmth may make the pillow cozy for your cat to sleep on.
WHY DOES MY CAT SLEEP AGAINST ME?
Cats may sleep pressed up against you for a few reasons:
First, cats enjoy the warmth and softness of their owner's body, and being pressed against you may provide comfort.
Security: Sleeping near you or touching you gives your cat a sense of security and protection.
Affection: Cats may sleep pressed against you to seek affection and closeness with their owner.
Scent: Cats have a strong sense of smell, and being pressed up against you may allow them to take in your scent and feel more connected to you.
Thermoregulation: Cats can regulate their body temperature by being near a warm source like you. By sleeping pressed up against you, they may be keeping warm and comfortable.
WHERE YOUR CAT SLEEPS ON YOUR BED, AND WHAT IT MEANS?
Where a cat chooses to sleep on the bed can often indicate their mood and personality. Here are some common sleeping positions and what they may mean:
Curled up next to you: This position may indicate that the cat feels secure and loves being close to their owner.
On top of you: This position may indicate that the cat wants to be the center of attention or wants to keep an eye on you.
At the foot of the bed: This position may indicate that the cat wants to maintain their independence and have their own space but still wants to be near their owner.
On their own bed or blanket: This position may indicate that the cat wants to have their own space and does not want to be disturbed.
Spread out on their back: This position may indicate that the cat is relaxed and comfortable.
Note that each cat is unique and may have different sleeping preferences and positions. Therefore, these interpretations are not always definitive and should be taken with a grain of salt.
FREQUENTLY ASKED QUESTIONS
Why do cats suddenly change where they sleep?
Cats can change where they sleep for a variety of reasons, but primarily they want to feel safe and do not want to give a stable location to eventual predators. But also because of comfort. If a cat's usual sleeping spot is uncomfortable, it may move to a different location.
New furniture, temperature changes, or room rearrangements can affect where a cat chooses to sleep. A change in sleeping location may indicate that a cat is experiencing pain or discomfort, so it's essential to monitor any changes in behavior and consult a veterinarian if necessary.
The arrival of a new pet or person in the household can affect a cat's sleeping habits and cause them to seek a new place to rest.
Some cats may simply prefer to switch up their sleeping location every now and then.
It's essential to remember that every cat is unique and may have different sleeping preferences and habits, so changes in sleeping location may not always indicate a problem.
Do cats like to be touched while sleeping?
Usually, cats do not like to be touched when sleeping, even though sometimes, when they are sleepy and see you coming, they may roll over and invite you to pet them; my cat does it sometimes, and he likes to be petted in that case.
Why does my cat sleep on me?
You are the most secure and trusted place to sleep. You are also warm and lovable. What could a cat want more? Cats feel secure when they sleep on you. They all like to be petted when they are on you.
Why did my cat start sleeping under covers?
There can be several reasons why a cat may start sleeping under covers. First, the darkness and warmth under the covers may give your cat a cozy and comfortable sleeping environment.
Being under the covers may provide a sense of security for your cat and help them feel protected. In addition, cats often seek out warm places to sleep, and the covers may provide additional insulation from the cold.
The sound of the covers rustling or the sensation of being snug under the blankets may be soothing to your cat and help them sleep more soundly.