CATS CRYING COMPLETE GUIDE AND MORE
Cats crying is a broad subject, difficult to say if cats are really crying sometimes or what is happening to them. Even though I could swear, I have seen a cat really crying as we do. What is the deal then?
Cats usually cry by vocalization, mewing with sounds like yowling or high pitch meowing like in kittens. Experts do not believe cats are crying with tears; if they have tears in their eyes would be because of an infection or illness connected with their eyes. Watering eyes or crying with tears means cats would be able to experience emotion. Experts do not believe cats cry because of emotions. However, there are reports and videos of cats crying with tears after the death of their kittens or other tragic events. Cats do feel emotions and can cry with tears because of it.
Let's examine the subject.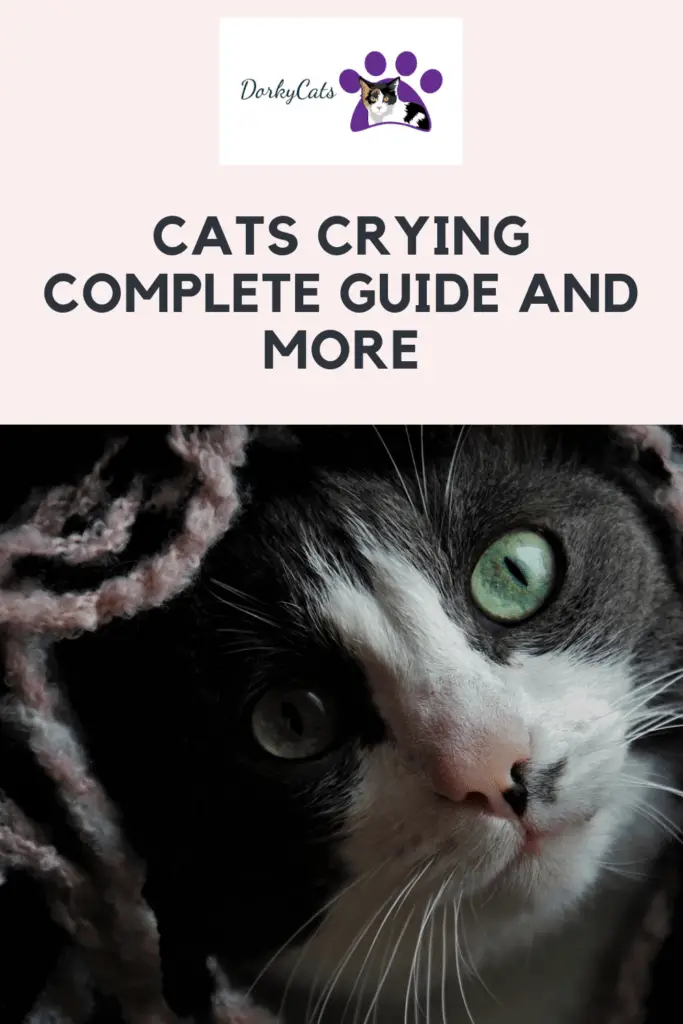 HOW ARE CATS CRYING?
Cats are used to "cry" by merely meowing, cats crying is usually referred to as meowing in a certain way. Their meow in case of crying is usually high pitch, loud and insistent. I am sure you have experienced a cat crying when he is demanding something of you, like food, to be let out or when he is in heat.
My cat specifically starts to cry loudly when he wants something from me, and if he doesn't get it, he starts to cry literally. He does this meow insistently and looking at me with his cute face and meow some more with vehemence. He sounds like a child who is crying because he is hungry.
Experts do not commonly believe that cats can cry with tears. It is believed that cats do not cry because of emotions. Tears would be connected to emotions. Nonetheless, for someone who has lived with cats for a long time, this idea that cats do not cry because they experience emotional pain doesn't match reality.
Cats cry can sound like a yowling or high volume mewing over and over. My cat sometimes shouts at me a loud meow. If I knew cat language, I would say he is not really happy about something, and he is protesting like mad.
Needless to say, I wasn't happy with people that kept saying cats can't cry tears and that if they had tears is because of infections or eyes related illnesses. Cats crying wit tears is indeed a possibility.
Can they cry with tears? Yes, they can, if they are really sad or emotionally in pain, here is the evidence that cats can feel emotion and cry because of it:
It is not a funny video, it is unfortunate, but it really shows that cats have emotion and cry because of them. Cats crying is not only with loud meowing.
It doesn't mean that if they have tears in their eyes, they cry out because of emotions and can have some infection or problem in their eyes.
WHY DO CATS CRY?
Cats cry for a variety of common reasons and some other less common reasons. Here is a list of things that can make cats cry, whether with vocalization like meow or tears as we saw above.
Cats meow mainly to communicate with humans. They don't know; obviously, we do not understand anything of what they are saying!
Here some of the reasons cats cry:
Hungry cats can start mewing very loud and over and over until they are fed. If the cry is not listened to by the owner, cats can intensify the cry to make it more convincing.
My cat has a funny way to convince me to stand up and open the door for him; he literally starts meowing like a crying baby, and as soon as I look at him, he moves toward the door, cats who are in heat and want to go out can cry, or simply cats want to go out and be outside. My cat cries even to ask me to open the balcony window.
THYE ARE ANNOYED ABOUT SOMETHING
When cats do not like certain things, they may start to cry; some cats do this if someone is trying to pet them and they do not want, when they are being held, and they do not like it when someone is coming close, and they cannot retreat, you get the idea, anything that they do not like can trigger a cat to start crying.
Cats in pain may start crying. It is difficult to understand the physical problem since cats can't really indicate a place. The best move is to go to the vet if a cat starts crying a lot for no apparent reasons.
If you have a cat for a while, you start to understand what he wants. You know that he wants food with that meow, or he wants to go out. My cat meow at me even when he as to go to the bathroom so I can follow him. Now that I live with him, I can "understand what he is talking about" for a while.
All of this to say that if you spot an unusual cry from your cat, not related to his normal "demands" to you, he may have a problem.
If you ignore a cat long enough, they may start crying until you give them some attention, either pet them or play with them. If they start crying for no reason and stare at you, they are possibly asking you to spend some time with them.
I had to leave for work for a few weeks, and I had to leave my cat at home. I had a roommate who had room to take care of the cat, but since we shared the house in 2, she was in her room, and I was empty, with only my cat living in it.
She told me my cat was crying at night, and during the day, apparently, he was looking for me and could not find me. Also, no one really played or spent time with him. My roommate just fed him and cleaned his litter box.
I know cats can cry out if they are left alone.
Cats wanting to mate can start crying, it can be expected to happen with all cats, so it should not surprise.
THEY WANT TO ENTER A ROOM
Closed doors are mysteries; cats can't stand it. They will try to open the door, dig and cry behind them. If you see them crying in front of a closed-door, that is the reason.
The above are some reasons for cats crying, if you know more of them let us know in the comments below.
Here some examples of cats sounds and meow so you can hear them:
WHY DO CATS CRY AT NIGHT?
Cats crying at night can be very disturbing. Cats can be very vocal, especially at nights when they are left alone to wander in the house, usually my yowl at night because he wants to go out, he does it when he is in heat, sometimes he is hungry or wants that I open the window or balcony for him when I sleep at night, he likes to stand in the balcony and look outside.
It is believed cats are more active at dawn and dusk. Therefore the yowling may coincide with those times.
Therefore cats can cry at night because:
THEY WANT TO GO OUT
THE ARE IN HEAT
THEY WANT YOU TO OPEN A DOOR
THEY ARE HUNGRY
THEY MAY BE SICK
THEY ARE FIGHTING WITH EACH OTHER IF YOU HAVE MORE THEN ONE CAT
THEY WANT TO PLAY
THEY FEEL AFRAID OF SOMETHING
If your cat is boisterous at night, you may want to do everything possible for him to be quite so that you can also sleep. Here somethings that you can do:
Get a second cat that can play with your house cat so he doesn't feel alone and can be occupied playing with the new friend.
Get your cat active throughout the day, so he sleeps at night.
Feed him before going to sleep so that he is not going to be hungry through the night
If there is a way for your cat to go out in a balcony or see through a window, you can try leaving it open.
If you suspect he is sick, bring him to the vet.
If he complains because of a closed door, see what you can do to leave doors open.
If you know some more reasons for cats crying at night please let us know in the comments below.
WHY IS MY CAT CRYING TEARS?
Cats crying is normally related to meowing. It is commonly believed that cats' tears are due to problems strictly related to the eyes, like an infection or other problems related to the eyes, and that is has nothing to do with other emotional reasons or pains, cats would meow to cry out.
It is commonly believed that it is because of medical reasons depending on infections, dust in the eyes, irritations, and similar.
However, the video above shows that cats can cry when something bad happens to them as the loss of a kitten.
If you have an indoor cat and there haven't been great changes in the house that could stress your cat and make him cry, you can suppose a medical condition to be taken care of.
HOW DO CATS SHOW SADNESS?
Cats crying is not the only way cats show they are sad.
How is it possible to understand if a cat is sad? You may see it in how your cat moving in a certain way and having a certain body language.
This is one reason that made me adopt another cat to give my first cat a friend to play with and interact with. He was sitting on the chair all day long, looking sad, not playing so much. Even if I wanted to play with him, I just saw him very inactive. For me, that was enough to get him a friend. Now he runs back and forth with the new friend, play, and is way more active.
Signs that cats are sad may be:
INACTIVITY
CAT IS LESS RESPONSIVE AND SEEMS NOT INTERESTED EVEN IN TREATS
CAT DOESN'T GREET OWNER AND OVERALL IS WITHDRAWN
CAT IS NOT CLEANING HIMSELF AS USUAL
DOESN'T PLAY
CAT SEEMS NOT TO EAT ANYMORE AS MUCH
VOCALIZATION, CAT MAY CRY OUT OR MEOW FOR NO REASONS
SOMETIME CATS CAN BE AGGRESSIVE
Cats can be sad because something new has happened as a major change; they lost a cat friend; the owner is missing, abandoned, or other major changes that can stress the cat.
RELATED QUESTIONS
Here some related questions to "Cats crying" and related answers:
There are superstitions that related cats crying with imminent death, cats are linked to spirits and ghosts, and for generations, cats have been given extra significance in their actions. In some cultures, cats crossing the street in front of you can be signs of being unlucky or that something bad is going to happen. So it is for cats crying at night.
SUPERSTITION: 1. Excessively credulous belief in and reverence for the supernatural. Opposite: science 2. a widely held but irrational belief in supernatural influences, especially as leading to good or bad luck, or a practice based on such a belief.plural noun: superstitions (Definitions from Oxford Languages)
Superstitions are usually based on beliefs rather than facts and true events. Here is a better definition of superstition:
A superstition is "a belief or practice resulting from ignorance, fear of the unknown, trust in magic or chance, or a false conception of causation" or "an irrational abject attitude of mind toward the supernatural, nature, or God resulting from superstition. Often, it arises from ignorance, a misunderstanding of science or causality, a belief in fate or magic, or fear of that which is unknown. It is commonly applied to beliefs and practices surrounding luck, prophecy, and certain spiritual beings, particularly the belief that future events can be foretold by specific (apparently) unrelated prior events. (Ref. Wikipedia)
Therefore cats crying or cats crying at night are not bad signs, are alerts from your cat that he needs something. It is nothing to do with superstitions or universe signs.
How can you tell if a cat is lonely?
You can see your cat is lonely if he is meowing when you leave, at nights, and if he is sad, usually cats become inactive and are not that playful anymore. I could see my cat really bored that is why I got him a friend cat to play with.
CONCLUSION
Why are cats crying? I hope we were able to answer your questions, if you want to add something or ask anything leave it in the comments below.
Read also: DO CATS GET PROTECTIVE OF THEIR OWNERS? DEVOTED PETS?