WHY ARE MY INDOOR CATS EARS SO DIRTY? 5 REASONS
Why are my indoor cats ears so dirty? Even cats can have ear problems, and you can spot that they have a build-up of ear vax. So it is normal to find a bit of dirt in your cat ears, but it is a symptom of other situations when it is too much.
If your cat ears are so dirty and you notice a build-up of wax, then it could be a sign of an infection, allergies, or even ear mites, so take them to a vet. If your indoor cat's ears have a bit of dirt in them, then this is perfectly normal, but too much vax or dirt is not normal.
We will explore the reasons for too much dirt in your cat's ears and what can be done about it.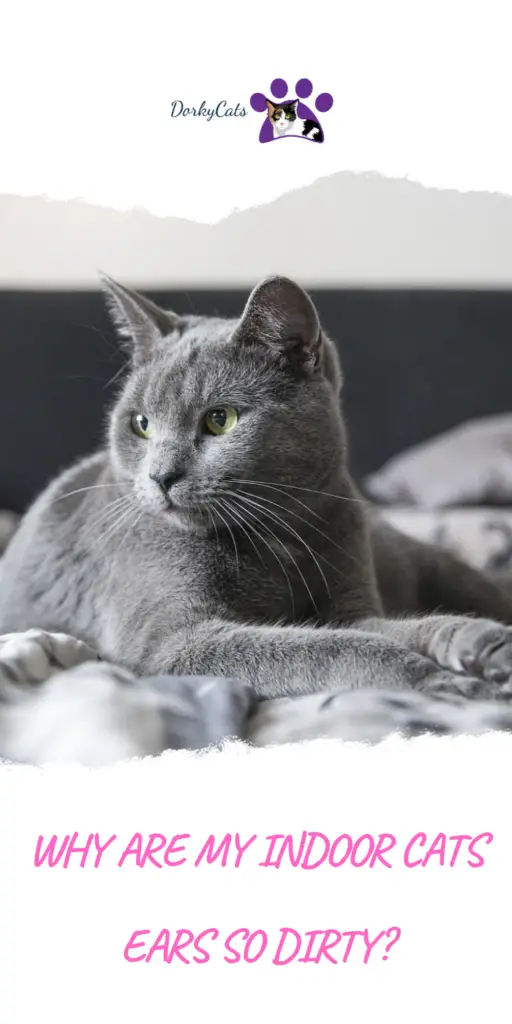 DIRTY CATS EARS VS. EAR MITES – WHAT IS THE DIFFERENCE?
It is easy to misunderstand the ordinary dirt in your cat ears with ear mites problems. While the regular dirt can resemble that originated by ear mites, there are significant differences between the two. For example, the normal vax has a light brown color, while that created by ear mites is a dark brown color.
In addition, the vax infected with ear mites is smelly and can appear to human eyes as coffee grounds. Ear mites make cats scratch their ears. Through scratching, cats lose blood in their ears, making it look dark brown mixed with the ear vax.
If you do not see your cat excessively scratching and the vax look of a standard color, most probably, it is just dirt that you see in your cat's ears. Other indications that your cat can have ear mites are red and irritated ears, a lot of scratching and shaking of the head on the part of your cat, blood, and foul odor.
WHY ARE MY INDOOR CATS EARS SO DIRTY? IS IT NORMAL?
If you have an indoor cat, you may not expect them to get overly dirty as there is no mud or dirt to roll around in. However, this is certainly not the case, and your cat will always seem to be cleaning themselves.
It is perfectly normal for most indoor cats to get a little bit dirty from time to time. This is a natural thing, and it can simply be from dust, a build-of oil from their skin, or several factors. 
You may notice that their ears, in particular, get dirty, with earwax especially. However, it is perfectly natural that there is earwax inside of your indoor cat's ears. Remember that cats clean themselves by licking their paws, so their ears are a particularly difficult place for them to clean.
However, if you notice that your cat's ears are particularly full of wax, or just generally dirty a lot, then it may be a sign of a bigger problem. 
WHAT IS EARWAX A SING OF?
Earwax build-up can be a side effect of many different issues. A few examples of some of the causes of excessive or painful earwax in your cat's ears are:
Allergies
Inflammation
Bacterial infection
Ear mites
Yeast infection
Sometimes these can calm down on their own, but if you notice that it is causing your cat a lot of discomforts or they are scratching, itching, shaking their head a lot, or if their ears look red, sore, or inflamed, then you will need to take them to see a vet to get to the bottom of the issue and treat it.
Cat earwax is often dark brown in color, which can make it a problem if your cat has mites as these two can look very similar to one another. In addition, the mites are so small that you will need a microscope to see them so, when you look at them normally, they can appear as little bits of earwax. 
If your cat has ear mites, then you must treat them as they can cause severe irritation and lead to ear infections. If this is the case, your vet will clean your cat's ears to remove the mites and then prescribe medication to help treat the problem.
HOW TO CLEAN YOUR CAT EARS AT HOME
If you are not sure whether or not your cat's earwax is a problem, then it is always better to be safe rather than sorry and make the trip to the vet. Your vet will thoroughly inspect your cat's ears to make sure they are healthy and then deal with any underlying reasons for the excessive earwax is necessary.
If you are brave enough, you could attempt to clean your cat ears yourself. Although it is a routine cleaning (the one listed below), if you get direction from the vet to apply a product to kill ear mites, you should follow them instead.
For routine cleaning of your cat's ears, here are the steps you need to take:
1.SECURE YOUR CAT
The first thing to do, which may even be the most difficult, is to get your cat ready for ear cleaning. Cats are not famous for staying calm and motionless. If you have a friendly and relaxed cat is good. Otherwise, you have to lure your cat with treats and other methods.
You have to bring your cat to the location of the cleaning and have ready all the necessary materials, which are:
Cotton Pads
Cat ear cleaning solutions
Towel and blankets if you need them
Treats
2. USE THE EAR CLEANER SOLUTION ON YOUR CAT
Now that everything is established, you have to pull back the ear flap of your cat and use the ear cleaner solution. With one hand, you could move back the ear flap and, with the other, place a few drops of the solution on your cat's ears.
Here are some ideas for cat ear cleaning solutions:
Preview
Title
VetWELL Ear Cleaner for Dogs and Cats - Otic Rinse for...
Preview
Title
VetWELL Ear Cleaner for Dogs and Cats - Otic Rinse for...
First, avoid touching your cat's ears with the cleaning solution bottle to avoid the spread of bacteria. In addition, read the instruction of the product to know the exact quantity to use for each cat's ear.
3. MASSAGE YOUR CAT'S EAR
Once you have placed the solution, you should massage your cat's ears to make sure that the cleaner covers the entire ear. This is because the cleaner aims to loosen the dirt inside the ears and help you remove it.
4. CLEAN YOUR CAT EARS
Now, with the cotton pads, you can wipe out all the dirt and clean each ear thoroughly. Again, try not to use your bare hands to remove the dirt, but use cotton or a piece of cloth.
FREQUENTLY ASKED QUESTIONS
Can I use baby wipes to clean my cat's ears?
You can use baby wipes to clean your cat's ears, providing that you use the correct cat ear cleaning solution. A wipe can be easier to use and cover more of the cat's ear.

How often should a cat's ears be cleaned?
Typically, you can clean your cat's ears every two or three months. It is not necessary to get your cat through a procedure of ear cleaning every week or even every month, especially for difficult cats.

Why do my cat's ears stink?
If your ca's ears stink, it is due to a possible infection. For example, your cat has ear mites, allergies, infections, and other potential conditions. A foul smell coming from inside your cat's ears is not typical.