HOW DO YOU CLEAN YOUR HOUSE IF YOUR CAT HAS WORMS?
How do you clean your house if your cat has worms? If your cat has worms, you may wonder what to do to clean your home to make sure worms are not spreading all over the place. There are several worms that a cat can get, and as a pet owner, it is essential to know what cleaning is necessary to get rid of them completely.
If your cat has worms, you have to clean your house using products that can disinfect and kill viruses and bacterias, for example, bleach, ammonia, and boiling water and steam. Beddings, cat's bed, litter box, and other surfaces have to be cleaned to avoid worms eggs to survive.
Let's go into details.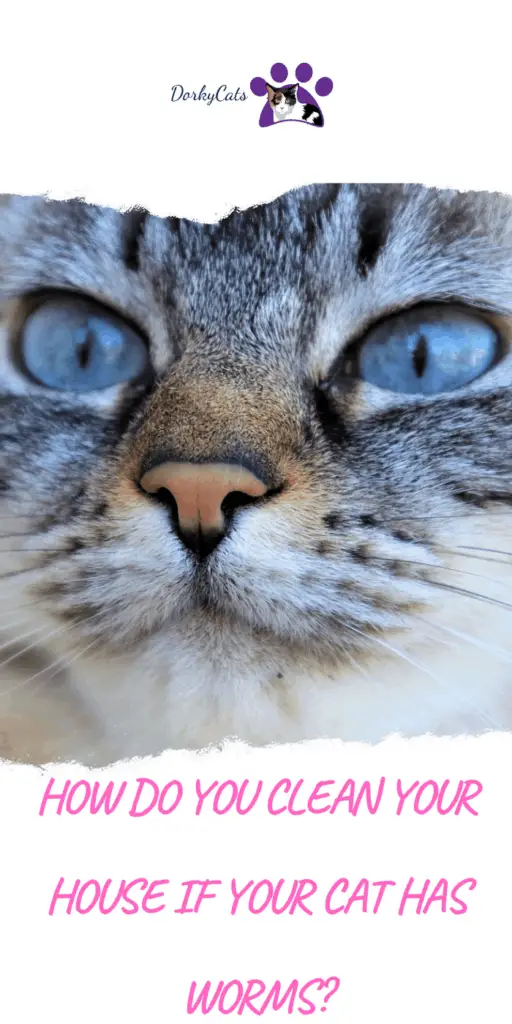 CAN I GET RID OF WORMS?
Cats can get worms, especially if they are outdoor cats. Even indoor cats can get worms through mosquito bites and fleas. Unfortunately, no cat is really safe.
Therefore it is a situation that can happen to anyone who owns a cat. If that happens, you want to be sure that you know what to do and eradicate worms.
Typically, if your cat has worms, most of them get expelled through the feces. This is true of the eggs produced by those worms. Eggs are microscopic, and after a week or so, those eggs can become infective too. When cleaning your home, it is crucial to get rid of worms eggs too.
It is possible to get rid of worms and eggs worms in the house and in your cat providing we are using the right tools.
HOW DO YOU CLEAN YOUR HOUSE IF YOUR CAT HAS WORMS?
Depending from what type of worms your cat has, there are ways that worms use to try to spread out and get new host. The main way worms try to find new host is by producing baby worms or eggs, they get expelled through faces. Therefore the litter box is and nearby area, is the first target of clening.
Tapeworms can be released from cats in segments. They look like rice seeds or sesame seeds. In this case you can find tapeworm remaining all over the place, mainly were your cat is sleeping or spending his time. If that is the case you want to clean thoroughly around the house.
How do you clean your house if your cat has a worm? Let's see what products and types of cleaning are necessary to do to get rid of them.
1.DEWARMING YOUR CAT
The first thing to do is get your cat to the vet and give him the appropriate medications to get rid of worms. If you do not cure your cat, worms will keep spreading around.
2. FLEA TREATMENT FOR YOUR CAT
Make sure that your cat doesn't have fleas. Check with your vet what is the best flea treatment. Fleas can spread worms; therefore, if there are still fleas around, the problem can repeat.
3.MOSQUITO PROTECTION
If you live in an area where there are mosquitoes, you may want to take prevention measures since mosquito bites are also one reason worms spread. Ideally, we want to avoid the repetition of worm infections. Cats have fur that protects them from mosquito bites, but they are still vulnerable on their ears and nose.
4. CLEAN THE LITTER BOX
The first point of contact for worms is usually the litter box. Worms typically get out with cat poop. You want to sanitize the litter box often and scoop cat poop as soon as possible until you know your cat is fully dewormed.
Do not touch the poop, wear gloves when possible, and if not possible, wash your hands right after. Use boiling water to clean the litter box and bleach. You could use a bleach spray cleaner or similar:
Let the bleach act for a few minutes with the hot water. Rinse everything off. It is important to use hot water, and some worms eggs, such as ringworms, do not die on bleach only.
5.WASH BEDDING AND CLOTHES
Take all the beddings your cat has been on, and wash them in the washing machine at high temperatures. Do the same with cat's beds, clothes, and anything else that needs to be cleaned.
6.VACUUM CLEANING
Vacuum clean carpets and everything that can be vacuum cleaned to remove worms eggs. Make sure you cover all surfaces.
7.CLEAN THE OTHER SURFACES
Most likely, you can't use bleach on all surfaces. When not possible, use cleaning soaps and scrub. Boiling water can do the work to make sure all worms' eggs are killed. If you have a steam cleaner, it is better. Otherwise, boil water and use it on surfaces, floors, bathrooms, etc.
8.STEAM CLEANING
If you are equipped with a steam cleaner, that is ideal to use around the house to kill off worms, eggs, and other germs. A steam cleaner uses water that is heated past the boiling point.
Here some steam cleaners you could get for your house:
About this item:
HIGH TEMPERATURE AND LONG RUN TIME: The steamer holds up to 40 oz. of water and heats up to 212°F (100°C) in under 9 minutes. On a full tank, it provides 40 continuous minutes of cleaning power.
CHEMICAL-FREE STEAM CLEANING: The Wagner 915e Power Steamer is a multipurpose steamer that uses nothing but chemical-free steam to remove wallpaper and clean countless household surfaces without using chemicals
About this item:
This steam cleaner is best suited for sealed surfaces including ceramic, vinyl, laminate, granite, marble, hardwood floors, cosmetic, especially sinks, stoves, countertops, refrigerators, kitchen, floor, living room, windows, toilet, tiles, shower curtains, bathroom, pet toilet, cat litter boxes, car seats & rims, grill, BBQ, kids toy, mattresses, linen, duvet cover, fabric & Sofa Material, pants, suits, clothing & fabrics!
Read also: CAN I GET WORMS FROM MY CAT SLEEPING IN MY BED?
RELATED QUESTIONS
Here some related questions and answers:
How do you disinfect your house from worms?
Bleach, cleaning soap, and hot water can do it. Steam cleaners can be a great help to sanitize and get rid of worms.
Can cat worms live in carpet?
Yes, worms can live in carpets, therefore you have to vacuum and wash the carpet with soap and appropriate machines.
Will Apple cider vinegar kill worms in cats?
Vinegar work against some germs. It is used though to kill ringworms in cats. Vinegar is used more and more like a natural cleaner; however, if you want to be sure to kill all worms, you try the following products:
About this item
It kills 99.9 percent of bacteria on soft surfaces as a spot treatment
It kills 99.9 percent of odor-causing bacteria
It kills 99.9 percent of viruses and bacteria
Crisp linen scent. Phthalate-free, paraben-free
What kills roundworm eggs on surfaces?
Hit kills roundworm roundworms eggs. Therefore if you can manage to use boiling water on surfaces, you can get rid of them. Also, steam cleaners can do the job since they water heated past the boiling point.
Does hand sanitizer kill worm eggs?
Hand sanitizer may not kill worm eggs, but hot water does. When washing your hands use the hottest water you can get. In this way you can be sure to have killed worms eggs.
CONCLUSION
Here you have it. I hope we could give you some good advice on what to do if you need to get rid of worms. If you have a question or want to add anything, leave it in the comments below.