CAT WINTER COAT VS SUMMER COAT – WHAT ARE THEY?
Cat winter coat vs summer coat, what is the difference between them? If you have cats, you may have observed the difference in your cat fur between winter and summer. This is because cats can develop a thicker coat during colder periods. But how do they do it?
There is a difference between cats' winter coats and summer coats. In summer, cats shed a lot due to the sunlight and the warmer temperature. The shedding makes their coat lighter and makes them look different. So instead, they grow their fur to protect themselves from the cold in winter.
Let's see the difference between a summer coat and a winter coat in a cat and what we can do to help our cats transition.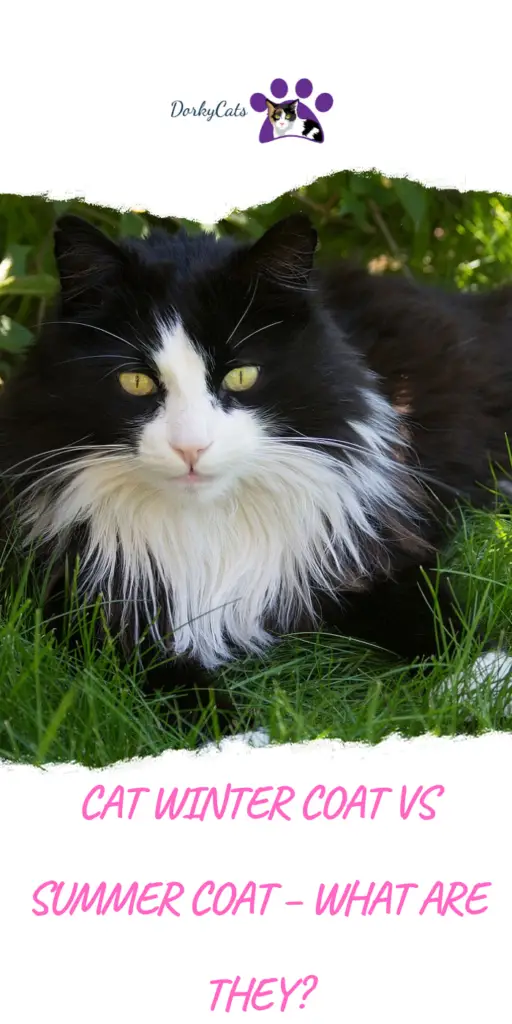 WHAT IS A CAT WINTER COAT AND SUMMER COAT?
A winter coat is a type of coat cats develop during wintertime or through the colder seasons to protect themselves from the weather. Typically, cats have a coat and an undercoat. The undercoat is a thick layer of hairs that can appear fluffy in most cases.
The outer coat is the longer hairs we typically see on cats. This last one is a sort of guard coat, and it is the one that gives a cat a color pattern. Finally, the undercoat has the primary function of keeping a cat warm, and the "winter coat" is basically the undercoat that becomes thicker.
A cat coat grows to insulate the skin from the external world, protecting it from winter cold and summer heat. Cats use their hairs to show predators and enemies their power by raising them to appear more dangerous than they are
When daylight shortens during fall, their coat starts to grow, and in spring and summer, cats change their coat again to make them less thick. As a result, summer coats are a light version of the winter coat. Unfortunately, this is also why you see cats shedding so much before summer.
DO INDOOR CATS GET WINTER COATS?
Indoor cats get a winter coat too. Although indoor cats are less susceptible to natural daylight because they are exposed to artificial lights, they still grow their fur in wintertime. This is because cats change their coats based on the sunlight, which signals their bodies to shed and change the composition of their hair.
The temperature is not determining the change in cats' coats as much as sunlight does. But, winter coats are fundamental for cats to get through winter. So, in fall and spring, you will observe your cat shedding more than usual.
After that, you will see your cat looking different, the fur will be visibly longer, and sometimes you will see even a different coloration. For example, one of my cats grew a sort of lion crown last winter. You will not see much difference in some cats, but the difference may be evident if you have a long-haired cat.
If you have a Norwegian Forest or a Main Coon, you will be able to spot the vast difference in their look between summer and winter.
DO SPHYNX CATS GROW A WINTER COAT?
Although they grow a little hair during winter, sphynx cats do not really grow a winter coat. However, you can spot a sphynx cat growing some hair on his back and the tail. Possibly they will develop some hair in their head too.
But that is about it. Then, of course, you could call it a winter coat, but it is mainly a half or a third of a coat. It is possible that the light still stimulates even sphynx cat and triggers hair growth. In general, sphynx are not totally hairless. They can have a tiny layer of hairs around their bodies.
In addition, in fall, they can grow even more hair. If that happens, you know that your Sphynx needs to stay warm, and you can provide a few places where he can stay close to a source of heat.
CAT WINTER COAT VS SUMMER COAT – WHAT DO YOU NEED TO KNOW?
Your cats will shed a lot two times a year. During the rest of the year, you can experience light shedding. Cats will permanently lose some hair, but the significant shedding is only in fall and spring. Cats need to change their coat and get rid of the old ones with the new seasons.
It is a natural occurrence. Cats' breeds and climate will determine how your cats will change and how much they will shed. Healthy cats will shed a lot, while sick cats will have problems changing their coat. You should be worried if you do not see your cat growing a new coat.
What should you do to help your cat during those times? First, you should assist your cat through this change by grooming him. Brushing your cat often can help him get rid of dead hairs and grow strong fur.
Short-haired cats need brushing too. Although it is less visible, they shed and grow new coats. So you have to brush them every other day at least. Try to feed your cat with food reach in nutrients that can assist them in growing a solid and healthy coat.
WHEN DO CATS GET THEIR WINTER COAT?
Cats get their winter coat in fall between September, October, and November. The change in daylight and temperature triggers the growth of a new coat and the shedding of the older one. They will start losing it in late spring, which is between March, April, and May.
Cats living in a temperate climate with consistent wheater can be less affected by the changing of the seasons and thus shed less. The best is to always keep at hand a cat brush and groom your cat.
Here are some cat brushes ideas:
Preview
Title
GM Pet Supplies Self Cleaning Slicker Brush | This is The...
aumuca Cat Brush with Release Button, Cat Brushes for Indoor...
Cat Brush, Soft Dog Grooming Tool Brush for Dogs and Cats,...
Dog & Cat Brush, Self Cleaning Slicker Brush for Short and...
Cat Grooming Brush, Self Cleaning Slicker Brushes for Dogs...
Preview
Title
GM Pet Supplies Self Cleaning Slicker Brush | This is The...
Preview
Title
aumuca Cat Brush with Release Button, Cat Brushes for Indoor...
Preview
Title
Cat Brush, Soft Dog Grooming Tool Brush for Dogs and Cats,...
Preview
Title
Dog & Cat Brush, Self Cleaning Slicker Brush for Short and...
Preview
Title
Cat Grooming Brush, Self Cleaning Slicker Brushes for Dogs...
When your cat sheds, the best course of action is to increase the grooming and brushing schedule.
DO CATS SHED MOST HAIRS IN SUMMER?
Cats shed the most hairs in spring, just before summer. Since they are getting rid of their winter coat, which is thicker and heavier, they lose more hair than the shedding of the summer coat ( which is happening in fall).
This time of the year requires cat owners to care for their cats by grooming them and cleaning the house. Unfortunately, cats tend to ingest their own fur when they see it lying around.
FREQUENTLY ASKED QUESTION
Why does my cat look fluffier?
Your cat looks fluffer because he is growing a winter coat or has just completed his personal grooming, and his fur is soft and fluffier. Once cats have completed their grooming, their fur also looks very smooth.

Do shorthair cats get a winter coat?
Shorthair cats get a winter coat, but it is not always visible since they have shorter hair. The growth of their winter coat is not as dramatic as the one growing on long-haired cats.

Do cats get more hairballs in summer?
Cats can get more hairballs in summer since they shed the most hair. They ingest a lot more hair through grooming than the one ingested during other periods.

Do indoor cats shed seasonally?
Indoor cats may shed lightly through the year due to being less affected by the sunlight and the seasonal changes. Although, they can still have two significant changes in coats depending on the climate and how exposed to sunlight they are.