RUSSIAN BLUE CAT PERSONALITY AND BREED (ALL YOU NEED TO KNOW)
Would you like to know more about the Russian Blue cat personality? For many years these cats have been called Russian Blue.
But, recently, some associations have recognized for exhibition purposes also the two-tone black-and-white variant; the objective tends to be eliminated from the name. Therefore you might hear this breed being called simply "Blue."
At a glance, the Russian Blue is a very calm, playful, loyal cat but shy with strangers. In addition, it is a hypoallergenic breed.
Let's know more about the Russian Blue cat personality and breed.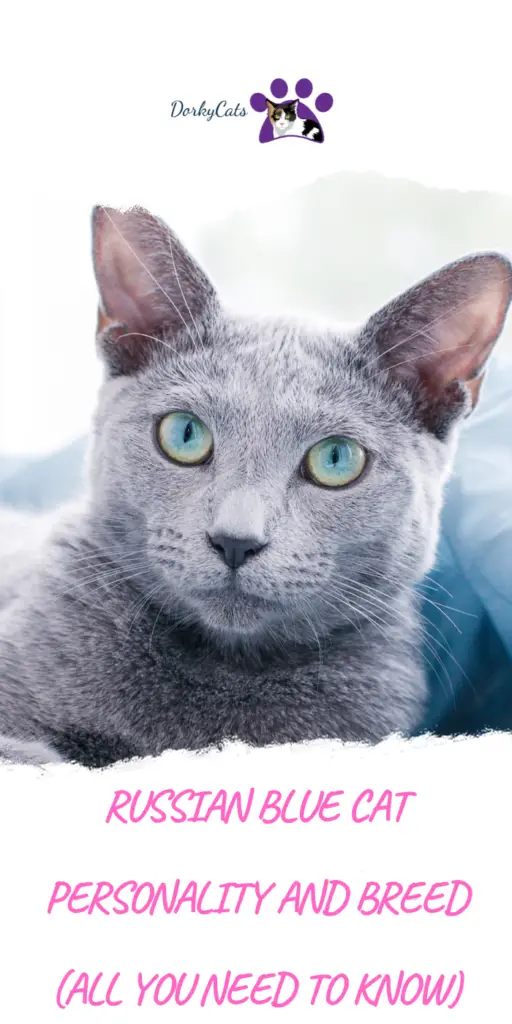 WHAT IS THE RUSSIAN BLUE CAT GENERAL ASPECT AND SIZE?
The ashen coat and the intense blue eyes successfully conquered even the sophisticated zar.
While gifted with solid musculature, this breed possesses an innate movement elegance.
CHARACTERISTICS OF THE RUSSIAN BLUE CAT
Characteristic
Description
Notes
In summary
A natural short-haired
breed, from the traditional
blue-silver color
Known in the past as
Russian Blue now
is also
found in other colors
varieties
Personality
Intelligent and playful,
when he wants, he learns
immediately bring back
any object
Appearance
Medium in size has
short and soft hair.
Males tend to be larger
than females
In the house
Particularly sensitive,
he tends to show a
certain distrust
of strangers
Another breed of
Nordic origin which
seems to be
hypoallergenic
Behavior
Quiet by nature, he does
not like noisy
environments.
He likes to be outdoors
Grooming
To keep the double
coat in top condition,
just comb it and
brush it
Most common health
problems
Frequent DNA tests
contribute to eradicating
gangliosidosis, a
metabolic disease
Size
Medium, between
4 and 5 kg
Ears
wide and slightly
rounded
Eyes
Set wide apart, large,
and preferably
almond-shaped,
emerald green color
and brilliant
Head
Short and wedge-shaped;
average length nose;
strong chin and
protruding whiskers
Paws
Long and thin;
small and oval feet
Coat
Short and very dense,
double and slightly raised
from the body, uniformly
blue in color and with the
silver tip of the hair surface
Allowed colors
The classic coat is
gray-blue, but black and
white varieties
were also selected
The Russian Blue has a cuneiform head. Sometimes the head of the Russian
is compared to that of a cobra, which remembers the shape and the flat contour.
The color par excellence is blue, but in Oceania have been developed white and black variety.
DISTINGUISHING CHARACTERISTICS
The coat takes on a silvery color at the ends, creating an unusual iridescent effect. Adult cats feature gorgeous dark green eyes, while in kittens, they are predominantly blue.
The bicolor variant black-and-white is more common in Australia, where it was bred in the 70's. These felines have the characteristic double coat, so named because the undercoat is as long as the top layer.
The hair appears thick and soft and can isolate the body from the more intense cold.
WHAT IS THE HISTORY OF THE RUSSIAN BLUE CAT?
The breed is historically linked to the port of Arcangelo on the Northern Russian coast. It was from there that, around 1860, some English sailors brought the first specimens to their homeland, which were then exhibited with the name of Archangel cats.
At the end of the Second World War, the breed's future seemed uncertain; therefore, to avoid its extinction, it was decided to hybridize it with the Siamese.
But since, shortly after that, the felines reached the United States; through careful selection from the direct Russian line, they eliminated a lot of the contamination from the earlier crossing with the Siamese cat, thus recreating the original breed that dates back to the mists of time.
ORIGIN OF THE ABYSSINIAN CAT
The news regarding the birth of this breed is lost in time. However, it seems that some sailors who left for Europe from the port of Arcangelo, on Russia's north coast, had brought some specimens.
For this very reason, these cats were initially named Arcangel or blue Arcangel.
Particularly appreciated by Tsar Nicholas I, the Russian Blues were exhibited for the first time in England in the early twentieth century in Korat, Carthusian, and British Blue categories.
But, it was necessary to wait until 1912 to create a specific section. World War II hits hard on this breed, making these cats risk extinction. The danger has been avoided only thanks to the mating with Siamese blue point specimens.
This selection created a cat more like oriental subjects making necessary a new selective program, started in 1966 to set the original standards. As a result, today, the oriental characteristics are disappeared, and the Russian Blue is a stabilized breed.
Until the beginning of the last century, the Russian Blue was known as a Maltese or Spanish cat.
AT THE COURT OF THE RUSSIAN Czar
For Tsar Nicholas I of Russia, these cats were inseparable companions to whom he granted the rare privilege of sleeping with his children.
It seems that the nanny of the Tsar's children was in the habit of having the sleeping cats facing the children so that they could protect them from evil spirits with their eyes.
RUSSIAN BLUE CAT PERSONALITY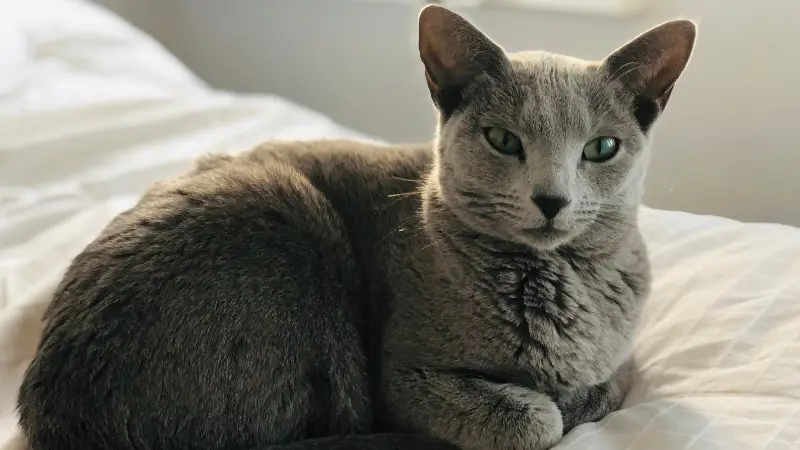 Peaceful and affectionate, the Russian Blue tends to be deeply attached to one family member to whom he demonstrates an attachment that borders on devotion.
This cat is susceptible to the moods of the master and knows when it is the time to stand aside. However, he definitely doesn't like confusion and, towards strangers, tends to be somewhat wary and grumpy.
The apartment living is ideal for him, provided that his tranquility does not come troubled by the presence of too noisy children. But, on the other hand, he has no problem staying alone in the house, even for a long time.
The Russian Blue tends to agree to a domestic partnership with other
animals without difficulty. However, he is a very quiet cat and cannot stand loud noises. Furthermore, he is not suitable for too small children.
HOW TO CARE FOR AND FEED THE RUSSIAN BLUE CAT
The double-layered hair that characterizes this breed must be combed delicately once a week with soft brushes, passing them first against the grain and then in the direction of the hair without crushing it.
No particular diet is required for nutrition, but it is enough to use good quality dry and wet food. The ideal daily doses should be around 70 g of dry food and about 200 g for the humid.
If you prefer a fresh food diet based on meat, fish, chicken, and vegetables, that's fine, but you need to vary the daily ingredients to get him used to eating a bit of everything.
To appease his hunger, the Russian Blue is rather greedy and prefers small meals but distributes them during the day.
Lazy and greedy, Russian Blue tends to weigh on a few extra pounds, especially if sterilized: limit his food rations!
VIVACITY OF THE KITTENS
The Russian Blue is quiet, but at a tender age, this cat is a real volcano: he jumps, plays, runs, and climbs in humanly inaccessible places.
Russian Blue kittens alternate moments of uncontainable vivacity with long deep sleep sessions, which are essential for recharging, energizing, and preparing for another day of play.
AN ADVICE
If some kittens have slight streaks of color on the coat, do not be alarmed: they are the so-called "ghost brands" and will disappear with growth.
FREQUENTLY ASKED QUESTIONS
What is the Russian Blue cat price?
Russian Blue cats can cost between $400 and $2000. The cost of these cats depends on the kitten's age, breeder, and breed purity.

What is the Russian Blue cat's lifespan?
It is easy for a Russian Blue cat to live between 15 and 20 years. However, life expectancy depends on proper care, quality of food, and the type of environment the cats live in.

Are Russian Blue cats aggressive?
Russian Blue cats are very calm and quiet, ideal for people who want a life companion that is not intrusive but affectionate and independent.

Are Russian Blue cats rare?
Russian Blue cats are not rare; it is possible to find them easily in the US and other countries worldwide, such as England and other European countries.
Are Russian Blue cats Hypoallergenic?
Russian Blue cats are considered hypoallergenic cats for their ability not to trigger allergies in humans. It is one of the breeds that produce a low level of Fed-1, the protein responsible for allergic reactions.

Are Russian Blue cats affectionate?
Russian Blue cats are very affectionate to their owner; they follow them through the house and are devoted to them. They are calm and quiet cats, perfect for families.

How do Russian Blue cats behave with other cats?
Russian Blue cats are sweet and calm cats. For this reason, they tend to get along well with other pets, providing that those other pets are not aggressive and have been introduced properly.

Are Russian Blue cats cuddly?
Russian Blue cats are affectionate and can be cuddly in certain moments with their owners. However, they like to sleep and get attention from their humans.

Are Russian Blue cats well-behaved?
Russian Blue cats are extremely well-behaved cats. This is one of the calmest and less destructive cat breeds to have around. They like to live in the house and love quiet and peaceful environments.
Can Russian Blue cats be left alone?
Russian Blue cats can be left alone without creating a lot of stress in them, as far as the house and the environment are calm. But remember that all cats need attention and love and should not be left alone always.