AMERICAN WIREHAIR CAT PERSONALITY AND BREED (ALL YOU NEED TO KNOW)
Would you like to know more about the American Wirehair cat personality? The particular texture of the coat, which is almost rough to the touch and can also affect its color, makes the American Wirehair a unique breed of its kind.
Despite this peculiar characteristic, it does not require special care. For the same reason, it must be said that it does not meet everyone's tastes. At a glance, the American Wirehair cat has a unique coat texture, is a cat with a leathery nature, balanced temperament, and is friendly.
Let's know more about the American Wirehair cat personality and breed.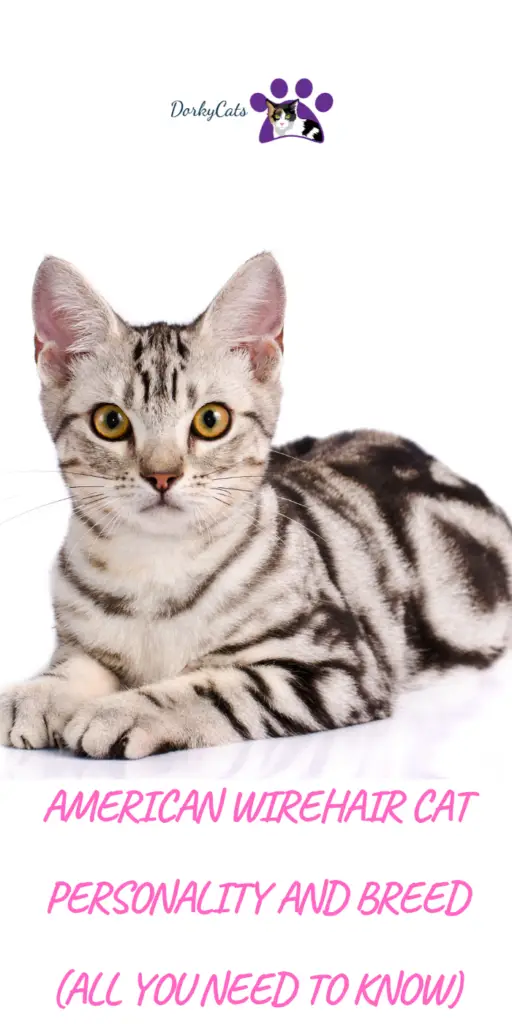 WHAT IS THE AMERICAN WIREHAIR CAT GENERAL ASPECT AND SIZE?
With the peculiar wavy coat, this cat is widespread in the United States of America, the country of origin. But, it is relatively rare outside the border of this country.
A Wirehair is an English term that means "rough-haired."
The America Wirehair has a massive body size, and the males tend to get bigger than females. This cat has a shaggy tail. It thins out more and more toward the end and has a rounded tip.
CHARACTERISTICS OF THE AMERICAN WIREHAIR CAT
Characteristic
Description
Notes
In summary
A truly unique mutation
that descends from
a single specimen
It is a rare breed whose
typical rough coat
is not liked by
everyone
Personality
Reminiscent of that
of an average domestic cat,
calm and curious
Appearance
He has a rough coat.
Medium size
In the house
He is happy to roam the
house and garden.
He does not love
to be confined indoors
Not the first specimen
lived on a farm
Behavior
Likes to explore the
environment and keeps a
quite developed
hunting instinct
Grooming
The unusual coat
needs little care,
just caress it
Most common health
problems
There are no genetic
diseases, on the contrary,
it is a relatively hardy cat
Size
Medium, from 3.5 to 7 kg
Ears
Well apart from each
other, very medium
length and rounded tip
Eyes
Large and round,
bright gold color
Head
Round, with developed
muzzle and chin;
medium-length nose
and prominent cheekbones
Paws
Of medium length,
proportionate to the
body and muscular;
compact and oval feet
Coat
Thickly curled and
dense; on the chest is
slightly softer to
the touch
Allowed colors
Two-tone, silver tabby,
cameo tabby, calico
(black and red spots
on a white ground),
tortoiseshell,
and monochrome
At the time of selection, the American Wirehair became the third native race of the USA after American Curl Shorthair and Maine Coon.
A UNIQUE COAT
The hair is curled but not as thick as in other breeds.
The whiskers are also often curled. The coat can change widely with growth; therefore, even if it appears rough and compact in the first months of life, it is not guaranteed that in adulthood, it will maintain the typical characteristics of the breed.
In contrast, a kitten that at birth does not seem to have a particular beautiful mantle as the years go by could look genuinely splendid.
The first kitten of American Wirehair was called Adam, and it was white and red.
WHAT IS THE HISTORY OF THE AMERICAN WIREHAIR CAT?
The first specimen turned out to be a kitten born in 1966 on a farm in upstate New York. A local breeder withdrew the litter to create a breed with the same coarse hair.
The discovery that a dominant gene determined this specific characteristic facilitated reproduction: when pairing a Wirehair with a typical cat, you always get a certain percentage of coarse-haired kittens.
Even in the United States, where it is more common than elsewhere, the breed annually registers only a limited number of births, while in the rest of the world, it is still practically unknown.
WHAT IS THE ORIGIN OF THE AMERICAN WIREHAIR CAT?
This breed owes its characteristic coarse coat to the genetic mutation of a kitten of a red and white cat originally from the state of New York.
The reader Joan O'Shea, a friend of the owners, immediately realized she faced a new breed, and she convinced her friends to mate the cat with one female from the same litter.
At the end of gestation, the cat gave birth, and between the others, two kittens with the same peculiarity as the father.
Therefore starting from this second generation was decided to select a new breed by also employing specimens of American short-haired to make the mutation the distinctive feature par excellence.
The American Wirehair is a typical U.S. breed somewhat limited to its country of origin, where it was recognized officially in 1978.
RUSSIAN BLUE CAT PERSONALITY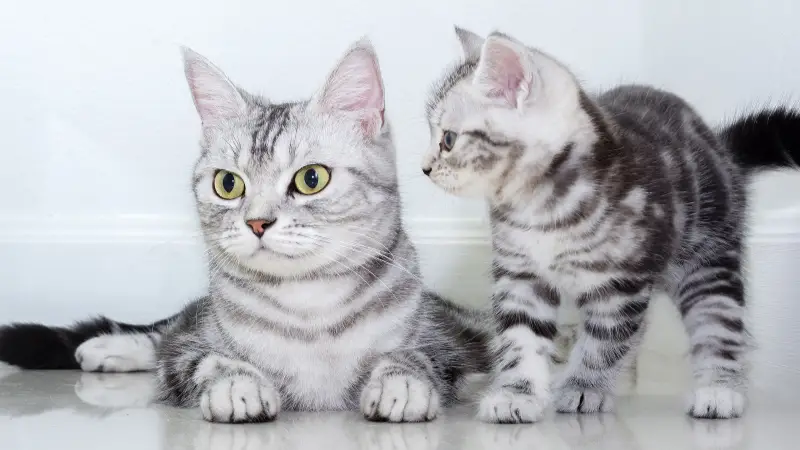 The American Wirehair has various character traits: some subjects are more independent and dedicated to hunting; others, on the other hand, are decidedly lazier and houseware.
▷ While used to living indoors, this cat has a wild nature.
These cats are anyway all united by a strong, lively personality, a playful spirit, and a particularly affectionate attitude. The American Wirehair usually prefers the company of adults, although he can be really patient with children.
AN ADVICE
To establish a deep and lasting relationship with an American Wirehair, it is crucial, more than everything else, to always guarantees him the respect of its space and the tranquility that a cat with a peaceful disposition like hers requires.
The specimens belonging to this breed are fans of reckless climbing, and it is good practice for those living in the apartment to procure dedicated facilities to suit their
insatiable desire to climb.
AN ADVICE
If you want to give your little one a welcome gift, buy one of those remarkable structures full of tunnels to slip into, high poles to climb, and rope or wood inserts to sharpen claws all day.
A CAT WITH THE SOUL OF THE TRAVELER
One of the distinctive traits of this cat's personality is y curiosity and attachment to one's master, despite the predominantly independent nature.
For these reasons, this breed is among the better prepared for travel. As a result, he has no difficulty enduring long journeys.
HOW TO CARE FOR AND FEED THE AMERICAN WIREHAIR CAT
The coat of the American Wirehair requires special care. To keep the typical curl of the hair is appropriate to use bristle brushes and combs with large teeth to be passed every week.
Furthermore, it is good to remember that, despite being very rough, the hair of this cat is rather delicate: especially during molting, if brushed too frequently and with unsuitable tools, there is the risk of seriously weakening the coat.
Therefore in this period, it is preferable to use softer rubber combs.
The American Wirehair is generally a cat of a sturdy constitution, which can quickly arrive at celebrating the fifteenth birthday. Still, some individuals tend to suffer from heart problems, especially heart murmur, transmitting such pathologies to future generations.
Regarding nutrition, this breed especially appreciates meat, which must be the main food
and part of his diet, but the breeders always advise accustoming the kittens to eat everything: from fish to fine rice with vegetables.
In general, you can say that the American Wirehair does not have a special diet. But
it is good to remember that with the advancing age is always better to prefer a high-fiber diet.
FREQUENTLY ASKED QUESTIONS
What is the American Wirehair cat price?
The American Wirehair can cost between a few hundred dollars and $1200. These cats can be costly if you live outside the U.S. and want to get them in another country. The cost depends on the kitten's age, the purity of the breed, and the breeder.

What is the American Wirehair cat lifespan?
American Wirehair cats live, on average, between 16 and 20 years. However, life expectancy can be extended by providing good quality food, proper care, and a good environment.

Are American Wirehair cats hypoallergenic?
America Wirehair cats are not hypoallergenic, although they have a pretty particular coat. So if you need a hypoallergenic cat, the American Wirehair is not the cat for you.

Are American Wirehair cats friendly?
American Wirehair cats are friendly and playful, although, amongst the cats in this breed, you can find a large variety of personalities. But in general, they are affectionate cats.

How can you tell if a cat is an American Wirehair?
You can identify the American Wirehair by the curly and dense coat. It is a medium size cat with general two-tone color. Other particular signs are the curled whiskers and the rounded ears.
Are American Wirehair cats smart?
American Wirehair cats are lively cats and definitively bright. They use their intelligence to play, climb and explore. They are also independent cats and not very demanding.

How rare is an American Wirehair cat?
American Wirehair cats can be pretty rare if you live outside the U.S. The cat is very much known and widespread in America. Those living outside the U.S. might not have the chance to get one of these cats.

What is the unique characteristic of the American Wirehair breed?
The unique characteristics of an American Wirehair breed are both physical and temperamental. The particular curly coat and physical appearance are special signs, but they are also independent and lovely cats simultaneously.