TURKISH VAN CAT PERSONALITY AND BREED (ALL YOU NEED TO KNOW)
Are you curious to know about the Turkish Van cat personality? At a glance, the Turkish Van Cat has an incredible history, loves water, and likes to be pampered and combed. In addition, the mantle design is very characteristic.
Let's go over all the characteristics and history of the Turkish Van cat.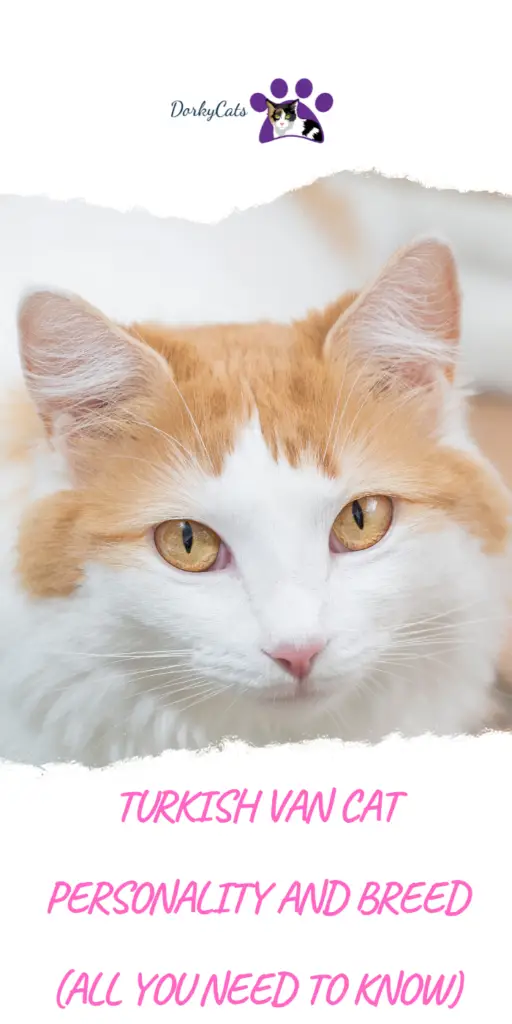 WHAT IS THE TURKISH VAN GENERAL ASPECT AND SIZE?
The traditional design of this cat is the red-and-white tabby you see in the photo, but recently it has emerged that the favorite color in Turkey is the white self.
In the presence of particular reasons, the color must be limited to the head and tail, even if they are accepted in small patches scattered over the body.
The presence of colored hair is typical on the left shoulder, similar to a thumbprint. The eyes can be blue or amber or mixed. Unlike other breeds, white specimens with blue eyes are not affected by congenital deafness.
From time to time, there is news of some Turkish Van with green eyes, which does not enjoy great favor among breeders.
Here are the key points to know about the Turkish Van:
Characteristic
Description
Notes
In summary
Uncommon
Personality
Lively, curious, and affectionate
Appearance
White is the predominant
color in the coat,
often with red tabby areas
Cats with blue eyes
tend to deafness
In the house
Often he is fascinated by a
tap that loses, in front of which
he sits and tries to
catch the drops of water with the paws
Not afraid to jump
in any mirror
of water, especially when
it's very hot
Behavior
He loves being around people and has a
playful character
Grooming
Between winter and spring,
it takes
a longer time to
groom him
During this period, the coat is thicker
Most common health problems
There are sometimes hormonal problems e
dermatitis
In the specimens with
two-tone eyes, the ear
deaf is the one on the side
of the blue eye
Size
medium-large, between 5 and 8 kg
Ears
Large, open, and rather close together
Eyes
Large and oval in shape
Head
Triangular, with pronounced cheekbones and chin
solid; profile with slight walling at the base
Legs
Long and strong; rounded feet
Coat
semi-long, fine, soft, and free
of undercoat
Admitted Colors
white, with a reddish tail and
brown or red spots on the head; even if not recognized
universally, the spots can
also be blue, tortie, black or brindle
The cat has broad shoulders. It is a distinctive feature that affects the breadth of the chest, as seen above all in males.
The appearance of the Turkish Van is shaped by the environment in which it lives, torrid in summer and very cold in winter. In the winter, the coat is tick has the typical ruff. However, when the moult occurs in spring, it looks no different from a shorthair cat.
The tail is the only part of the body where the hair remains all the year. In addition, it has a water-repellent coat and can dry quickly after a swim. If the undercoat is not thick, the cat does not feel cold from rain or snow.
The hind legs are longer. They are supported by powerful muscles, which perhaps help these cats swim.
WHAT IS THE HISTORY OF THE TURKISH VAN?
This cat with a soft, almost white coat comes from the lake at the foot of the mountain Ararat in Turkey. But, maybe there are possibilities that it comes from China too.
But the greatest probability, as the name suggests, is that the place of origin of this breed is Turkey, in the area around Lake Van. Some specimens even go swimming there, probably to cool off.
To discover the Turkish Van were two British tourists who visited his region in 1955.

The two tourists managed to bring home a pair of these cats, but a long time passed
before the breed was accepted; for instance, in the United States, it was only introduced
starting in 1982.
WHAT ARE THE FIRST DOCUMENTS OF THE TURKISH VAN?
The first documents of the existence of this cat date back to around 1400, and it is known that starting from the seventeenth century, the Turkish Van arrived on the Old Continent as an homage of the sultans.
Given the success in the European courts were also exported to America, where they became extinct at the end of the 19th century because it was crossed with others
breeds for the selection of the Persian.
There was again news of the Turkish Van in 1955, when a couple of friends, on vacation in Turkey, fell in love with these cats and imported some specimens into England, where they immediately received a great deal of success.
Thus began a selection, thanks to other cats brought later, to give new
luster to this natural breed. The Turkish Van obtained official recognition in 1971 by FIFE and in the United States in 1985 from the TICA.
LEGENDS ABOUT THE TURKISH VAN CAT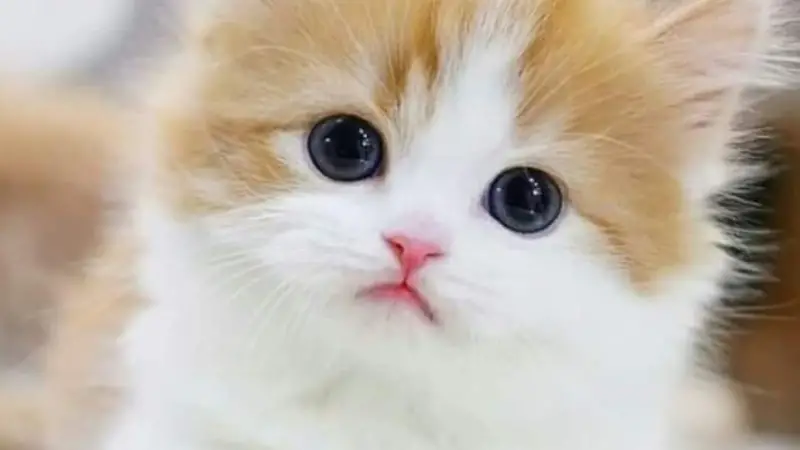 The Turkish Van is considered the cat of Allah.
According to a legend, the Turkish Van owes the typical red spots to Allah, who passed
walking on the shores of Lake Van; he noticed a white cat. Thinking he would drown, he saved it by taking it by the tail and the head.
Therefore red spots appeared in those places. Seeing other white cats dive, Allah understood that, actually, the cat he thought he saved was in no trouble at all.
TURKISH VAN CAT PERSONALITY

The Turkish Van is definitely a real snob! In fact, he tends to choose between all the
parts of the family, one human to which it binds deeply and towards who always proves loyal, while he considers his other family members to be "humble serve. "
He cohabits well with dogs, provided they are willing to submit to his will. So intelligent and particularly lively it also needs a big garden. The elegant manners hide the somewhat overbearing nature of the Turkish Van.
It surrenders to sweetness only with its master. In summary, you can expect the Turkish Van to have the following characteristics:
High intelligence
High energy
High level of playfulness (which can make them mischievous at times)
They like to climb
They show impressive athleticism
Can do tricks, play fetch, walk on a leash
Low-stress tolerance that leads to aggression toward humans at times
Very curious
Affectionate but not lap cats
They prefer the company of other Turkish Vans as pets or dogs
They can play with children but cannot be forced to do things, or they can strike back
TURKISH VAN CAT CARE AND FEEDING
The coat of the Turk Van needs only brushing once a week, two during the spring molting period. However, suppose you have to attend an exhibition.
In that case, it is advisable to bathe him at least a couple of days before the event to give the time for the coat to regain its natural bulkiness, but always use specific products.
Alternatively, the coat can be washed every two months with dry shampoo. To avoid making the hair too bristling and dry, you can, instead of the bath, resort to cleaning with specific dry shampoo for cats.
Here are some ideas for dry shampoos that can be used:
Preview
Title
Vet's Best Waterless Cat Bath | No Rinse Waterless Dry...
Burt's Bees for Pets Cat Natural Waterless Shampoo with...
Mooncat Waterless Cat Shampoo, Licking Safe Dry Shampoo for...
Mighty Meow Waterless Cat Shampoo, No-Rinse Dry Shampoo for...
TropiClean Berry Coconut Waterless Cat Shampoo | Deep...
Preview
Title
Vet's Best Waterless Cat Bath | No Rinse Waterless Dry...
Preview
Title
Burt's Bees for Pets Cat Natural Waterless Shampoo with...
Preview
Title
Mooncat Waterless Cat Shampoo, Licking Safe Dry Shampoo for...
Preview
Title
Mighty Meow Waterless Cat Shampoo, No-Rinse Dry Shampoo for...
Preview
Title
TropiClean Berry Coconut Waterless Cat Shampoo | Deep...


As far as nutrition is concerned, this cat is a glutton with refined tastes: packaged foods must be alternated with fresh ones. However, although of excellent appetite, he can self-regulate, so you can leave him at his disposal a portion of dry food.
Another curiosity is that the litter of the Turkish Van is composed on average of 4-5 kittens.
WHAT ARE THE MOST COMMON HEALTH ISSUES OF A TURKISH VAN?
The all-white variety generally tends to suffer from deafness: in this case, you can teach the cat to recognize precise gestures as commands. In addition, there are sometimes hormonal problems e dermatitis.
FREQUENTLY ASKED QUESTIONS
What is the price of a Turkish Van Cat?
Turkish Van cats can be pretty expensive; they can go from a few hundred dollars up to $1500. Prices can vary depending on the breeder.

How rare is a Turkish Van Cat?
The Turkish Van cat is a rare breed since it is estimated that only 100 of these cats are born in the U.S. yearly.

How do I know if my cat is a Turkish Van?
In general, you can figure that your cat is a Turkish Van from the color pattern "V" shaped, which means that the body is white with colors on the tail and face (V-shape red and brown).
Is a Turkish Van an aggressive cat?
A Turkish Van is not an aggressive cat. However, these cats have a low tolerance for stress and do not like being held or forced to do things; in that case, they can show signs of aggression.

What is the lifespan of a Turkish Van?
A Turkish Van can live between 12 and 17 years. However, the lifespan can increase if the cat is well cared for.

Are Turkish Van affectionate and friendly cats?
Turkish Van cats are friendly and affectionate, although they are a bit snobbish and tend to dominate other pets and humans that he doesn't consider their master.

Can Turkish Van cats be left alone?
Turkish Van Cats need human interaction, like any other cat, and cannot be left alone for a long time. They are affectionate cats and need to interact with their favorite human.