IS BLEACHING FLOORS WITH CATS SAFE? 4 TIPS TO FOLLOW
Is bleaching floors with cats safe? Although bleach can be toxic for our pets and humans, if you must use bleach for cleaning purposes and have cats in your house, it is still possible to do it safely, taking some reasonable precautions.
Bleaching the floor with cats is possible if you rinse each surface well with abundant water and make the floor dry so that all chemicals evaporate into the air. Open windows so that everything in the air is carried out of the house. Keep your cats away during cleaning.
Let's see how to clean the floor properly and safely if you have to use bleach.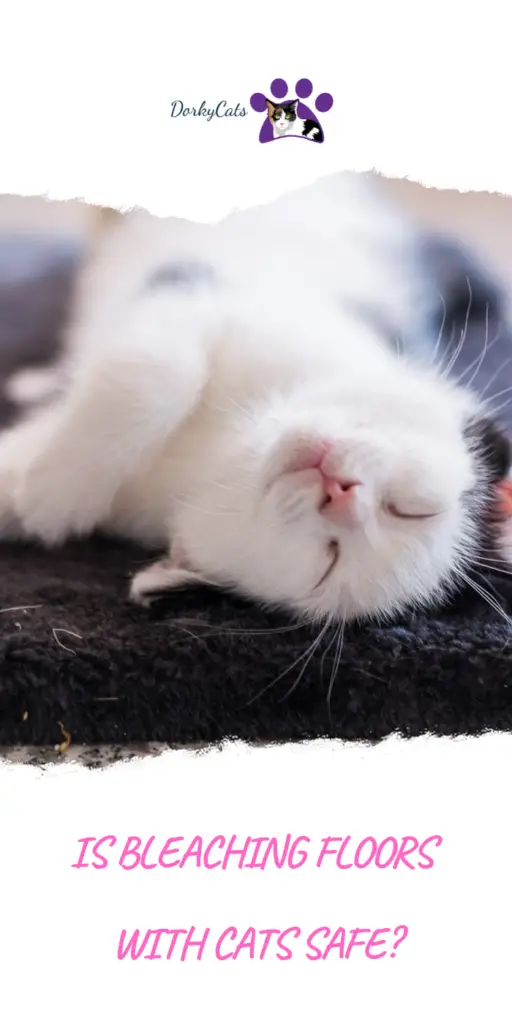 ARE BLEACH FUMES HARMFUL TO CATS?
Bleach fumes are harmful to cats if they breathe them in large amounts. They can cause shortness of breath, lung irritation, and coughing. The most dangerous aspect of bleach is the chemical reaction generated when mixed with other elements, such as ammonia.
When chlorine (sodium hypochlorite) is mixed with ammonia for any reason, even by accident, the result is a toxic gas. Likewise, in case of bleach comes in contact with other chemicals or acids such as dish soap, vinegar, drain cleaner, or similar, harmful gasses are generated.
Here are all the symptoms generated by chlorine gas exposure:
Watery eyes
Breathing problems
Irritation to the mucous membranes
Coughing
Fluids in the lungs
Pneumonia
Vomiting
Chest pain
Death with a high amount of fumes
IS BLEACHING FLOORS WITH CATS SAFE?
Bleaching floors can be safe for cats if you rinse them very well the floor and remove any bleach residues. In addition, you should make sure to open windows and have air coming through the room or the house to remove any chemicals from the air.
Why should you use bleach for cleaning?
In general, people use bleach to clean the house or the floor because it is a strong and effective disinfectant. In addition, the sodium hypochlorite contained in bleach is very effective in killing viruses, bacteria, and even fungus.
In addition, bleach is very cheap, and anyone can afford it. Here is how you can safely bleach your floors when you have cats:
1. REMOVE YOUR CAT FROM THE ROOMS YOU WANT TO CLEAN
Cats are very attracted to the smell of bleach because it is similar to cats' pheromones. If you are washing the floor using bleach, cats could get in your way and start licking the floor.
Although you might think that you can control your cat's movements, they are sneaky, and when you are not looking, they can already have licked away parts of your floor and ingest the bleach.
2. ENSURE GOOD VENTILATION
When bleaching your floors, open a few windows to keep air circulating, which helps make sure the floor dries faster and gets bleach fumes out of the house. Even if the floor is not wet anymore, if you smell bleach in the air, it means that the fumes are still in the room.
3. BLEACH SHOULD BE DILUTED
When bleaching the floor, you can dilute 10 ml of bleach into one liter of water. You should not use hot water since higher temperatures are making bleach ineffective. If you want to protect yourself during cleaning, you can also use protective gear, such as gloves, glasses, and masks.
Your cats should not be in the room while preparing the cleaning mixture.
4. RINSE
Once you have cleaned with bleach, use clean water to rinse the floor with care until you are sure no bleach residues are left and let it dry.
Here are a few other tips to follow when cleaning with bleach:
Do not mix bleach with other products
Clean the floor while keeping the rooms and house well ventilated
HOW MUCH BLEACH WILL KILL A CAT?
In general, the bleach sold for household cleaning contains only between 3 and 6% of sodium hypochlorite. So ingesting just a bit of bleach, especially if diluted in water, is unlikely to kill a cat, although it can create some severe discomfort.
The consequences for cats licking or drinking bleach not diluted in water, even with a 6% sodium hypochlorite, can be more serious, yet cats should still lick or drink a good amount to get killed.
As a comparison, for humans, a lethal dose of sodium hypochlorite can be between 7 to 18 ounces, considering a concentration between 3-and 12%. Cats are much smaller and need way less to get data consequences.
A mouthful of bleach is not lethal but can create the following bleach poisoning symptoms in cats:
Nausea
Drooling
Lack of appetite
Vomiting
Difficulty eating
Bad breath
Abdominal pain
Difficulty breathing (with higher amounts or more concentrated bleach)
Low body temperature (with more elevated amounts or more concentrated bleach)
Seizures (with more elevated amounts or more concentrated bleach)
Collapse (with higher doses or more concentrated bleach)
Coma (with higher doses or more concentrated bleach)
Typically, the symptoms appear after 4 to 6h hours from the ingestion.
WHAT TO DO IF YOUR CAT LICKS BLEACH?
If your cat has ingested just a bit of bleach or has licked the floor where you just cleaned with bleach, give your cat water and milk to flush out the chemicals ingested. However, if your cats show severe or even mild symptoms, you should ask for veterinarian assistance.
A vet can provide your cat with fluids, oxygen, pain killers, and other necessary treatments. If bleach gets into your cat's eyes, you should rinse them with a lot of water and make sure there are no more residues.
FREQUENTLY ASKED QUESTIONS
Does bleach attract cats to pee?
Bleach is similar to the scent left by other cats' urine; when cats smell it, they could think of another cat attempting to mark territory and decide to pee in those spots. In addition, some cats might be attracted by the places you clean with bleach.
What happens if your cat falls in bleach?
If your cat falls into bleach, he can suffer from skin irritation and burns. You have to wash your cat fur with a lot of water and remove all the bleach residues. If you do not wash it out, cats might lick it later and ingest the bleach.

Does bleach make cats crazy?
Bleach makes cats crazy because its smell resembles the scent of other cats when they try to mark territory or are in heat. Cats can become obsessed with the bleach smell, and you will see them rubbing against it and licking it.