5+ BENEFITS OF REGULAR GROOMING FOR YOUR CAT
Are you wondering if regular grooming for your cat is necessary? Although most household cats will clean themselves, regular grooming will be good for their well-being and health. Depending on the cat, you may need to groom it differently and more frequently. 
Cats who are older or may have difficulty grooming due to movement or flexibility issues, such as arthritis, may require more frequent grooming.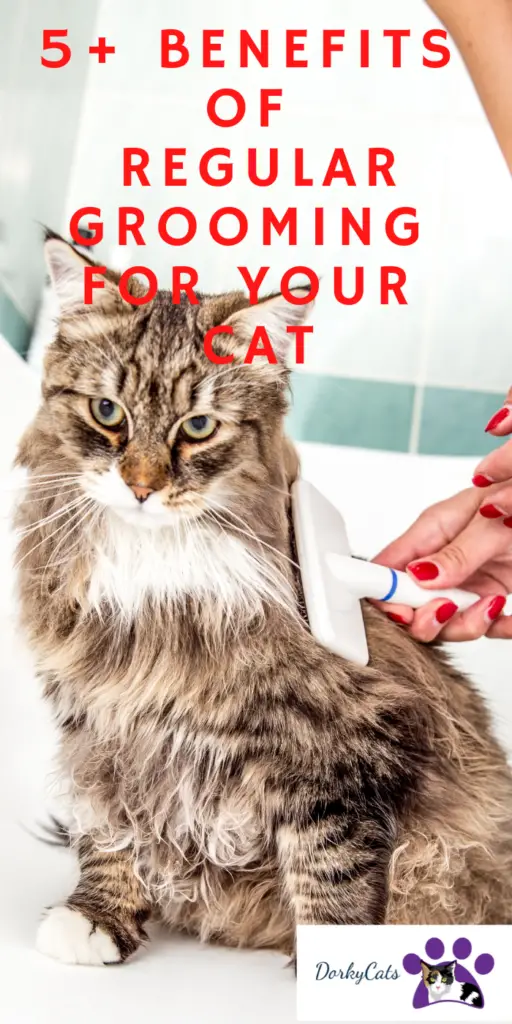 WHAT ARE THE MAIN BENEFITS OF REGULARLY GROOMING YOUR CAT?
Regular grooming gives you a chance to spend some quality time with your feline and keep tabs on their well-being. Grooming removes dust, dead skin, and loose hairs, stops major matting and tangling, and may even increase circulation.
A simple approach to assess your cat's general health and nutrition is to look at the state of its coat. Look for problems like painful spots, sores, or tangled fur; if your cat's coat condition changes, take them to the doctor for a checkup. 
Many cats find grooming unpleasant; therefore, stop the session if you see your cat trembling, twirling their tail, snarling, or hissing.
While short-haired cats often do an excellent job of grooming themselves, many long-haired cats require daily combing to avoid knots from developing. Brushing treatments are still crucial to keep their coats in excellent shape, at least every week.
Here are the main benefits of regular grooming for your cat:
1. IMPROVED PHYSICAL HEALTH
Preventing pest and tick infestations is perhaps one of the biggest benefits of bathing your cat.
Even though washing by itself won't always suffice to clear off these unpleasant bugs, it will make it easier for you to find them and eliminate any on your cat. Once you're aware of their presence, you may securely remove them and take other steps to eliminate the pests.
Among the most frequently neglected aspects of routine cat care is nail clipping. Long nails are harmful and painful for your cat and are unsightly. Wild and wild cats often regularly wear their nails down, but domestic cats frequently require additional assistance. 
They don't utilize their claws as frequently as wild cats, and long nails can grow into your cat's feet and inflict severe agony. Therefore, when grooming your cat, you should cut its nails.
Cats that are susceptible to ear infections should get their ears cleaned often. Long-haired cats are more prone to this than other cats. 
Nevertheless, preventing wax buildup, moisture, dirt, and debris from getting inside your cat's ears will shield it from ear infections, ear mites, and other maladies. 
Additionally, it will make your kitty companion feel more at ease.
2. BETTER MENTAL HEALTH
Most cats enjoy being brushed and often purr loudly to show it. Grooming should begin as soon as possible, preferably when the pet is still a kitten.
Never constrain or coerce a cat into brushing; it should be enjoyable for both of you. Her favorite snack will do the trick if she needs some motivation. Pat your cat gently at first, then gently stroke her between each pat. Once she is comfortable, add additional brushstrokes gradually.
3. INCREASED COMFORT
In many ways, grooming relieves discomfort. First off, the majority of cats enjoy getting brushed. Your cat will experience a pleasant massage as you remove dead hair, encourage new growth, and apply natural cat oils to its skin with the correct brush. 
Additionally, it aids in avoiding matt on longer coats. Finally, getting rid of the mats in your cat's coat will make her feel better if they tend to form readily.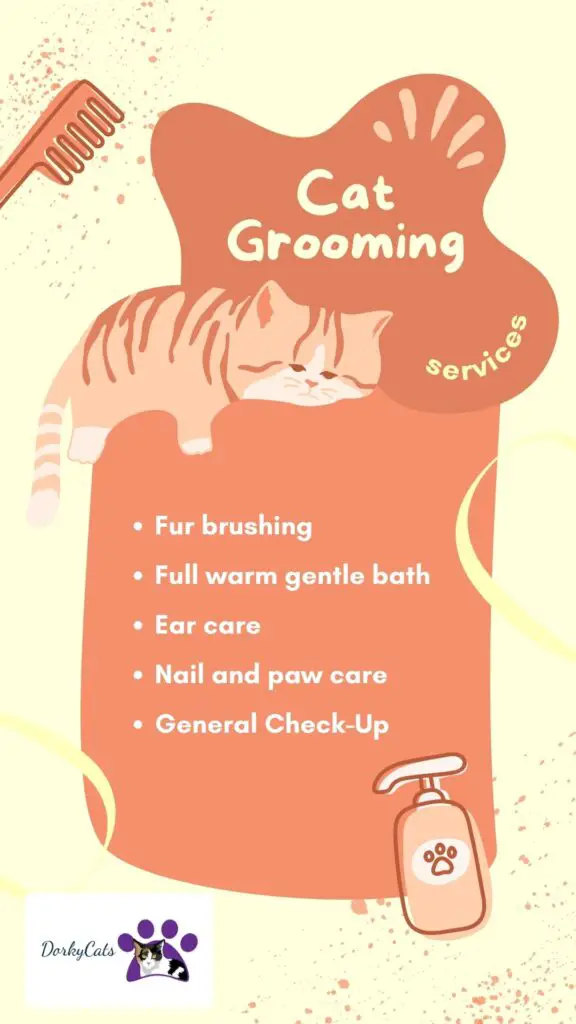 4. BETTER APPEARANCE
Cats, particularly those with long hair, require frequent cleaning to keep their fur appearing neat. In addition to removing dirt and tangles, brushing distributes healthy oils throughout a cat's coat, promoting the health of the skin and hair and reducing inflammation.
You'll be aware if the cat needs to be bathed. However, they will either have fallen into something stinky or sticky or feel greasy to the touch. You'll need to get cat-specific shampoo and clean your cat in these situations.
5. EARLY HEALTH PROBLEM DETECTION 
One of the many advantages of brushing is that it will help you or your usual groomer get to know the skin marks on your cat better. Soon, you'll be able to rapidly detect any changes in your cat's skin and feel any underlying bumps and lumps if anything is wrong. 
Regular grooming will increase your chances of seeing any abnormalities in your cat's body early on because early diagnosis is crucial for any ailments.
This enables you to start therapy and safeguard your cat's health. This is crucial if you intend to board your cat because most facilities demand that animals be free of fleas and ticks.
TIPS FOR GROOMING YOUR CAT SUCCESSFULLY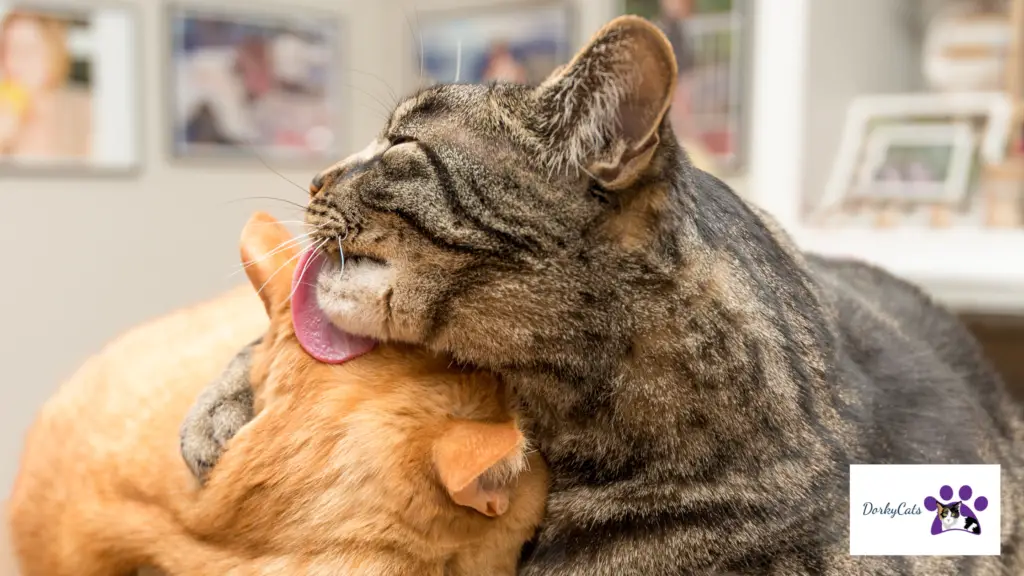 The best way to groom a cat depends on the breed and the individual cat's preferences, but some general tips include:
Brush regularly – this helps remove loose hair and prevents mats and tangles.
Bathe occasionally as needed – use a cat-specific shampoo to avoid skin irritation.
Trim nails – use a cat nail clipper or file to avoid injuring the quick
Clean ears – wipe the outer ear flap with a damp cloth or cotton ball to remove dirt and wax buildup
Brush teeth – use a pet-specific toothbrush and toothpaste to help maintain good oral health.
It's important to make grooming a positive experience for your cat by using gentle techniques and offering treats and praise.
Here are some tips to make the grooming session successful:
1. START THE GROOMING PROCESS SLOWLY & DELICATELY 
Slowly stroke your cat's coat in the area of hair development. Then, use your fingers to pry gently out any knots or matting from long-haired cats. You might have to use scissors to remove the knots from your cat's matted fur. 
Avoid touching the skin at all costs. Contact your veterinarian for assistance if you lack confidence; they should be able to.
Brush your cat slowly in the opposite direction of hair growth so you can view your cat's skin and check for fleas and other parasites. Continue moving from area to area until you have covered the whole cat. This may be completed in a few sessions.
2. MAKE SURE TO USE HIGH-QUALITY GROOMING TOOLS
For brushing cats, a wide variety of brushes and combs are available. The majority are smaller than the ones used for dogs, while some are cross-species compatible. A bristle brush, pin combs, and flea combs are some of the most frequently employed instruments. 
The numerous soft bristles of a bristle brush are typically constructed of a synthetic substance, while in the past, boar's hair was frequently employed. 
This is especially beneficial for cats with short hair. However, a pin brush works better for a long-haired cat since it will travel through the coat instead of over it.
3. BE EXTRA GENTLE, ESPECIALLY EARLY ON
While cats sometimes have a smaller appetite than dogs, you can still benefit from a few goodies to make grooming easier. For example, some cats will only consume tuna, which they enjoy when they are being groomed. 
Naturally, if your feline loves some other treat, don't be thrifty about it.
If you apply this advice, your felines will regard grooming activities like brushing, combing, and shaving much more tolerable. 
A little treat goes a long way in persuading them to allow for a few brush or comb strokes. So, at the end of the grooming session, a larger piece of their favorite treat should be given as a prize for peaceful participation.
4. PAY ATTENTION TO YOUR CAT'S BODY LANGUAGE
Understanding your cat is critical if you want such brushing procedures to go smoothly and peacefully. Don't start by brushing your cat's tummy if she dislikes having her belly touched. As you begin brushing, pay close attention to what is acceptable and what isn't. 
Then begin with your favorite locations, finishing with your least favorite. Finally, use a reward before, during, and after your least favorite areas.
5. REWARD YOUR CAT IF HE/SHE BEHAVES WELL
While cats often don't have the same appetite as dogs, you may still use a few treats to make brushing more bearable. For example, my kitties only eat tuna—which they adore—during grooming sessions. 
Because of this, they find brushing, combing, and other grooming tasks much more acceptable. 
A small amount of tuna does wonders to get them to agree to a few brush or comb strokes. A bigger piece is given as a reward for calm participation at the end of the grooming session.
DO SHORT HAIR CATS NEED GROOMING?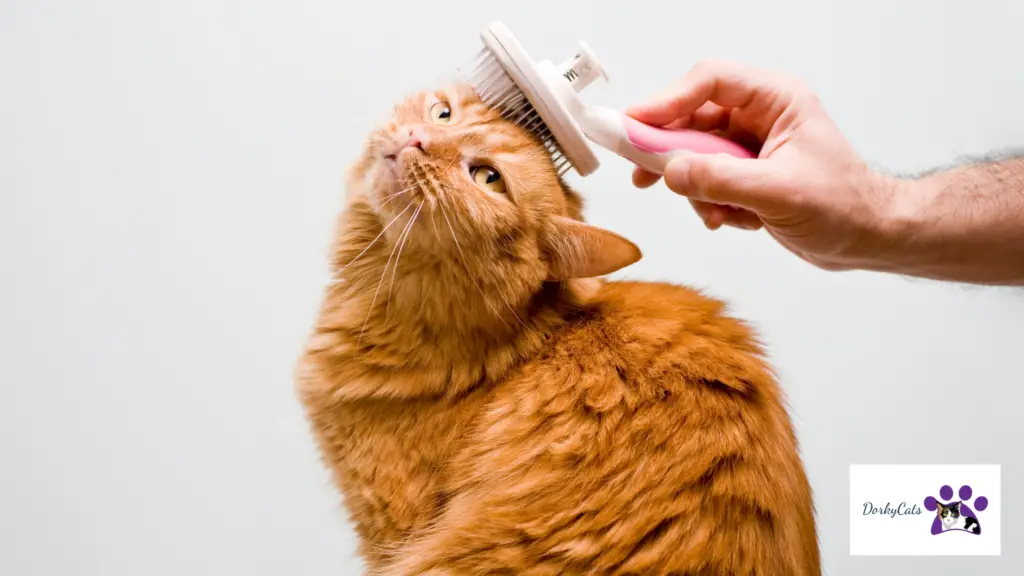 Short-haired cats still need grooming, although not as frequently as long-haired cats.
Here are some reasons why:
Brushing: Brushing helps distribute natural oils throughout the coat and skin and removes loose hair and dirt. Regular brushing can also prevent hairballs and other digestive issues.
Bathing: Although short-haired cats are less prone to matting and tangles, they still need to be bathed occasionally to remove dirt, oil, and buildup.
Nail Trimming: All cats, regardless of coat length, need their nails trimmed regularly to prevent overgrowth, splitting, and cracking.
Ear Cleaning: All cats need their ears cleaned periodically to remove wax buildup and prevent infections.
Short-haired cats generally benefit from a monthly grooming session, although the frequency can depend on the individual cat and its grooming needs. As with all cats, it's important to make grooming a positive experience by using gentle techniques and rewarding your cat with treats and praise.
WHAT HAPPENS IF YOU DON'T GROOM YOUR CAT?
If you don't groom your cat regularly, several issues can arise:
Matting and tangles: Long-haired cats, especially, can develop mats and tangles in their fur if not brushed regularly, which can cause discomfort and skin irritation.
Hairballs: Cats who are not brushed regularly are more likely to develop hairballs, which can cause digestive issues, vomiting, and other health problems.
Overgrown nails: Neglected nails can grow too long and become painful, causing discomfort and potentially leading to problems with walking and scratching.
Skin issues: A lack of grooming can lead to a buildup of oil, dirt, and bacteria on the skin, which can cause skin infections and irritation.
Ear infections: Dirty ears can lead to infections, which can cause pain, discomfort, and other health problems.
Grooming your cat regularly can help prevent these issues and keep your cat healthy and comfortable. It's also a good opportunity to check for any unusual lumps, bumps, or other signs of illness.
FREQUENTLY ASKED QUESTIONS
Is it necessary to groom the cat regularly?
When you brush your cat, you assist in eliminating skin flakes and increase blood flow, which improves the general health of her skin in addition to removing dirt, oil, and dry hair from her coat. 
Kitty will benefit from one or two weekly brushings to maintain her radiant health. However, you'll find that regular treatments are beneficial as your cat ages and loses the ability to groom herself properly.

How often do cats need haircuts?
Cats generally do not need haircuts as they are good at self-grooming and maintaining their own coat.
However, there are some breeds, such as the Persian and the Maine Coon, that may benefit from occasional trimming to remove mats or tangles, especially around the face and paws.
Long-haired cats may also need to be trimmed regularly to prevent mats and tangles and to keep the coat healthy and manageableIn in general.
The frequency of grooming needed depends on the individual cat and their coat type, but most long-haired cats can benefit from grooming every 4-8 weeks.

How much does cat grooming cost?
The cost of cat grooming can vary greatly depending on the location, services provided, and the type of groomer you choose. However, here are some rough estimates of the cost:
– Basic grooming (brushing, bathing, nail trimming, and ear cleaning) can range from $50 to $100.
– A full-service grooming package that includes a haircut, styling, and additional services like teeth cleaning, can cost anywhere from $100 to $250 or more.
Mobile grooming services, where the groomer comes to your home, may be more expensive than a traditional groomer but can be more convenient.