How to hiss like a cat? Do you ever wonder how to replicate a cat hissing? Well, you are in the right place to find out all about cats hissing.
Cats usually hiss because they want to warn you or other animals to stay away. If they hiss at you, they tell you to stay away, or there will be consequences. If you want to replicate a cat hissing, you have to try to make a lion roar with lower tones, like a lion cab roaring!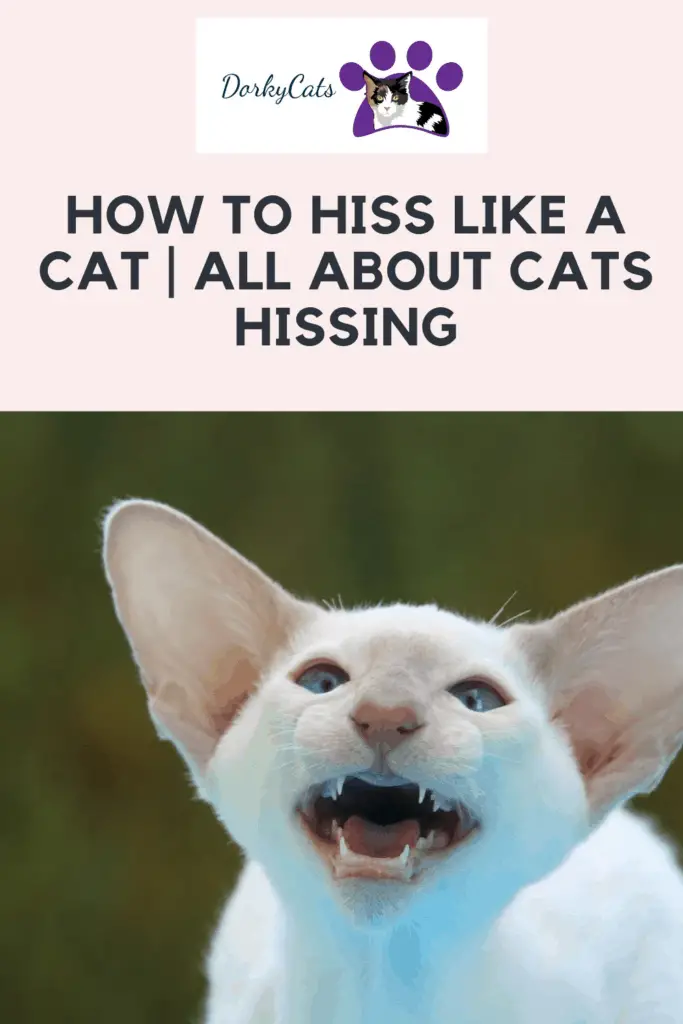 HOW TO HISS LIKE A CAT
I do not know that hissing back at your cat, or any cat is good at all or will accomplish necessarily a result. However, if you want to hiss like a cat, you have to replicate a small roar's sound, or you could try to intake air from your mouse through your teeth.
Those 2 methods could replicate a cat hissing.
Cats are not normally hissing at people or other animals unless they think it is a threat to him or his environment. I do not know about your cat, but my cat normally hisses at strangers, not all of them, and other cats when they come into the house.
The vacuum cleaner is my cat's favorite object to hiss, even if it is not running. It is only necessary I take it out of the closet for my cat to start hissing at it and even try to punch it, and of course, running right away under the bed.
Why would anyone want to hiss back at his cat? I usually would not do it. However, sometimes cats do understand to cool down if another "cat" hisses at them. It may sound crazy, but sometimes I do it back to him when my cat meows at me, and he starts to meow again. We have entire conversations.
The only flaw is that I do not know what I am telling him.
IT IS OK TO HISS AT MY CAT?
Hissing is a way for a cat to tell others to go away, that they are doing something annoying; they are not welcome, feel threatened. Ultimately it is a way to intimidate others from attacking, showing how dangerous they are.
For some reason, when my cat hisses at me or the vacuum cleaner, or my friends, he only makes me laugh. Somehow he doesn't really make me afraid. He is so cute anyway!!!
Here is an example of someone hissing at cats, with very little success, and below is a hissing tutorial:
Are you successfully getting a reaction when you hiss to your cat? Let us know in comments below. Let us know if you had success in learning how to hiss like a cat.
WHY DO CATS HISS?
In part, we went over the answer to this question; however, let's make it more straightforward: cats hiss primarily as a warning of an imminent attack if the source of threat or menace doesn't stop immediately and goes away.
Cats may hiss also for other reasons, not related to send a threat away, therefore cats hiss because:
They tell others to back off, can be another cat entering the house, a human they do not know coming into the house. A mother cat, for example, can hiss in an attempt to protect their kittens from others.
YOU MAKE THEM DO SOMETHING THEY DO NOT WANT
It happens with my cat all the time, not only when I bring him to the vet, and the vet is touching him. My cat is particularly sensitive to human touch. If he wants to be in a spot and I pick him up and move him in another spot, he can start hissing at me. He is amusing for me at this. He let me know that he doesn't like it and wants to go back where he was.
Therefore if you make your cat go somewhere or do something, he doesn't like you can expect him to hiss at you. I live with my cat for two years now, he knows me very well, but he still hisses at me in those instances. But I can see that his hiss at me are more of a request than a threat, he wouldn't attack me, but at least I understand he doesn't like something.
This type of incident made me want to learn how to hiss like a cat, to just make fun of him.
If they hurt or have some part of their body that it is painful to try to touch it, they may hiss at you. This ofter happens after an incident, if they are bleeding or if they are in pain for some reason.
This actually can be an indicator of pain or sickness; therefore, if a cat starts hissing for no reason, he may be sick, and it is time to go to the vet.
Sometimes cats are playing, and they hiss to each other, sometimes the play can be a bit rough, but if you actually look, you can see they are playing
This is more obvious when a new cat comes into the house; even when they settle and are "friends," if the new cat goes too close to the first cat kennel, it may end up with a hiss and growl.
---
Treat Your Cat!
Preview
Best Pick
Product
JOYO Cat Tree for Indoor Cats, 65.5 Inches Multi-Level Cat...
CATROMANCE Cat Tree, 35.4" Multi-Level Cat Tree Cat Tower...
HIPIPET Kitten Bed Cave Bed for Cats & Dogs, Cat Hut/Covered...
rabbitgoo Cat Tree Cat Tower 61" for Indoor Cats,...
rabbitgoo Cat Tree Cat Tower for Indoor Cats, Multi-Level...
Best Pick
Preview
Product
JOYO Cat Tree for Indoor Cats, 65.5 Inches Multi-Level Cat...
Preview
Product
CATROMANCE Cat Tree, 35.4" Multi-Level Cat Tree Cat Tower...
Preview
Product
HIPIPET Kitten Bed Cave Bed for Cats & Dogs, Cat Hut/Covered...
Preview
Product
rabbitgoo Cat Tree Cat Tower 61" for Indoor Cats,...
Preview
Product
rabbitgoo Cat Tree Cat Tower for Indoor Cats, Multi-Level...
---
FREQUENTLY ASKED QUESTIONS
Can humans hiss?

Humans normally do not hiss. It is not normal behavior for a person. But a human can learn how to hiss, with some practice. I believe if a person works a lot with animals, could, in the end, take their behavior and start doing things that animals would do. One could also do it because of wanting to communicate better with other animals.

Why does my cat randomly hiss at me?

It is not that random. Your cat may be scared of something; maybe you moved too fast, got scared, or made a gesture he did not like. You may have raised your voice or made a sound that sound threatening to him.

Even your smell or smell you have picked up somewhere can be a reason for your cat to hiss at yours. However, if you spend some time with your cat, you may come to understand why he actually hisses at you.

There may be another reason, maybe your cat is in pain, and if he does, he will start hissing. Again, it can be an indication that it is time to go to the vet.

Why do friendly cats hiss?

I have a little kitten I just adopted, my father was changing a lamp, and on stepping back, he ended up with his foot on the kitten back. She started hissing at him and run away.

The kitten is totally fine. My father did not see her because she just tried to sneak up on him to grab his foot without realizing that she was about to be hit. This kitten is totally lovable and friendly, she would rarely hiss anything, but she got stressed and afraid and did it.

It may be that a friendly cat gets scared, and this triggers the instinct of a cat to hiss. It is normal behavior for cats to hiss. They have to do it in nature to stay alive. An indoor cat doesn't need to do it that often.

Why Someone Would Want to Know How to Hiss Like a Cat?

Someone may want to hiss like a cat to play with their cats, test their reaction, or only fun.

People who are very affectionate to cats may like to imitate cats and better understand them. It is not uncommon to find cats lovers meowing back at cats and having a full conversation with cats. It is not that crazy, after all.

Is Hissing Always Aggressive?

Cats seem aggressive when they hiss, but they are trying to protect themselves from others. Hissing is not synonymous with aggression. Instead, it is a sign that your cat is annoyed; if the cat is hissing, he usually is the effect of something rather than the initiator of a fight.

Why Do Cats Hiss At Babies?

Cats are usually very affectionate and protective of babies. The only weak point in this reasoning is that babies like to touch, pull, and otherwise threaten a cat like a toy. Cats may not like it and may hiss.

Why My Cat Is Aggressive Only To One Person?

It may be that this person has done something to your cat that he doesn't like, or this person has a particular smell he doesn't like. There is a reason for your cat to be afraid or aggressive to one person only, with a bit of observation one can come to find out to reasons behind it.
UNDERSTANDING CATS LANGUAGE
In case you're not a follower of cat researches, I'm happy to present a breakthrough study on the matter…
This new study has shown us something fascinating about how animals think and comprehend us. The results basically indicated that felines have an astounding ability to understand our words. They can understand the human language! So you do not need to learn how to hiss like a cat when you can learn a better way to communicate with cats.
Japanese researchers in Tokyo uncovered this special trait, which separates domestic house cats from all other large, wild felines (tigers, lions, etc.). It turns out the smallest and cutest ones of them all are the most verbally sophisticated. It appears house cats have actually evolved to understand us as part of their domestication.
They understand us by our pitch. They can tell if we're angry or if we want to hug them.
They can understand us in our words. They know their name, name, and other titles we assign to things around the house or activities.
And most fascinating of all, they've evolved to mirror us. In the wild, cats prefer to be pin-drop quiet. They are hunters that catch prey by closing distance through silence and camouflage, followed by a brief sprint. This is why when cats communicate with each other, the primary device is their body, not their vocals.
And yet with you and me, cats constantly break this rule. Why though?
HOW CATS COMMUNICATE WITH HUMAN?
It is maybe easier in our mind to imitate them and try to learn how to hiss like a cat or meow as they do.
Again, it goes back to domestication. Watching humans communicate with each other through voice; cats have learned to mirror us.
The fascinating thing about this brain-level chance is that cats have developed a sort of language of their own. In between the meows, purrs, and hisses is a genuine language built on tone and word length.
Yes, it can be deciphered. In fact, it already has. This is what the Cat Language Bible by Jonas Jurgella is in a nutshell. Years of research into the human to feline communication, condensed and compressed into a simple guide that anyone can pick up and use on-the-fly with their own cat.
Use it to interpret cat sounds as they're happening. Now you can finally understand if your cat is sick or just energetic.
Read his thoughts by reading his body. It's tough to know when your cat wants to be left alone versus when he's genuinely sad and feeling secluded. Now you can tell using some verbal and nonverbal giveaways common to all felines.
Speak to him in a way that he can understand. Cats may not have the advanced language capability that humans do — yet they make sounds that can also be understood and interpreted by us.
Would you like to actually say something to your cat that he could really understand on his own terms? The Cat Language Bible™ will tell you how to do it.
See the FREE video here for more information.
In my opinion, as a cat owner, this is a must-have in any animal household.
Pick it up, and see how much closer a connection you can build with your own feline through the power of direct human to cat conversation. What you know, you may even learn how to hiss like a cat!
CONCLUSION
If you were wan to learn to hiss like a cat (ironic!) or better understand your cat, we provided some good tips and ideas to follow. If you have more questions, add them to the comments below.