DO CATS FEEL GUILT? 5 REASONS THEY CARE ABOUT YOU
Do cats feel guilt? We all know cats do not care about others but only about themselves, right? Well, cats may seem careless, but most of the time, they just pretend or give the illusion of not caring.
Cats do not feel guilty most of the time, but they care when they accidentally harm their owner and show remorse. Although it is uncommon for cats, sometimes they feel guilt. However, it is possible to see them exhibit apologetic behavior after upsetting their owner.
Here is how cats show remorse or guilt. This article explores the nuances of cats and their 'guilty' behavior.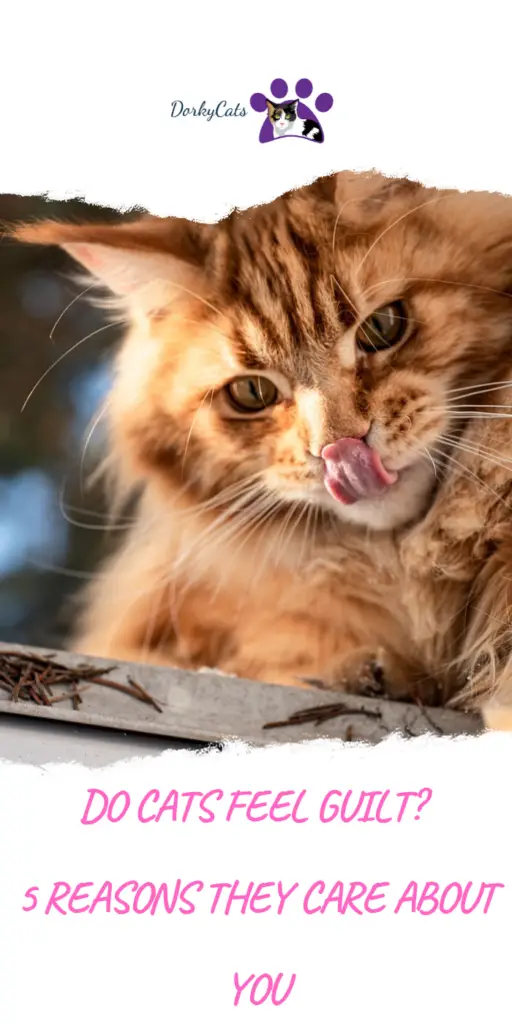 DO CATS FEEL GUILT?
Guilt is a complicated emotion. It involves knowing that you've done something wrong and understanding the severity of the action and its effects on other parties involved.
Many people say that cats are incapable of feeling guilt since it's a complex emotion related to human morals and values. However, others say that cats do feel a sense of connection with their families and may exhibit apologetic behaviors after doing something to upset them.
Cats aren't really able to understand the nuances involved in an emotion like guilt. Moreover, their values aren't the same as human values, so something that seems like a big deal to us may have little-to-no meaning to them.
The best answer to the question 'Do Cats Feel Guilt' is that they feel a sense of awareness of your moods. And even though they may not feel guilt as we understand it, they can tell when they're responsible for turning your mood sour.
In my experience, if you scream or show pain when your cat bites you or scratches you, cats become sad or apologetic. They also stop in their track. For example, my cat becomes cautious and turns his head and hears down, and after a few seconds comes to me to get some scratches.
But not all cats are the same.
DO CATS KNOW WHEN THEY DO SOMETHING WRONG?
Cats don't necessarily know when they've done something that we would consider wrong. They do, however, know when they do something that upsets you.
Cats are capable of realizing when they've made their humans upset. Likewise, they are capable of identifying when your distress follows directly after something they've done.
They might not know precisely what they did to upset you, but they do understand they've done something to get them in trouble.
HOW DO YOU KNOW IF YOUR CAT KNOWS HE UPSET YOU?
Surprisingly, if your cat walks away from you, that's an indicator that it knows you're upset. Cats will often walk away if they sense that you're upset, especially if it's connected to something they did.
They'll also stare at you, trying to determine if you've calmed down and if they can relax.
Cats may also show signs of 'guilty' behavior:
Lowered ears
A fast-swishing tail
Low, distressed meows
Dilated pupils
Moving away from you
Hiding
WHY DO CATS ACT GUILTY, IF THEY DON'T FEEL GUILT?
They can sense you're upset, so they respond to your unhappiness. They'll respond to the sense that you feel like they've done something that wrong.
Cats want to feel safe. So they will indicate their understanding that they've made you upset somehow, as part of their effort to soothe your feelings and make the situation more comfortable.
WHAT ARE THE SIGNS THAT YOUR CAT IS TRYING TO RECONCILE?
Cats will act in specific ways to indicate they want to make you feel better. For example, they'll show affection and offer attention as a way to say, 'I don't want you to be mad at me.'
If you've been upset with your cat and they start doing the following, it's the closest a cat will get to an apology:
Approaching you to indicate that they feel safe and loved.
Headbutts and rubbing along your legs or arms to show affection and confirm that you're 'their' human.
Purring, to convey feelings of safety and contentedness. Slow blinking, as a sign of trust and affection.
DO CATS FEEL BAD AFTER THEY BITE YOU?
Cat feels terrible if they bite you if they did not mean to hurt you. For example, if you are playing with your cat and he bites you too hard, and you react with a scream, cats understand they hurt you and feel bad.
However, if they are in danger and believe that you want to harm them, cats do not feel guilty for biting or scratching. If you are connected with your cat, they know that they cannot bite too hard when playing.
They also know that they are not supposed to use the claws and harm you. Cats know who is a friend and who tries to put them in danger. If you observe cats playing with each other when they "fight," cats never really bite each other very hard.
When I play with my cat, it does not sink its teeth in my hand. This is because he knows I am a friend and that he is not supposed to hurt me.
5 SIGNS THAT SHOW CATS CARE ABOUT YOUR
There are sure signs that you can notice that tell you your cat is not happy to have done something wrong. But, first, they generally wait for you to cool down to inquire if you are still mad at them.
Here are five things you can see they do:
After a while they come to you to get attention
When they hurt you they are sad and "concerned" ( at least they look like )
They look at you to see how mad are you after you got hurt
They stalk you in the house, but at a distance, waiting for a peace sign from you to come close
They still sleep next to you whatever happens
SHOULD YOU DISCIPLINE YOUR CAT IF HE HURT YOU?
If your cat hurt you accidentally, it is not necessary to make a big deal out of it, most probably, your pain, scream, or upset was enough. If your cat tends to use claws, biting, or anything painful, you should train him not to do it.
It is unnecessary to use force or speak in an angry way to your cat. If you train them to understand the word "no," they will stop. They will listen to you. Also, cats know from the tone of your voice that they should stop.
A firm NO is enough in most cases once you teach them what it means.
FREQUENTLY ASKED QUESTIONS
Do cats feel bad when they scratch you?
Cats feel bad if they scratch you, only if they realize that you are hurt through a sound or expression you made. In general, cats know you are a friend and not a treat and will try not to hurt you. But, not all cats realize how sharp their claws are.

Do cats know when you hate them?
Cats can sense if you hate them or are in a hostile environment. You can see they know it because they will not come to you, hide, and in general can appear to be afraid all the time.

Can you hurt a cat's feelings?
You can hurt your cat's feeling each time you do something they do not like. For example, forcing things on cats, such as moving from one place to another, living them alone, not feeding them, ignoring them, lack of affection, and more, are all things that can hurt your cat's "feelings."